If you love salty and sweet, then you'll adore this festive pan de jamón recipe.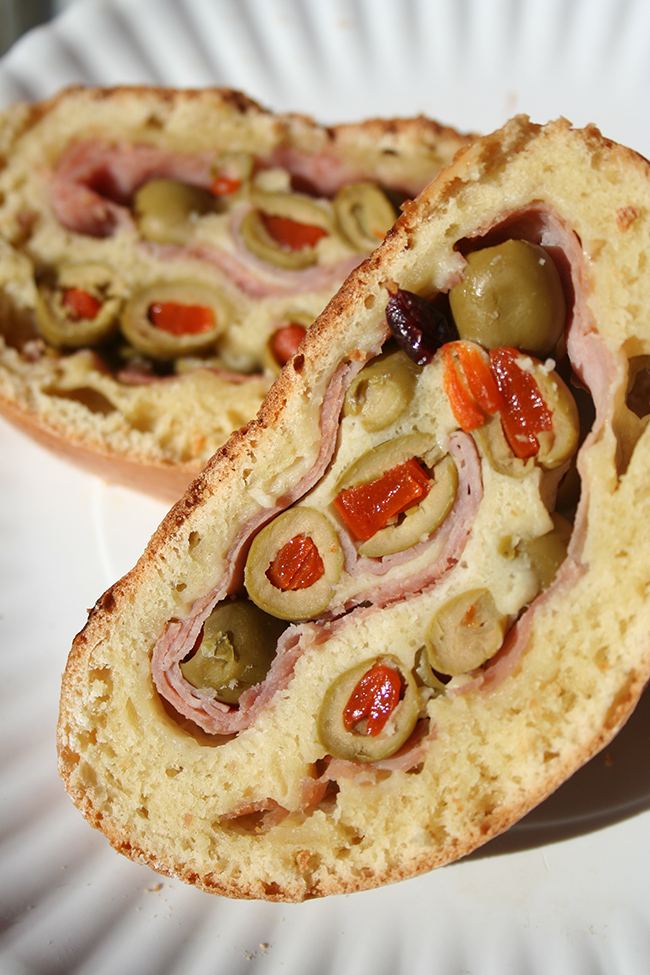 Photos via CakeSpy
Pan de jamón is a traditional holiday treat from Venezuela that's so delicious, it's a shock the whole world isn't obsessed.
This unique bread starts with egg-and-milk enriched dough, which is rolled into a thin rectangle. The dough is then topped with ham, olives and dried fruit, rolled jelly roll–style and baked to golden perfection.
Frequently topped with a glaze or powdered sugar, this bread is salty, sweet and completely addictive. It makes a great party appetizer, but fits in just as well at brunch.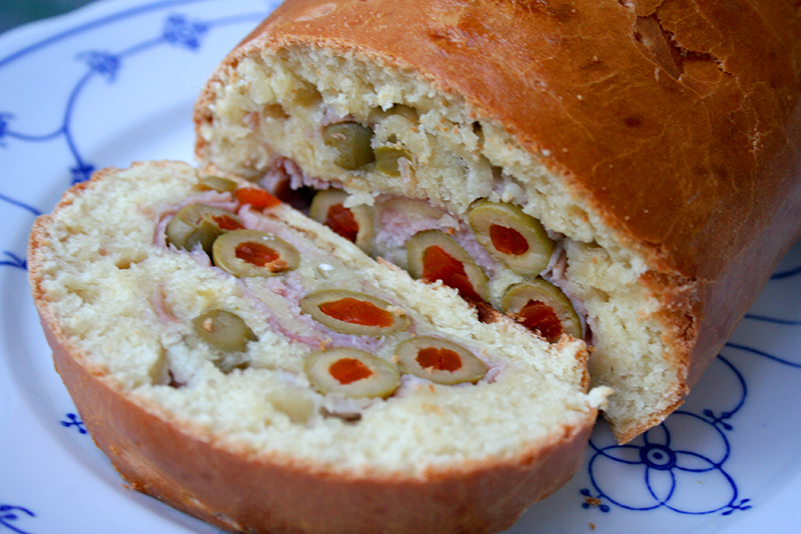 Pan de jamón recipe
Makes one loaf (about 12 servings) 
For the dough:
2/3 cup whole milk
2 tablespoons unsalted butter
1 tablespoon sugar
½ teaspoon salt
2 teaspoons instant yeast 
2 eggs, lightly beaten (room temperature)
2¼ cups all purpose flour 
1 egg, lightly beaten with 1 tablespoon water 
Powdered sugar, for serving (optional) 
For the filling: 
10 ounces (one jar) pimiento-stuffed green olives, drained
½ pound sliced ham
1 cup raisins or dried cranberries (see recipe note) 
Step 1:
Combine the milk, butter, sugar and salt in a medium, heavy-bottomed saucepan. Heat on medium, stirring frequently to prevent scorching, until the butter has melted. Remove from heat, and let cool to lukewarm (105 F). Add the yeast, and let mixture sit until the yeast begins to bubble slightly.
Step 2:
Combine the milk mixture and eggs in a large bowl or the bowl of a stand mixer. Add the flour. Mix with a wooden spoon until the dough is cohesive, then knead for 3-5 minutes in a stand mixer fitted with the dough hook attachment, or 5-7 minutes by hand, until a smooth, soft dough forms.
If needed, incorporate a bit more flour (work 1 tablespoon at a time). Cover, and let rise for 1-2 hours, or until puffy. 
Step 3: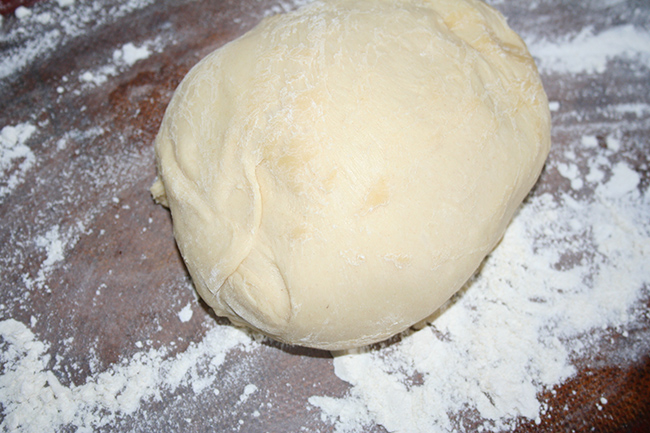 Gently deflate the dough. Gather it back into a ball, and place on a lightly floured surface. Let the dough sit for about 10 minutes (to make it easier to roll). Use a floured rolling pin to roll dough into a 15″ x 13″ rectangle, about ½" thick.
Step 4: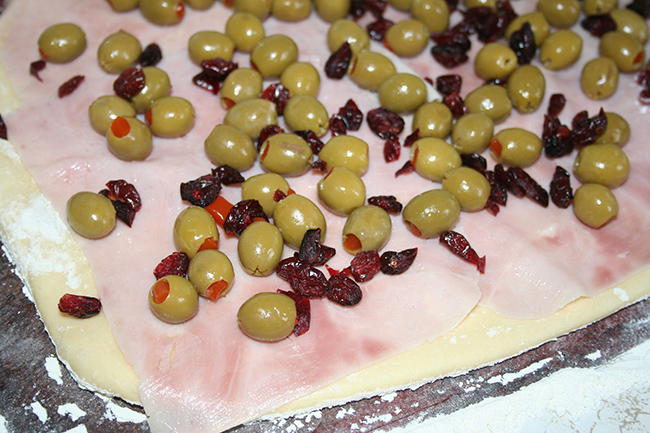 Space the ham slices evenly over the surface of the bread, and scatter the olives and dried fruit on top.
Step 5: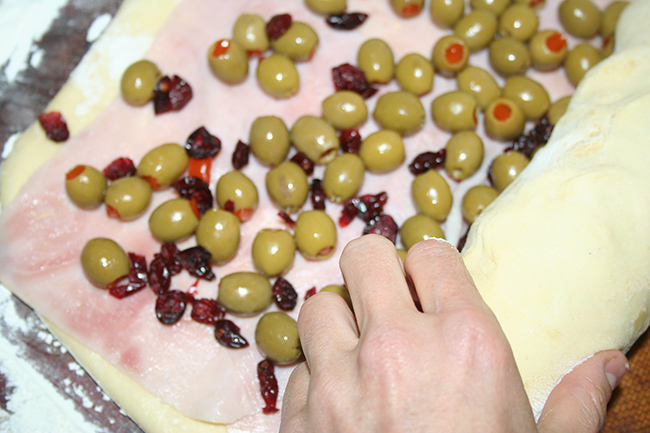 Roll the bread like a jelly roll, starting with the shorter side. Press the seam to seal. Place the bread, seam-side down, on a parchment-lined baking sheet. Poke a few times with the tines of a fork. Cover with plastic wrap and let rise for about 60-90 minutes, or until puffy. 
Step 6: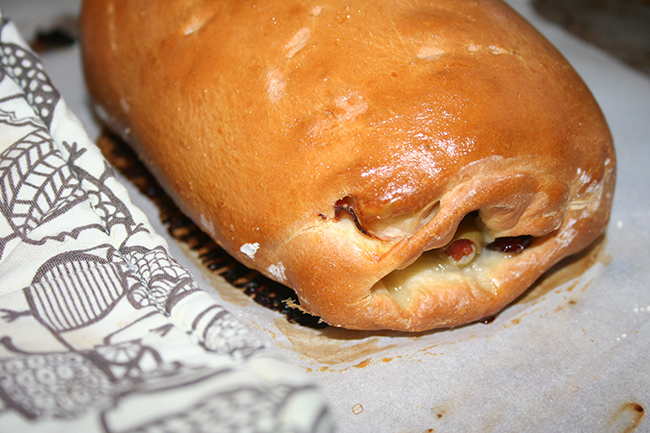 Near the end of this rising period, preheat your oven to 350 F. Remove the plastic wrap. Brush the bread with your egg wash, and then put the pan de jamón in the oven. Bake for 40-45 minutes, or until golden brown. 
Step 7: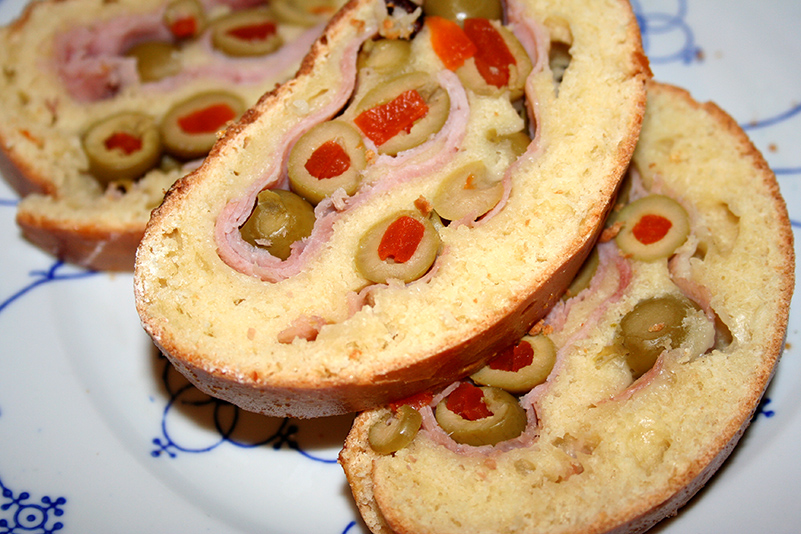 Remove from the oven and let cool on the sheet for several minutes. If desired, sprinkle with powdered sugar before slicing and serving. 
Recipe notes
Dried fruit
Traditionally, pan de jamón contains golden raisins. However, it tastes just as good with darker-hued raisins or other dried fruits; I used dried cranberries for this recipe. 
Olives 
Pimiento-stuffed olives can vary in size. I used small ones, which were easy to roll into the bread without slicing. However, if your olives are larger, slicing them before scattering them on the bread in Step 4 will likely make your life easier! 
Love this unique holiday bread? You may enjoy some of the delicious holiday carbohydrates from our archives, including our easy Stollen recipe and our recipe for eggnog bread pudding!
What's your favorite holiday recipe?