A freshly baked coffee cake is a wonderful breakfast treat — but you might prefer to spend your morning eating it instead of making it. Fortunately, with this unusual make-ahead recipe, you can prepare your coffee cake the night before, then simply bake and serve in the morning.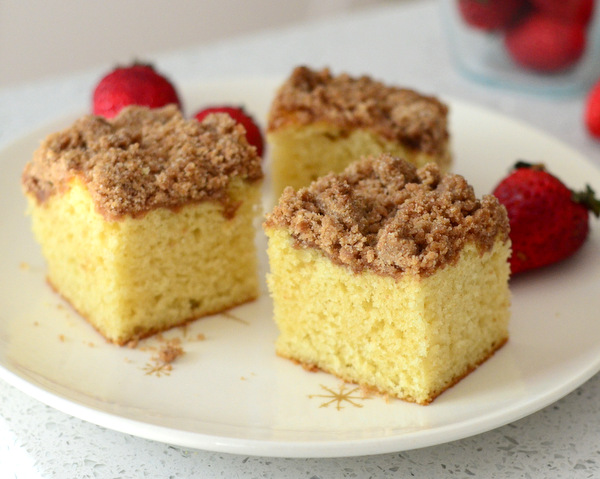 About the recipe
There are two components to this coffee cake — the cake and the streusel — and both are made ahead of time. The coffee cake batter itself is made with both milk and sour cream, and it is flavored with a touch of vanilla extract. The cake has a fluffy, tender crumb and just a hint of tang from the sour cream. 
The streusel is made with brown sugar and plenty of cinnamon, and there is a very generous amount of it on top of the cake. The buttery streusel is easy to make and is shaped into large crumbles by hand, not only giving the cake a great look, but giving the topping a fantastic texture.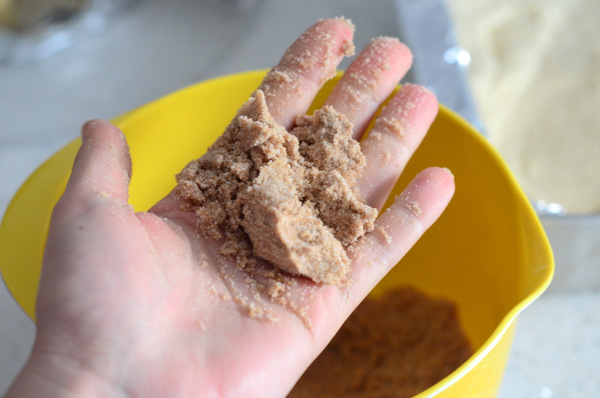 You might be wondering why this cake batter is rested overnight. Is it simply to save time in the morning or does it have a greater purpose? The answer is yes to both questions.
The best reason to make this cake is to save yourself some time in the morning — time that you could spend sleeping in, reading the paper or watching cartoons with your kids. But resting the cake batter overnight also improves the overall texture of the cake. The resting period gives the gluten that develops while you are mixing the batter a chance to relax, yielding a cake with a very soft, even crumb every time.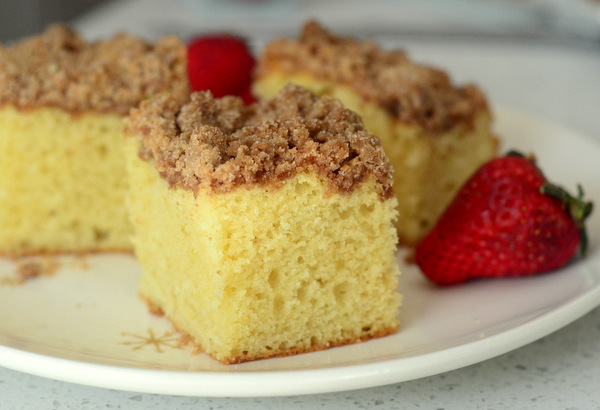 The cake should go into a preheated oven and doesn't take any longer to bake than a freshly mixed coffee cake does. That means you'll be able to eat this less than an hour after waking up, no dish washing required. Since you are putting a cold pan into a hot oven, however, I recommend using a metal pan to bake this coffee cake. Tempered glass should be able to withstand the temperature change, but not all glass pans are tempered and it isn't worth taking a chance on.
Overnight coffee cake recipe
Serves nine people
Ingredients:
For the cake:
2 1/2 cups all purpose flour
1 teaspoon baking powder
1 

teaspoon

baking soda
1/4 

teaspoon

salt
1/2 cup butter, room temperature
1 cup sugar
2 large eggs
2 

teaspoons

vanilla extract
1/2 cup sour cream
1/2 cup milk
For the streusel:
1/2 cup all purpose flour
1/2 cup sugar
1/4 cup brown sugar, packed
1/4 teaspoon salt
1 1/2 teaspoons ground cinnamon
3 tablespoons butter, room temperature
Step 1: Prep the pan.
Line a 9″ square baking pan with aluminum foil or parchment paper. 
Step 2: Make the cake batter.
In a medium bowl, whisk together flour, baking powder, baking soda and salt.
In a large bowl, cream together butter and sugar until light and fluffy. Beat in eggs one at a time, then mix in the vanilla extract. Stir in one third of the flour mixture, followed by the sour cream. Stir in another third of the flour mixture, followed by the milk. Stir in the remaining flour mixture and mix until no streaks of dry ingredients remain visible. Pour into prepared pan and spread into an even layer. 
Step 3: Make the streusel
In a medium bowl, whisk together flour, sugar, brown sugar, salt and cinnamon. Add in softened butter and, using a fork or your fingertips, cut it into the flour until the mixture has the consistency of wet sand.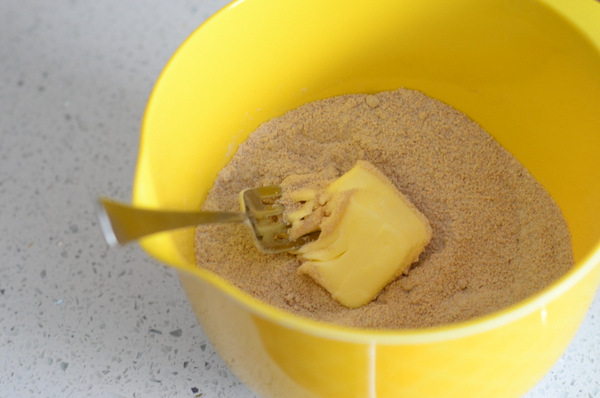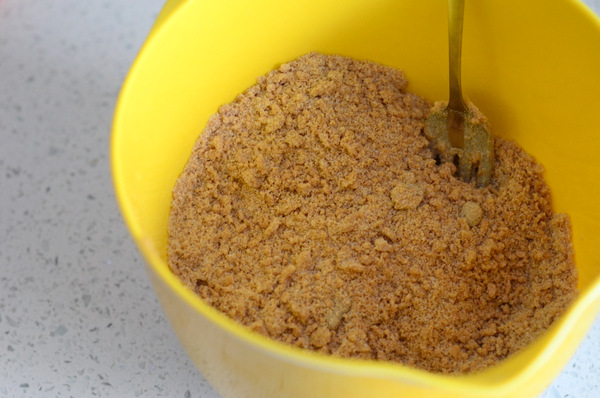 Grab handfuls of the cinnamon mixture and squeeze firmly to create large clumps of streusel. Repeat with all of the streusel mixture, then sprinkle evenly over the coffee cake batter.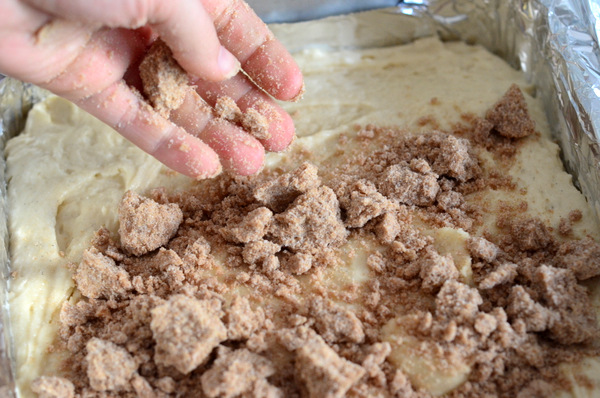 Step 4: Go to sleep!
Refrigerate overnight, 8 – 12 hours. 
Step 5: Bake it.
In the morning, preheat your oven to 375 F. Bake cake for 40 – 45 minutes, or until a toothpick inserted into the center comes out clean and the cake springs back when lightly pressed.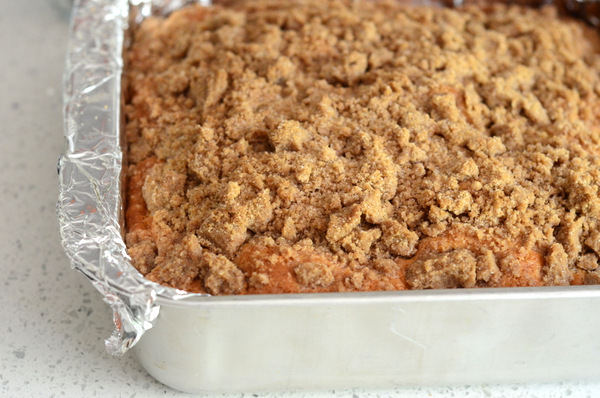 The cake should be golden brown. Allow cake to cool completely before slicing, then enjoy!