Cream-filled Oreo cookies are one of the rare cookies that seem to appeal to people of all ages, from kids to adults. The combination of bittersweet chocolate wafers and sugary cream filling is a winner, no matter how you eat them. While some might prefer to dunk them in milk, I prefer to turn mine into cookies 'n' cream treats, like ice cream and these cupcakes. 
Oreo cookie cupcakes
This recipe starts with a basic vanilla cupcake batter, which is loaded with plenty of Oreo cookies to ensure that you'll get that cookies 'n' cream flavor in every bite. They're mixed up and baked like any other cupcake. The key to success with an Oreo cupcake, however, is getting just the right chop on your cookies.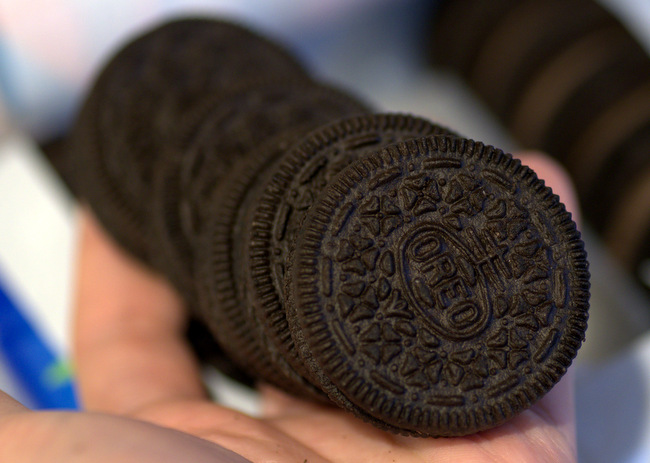 Chopping the Oreos
The Oreos should be coarsely chopped, which means that each cookie should be cut into 6-8 pieces. These pieces will be a little bit larger than your average chocolate chip, a size that will give you an even distribution of cookies 'n' cream throughout the cupcake. Don't worry if the chocolate wafers and the cream filling separate a bit as you chop them up, so long as everything ends up in the cake batter!
Choosing your cookies
You can't go wrong with classic Oreos in these cupcakes, but if you want to put a little extra color or flavor in them, consider substituting a package of seasonal or limited-edition Oreos!
I've tried vanilla and lemon Oreos (which are great for springtime entertaining), all-chocolate Oreos for chocoholics and orange cream–filled Halloween Oreos in October to give the cupcakes a very festive fall look.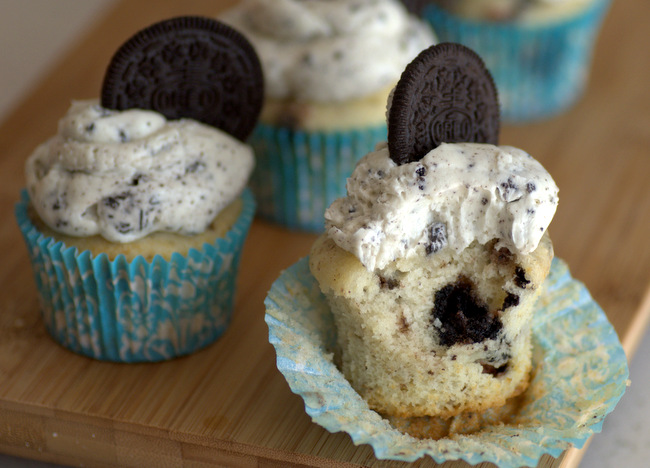 Frosting & decorating
When it comes to decorating Oreo cupcakes, I like to keep things simple. You can use any kind of frosting — chocolate or vanilla, homemade or store-bought.
To top off these Oreo cupcakes, I make a cookies 'n' cream frosting. This frosting is simply a quick buttercream that has crushed chocolate wafer cookies mixed in. I find that the cream filling from the cookies doesn't really work well with the silky frosting, so I use the wafers alone. I also chop the cookies much more finely than I do for the batter, which makes the frosting easy to pipe onto the cupcakes. If you prefer chocolate, you can easily use the same technique with a chocolate frosting.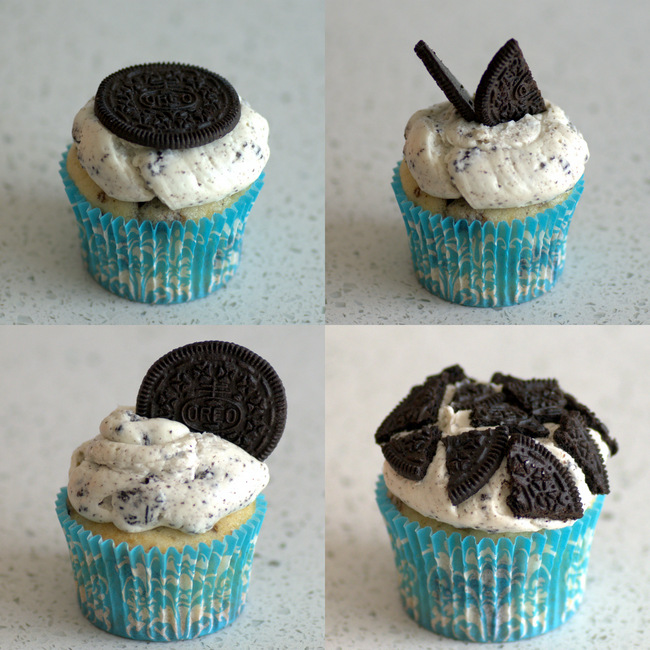 I like to have some fun with the garnish for these cupcakes without getting too complicated. I find that a whole Oreo cookie  is a bit much and makes biting into the cupcake a little difficult, so I usually use half of a whole cookie (cream included) or a chocolate wafer alone (without cream). You can chop up the chocolate wafers to arrange in more creative patterns, too! In the end, there is no wrong way to garnish these because they're delicious on their own. 
Oreo cupcakes recipe
Makes 12 cupcakes
Ingredients:
1-1/3 cups all-purpose flour
1 teaspoon baking powder
¼ teaspoon salt
½ cup butter, room temperature
¾ cup sugar
2 large egg whites
1 teaspoon vanilla extract
¼ teaspoon almond extract
½ cup milk
1¼ cups coarsely chopped Oreos (approximately 8 cookies)
Step 1:
Preheat oven to 350 F. Line a 12-cup muffin pan with paper liners. In a medium bowl, whisk together flour, baking powder and salt.
Step 2:
In a large bowl, cream together butter and sugar until light and fluffy. Beat in egg whites until completely incorporated, followed by vanilla and almond extracts. 
Stir in half of the flour mixture, followed by the milk. Stir in remaining flour mixture, mixing until just combined. Fold in chopped up cookies. Divide batter evenly into prepared pan.
Step 3:
Bake for 16-18 minutes, or until a toothpick inserted into the center of the cupcakes comes out clean or with only a few moist crumbs attached. Allow cupcakes to cool before frosting.
Cookies 'n' cream frosting recipe
Makes frosting for 12 cupcakes
Ingredients:
½ cup butter, room temperature
3 tablespoons milk
1 teaspoon vanilla extract
Approximately 3 to 3½ cups powdered sugar
4-6 chocolate wafer cookies, crushed
Directions:
In a large bowl, combine butter, milk and vanilla extract. Mix in 2 cups of powdered sugar and beat until mixture is smooth. Gradually add in remaining powdered sugar until frosting is thick and smooth. Fold in crushed chocolate wafer cookies.
Make the Cupcakes of Your Dreams
Mix and match flavors, frostings, fillings and decorations to make custom cupcakes that look as good as they taste.Enroll Today