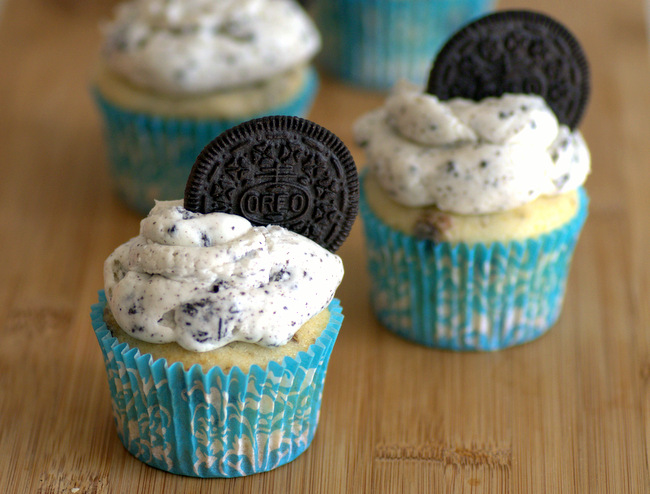 Hey Oreo-lovers, this one's for you. This recipe is Oreo on Oreo: the cookies are crushed and baked right into the batter, then mixed into the buttercream for a cookies 'n' cream frosting. Y-U-M!
Oreo Cupcakes
Yield: 12 cupcakes
Ingredients
1⅓ cups all-purpose flour
1 teaspoon baking powder
¼ teaspoon salt
½ cup butter, room temperature
¾ cup sugar
2 large egg whites
1 teaspoon vanilla extract
¼ teaspoon almond extract
½ cup milk
1¼ cups coarsely chopped Oreos (approximately 8 cookies)
Instructions
1. Preheat oven to 350 F. Line a 12-cup muffin pan with paper liners. In a medium bowl, whisk together flour, baking powder and salt.
2. In a large bowl, cream together butter and sugar until light and fluffy. Beat in egg whites until completely incorporated, followed by vanilla and almond extracts.
3. Stir in half of the flour mixture, followed by the milk. Stir in remaining flour mixture, mixing until just combined. Fold in chopped up cookies. Divide batter evenly into prepared pan.
4. Bake for 16-18 minutes, or until a toothpick inserted into the center of the cupcakes comes out clean or with only a few moist crumbs attached. Allow cupcakes to cool before frosting.
---
Cookies 'n' Cream Frosting
Yield: enough frosting for 12 cupcakes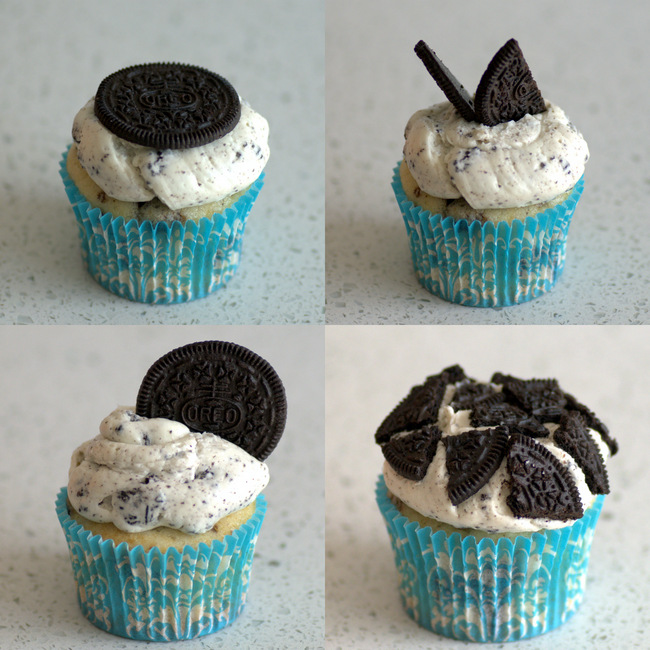 Ingredients
½ cup butter, room temperature
3 tablespoons milk
1 teaspoon vanilla extract
Approximately 3 to 3½ cups powdered sugar
4-6 chocolate wafer cookies, crushed
Instructions
1. In a large bowl, combine butter, milk and vanilla extract. Mix in 2 cups of powdered sugar and beat until mixture is smooth. Gradually add in remaining powdered sugar until frosting is thick and smooth. Fold in crushed chocolate wafer cookies.