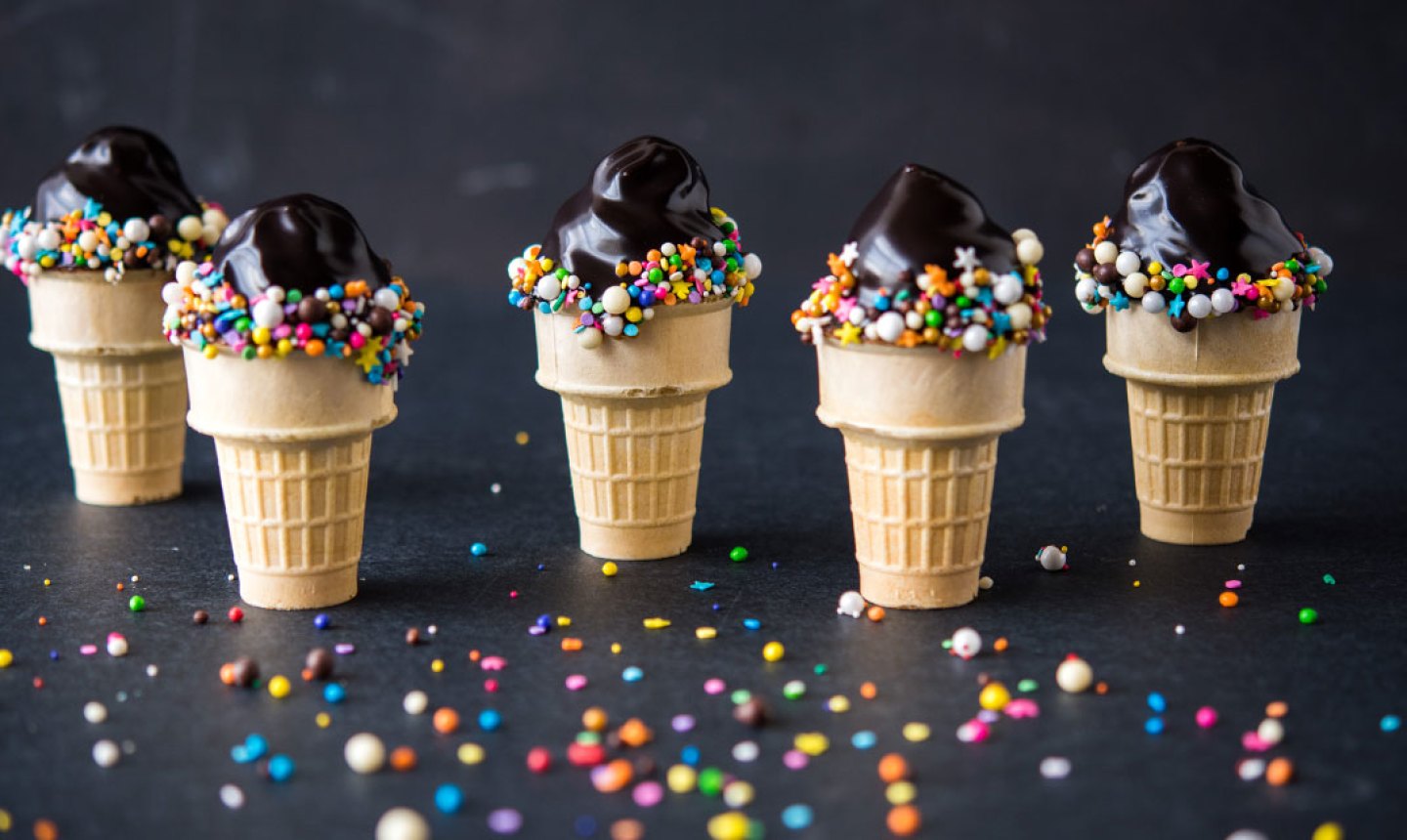 They look like dipped ice cream cones, but they're actually cake! (Joshua John Russell cake; the best cake of all.) To make this, you'll need a few JJR recipes — but of course, we've got you covered. Follow these steps and make everyone who takes a bite exclaim, "Nice."
"Nice Cream" Cones
Yield: 22-30 cones
What You Need
Premade flat-bottom wafer (cake) cones
Melted ganache
Cake-pop dough (recipe below)
Peanut butter mousse (recipe below)
Chocolate mirror glaze
Sprinkles
Instructions
1. Drizzle melted ganache in the bottom of the cones until it is about ½-inch thick. Allow it to set.
2. Spoon cake-pop dough, packing lightly, until even with the top of the cone.
3. With a piping bag fitted with a large open or star tip, pipe a swirl of peanut butter mousse on top of the cone.
4. Dip swirl upside down into chocolate mirror glaze, warmed according to package directions.
5. Use your hand to lightly pat sprinkles as desired onto glaze.
Cake Pop Dough
Ingredients
5 cups leftover cake, loosely packed
1 cup buttercream or cream cheese frosting
Instructions
1. Place ingredients into a stand mixer fitted with a paddle attachment.
2. Mix on low until fully incorporated and mixture resembles the consistency of cookie dough. This should only take a few minutes.
Peanut Butter Mouse
Ingredients
2 cups (480 ml) heavy cream
2½ pounds (1.1 kg) smooth peanut butter
1½ pounds (680 g) cream cheese, at room temperature
1 pound (455 g) light brown sugar
2 tablespoons vanilla extract
Instructions
1. By hand or with a mixer, whip the cream to stiff peaks and set aside.
2. In the bowl of a stand mixer fitted with the paddle attachment, mix the peanut butter, cream cheese, brown sugar and vanilla on low speed until fully incorporated.
3. Remove the bowl from the mixer and fold the whipped cream into the peanut butter mixture by hand. Store covered in the refrigerator. Use mousse cold for best results. Mousse will keep in the refrigerator for one week.