If you love the look of straight-line quilting but doubt your ability to stitch straight, crisp lines, we're here to help! All you need to know is how to mark lines for straight-line quilting.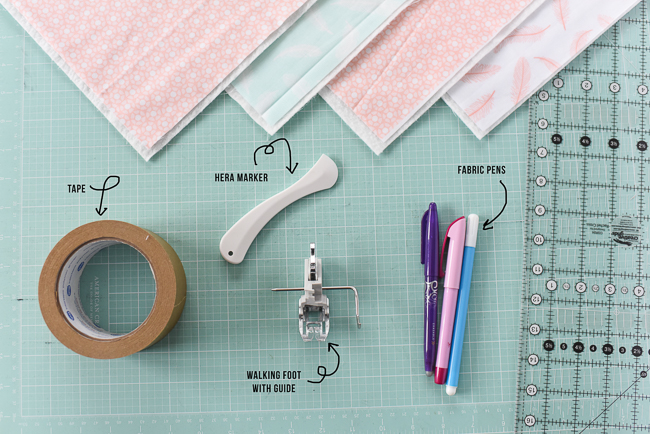 Straight-line quilting is a great way to finish off a quilt. Like anything thing else, straight line quilting takes some practice to well, get those lines straight!
Read on to see four commons ways to mark your quilt for straight-line quilting.
I've listed them in the order of my least favorite method to most favorite method. I have used all of these techniques in the past with success.
1. Mark straight lines using tape
This is one of the early straight-line quilting marking methods I used.
In this method, you use long pieces of tape to mark the straight lines, using a ruler as a guide. Then, use the tape as a guide as you quilt along the edge of it. Use painters tape, masking tape or even packing tape. Re-use the same strip several times.
Depending on what kind of tape you use, this isn't always the best method. If the tape doesn't adhere to the fabric well enough, it can move around a bit. Marking straight lines using tape is best reserved for smaller projects, such as mini quilts or baby quilts.
2. Mark straight lines using a fabric pen
I do use fabric pens to mark straight lines — or any quilting lines for that matter — occasionally.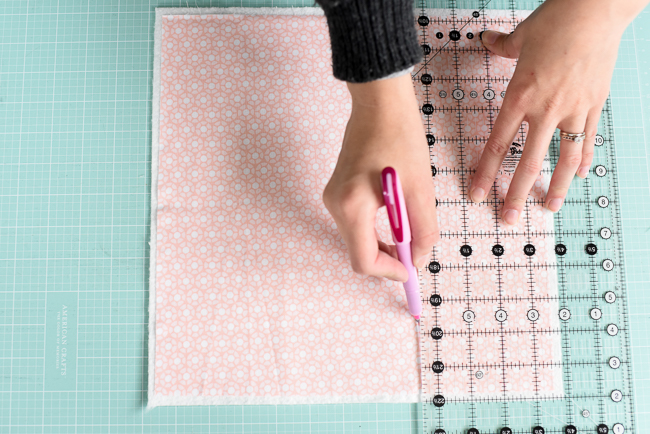 You do need to use caution when marking your fabrics with fabric pens. Some fabric pens will leave long-term marks on fabrics. Always test the pen on the fabric before going ahead with all of your lines. Some fabric pens fade on their own, others use heat to erase and still others erase using cool water. Make sure you know how to make yours disappear!
To use a fabric pen, simple draw the lines using your ruler to keep them straight. Quilt your lines right on top of the marked line. 
3. Mark straight lines using a Hera Marker
Marking straight lines with a Hera Marker is one of my favorite straight-line techniques! A Hera Marker is a piece of sturdy plastic that you can use to create temporary creases in your fabric.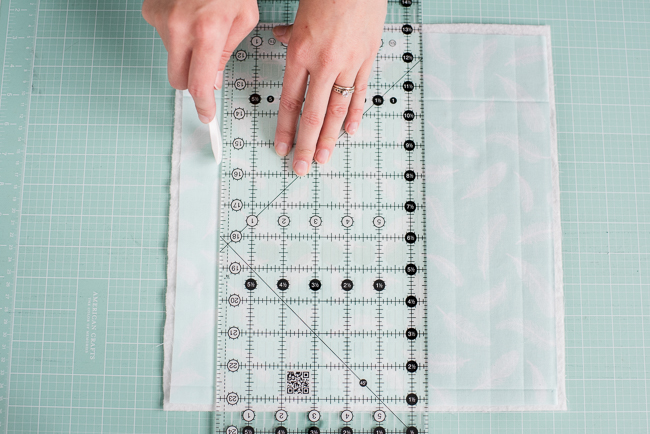 The Hera Marker will not leave long-term marking, like a pen might. Hera Markers are inexpensive and easy to use.
Using your ruler as a guide, press the Hera Marker along the side of the ruler. Use a decent amount of pressure to mark your lines. Also, make sure you're on a nice flat surface such as a table, hard floor or cutting mat. The Hera Marker will not work well on softer surfaces such as carpet. It's easier to mark these lines in natural light so you can clearly see them.
I usually mark my entire quilt at once and then quilt it by stitching right in the indented lines. I've found that these indents stay in place for quite some time. if you are not quilting immediately.
4. Mark straight lines using your walking foot guide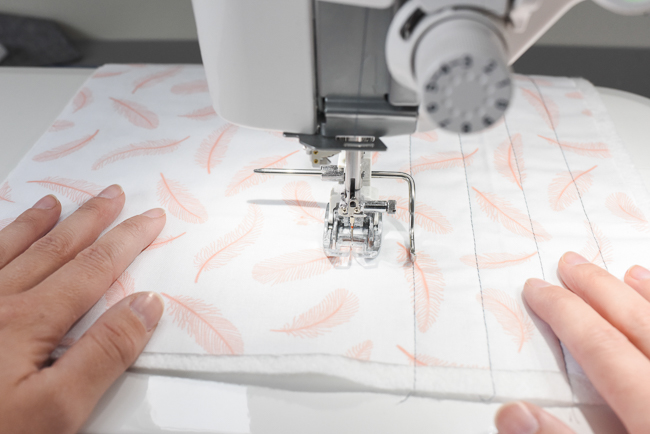 Using a walking foot guide is my favorite way to straight-line quilt. The guide slips into the walking foot and you can adjust it to the width of your lines. 
I find the walking foot guide to be the most accurate way to straight-line quilt. Here's how it works:
Stitch your first straight line using either the edge of the quilt top or a line of seams as your guide. Once your first line is quilted, use that line as the new guide. Repeat all the way through your quilt.
Beware, though, that these guides have a tendency to break off easily on some walking foot models. When this happens, simply tape the walking foot guide on to the walking foot itself at the desired width.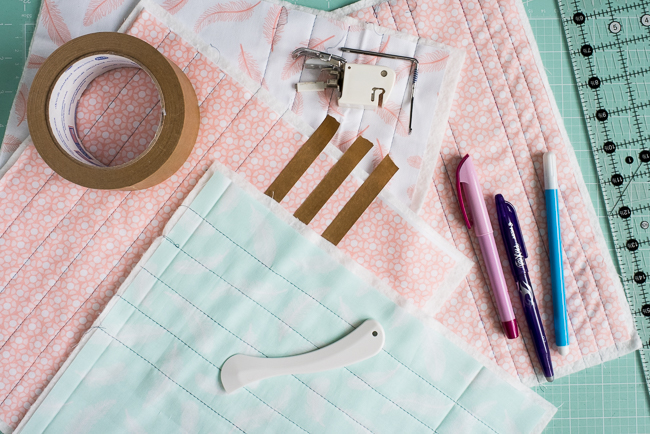 I hope you find this helpful in deciding how to mark your lines for your next straight-line quilting project. These methods are not fool-proof and like anything else, getting straight even lines takes practice! Find a method that works for you and have fun quilting!