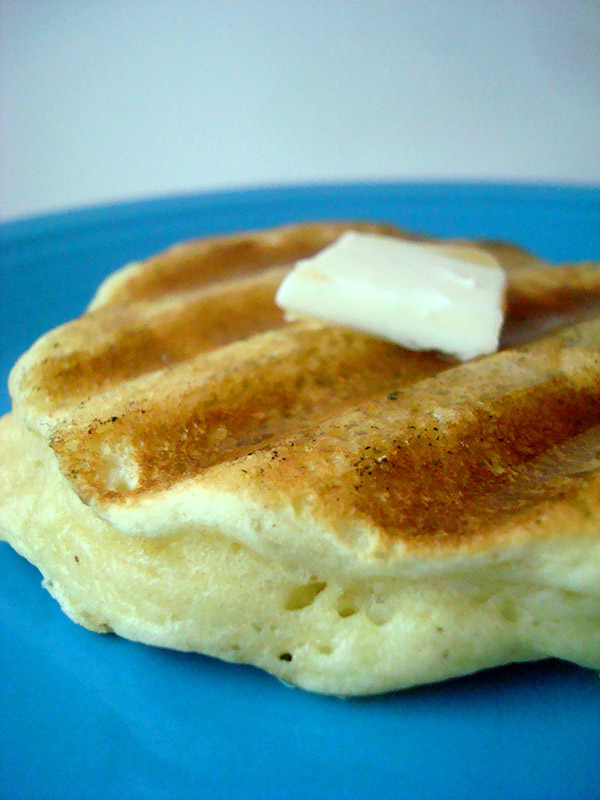 No waffle iron? No problem! There's actually another option for making waffles from scratch, and all you need is a basic appliance you probably already own: the grill pan.
You already love this bad boy for grilling meats and vegetables, not to mention making paninis with homemade bread. But using it to make waffles is genius. Their taste and texture will be 100 percent waffle, complete with a crispy exterior and light, airy interior. And while they still have those telltale ridges, just note they may look slightly pancake-y.
Bonus: grill-pan waffles hold syrup and butter differently than a traditional waffle. Any topping will pool into a luscious little stream along the ridges, making each bite just as good (if not better!) than the last. It's a total brunch recipe win.
Grill-Pan Waffles
Level: Easy
What You Need
1 batch of waffle batter
Butter, for greasing the pan
Grill pan
Spatula
Pastry brush
Wire rack, for cooling
Instructions
1. Mix the Batter
Mix your favorite waffle batter. Any waffle recipe will work.
2. Prep the Grill Pan
Put your grill pan on the burner over medium heat until nice and toasty. Sprinkle a few drops of water on the pan to test the heat; if the water dances, you're ready to roll.
Brush the warm grill pan with butter. It should melt right away and even sizzle a bit.
3. Get Cooking
Spoon the waffle batter onto the pan and let it spread into a circle. You can add the batter in big dollops, or in small ones if that's your jam.
The ridges in the pan might make your circles look a little off, but don't worry about that. Your waffles will come out just fine. You might even find the slightly imperfect, almost cloud-shaped waffles kind of charming.
4. Let it Simmer
Lower the heat to medium-low.
Pro Tip: Lowering the heat will let your waffles form ridges from the pan and get a nice char going, without burning on the outside.
Let the batter cook until bubbles start to form on top, the edges look dry and the bottom is set.
5. Time to Flip
Using a spatula, flip your waffle. Try to flip it so the lines are facing the same way they did before you lifted the waffle off the pan. It's a tricky technique, so if you can't manage it, don't panic. There will be zero impact on the flavor.
6. Make the Ridges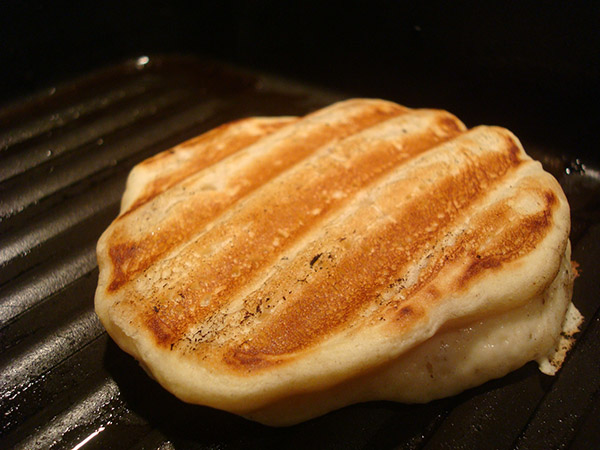 Press down lightly with the back of your spatula to get your waffle to stick to the ridges in the pan. Cook until this side is finished too, then transfer the waffle to a wire rack.
Pro Tip: To keep your waffles warm while you cook the whole batch, turn on your oven to the lowest heat setting and stash the finished ones in there.
Serve with maple syrup or homemade jam, and dig in!