This guest post is brought to you by professional pattern designer Sue O'Very, instructor of the BRAND NEW Craftsy class In The Hoop Gifts! Sign up for the class today to learn how to create five fun and unique projects, from a fun yet practical luggage tag to an adorable owl pot holder!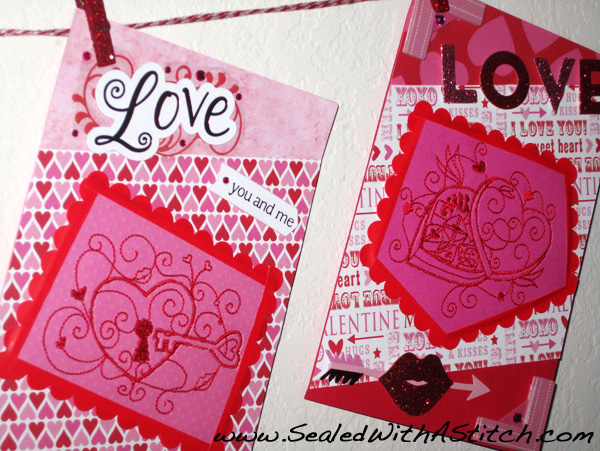 Show someone you love them with just a few stickers, a little bit of paper and your embroidery machine! That's right, we're stitching in-the-hoop on paper! You're going to fall in love with in-the-hoop gifts once you see how fast and fun stitching up these greeting cards can be!
Today, I'm sharing with you a few great tricks on working with paper to get the best results on your Valentine's Day card. It's sure to make your sweetheart fall in love with you all over again.
In-the-hoop Valentine's Day card tutorial

Materials needed:
Embroidery design with low density stitching (Check out the FREE Box of Chocolates design from Sealed With A Stitch from the Enchanted Love Collection)
8" square (or large enough to fit the hoop) sticky stabilizer, such as the Bosal Stick and Peel
4 ½" square iron-on batting, such as the Bosal Fusible Batting
Size 11 embroidery needle
40wt embroidery thread in top and 60wt bobbin thread
2 print scrapbook paper 8 ½" by 11"
2 solid scrapbook cardstock weight paper 8 ½" by 11"
Double stick adhesive dispenser for scrapbooking
Glue pen or glue stick for fabric
Valentine's Day stickers
Sticky borders
Envelope to put card in (optional)
Tools needed:
Hoop with a 4" by 4" hoop (100mm by 100mm)
Rotary cutter
Ruler
Mat
Straight pin (for perforating the sticky stabilizer)
Dry iron
Paper scissors
Mechanical pencil
Basic sewing supplies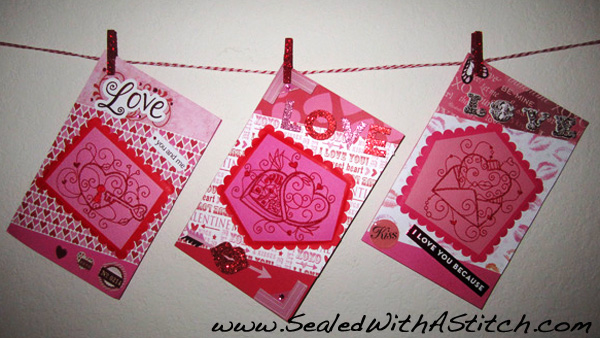 Now, lets make a Valentine!

Step 1: Prepare embroidery materials
From one of the solid cardstock pieces, cut a 5" square. With a dry iron press the fusible side of the iron-on batting to the wrong side of the cardstock square.
Note: You can also use iron-on woven interfacing, except the batting gives a little plushness to the card.

Step 2: Embroidery
Hoop sticky stabilizer and use straight pin to perforate the paper. Peel paper away to reveal the adhesive. Place the cardstock square centered within the hoop.
Note: It is a good idea to change your embroidery needles every 6-8 hours of use. Save those old needles for paper.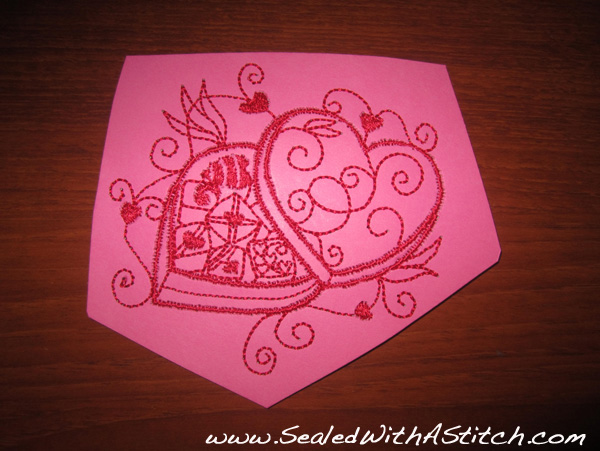 Once embroidery is complete, remove hoop from machine, stabilizer from hoop. Cut 4 to 5 angles to create a unique shape to frame your embroidery.

Step 3: Decorate top
Fold the second piece of solid cardstock in half widthwise. This is the main card. Cut one of the printed papers 3" tall x the width of the front. Use the double stick adhesive dispenser on the wrong side along all four edges of the printed paper. Place the print paper aligning edges along top corners of the front.

Step 4: Decorate middle
Cut second piece of print paper so it is on angle. Trace the paper from the wrong side with mechanical pencil and cut on drawn line with scissors. Use the double stick adhesive dispenser on the wrong side along all four edges. Place the print paper aligning edges along the sides.
Note: All prints will vary, find what works best for your card. Card below from the upper top right down measures ½" – from the bottom right corner measures up 2".

Step 5: Embroidered piece
Use fabric glue stick on wrong side of embroidered piece.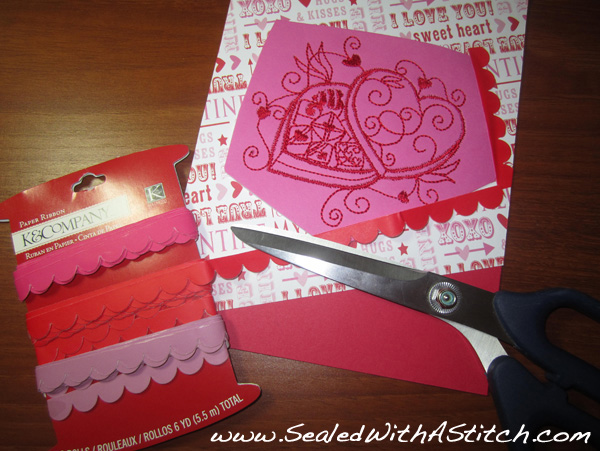 Use the sticky borders to cover all sides of the embroidered piece.

Step 6: Stickers and pocket
Audition stickers before permanently placing them. Once in LOVE with your card, firmly press the stickers down. With the leftover front top paper you can make a pocket inside for candy.
Measures 3" square. Use the sticky borders on three sides leaving the top open for the candies to go inside. Use more stickers inside your card to complete the look.
Once you have finished decorating your In The Hoop Valentines Day card you will want to make more, I promise. They are lots of fast, fun, and easy to create!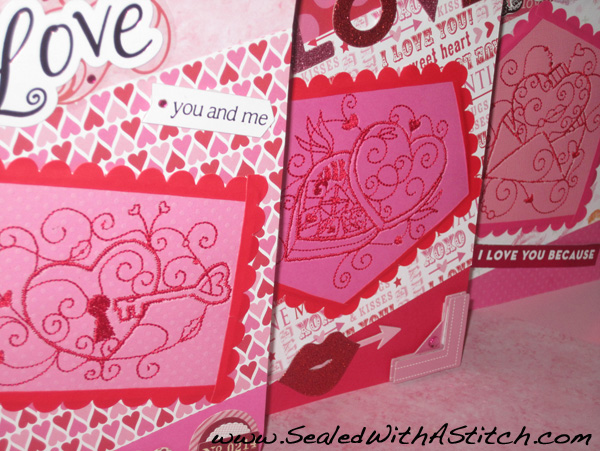 About Sue O'Very

Sue is the founder, owner and designer of Sealed With a Stitch. She loves to draw, digitize, sew, and create new and different projects. What she loves even more is being with sewing students and machine embroidery enthusiasts. Sue?s real passion is sharing the tips, techniques, and tools that make sewing easy and fun. If you ever get the opportunity to meet Sue, you will find she is full of life, sewing knowledge, and a few jokes too!
Be sure to stop by her brand new Craftsy embroidery class!
What other holidays would you want to make an in-the-hoop card for?