We don't care what anyone says: pumpkin spice brings the hype because it deserves the hype. But we all go a little overboard on pumpkin goodies this time of year, so this low-fat pumpkin bread is right on cue. It's just as delicious as you want it to be, but won't leave you feeling guilty about indulging in the next pumpkin treat that crosses your path.
Low-Fat Pumpkin Bread
Yield: serves 10-12
Ingredients
2 cups all-purpose flour
½ cup oatmeal
2 teaspoons baking powder
¼ teaspoon salt
2½ teaspoons pumpkin pie spice
½ cup sugar
½ cup brown sugar
2 large eggs
1¼ cups pumpkin puree
1 teaspoon vanilla extract
½ cup milk
Instructions
1. Preheat oven to 350 F and grease and flour a 9″ x 5″ loaf pan. In a medium bowl, whisk together flour, oatmeal, baking powder, salt and pumpkin pie spice.
2. In a large bowl, combine sugars, eggs, pumpkin puree and vanilla extract, whisking until smooth. Using a spatula, stir in half of the flour mixture, followed by the milk. Then stir in the remaining flour mixture, mixing just until no streaks of flour are visible — remember, be careful not over-mix here. Pour into your prepared pan.
3. Bake for 50-55 minutes, until a toothpick inserted into the center comes out with only a few moist crumbs attached.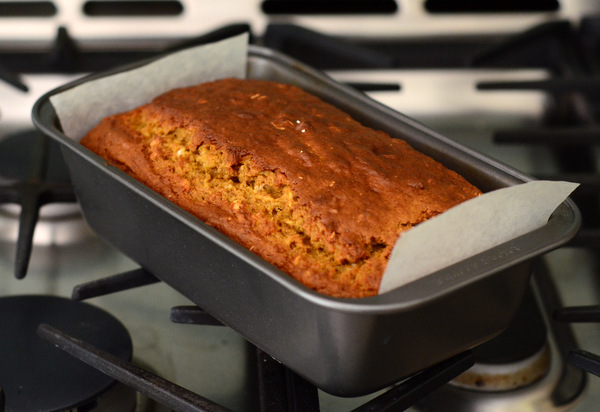 4. Allow your loaf to cool in the pan for 15 minutes, then turn it out onto a wire rack to cool completely before slicing.