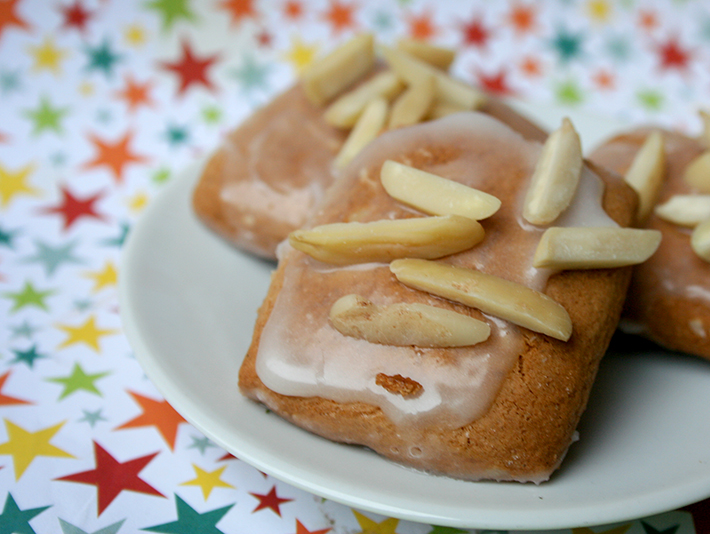 You've indulged in gingerbread, so now meet its German cousin: lebkuchen. Like gingerbread, lebkuchen is a cinnamon spiced cookie traditionally made around the holidays. It's made with honey rather than molasses, and when you glaze lebkuchen, this recipe is *chef's kiss*. Enjoy it with your next cup of hot cocoa!
Lebkuchen
Yield: about 4 dozen small cookies
Ingredients
For the Cookies
2¼ cups all-purpose flour
¼ teaspoon baking soda
1 teaspoon ground ginger
1 teaspoon ground nutmeg
1 teaspoon ground cloves
2 teaspoons ground cinnamon
1/8 teaspoon salt
3/4 cup honey
½ cup light brown sugar, packed
1 large egg, at room temperature
½ teaspoon lemon extract
½ cup finely chopped blanched almonds
2 teaspoons finely chopped orange peel, lemon peel, or a combination
For the Glaze
1 cup confectioners' sugar
4 tablespoons milk
1 teaspoon brandy or lemon extract
Instructions
1. In a medium bowl, sift together the flour, baking soda, spices and salt. Set aside.
2. In a medium saucepan, combine the honey and brown sugar. Heat over medium-low heat, stirring frequently, until the sugar has dissolved and the mixture begins to bubble. Remove from heat, and let cool to room temperature. Transfer to a large bowl, or the bowl of a stand mixer. 
3. Add the egg, lemon extract, almonds and citrus peel. Stir to combine. 
4. Add the flour mixture, stir until combined. The dough will be somewhat like drop cookie dough in consistency: firm, but sticky. Cover the dough in the bowl and refrigerate for at least 4 hours, or overnight.
5. Preheat the oven to 350 F. Lightly flour a work surface. Roll the dough into a rectangle measuring approximately 9″ x 13″.
6. Cut into small rectangles, approximately 1″ x 2″ each (you can alter this based on your preference). Place them on baking sheets lined with parchment paper with a little space around each portion.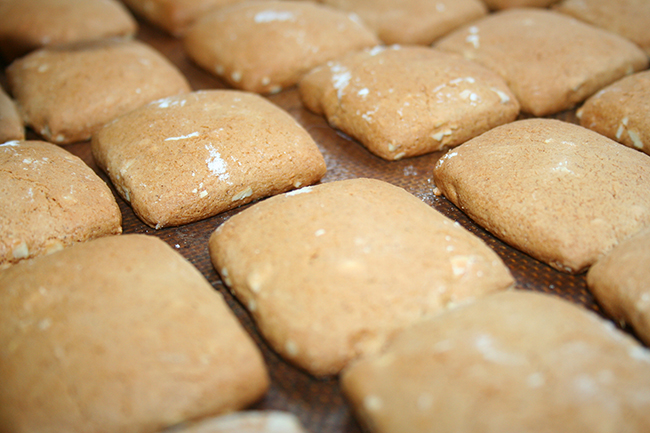 7. Bake for 16-20 minutes, or until puffy, golden on top and set in the centers. Remove from the oven and let cool on the tray for a few minutes before transferring to a wire rack to cool completely.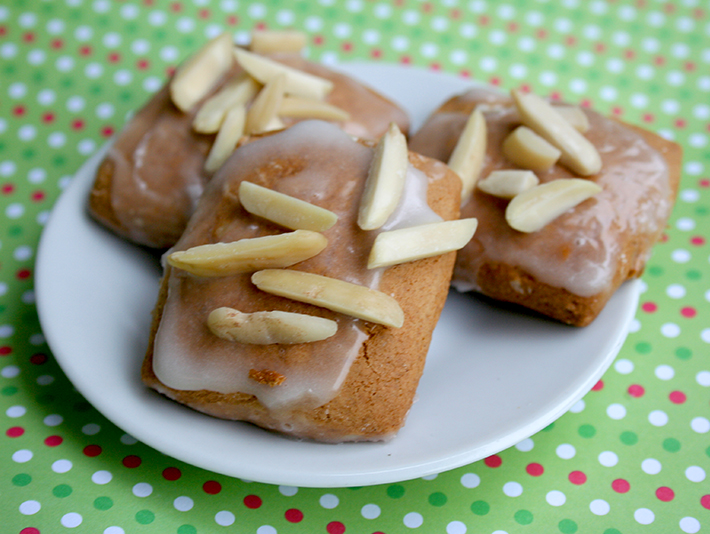 8. While the cookies cool, make the glaze. Whisk together all of the ingredients until smooth and combined. Drizzle each cookie with the glaze, and garnish with a few extra almond pieces if desired.
If garnishing with almond pieces, scatter them on top of the cookies directly after applying glaze, as they won't stick once the glaze has set.
Store in an airtight container for up to one week, or freeze them for up to one month.