Knitting stitch markers are most famously known for marking the beginning of a round. But knitting with stitch markers can do so much more than just that.
Knitting stitch markers are there to say to us, "Wait! Stop!" We can use them anywhere we need to call extra attention to. Knitting stitch markers can be placed to help you focus on important things, like increasing, decreasing, and complicated stitch pattern repeats. If you don't use stitch markers frequently now, you might just change your mind when you see all the awesome ways they can benefit you!
Here are just a few ways that knitting with stitch markers can make your knitting less stressful.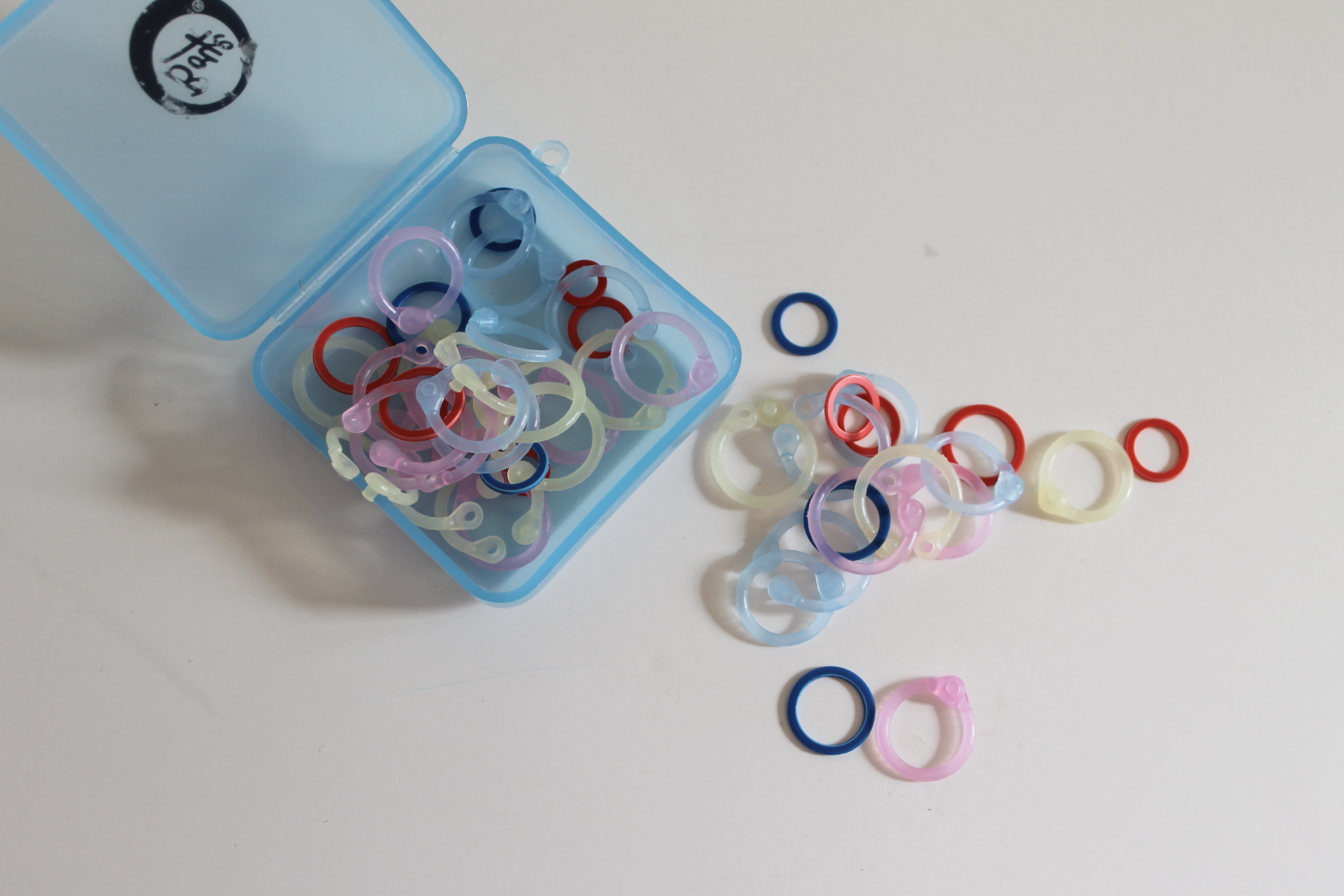 Beginning of the round

We'll start here, since it's the most commonly known use for a stitch marker. It's often hard to tell when a round ends and begins, so we place a stitch marker right between the first and last stitches. This comes in really handy if you're working an in-the-round pattern that requires counting the rounds.
Pattern repeats in a color chart

Color charts can get crazy, especially when you're working with more than two colors. Marking the beginning and end of a color chart repeat can not only show you when the pattern starts the repeat, but it can also help you identify mistakes more easily. Instead of searching the entire row and comparing it to the chart, you can use the stitch markers to break it down into smaller, more manageable sections.
Pattern repeats in lace

Just like color charts, lace pattern repeats can make your head spin. Section off those repeats with stitch markers and you'll make knitting lace a lot easier.
Where to increase or decrease

Sometimes a pattern might have us count our stitches before a decrease or increase. So for example, your pattern might say, "P18, K2tog, P6." And maybe that shaping is happening in the exact same place for several rows. If that's the case, P18, then place a marker. You won't have to count those stitches every time, and the stitch marker will let you know when it's time to decrease.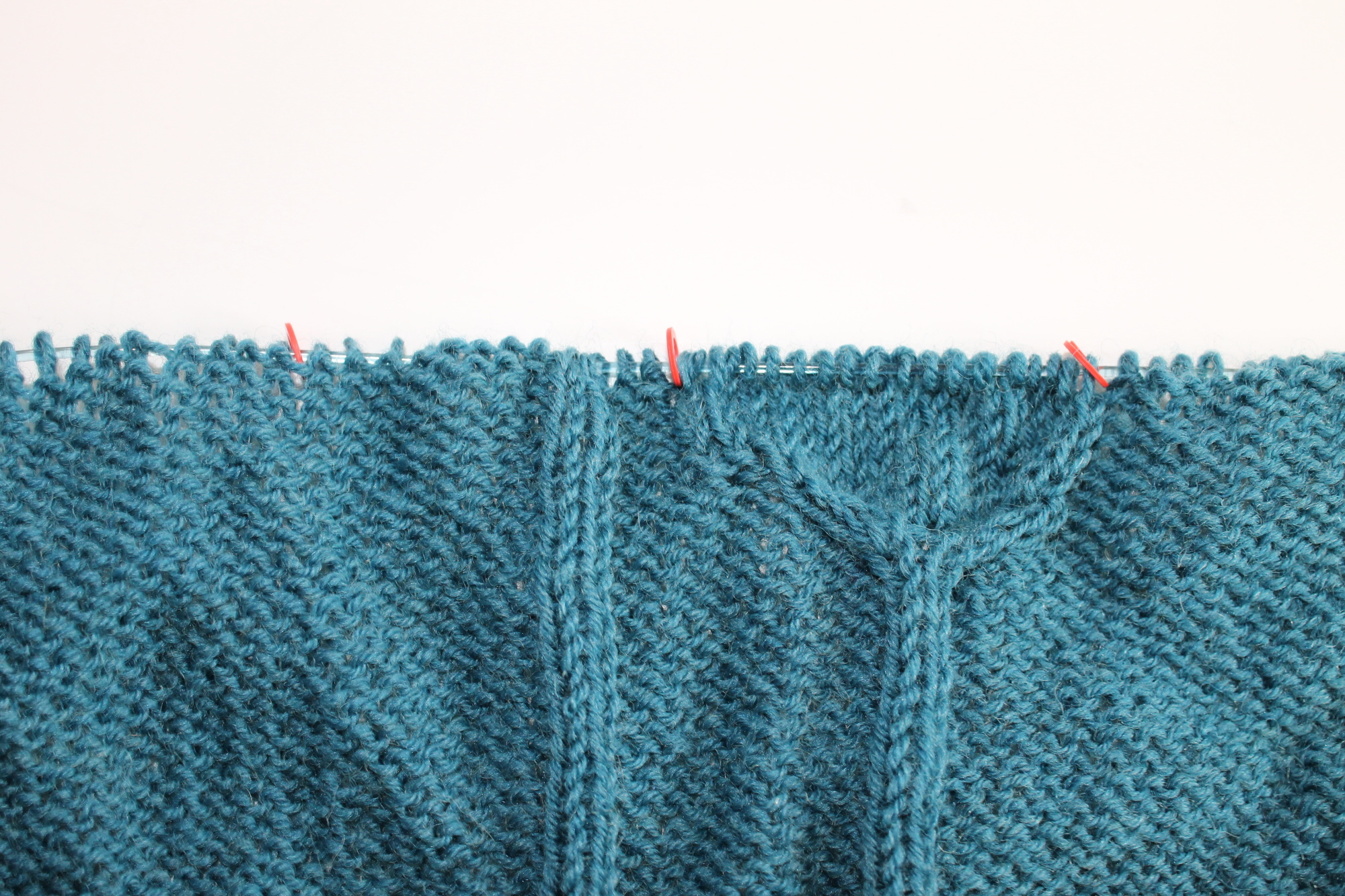 Where to begin cables and other special stitches

I find stitch markers handy for marking everything from cables to special stitches, especially when those stitches are nestled between a more basic stitch. In the photo above, I'm working on Bluprint member TheSexyKnitter's Miss Holloway Dress, and I'm using stitch markers to mark when those fun circle cables pop up among the reverse stockinette stitch. I know that I can work the same stitch over and over again until I reach that marker, and then it's time to pay attention and refer to the cable chart.
Construct amigurumi
I love these ideas from Bluprint instructor Stacey Trock on using a stitch marker in amigurumi. Stacey uses them to explain crochet amigurumi, but they can be applied to knitting, as well.
Mark any reference point
Sometimes a knitting pattern will tell us to work stockinette for 1″, for example, from a certain point. And sometimes it's difficult to see where that certain point is. Instead of guessing (which I'm totally guilty of doing), mark that first row with a marker and measure from there.
Mark multiples of stitches.
Patterns might ask us to count large number of stitches at a time. Instead of counting off ten, twenty, or even more stitches, mark the multiples with stitch markers to ease the burden. Then you can focus more on the stitches than counting!
Found yourself without a stitch marker and need to improvise? Find out how to make your own knitting stitch marker.
Get Tools & Supplies You'll Love, Fast!
Find the tools & supplies you need for your next project, at the right price.Shop Supplies Now »