One of the best reasons for knitting your own clothes or accessories is texture! You can certainly play around with knitting texture by choosing different yarns, but if you want to take full advantage of your skills, why not play with the stitch pattern? The best part is a lot of textured patterns simply utilize basic knit and purl pattern repeats. Texture in knitting is a great subject to explore, even for beginners.
Below you will find some common stitch patterns to add to your repertoire and then three interesting patterns I found right here on Craftsy that use texture as a main design proponent. Perhaps they will inspire you to incorporate texture to your next project!
Explore texture in knitting with these common stitches: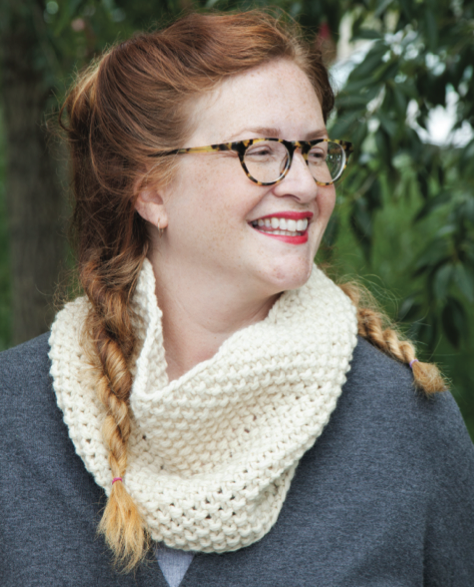 Photo via CraftsyPatterns.

1. Seed stitch
The seed stitch is one of the easiest stitches to knit. If you can knit and purl, you can work this stitch pattern. It involves purling the knits and knitting the purls on consecutive rows or rounds. The best part is that since it's essentially a rib, so it lies flat! You don't need to add a fancy border or edging because the stitch works as both an edge and interesting texture!
Get the 1 Hour Seed Stitch Cowl pattern seen above.

See also our tutorial on how to knit a seed stitch.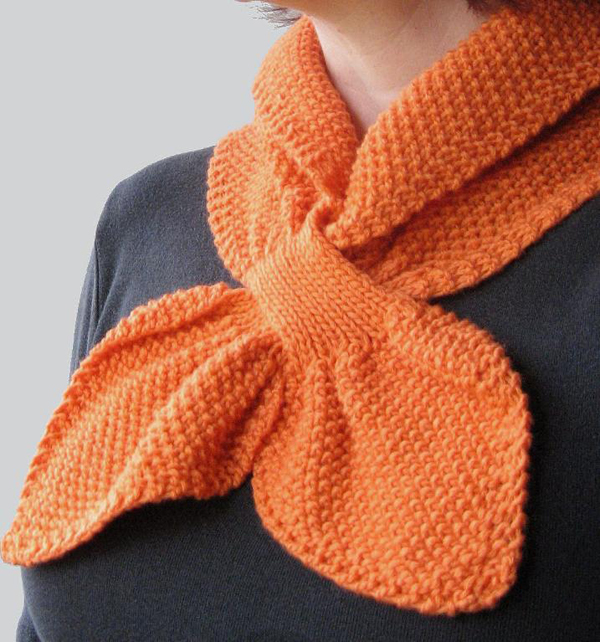 Photo via Knits By Jo
2. Moss stitch
Moss stitch is like the sister or cousin of seed stitch. After the first row/round of k1, p1, you work a row/round where you knit the knits and purl the purls. On the next row/round, you knit the purls and purl the knits! The next round, you knit the knits and purl the purls again. You alternate where those stitches land every other row. It's much easier to visualize when you see the pattern instructions:
(even # of stitches)
Row 1 and 2: *K 1, P 1; Repeat from * across all stitches, turn.
Row 3 and 4: *P 1, K 1; Repeat from * across all stitches, turn.
Get the Moss Stitch Keyhole Scarflette pattern seen above.

See also our tutorial on how to knit a moss stitch.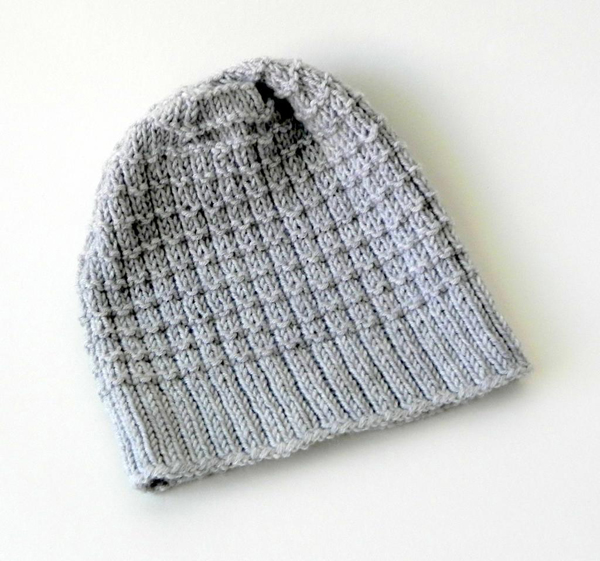 Photo via voronjono1326013
3. Waffle stitch
Waffle stitch is used on many winter garments! Look closely at thermals and you will notice this texture of alternating knits and purls (kind of like a rib) with rows of garter stitch throughout. It looks pretty gorgeous in a large scale, like the hat above.
Get the Waffle Hat pattern seen above.

See also our roundup of our favorite waffle stitch patterns.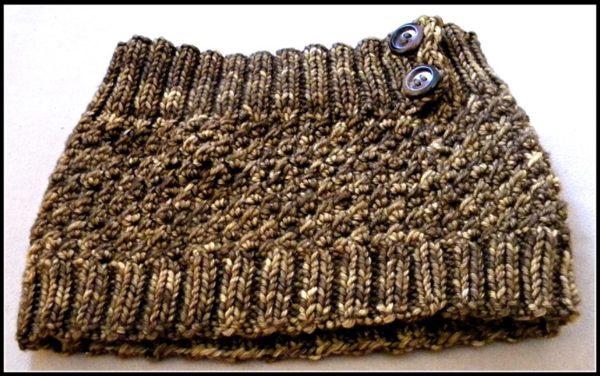 Photo via KNit Designs.

4. Trinity stitch
The trinity stitch is interesting because it utilizes an increase/decrease pattern to create its texture. You increase one stitch to three, then you decrease over the next three stitches. It is a fairly simple stitch that creates a gorgeous pattern with lots of texture!
Get the Trinity Cowl pattern seen above.

See also our post on tutorial on how to knit the trinity stitch.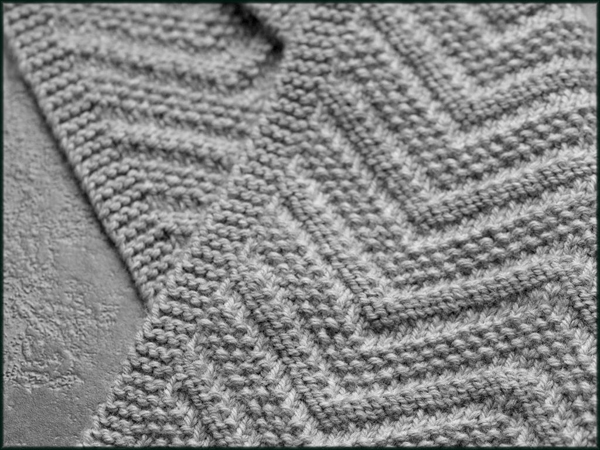 Photo via Wyndlestraw Designs
5. Other interesting textures
I love this scarf. It uses both seed stitch and plain ol' knit and purl chunks to create a zigzag texture. And it's reversible! That is kind of rare when it comes to bold knitting textures. There is usually a right and wrong side, but not with this pattern. It looks incredibly easy to create, even for beginning knitters.
Get the Beckenham Scarf pattern seen above.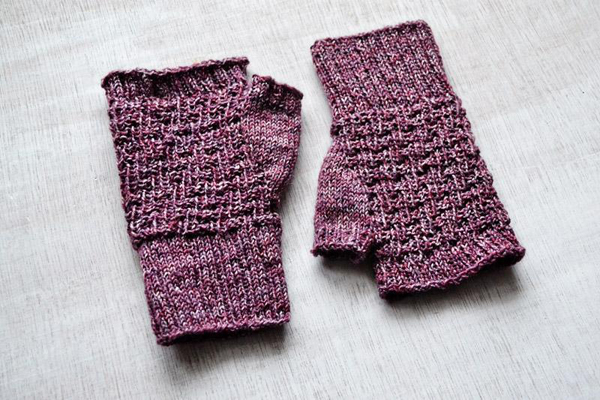 Photo via Pumora
These mitts are a beautiful example of how great texture can look in a variegated yarn. Texture can even enhance color palettes in some instances. It creates shadow, so it can make your colors look bolder and more intense.
Get the Pina Fingerless Mitts pattern seen above.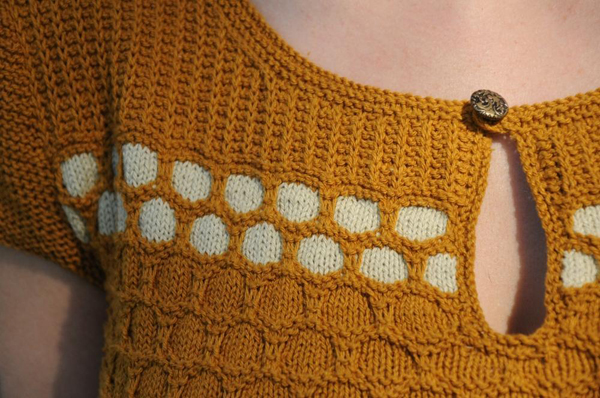 Photo via Amy Gunderson

This top has a lot of my favorites. First of all, who can resist that color? Next, check out the hexagons! Basic knits and purls can create a multitude of designs, but when they make simple geometric shapes, I feel all the more impressed. Furthermore, the textured yoke and cap sleeves (garter stitch with a little something extra!) are absolutely perfect.
Get the Hexa (30-40″ bust) pattern or the Hexa (42-50″ bust) pattern.
Do you enjoy knitting texture? What are some of your favorite projects?