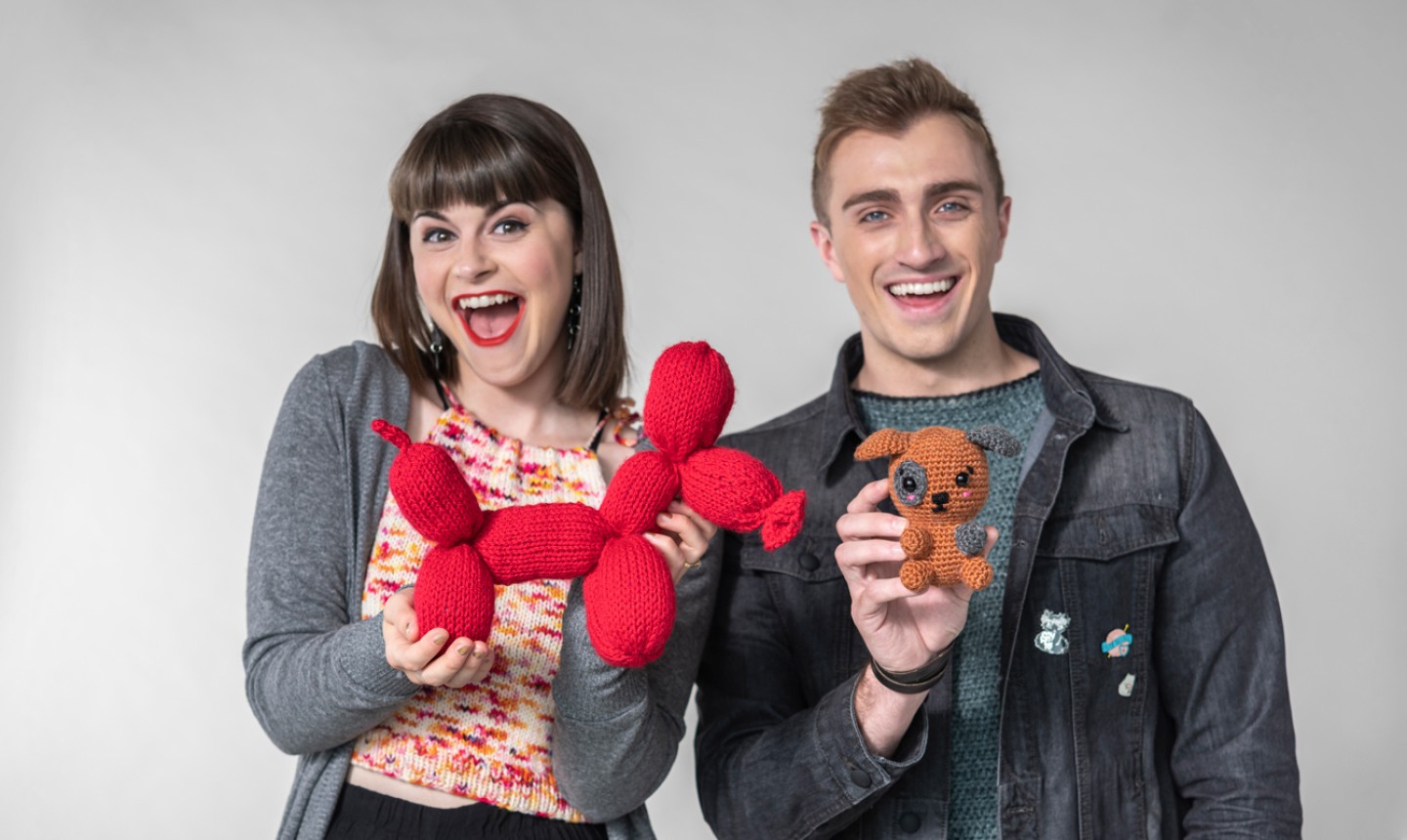 Knit vs. crochet is often a hot debate among fiber fanatics. It also just so happens to be the theme of our exclusive Knit Meets Knot series, where two yarn-thusiasts — knit artist Morgan Woltersdorf and crochet buff Vincent Green-Hite — stitch up the same project using their unique expertise with either needles or hooks. We chatted with the young entrepreneurs to get the lowdown on how their crafts have really impacted their lives, and what it takes to turn your passion into a profession.
Everyone talks about the health benefits connected with crafts like knitting and crochet. How have these helped you in your own life?
Morgan: The older I get, the more I recognize how soothing it is for me to knit. I'm a very fast-paced thinker, and working with my hands is really helpful when I'm trying to solve a problem or plan my day. I've also learned that when I prioritize my happiness, it shows in my work and results in a better product that I can feel proud of.
Vincent: It's for sure helped give my mental health the type of meditation it's been craving — to be in a state of mindfulness is invaluable. Physically, I pick at my nails sometimes when I'm nervous, so it's nice to keep my hands busy — especially during intense episodes of a show!
You took risks to follow your dreams, which can be really scary! But also totally worth it in the end. Looking back, what would you say to your younger self before going all in?
Vincent: My biggest fear was falling behind all of my peers who were still in school or pursuing a different career. I would tell myself to remember that other people's vision of happiness is not mine. I don't have to be successful at any certain age, I just have to have something to chase after.
Morgan: The only thing I would say is "trust your instincts." Back in the early days, there were a lot of things I posted on Instagram that didn't get a lot of traction, and then I shared it with my current following and they ate it up! If you don't quit, you win.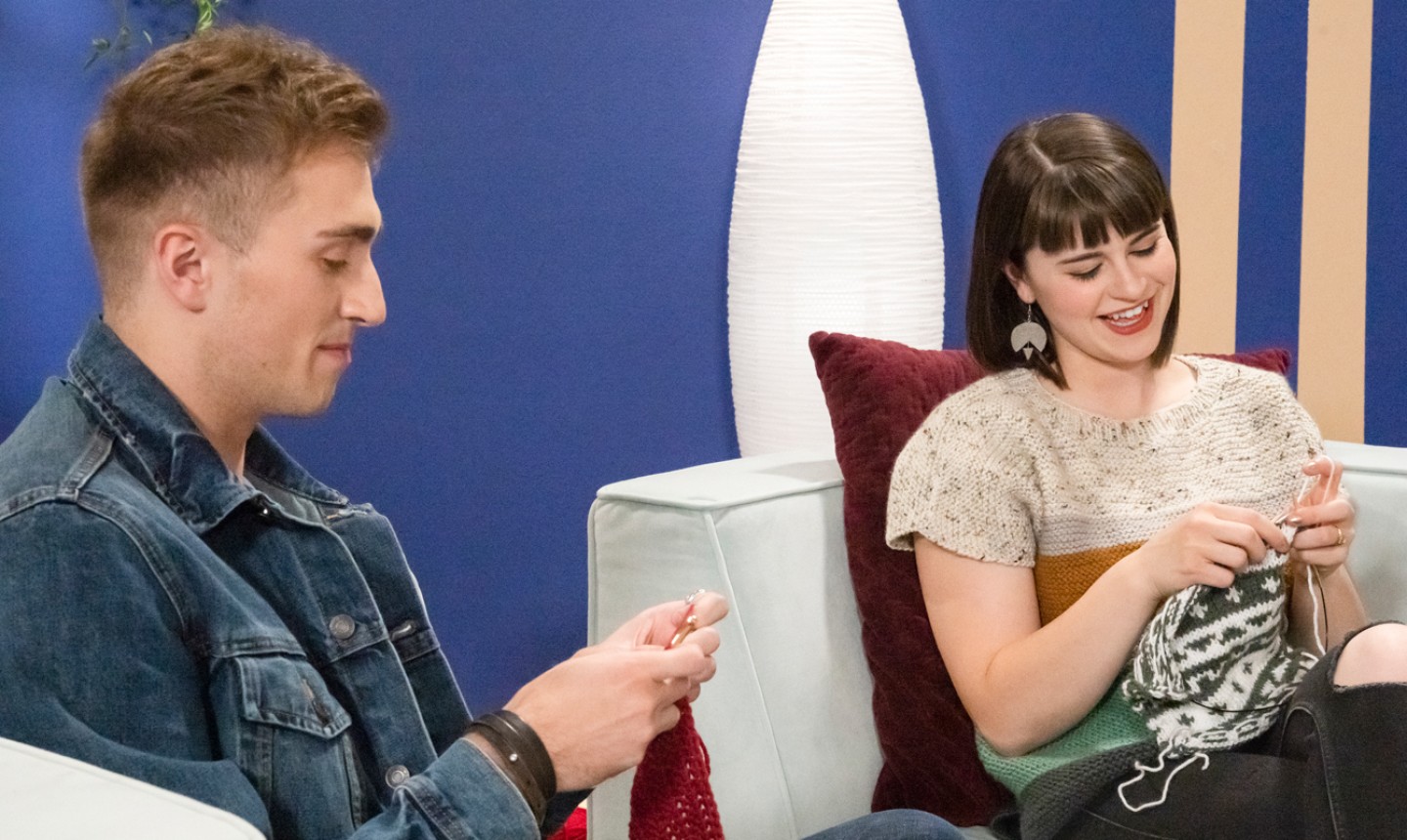 As a successful online business owner, what advice would you give to someone who's thinking of starting their own craft business?
Morgan: Pinpoint the reason you're doing it. Then you can't be stopped. Study successful people and take notes on what they're all doing similarly, don't copy another person's work, ask for advice. Like Wayne Gretzky said, "You miss 100 percent of the shots you don't take," so you might as well just put yourself out there.
Vincent: Get your work out there and build your audience from there. I also think it's important to hone in on what kind of business you want. There are a lot of options, and once you decide on how you want your business to look, it'll be easier to chase those specific goals.
You have a large online following. What does your community mean to you? How do you recommend newbie fiber artists find a community, either online or in person?
Vincent: They mean everything — without them, my business is nothing. The opportunities I've landed are because of them. It's so cool to have a big group of people believe in something that you've created! There are so many different online communities and they all feel different — use hashtags, check out social media or just become a Yarn Punk!
Morgan: My following is literally hilarious and I love them so much. I never imagined that I'd be able to make such solid friendships with people I met online. Try to respond to every single comment and message; it's great for business and people respect you for taking the time to give them your undivided attention.
Last Q: What Craftsy classes or shows are you loving right now?
Vincent: I love amigurumi, so of course I'm partial to Kawaii Amigurumi Crochet: Adorable Animals & Friends and Amigurumi: Design Your Own Monster. And Crochet Cactus Garden has been fun to watch, too.
Morgan: The Stitch Dimension is hilarious and Professional Yarn Dyeing at Home is so much fun. Know Your Yarn: Choose the Perfect Yarn Every Time — very insightful. And Stacked Stitches is blowing my freakin' mind!
This interview has been edited and condensed for clarity.