St. Patrick's Day is a great excuse to enjoy something Irish, whether that means having a meal of corned beef and cabbage or knocking back a pint of Guinness with friends at your favorite watering hole. One of my favorite Irish treats is Irish cream liqueur. It makes delicious cocktails and hot toddies, but it can also be used to make many other spectacular desserts.
Create luscious & easy-to-make chocolate truffles, infused with Irish cream, for the perfect addition to your St. Patrick's Day celebration!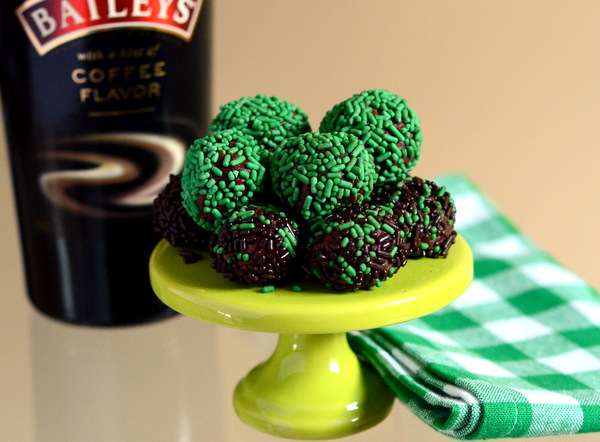 The truffles require just three ingredients: milk chocolate, heavy cream and Irish cream liqueur, such as Bailey's. Milk chocolate is a much better choice than dark chocolate for these truffles because it doesn't overpower the flavor of the liqueur. Instead, the milk chocolate really amplifies the liqueur, allowing you to taste it clearly in every bite!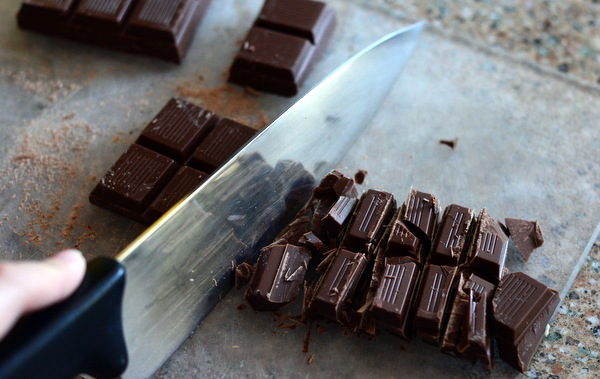 The ganache is made by boiling the cream and Bailey's, then pouring it over the chocolate, which needs to be finely chopped. The heat of the cream should be enough to melt the chocolate, however you can pop the bowl into the microwave and heat it in 10 second intervals if necessary. You don't want to apply too much heat, or the ganache won't set up properly, so it is important to take your time as you melt the chocolate. That said, once your ganache is nice and smooth, you just need to wait for it to set up before you can shape your truffles.
There are quite a few ways to shape truffles. You can use a small scoop or you can use a regular teaspoon to portion out the ganache into balls of roughly roughly the same size. The balls should then be rolled between the palms of your hands to smooth them out and give them their finished shape.
These truffles are ultra creamy, so your hands are going to get a bit messy as you roll them into balls. Don't worry about it too much and just keep rolling them quickly. The less you handle the truffles the better, and it doesn't really matter if they are perfect spheres because they will be delicious no matter what shape they are. Once all your truffles are shaped, you can roll them in some sort of coating to finish them off.
I used green jimmies to give them a pop of St Patrick's Day color. For some of the truffles, I combined the green and chocolate jimmies, just for a little variety. If you prefer a more traditional look, you can also dust the truffles in unsweetened cocoa powder. No matter how you finish them off, they will be delicious and are a wonderful way to enjoy something Irish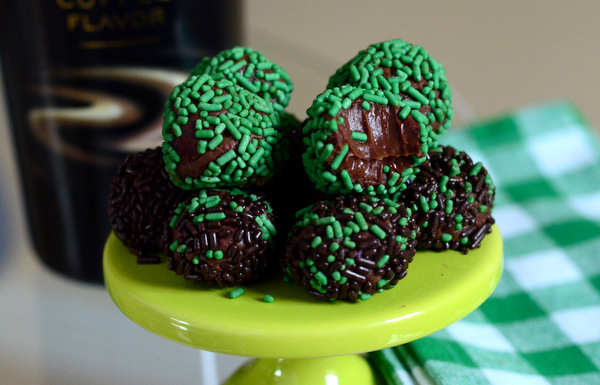 Irish Cream Truffles
Ingredients
8 oz milk chocolate
1/3 cup heavy cream
2 tbsp Irish creme liqueur
Green and chocolate sprinkles
Step 1:
Finely chop the chocolate and place it into a large bowl. In a small saucepan, combine the heavy cream and Irish cream and bring to a boil. Pour boiling liquid over the chopped chocolate. Allow the chocolate to soften for 1 minute, then stir gently with a spatula until the mixture is smooth and all of the chocolate is melted. If the chocolate does not completely melt, heat chocolate in the microwave for 10-second intervals until it becomes smooth when stirred. Cover with plastic wrap and allow ganache to set overnight.
Step 2:
Use a small spoon to shape the set ganache into rough, 3/4-inch balls. Once all of the ganache has been divided, quickly roll the ganache in between your palms to shape them into smooth, round balls.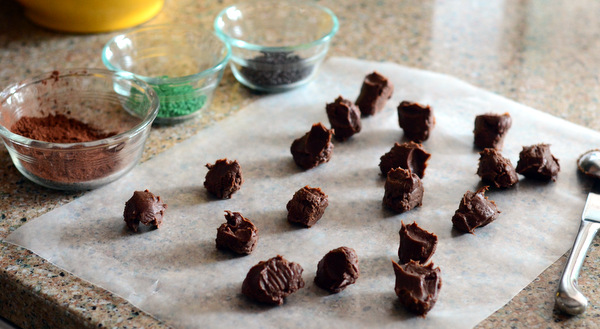 Step 3:
Place green jimmies, chocolate jimmes and/or cocoa powder into small bowls. Roll each shaped ball of ganache into one of the bowls to coat. Repeat with all truffles. Store truffles in an airtight container.