Irish cream is a creamy, complex liqueur that just about everyone loves. It's easy to pick up a bottle of Baileys at the store for a little entertaining, but it's just as easy — and more delicious — to mix up this homemade Irish cream right in the comfort of your own kitchen.
What is Irish cream?
Irish cream is made with a blend of Irish whiskey, cream, sweeteners and flavorings that come together to make a drink that's delicious and decadent. The dessert-like liqueur has hints of chocolate, coffee and vanilla in it, as well as just the right balance of whiskey, sugar and cream. It tastes complex, but it is actually very easy to put together. 
Making DIY Irish cream at home
Start with cream
This recipe starts with heavy cream and sweetened condensed milk. The heavy creamy gives the liqueur a rich body and a fresh flavor, while the sweetened condensed milk supplements the flavor of the cream and adds sweetness to the mix. Don't mistake sweetened condensed milk for evaporated milk, which has no sugar added to it and won't blend as seamlessly into the other ingredients!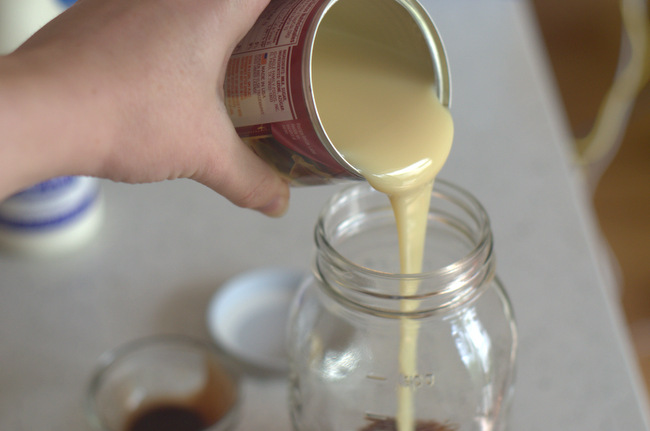 Add some flavor
To build the flavor of the liqueur, I added a bit of chocolate syrup, instant coffee powder and vanilla extract.
Prepared chocolate syrup (like Hershey's or U-Bet) may seem like an odd choice, but you only need a very small quantity to introduce a hint of chocolate, and the syrup blends more easily than unsweetened cocoa powder does.
A touch of instant coffee gives the liqueur a hint of coffee flavor and adds some depth to the chocolate sauce, while the vanilla simply brings in its own unique flavor and aroma.
Let's get boozy
Unsurprisingly, Irish whiskey is the key to Irish cream. Irish whiskeys have a smooth flavor profile and much milder notes of toasted wood and vanilla than you find in American bourbons, for instance. That's why they blend so well with the other ingredients, creating a balanced finished product that is as close to commercial Irish cream as you can get. Jameson, a widely available brand, is a great choice as a base for this liqueur.
There are several ways you can mix up your liqueur. You can combine the ingredients in a bowl and whisk them together, or combine them in a blender and pulse a few times. If you don't want any extra bowls to clean up, you can also mix your liqueur in a large mason jar, giving everything a good shake before storing.
Coincidentally, mason jars make great storage containers for homemade liqueurs, though decorative bottles are a better choice if you plan on gifting your creations to friends. 
The liqueur must be stored in the refrigerator because it contains dairy. The high sugar content and presence of plenty of whiskey will give it a fairly long shelf life, however, so you can expect it to keep for a few weeks if stored in a clean, airtight container. Serve it on the rocks or combine it with other spirits to make Irish cream–infused cocktails! 
Variations on traditional Irish cream
Fans of Baileys know that the brand has released several flavored versions over the years. If you're making your own Irish cream, it's easy to tweak the recipe to recreate some of your favorite flavors. These are my two favorite versions, but feel free to create your own, too!
Caramel Irish Cream – Add 3 tablespoons of caramel sauce and a small pinch of salt
Coffee Irish Cream – Increase instant coffee to 1½ tablespoons, dissolving it in 1 tablespoon hot water before adding it to the remaining ingredients
Homemade Irish cream liqueur recipe
Makes about 3 cups
Ingredients:
One 14-ounce can sweetened condensed milk
1 cup heavy cream
¾ cup Irish whiskey
1 tablespoon chocolate sauce
1 teaspoon instant coffee powder
1 teaspoon vanilla extract
Directions:
Combine all ingredients in a bowl or large mason jar. Stir or whisk to combine. Store in an airtight container in the refrigerator until ready to use. 
More St. Patrick's Day Recipes