A hot sunny day calls for an ice cold, drippy and melty cone topped with a tower of scoops. Or, enjoy ice cream all year round with one of these amazing ice cream themed cakes. Banana splits, an upside down cone, a sundae cake and more – there's 101 flavors of ice cream-themed cakes for everyone!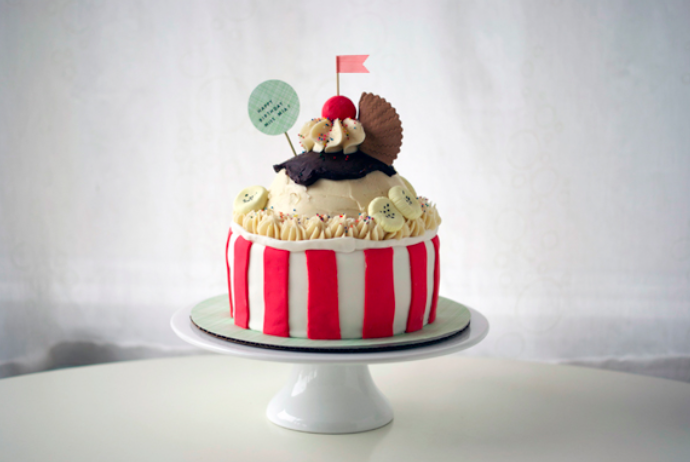 Photo via Coco Cake
Giant Ice Cream Sundae Cake: A giant scoop of vanilla "ice cream" made from one half of a sports ball cake pan, buttercream piped "whipped cream" and a red fondant cherry are some of the details that make this cake look like an ice cream sundae. The "scoop" sits on top of a regular two tiered round layer cake which has been iced and covered in fondant. The chocolate sauce is chocolate ganache and the banana slices and wafer cookie are all made from fondant. Visit here for more pictures and details of this fun cake!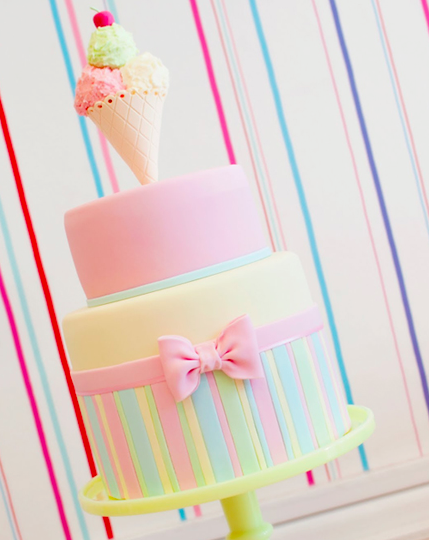 Photo via Just Call Me Martha
Pretty Pastel "Ice Cream Cone" Topped Tiered Cake: Pastel pink, sky blue, pale yellow and mint green are the sweetly colored palette on this feminine ice cream themed cake! Stripes like the color of an ice cream parlour and the perfect pink bow are fantastic details. Of course, the ice cream cone "tops" the cake – truly! How clever that the cone, which looks like it's defying gravity, appears to be held up with the dowel that keeps the tiers in place.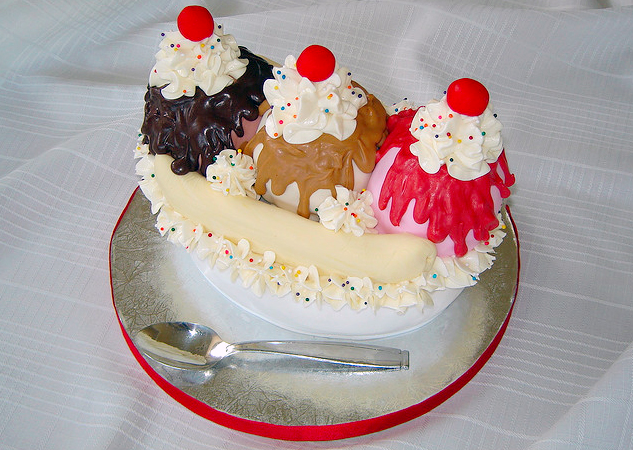 Photo via Spring Lake Cake
Banana Split Ice Cream Cake: This cake looks so real, you'll be surprised when you dig into it that there's no real ice cream in sight! I love the cartoon-like quality of those big red fondant "cherries."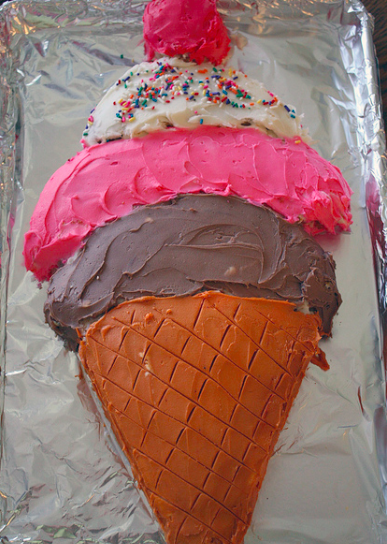 Photo via Sarah at The Fair View
2D Triple Scoop Ice Cream Cake: Here's a fun example of a sheet cake cut into a triple scoop Neapolitan cone, complete with sprinkles and a cherry on top! Sarah created this for her daughter's ice cream-themed birthday party.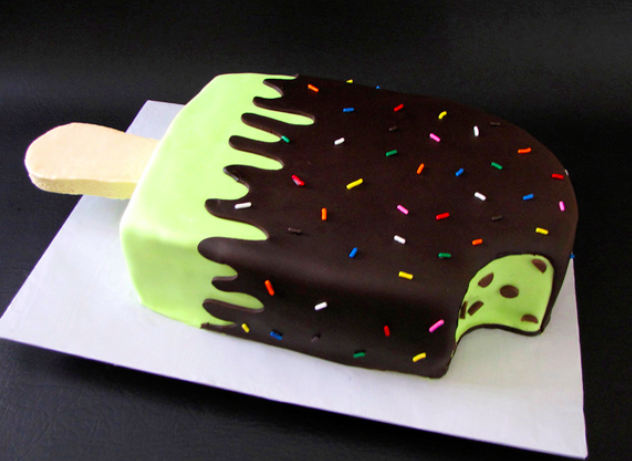 Photo via Always with Cake
Giant Mint Chocolate Chip Ice Cream Bar Cake: This clever giant ice cream bar cake is covered in marshmallow fondant with giant fondant sprinkles, and fondant chocolate chip bits in the bitten-out part. The cake inside is red velvet with a cream cheese cheesecake filling and white chocolate ganache. The "stick" was made using a mixture of gum paste and fondant. Very fun!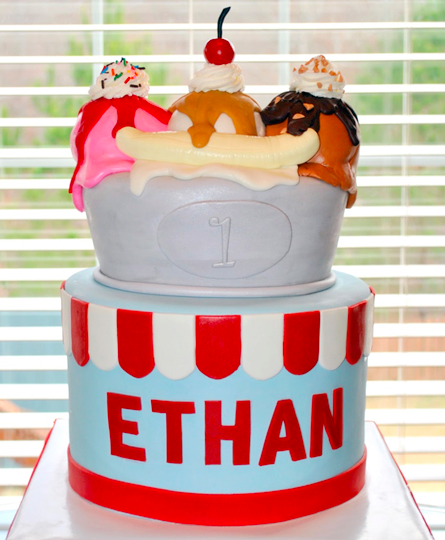 Photo via Hope's Sweet Cakes
Cartoon Banana Split Tiered Cake: Hope created this awesome banana split ice cream-themed cake using giant cake balls covered in fondant – even the peanut sprinkles are fondant. The strawberry, butterscotch and chocolate sauce? Actual hardened, melted chocolate.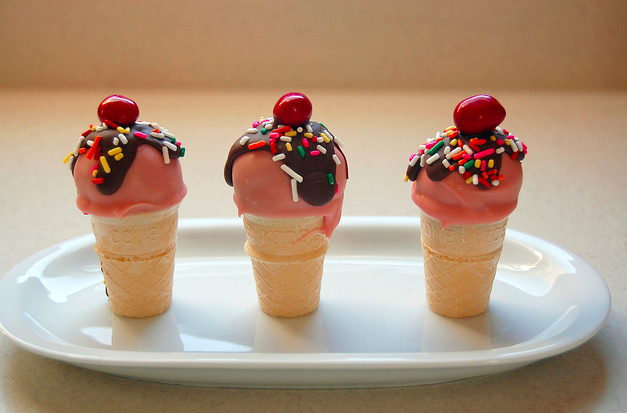 Photo via Libby
Mini Ice Cream Themed Cake Pops: Don't you just love these miniature ice cream-themed cake pops? Chocolate dipped cake balls covered in chocolate, sprinkles and shiny red candies. The mini sugar cones are such a great idea too as cake pops can be challenging to display properly; but plop them into a mini kid's cone and you're all set!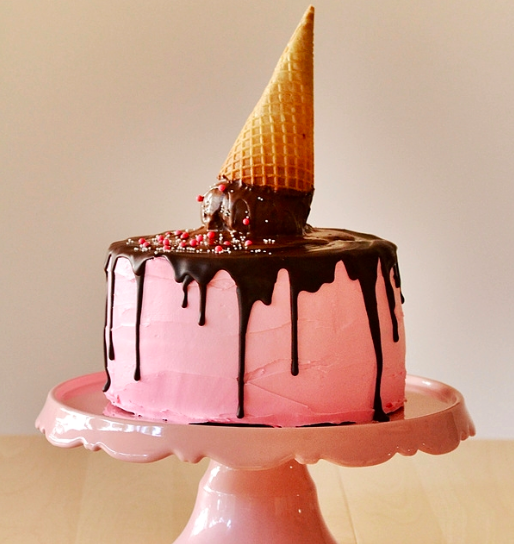 Photo via Jamieanne of The Sweetest Kitchen
Spilled Chocolate Ice Cream Cone Drippy Cake: How fun is this "Oops I dropped my ice cream cone on its head" chocolate drippy cake? I love the look of dripping chocolate ganache and it can have so many clever applications, such as melted ice cream, or as a can of spilled paint.
What kind of ice cream themed cake will you make? How about a carved ice cream-themed cake? Craftsy's Basic Cake Sculpting with Catherine Ruehle is just the class to help learn the cake sculpting skills you need.