We can thank the Internet for our obsession with documenting our cakes. Sites like Flickr, Pinterest, Facebook and the hordes of amazing baking blogs out there have increased our desire to collect images of beautiful cakes, whether it's to drool over them or use them for future project inspiration.
We've already covered tips for photographing your cakes. Today, we'll cover what makes some cake photos stand out more than others: cake styling! Yes, it really is a thing, and it can help you bring your cake to life, whether it's for your cake business Web site, Facebook page or for your own baking blog.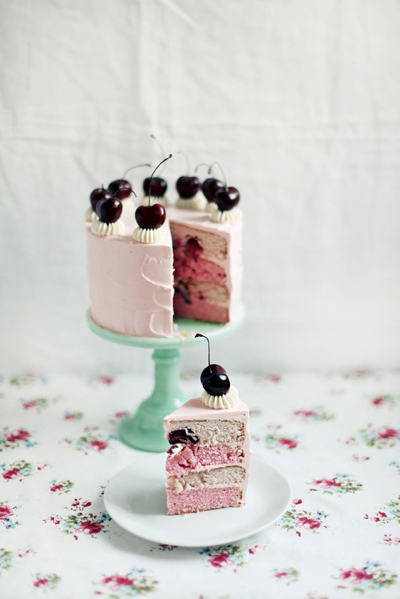 Photo via Call Me Cupcake 
Cake styling can involve props such as wooden cheese boards, vintage tin platters, a professional photo backdrop, a crumpled piece of thrift store linen, a silver plate, a modern cake stand or a vase of fresh peonies.
There are so many ways to dress your photograph and set a scene. Here are just a few fun ideas to try!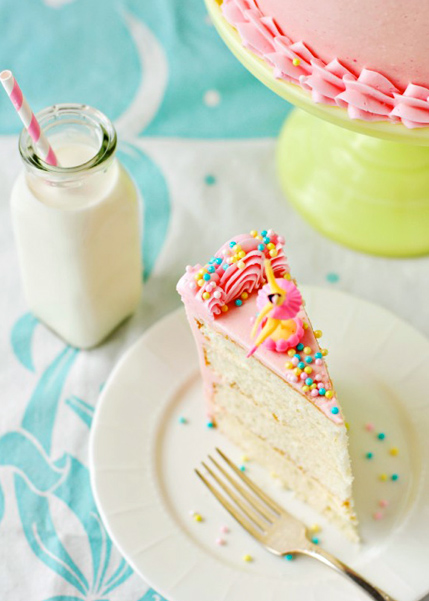 Photo via Sweetapolita
Retro party cake slice:
Cake artist Rosie at Sweetapolita is fantastic at her cake styling photos. Looks like an amazing party is happening, right? Note how the sprinkles on the plate and on the cake slice match other elements in the photo, such as the striped straw, the blue and white pattern on the table covering, and the cake stand. Each element has a little bit of another element, tying the photo color palette together.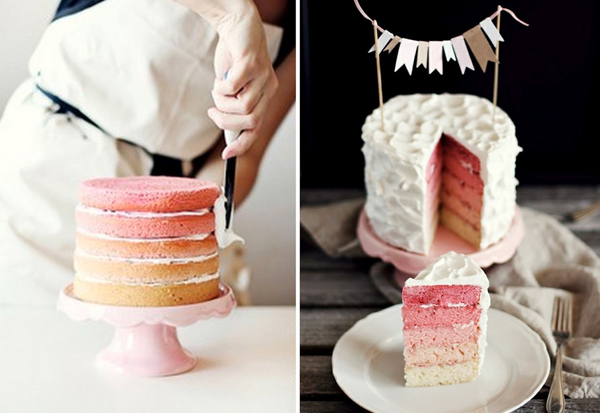 Photo via Call Me Cupcake
Pink ombré cake:
I like the photograph duo style for reasons like this — it shows you the cake in process, and then the final product — a perfect slice of strawberry pink ombré cake layers with the original cake in the background on a, yep, pink cake pedestal! The cake bunting colors match the colors of the props, and the feminine cake and cake stand are offset by the worn gray-brown of the picnic table. Notice the swatch of crumpled fabric lying underneath, as well. Sometimes the eye doesn't even notice such prop details until it's pointed out — but it adds nice layer and texture to the photograph.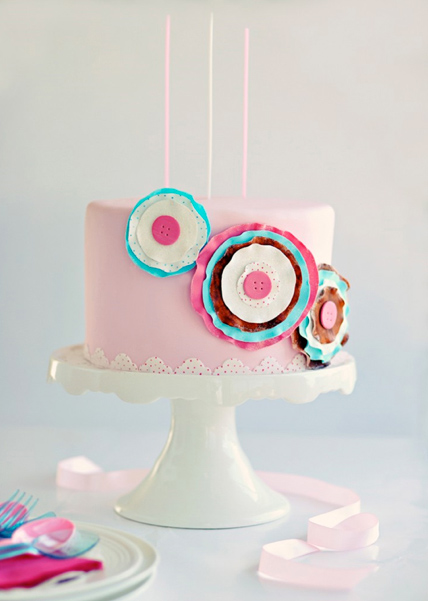 Photo via Sweetapolita
Crafty button rosette cake:
Okay, your turn! What do you notice about this cake? Do you see the bubblegum pink ribbon trim wrapping loosely along the bottom of the cake stand? How about the plastic utensils and napkin in pink and blue on the left edge of the photo? Yes, this photo could have easily worked starkly and standing alone against a white background, but I love how the whimsical details give it the feel of a party just about to happen. The tall thin candles give height to the photo, too.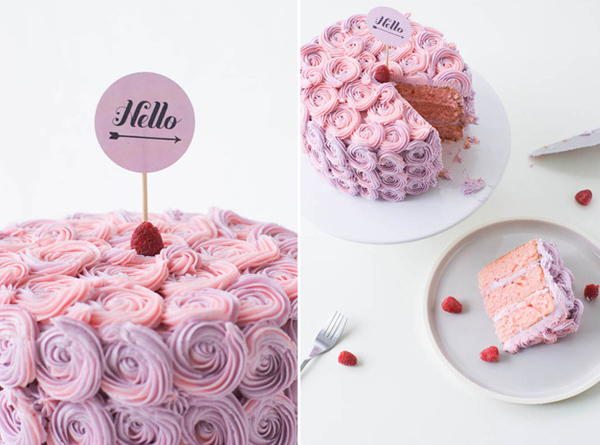 Photo via Coco Cake Land
Two-tone rosette buttercream raspberry cake:
Another photograph duo, with the left photo showing a detailed closeup and the cutely stamped cake flag, and the right photo is an overhead shot of the cake sliced, with a peek of a silver fork and some more raspberries strewn about to balance the image.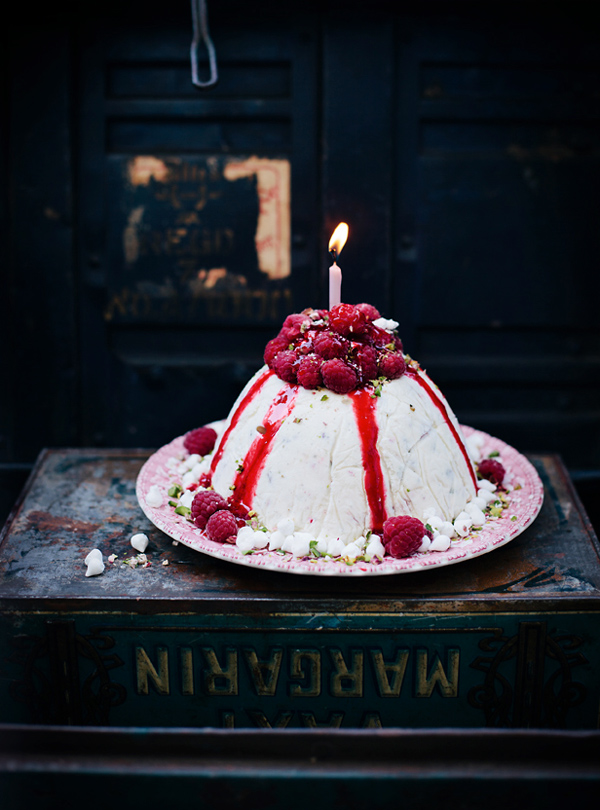 Photo via Call Me Cupcake
Raspberry ice cream bombe cake:
The brightness of the ice cream cake set against the dark rusting metal of the upside-down margarine tin makes for an evocative photograph. If you're looking to have your cake images saved and shared, this is the kind of photograph that gets pinned often. The beautiful contrast and mood evoking imagery makes you wonder and fantasize about who this amazing cake is for.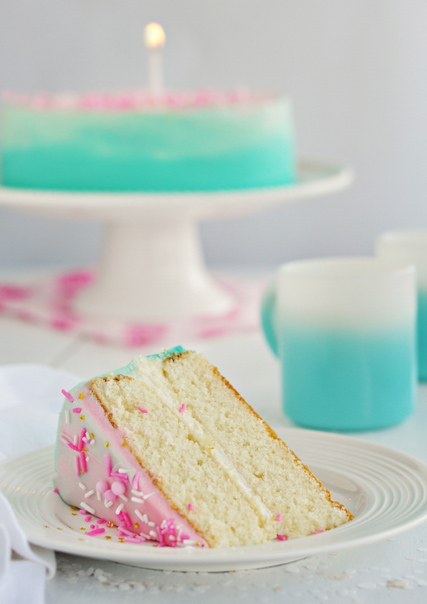 Photo via Sweetapolita
Watercolor ombré buttercream iced cake:
Here's another lovingly styled photo by Sweetapolita. Notice how she included some vintage ombré turquoise mugs as the link between the slice of cake and the candle-lit cake in the background. The cake sits on a pink and white cloth, and the sprinkles on top of the cake slice are the same color, creating such lovely color-palette harmony!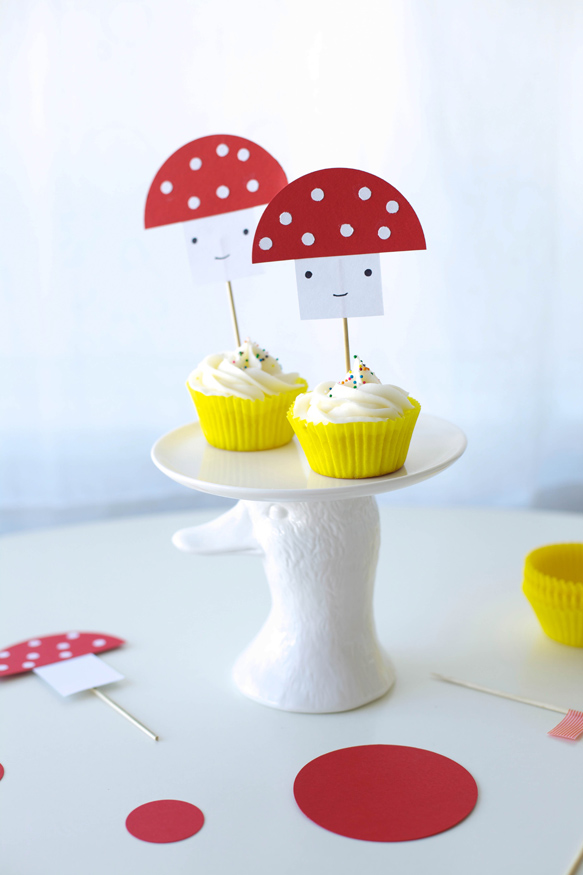 Photo via Coco Cake Land 
Mushroom cupcake styled shoot:
A simple vanilla cupcake with vanilla buttercream and sprinkles gets elevated to super-fun status with the help of fun props, such as the duck cake stand, red circle table confetti, and some handmade mushroom cupcake toppers. There's a little peek of a stack of lemon cupcake liners to the right, too. Don't be afraid to add some elements of the process to your cake photos. Try it out and see what happens!
Photo via Call Me Cupcake
Cherry chocolate cupcakes:
Here's another photo duo. The left shows the cupcakes in process, being filled with a cherry compote, and the right shows the final cupcake "about to be eaten" with the wrapper peeled away, the fork eager to dig in, and the perfect firm, shiny burgundy cherry as a natural cupcake topper.
Now that you've read a little bit about cake styling, it's time to make your dream cake! What techniques have you been dying to try out? I know I've been eyeing up Craftsy's new Simply Stunning: Hand-Stamped Cakes class, taught by Erin Gardner and also Elegant Lace Cakes with Zoe Clark. 
I would love to hear your thoughts on cake styling! Which photos are your favorites? What props or details do you incorporate to style your cakes?