There's an easy way to make your holidays merry and bright, even luminous: make stained glass cookies. Made using a simple rolled sugar cookie dough, shapes are cut out from the middle of these cookies and filled with crushed candy. During the baking process, the crushed candy melts to fill the cutout, magically forming a stained glass effect. It's an easy and fun way to create a beautifully decorated treat.

These cookies look like a much harder food and cooking project than they actually are, so they're impressive to serve at a holiday get-together. It's safe to say that Santa would be delighted to see these babies glittering under the lights of your Christmas tree, and guests at any holiday party are guaranteed to gobble them up.
Here's a tutorial on how to make stained glass cookies at home:
Recipe notes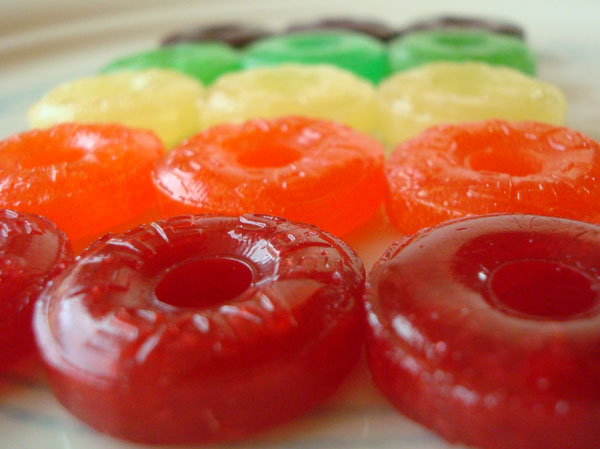 Candy types
You can use any type of translucent hard candy for this recipe, such as Jolly Ranchers, Life Savers, or even butterscotch discs. However, this recipe has not been tested with sugar-free candy,  so we cannot say if there would be a difference in the texture or quality of the finished product.
Crushing the candy
To crush the candy, first divide the candies by color. Place each batch of colored candy in a separate thick plastic bag. Press out any air and seal the bag. Now, crush using a kitchen mallet or blunt object. Crush the candy until it has reached an almost granulated-sugar-type consistency. A few crystals are OK, but the more powdery the candy, the more consistently it will melt in the recipe.
Parchment paper
Many recipes call for either greasing a baking sheet or lining it with parchment. This recipe, however, strongly relies on the parchment paper. This keeps the melted candy from sticking to the sheet.
Chilling the dough
Want to shorten this recipe by skipping the step where you chill the dough? Please don't. The chilling period is vital in letting the dough attain the right texture for rolling, so be patient.
Cutting holes in cookies
The easiest way of getting perfect cutouts for these cookies is to use a pair of two cookie cutters of different sizes. Use approximately 2″ to 2 ½" cutters to cut out the cookies, and cutters that are 1″ to 1 ½" to cut out the centers. You don't have to cut out the same shape from the center; you could have hearts cut out from circles, etc. If you don't have smaller cookie cutters, you can cut out the centers using a sharp knife.
Filling the cookie cutouts with crushed candy
Make sure to fill the cutout portion of the cookie with the crushed candy until it has filled in the cutout and you cannot see the parchment below. Don't count on it spreading a lot when it melts — that kind of faulty thinking will leave you with cookies like this: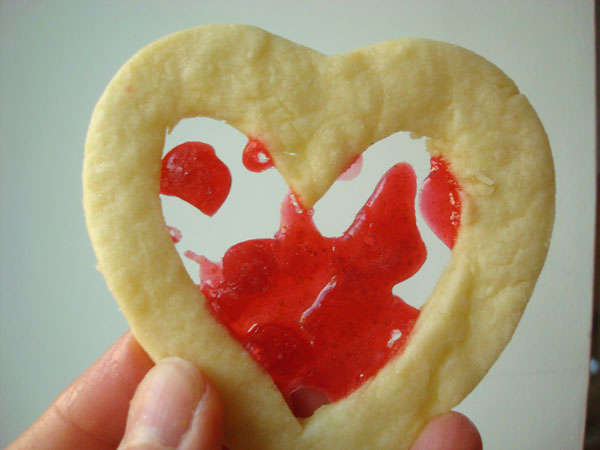 Cutting out cookies
Once the dough has been rolled out, cut out shapes as close to one another as you can; this will minimize how many times you'll have to re-roll the scraps.
Stand vs. hand mixing
This recipe has instructions for a stand mixer, which is the easiest method of working with this dough. However, it can also be done with a hand mixer or even by hand; however, the steps may take a little longer than specified in the recipe.
Stained glass cookie recipe
Adapted from Real Simple
Makes about 36 2 ½" cookies
¾ cup (1 ½ sticks) unsalted butter, at room temperature
¾ cup granulated sugar
1 large egg
1 teaspoon vanilla or almond extract
½ teaspoon salt
2 ½ cups all-purpose flour, sifted
6 to 8 ounces assorted translucent hard candies, such as Life Savers, divided by color and crushed finely
[box type="shadow"]Readers outside the U.S. might find our Metric Conversion Guide useful.
Step 1:
In the bowl of an electric mixer fitted with the paddle attachment, cream the butter on medium-high speed until creamy and smooth, about 2 minutes. Add in the granulated sugar and continue to beat on medium-high speed until light and fluffy, 2 to 3 more minutes.
Step 2:
Reduce speed of the mixer to low, and stir in the egg, vanilla and salt. Scrape down the sides of the bowl if necessary using a rubber spatula. Stir until combined.
Step 3:
With the mixer still on low, mix in the flour in 2-3 increments, pausing to scrape down the sides of the bowl as needed. Once it's all been added, only mix until the dough comes together and there are no powdery traces of flour left. The dough may feel crumbly, but it should be easy to clump together.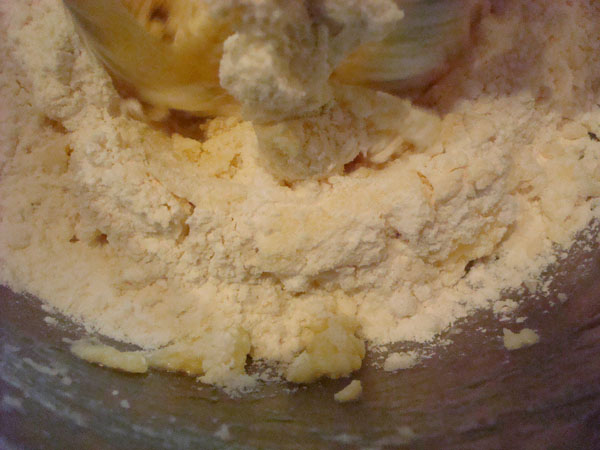 Step 4:
Divide the dough into two halves, and flatten into two disks. Wrap each in plastic wrap, and refrigerate until quite firm, at least three hours or up to overnight.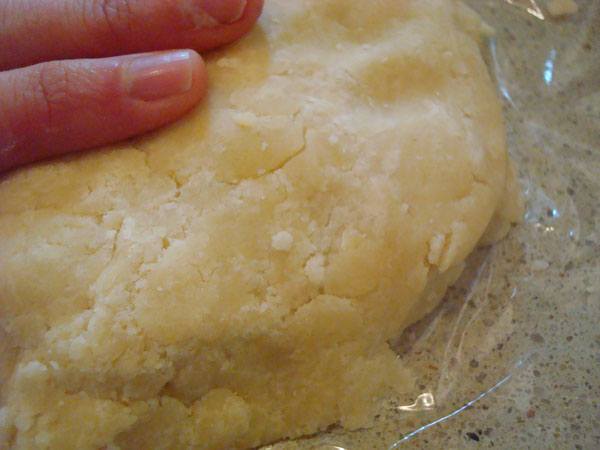 Step 5:
Near the end of your cooling period, heat the oven to 350 degrees F. Line two baking sheets with parchment paper.
Step 6:
Work with one disk of dough at a time to keep the dough from softening too much. Turn it out onto a lightly floured surface. Using a lightly floured rolling pin, roll the dough to an approximately 1/8″ thickness. Using 2″ to 2 1/2″ cookie cutters, cut the dough into shapes and place on your parchment-lined sheets. Using smaller cutters, cut the centers from each cookie.
Note: If the dough is too firm to roll directly from the refrigerator, let it soften for a few minutes and then try again. It should become easier to roll after a few minutes at room temperature.
Step 7:
Spoon about 1 teaspoon of crushed candy into the center of the cookie (a little more or less depending on the cutout size). You want to evenly cover the cutout portion with crushed candy, so that you can't see the parchment below the candy and so that it reaches every nook and cranny of the cutout. If any candy-powder gets on the top of the cookies, dust it off.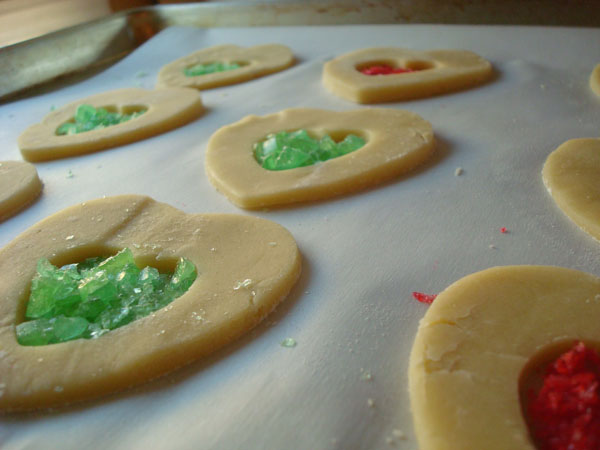 Step 8:
Bake until just golden at the edges and set on top, 7 to 10 minutes. Let the cookies cool on the baking sheets for 5 minutes before transferring with a spatula to wire racks to cool completely.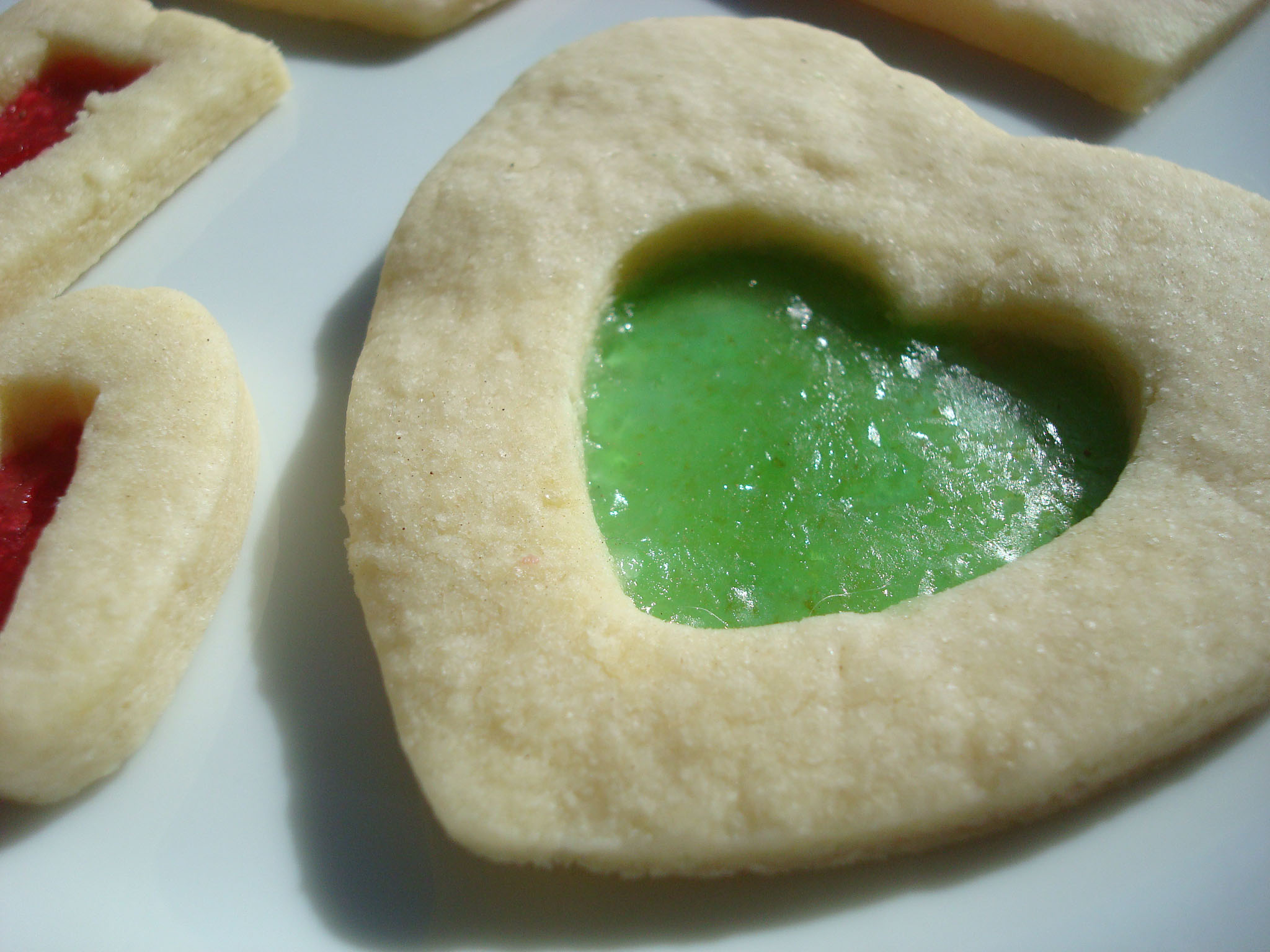 Store the cookies, layered between sheets of waxed or parchment paper, for up to a week in an airtight container.
Looking for more holiday baking inspiration? for easy access to our most popular holiday cookie, cake and pie recipes!
And don't forget to submit photos of your most impressive baked goods in our Holiday Cookie Contest.
What's your favorite holiday cookie?