Snowballs, Russian tea cakes, Mexican wedding cakes. These confectioners'-sugar-coated morsels go by many names, but no matter what you want to call the end result, this is a universally beloved, easy recipe for a creative holiday cookie.
Find more holiday baking inspiration in our printable FREE Favorite Holiday Recipes bundle, featuring our most popular holiday cookie, cake and pie recipes!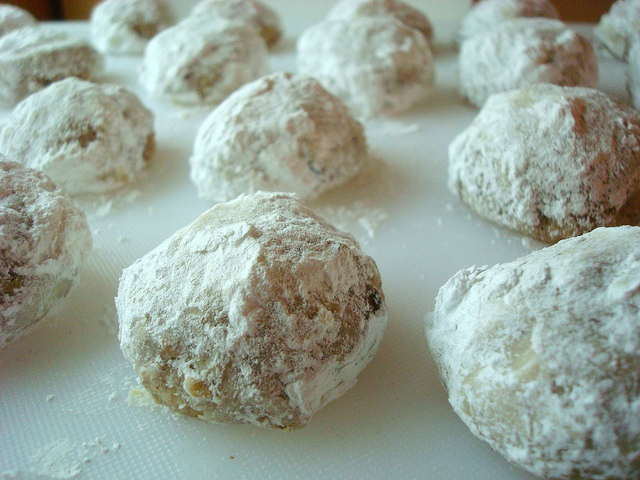 This simple recipe involves a mere six ingredients and comes together in minutes. The cookies could be ready from start to finish in less than an hour — and that includes waiting for the butter to soften to room temperature. The finished cookies are addictive: tender, crumbly, nut-rich cookies with an extra bit of sweetness from a snowy coating of confectioners' sugar.

A cookie with many names
You may know this cookie by a name other than snowballs. Perhaps you call them Russian tea cakes or Mexican wedding cakes. Or perhaps you even call them "moldy mice" or "bullets." It's basically the same type of cookie with minor variations: some cookies will call for a different type of nut, or will be shaped differently. Every variation has something in common, though: they're all delicious.
Recipe notes
Quality ingredients
Since this recipe is very simple, every flavor and ingredient is distinct. It's a good time to use top-shelf ingredients to really let the flavors shine. Have you been wanting to make a cookie with homemade butter or confectioners' sugar, or test out a fancy Madagascar vanilla? Give it a try in this recipe.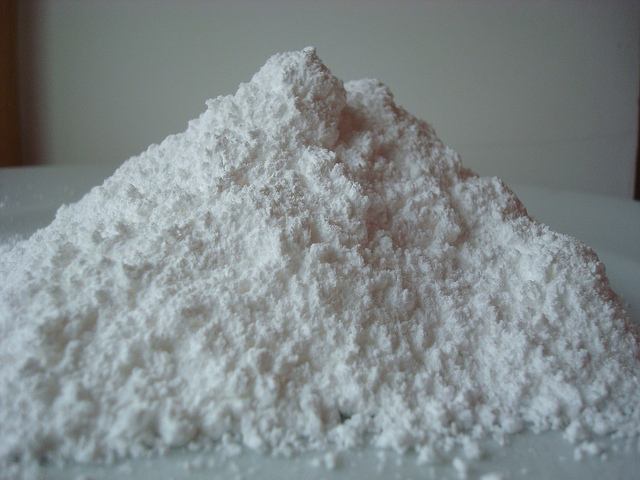 Sugar
This recipe calls for confectioners' sugar both in the cookies and in the coating — there is no granulated sugar called for in the recipe. While many cookies call for granulated sugar, which helps incorporate air into the butter, helping baked goods rise, these cookies don't rise or spread much in the oven. The confectioners' sugar also keeps them soft and tender.
Toasting the nuts
For a truly superior flavor, toast the nuts before baking. Scatter the nuts in a single layer on the baking sheet and bake for 5 minutes at 350 degrees F, or until they begin to smell fragrant. Let cool completely before using them in the recipe.
Butter
Make sure to use butter that has softened to cool room temperature, but you don't want the butter to be too soft, otherwise the dough will be too sticky to easily form into balls.
Greasing the pan
These cookies are butter-rich, and don't stick to the pan very much. As a result, while it's fine to use parchment-lined sheets, it's not required.
Removing the cookies from the pan
When they come out of the oven, the cookies are extremely delicate. If you try to move them too quickly, they will crumble apart. Let them sit for 5 minutes on the sheet before transferring them to a wire rack or plate. You can safely roll the cookies in the confectioners' sugar after they've cooled for a few minutes, while they are still warm but slightly more "set" than directly after coming out of the oven.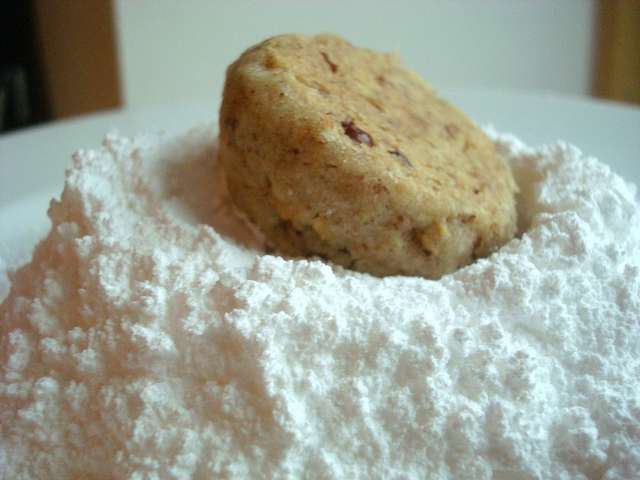 Rolling the cookies
Have a shallow dish or bowl of confectioners' sugar at the ready to roll the finished cookies once they have had a few minutes to cool. Roll them around, coating the entire cookie, and gently tap off excess sugar. If they're being served immediately, they are good to go. However, you may notice that the longer the cookies sit, the coating begins to sort of meld with the cookie, making them look a little wilted and less snowy. If it is going to be a while before you serve the cookies, roll them a second time once cooled.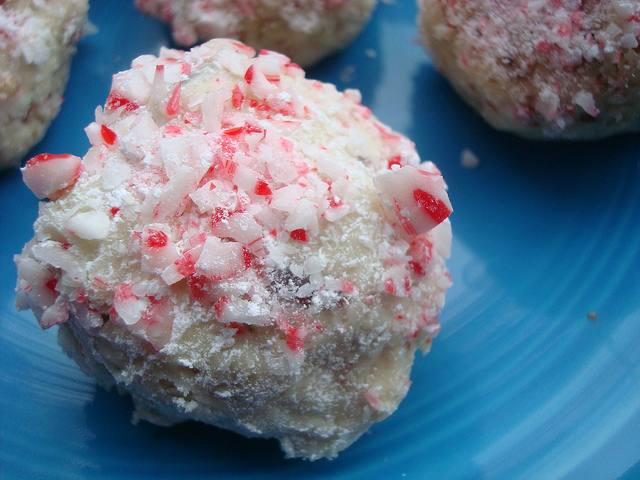 Decorating and flavor variations
Although known for their simple presentation, there are some variations that can give the cookies a bit of pizzazz.
Cocoa-dusted cookies:
Instead of plain confectioners' sugar, roll the finished cookies in a mixture of ½ cup confectioners' sugar sifted with 3 tablespoons of cocoa powder.
Colored cookies:
Mix the confectioners' sugar with a small amount of powdered food coloring before rolling the cookies.
Candy cane cookies:
Substitute peppermint extract for the vanilla extract in the recipe; roll the cookies in a mixture of confectioners' sugar and two or three crushed candy canes.
Mix your nuts:
It's easy to vary this recipe: simply try it out with a different type of nut in equal quantities. Almonds will lend a drier texture but exquisite almond flavor; roasted peanuts will give it a peanut-buttery flavor appeal. Macadamias, while expensive, make the cookies absolutely to die for.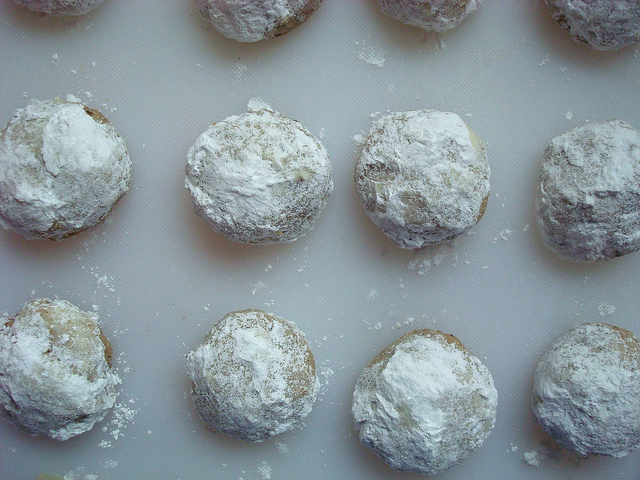 How to make snowball cookies
Makes 36-48 approximately one-inch cookies
Ingredients
2 cups all-purpose flour
½ teaspoon salt
1 cup unsalted butter, softened
½ cup confectioners' sugar, sifted
1 teaspoon vanilla extract
2 cups finely chopped toasted pecans
½cup confectioners' sugar, for rolling
Baking outside the U.S.? You might find out metric conversion guide helpful.
Step 1:
Preheat the oven to 350 degrees F (175 degrees C).
Step 2:
Sift together the flour and salt in a bowl. Set to the side.
Step 3:
In a mixing bowl, cream the butter with ½ cup of sifted confectioners' sugar. Mix in the vanilla. Scrape down the sides of the bowl as needed with a rubber spatula.
Step 4:
Add the flour mixture to the butter mixture until it comes together in a thick dough. Fold in the nuts, and mix until incorporated evenly through the batter.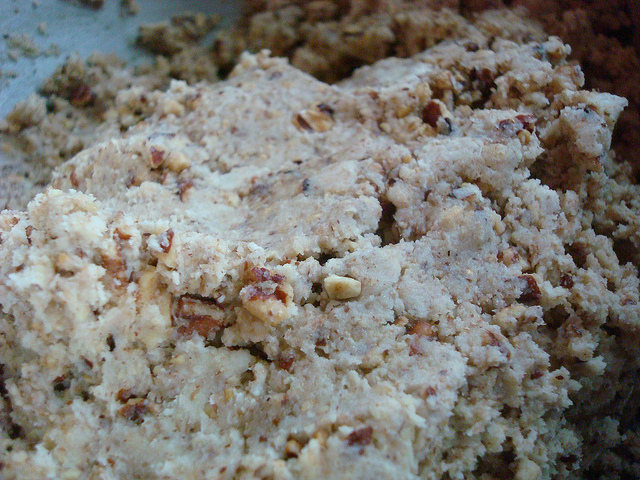 Step 5:
Roll the dough into balls about 1 inch, and place on the cookie sheet. You don't need to place the cookies too far apart, because they won't spread too much.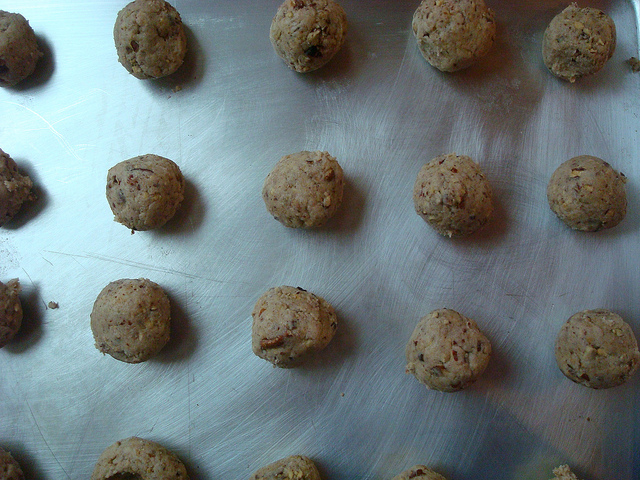 Step 6:
Bake for 15 minutes, or until set on top and lightly browned on the bottom. It's better to slightly under than over-bake these cookies; they will crumble way too easily if over-baked.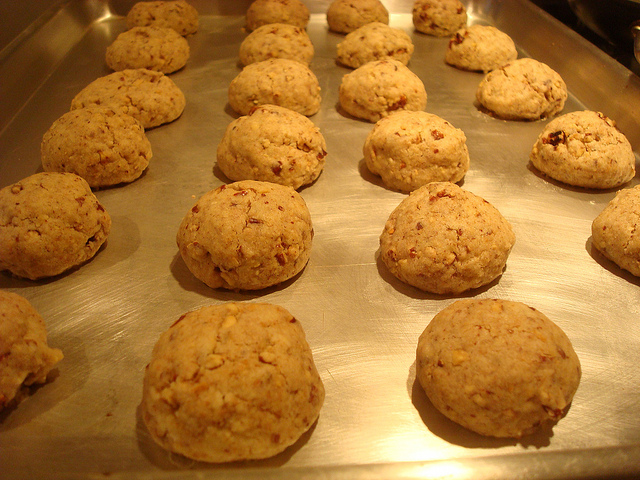 Step 7:
Remove from oven, and let cool for 5 minutes on the sheet before handling. Place the remaining ½ cup confectioners' sugar in a shallow bowl. Roll each cookie in the confectioners' sugar while still warm. Roll a second time once cooled, or before serving.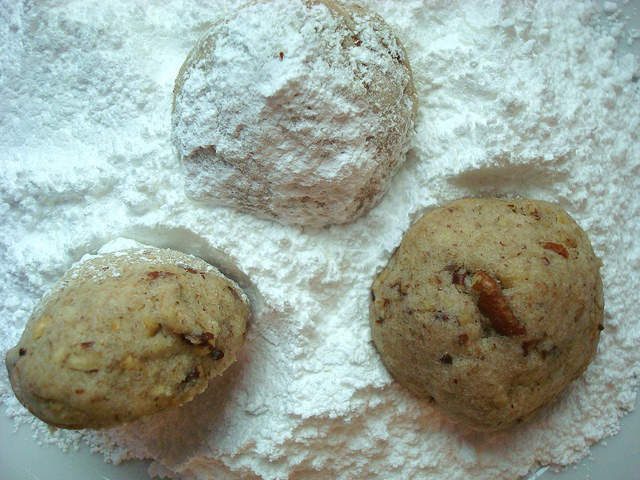 Don't forget to submit photos of your most impressive baked goods in our Holiday Cookie Contest.
Come back to the Craftsy blog tomorrow to learn how you can make confectioners' sugar at home!
Which name do you prefer for these cookies: snowball, Mexican wedding cake, Russian teacake, or something else?