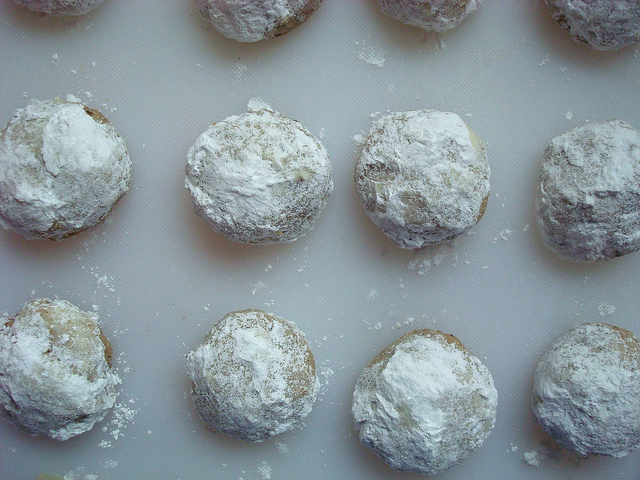 Snowball cakes, also known as Russian tea cakes or Mexican wedding cakes, are a staple holiday treat. The crumbly, nut-rich cookies are tender, simple to make and come with added sweetness when rolled in confectioners' sugar. What's not to love?
Snowball Cookies
Yield: makes 36-48 1″ cookies
Ingredients
2 cups all-purpose flour
½ teaspoon salt
1 cup unsalted butter, softened
½ cup confectioners' sugar, sifted
1 teaspoon vanilla extract
2 cups finely chopped toasted pecans
½ cup confectioners' sugar, for rolling
Good to Know: You can remove the nuts or substitute them with chocolate chips or even crushed candy canes for extra seasonal flavor.
Instructions
1. Preheat the oven to 350 degrees F.
2. Sift together the flour and salt in a bowl. Set to the side.
3. In a mixing bowl, cream the butter with ½ cup of sifted confectioners' sugar. Mix in the vanilla. Scrape down the sides of the bowl as needed with a rubber spatula.
4. Add the flour mixture to the butter mixture until it comes together in a thick dough. Fold in the nuts, and mix until incorporated evenly through the batter.
5. Roll the dough into balls about 1″, and place on the cookie sheet. You don't need to place the cookies too far apart, because they won't spread too much.
6. Bake for 15 minutes, or until set on top and lightly browned on the bottom. It's better to slightly under than over-bake these cookies; they will crumble way too easily if over-baked.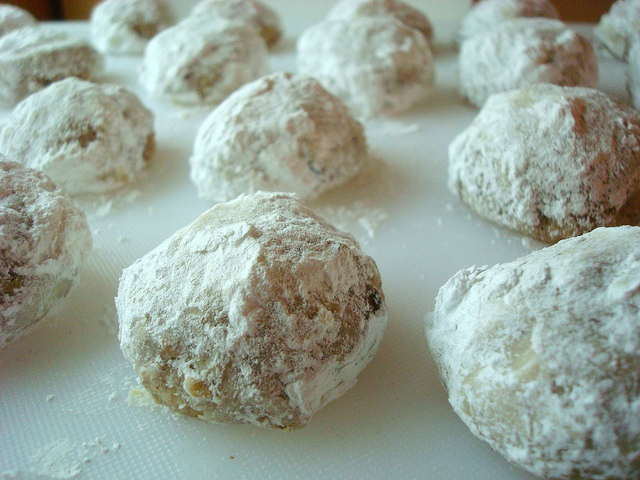 7. Remove from oven, and let cool for 5 minutes on the sheet before handling. Place the remaining ½ cup confectioners' sugar in a shallow bowl. Roll each cookie in the confectioners' sugar while still warm. Roll a second time once cooled, or before serving.