Have you ever tried learning how to make homemade nougat? If not, you're in for a serious treat because this easy-to-prepare, pillowy sweet food is the stuff of candy bar dreams.
Photographs via CakeSpy
It is easy to confuse soft nougat with marshmallows: It can resemble a fluffy marshmallow cream, and further adding to the association is the fact that the cooking procedure is somewhat similar to making homemade marshmallows. The main difference is that nougat gets its texture from egg whites, whereas marshmallows typically rely on gelatin.
The lack of gelatin makes nougat vegetarian (though since it employs egg whites, it is not vegan), and it's a naturally gluten-free confection. This recipe yields a soft, snow-white, sweet nougat, which is well-suited for sorts of mix-ins, from slivered almonds to roasted pecans to toffee bits or even malted milk powder. Cover your nougat with chocolate to make homemade candy bars that are a step above your usual Halloween fare.
Variations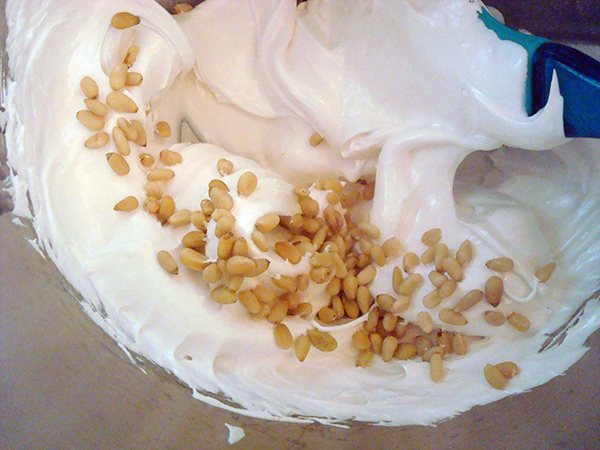 The consistency of nougat can range from very soft to quite firm and crunchy. This basic recipe falls into the soft category, intended more as a filling or topping than as a stand-alone confection. It is extremely open to variations. Here are some suggestions:
Make it suitable for a musketeer and his two friends by folding in 2 ounces of melted chocolate and 1/4 cup of malted milk powder.
Take your inspiration from a candy bar named for a type of laughter and stir in 2 tablespoons of creamy, full-fat peanut butter and 1/3 cup roasted peanuts (whole or half; not crushed).
Stir in a ribbon of honey and toasted nuts, such as the pine nuts pictured above, for a slightly fancy confection.
Other ways to use nougat
Although candy bars are a superlative use for nougat, they're not the only use for this confection. It can be employed as the filling for cookie sandwiches, an ice cream topping, a fancy topping/garnish for cupcakes, or as a filling between the layers of a cake.
How to make homemade nougat
Makes about 4 cups
Adapted from Susie Norris and Susan Heeger, Handcrafted Candy Bars
Ingredients:
3 egg whites (from large eggs)
1 cup granulated sugar
1/2 cup light corn syrup
1/4 cup water
1 tablespoon vanilla extract
1/2 teaspoon salt
Optional mix-ins: nuts, honey, toffee bits, malted milk powder, etc.
*International readers may enjoy our handy Metric Conversion Guide
Have on hand:
Medium bowl filled 1/2 full with ice
Parchment paper
8×8-inch pan
Step 1:
Grease and line with parchment paper your 8×8-inch pan. Set to the side.
Step 2:
Stir together the sugar, corn syrup and water in a medium saucepan. Over medium heat, bring the mixture to a boil. Boil without stirring until the mixture registers 235 F (114 C) on a candy thermometer. This should take 5-7 minutes.

Step 3:
While the mixture boils, start beating the egg whites in the bowl of a stand mixer fitted with the whisk attachment on low speed, until they become frothy.

Step 4:
Keep the sugar mixture on heat, closely monitoring the temperature until it registers 245 F (118 C). If the temperature goes higher, make use of that bowl of ice: "shock" the syrup by placing it in the bowl of ice briefly until it registers the temperature you're hoping for.
Step 5:
Working quickly, start the mixer on low speed again, and pour a small amount of the sugar mixture into the egg white froth, trying to get the mixture to fall in the path of the side of the beater rather than along the side of the bowl. This will acclimate the egg whites to the heat, so you can continue pouring the rest of the mixture in a slow yet steady stream.
Once it's all added, raise the speed to medium and mix until the nougat becomes more opaque and completely foamy, like the stage of egg whites before they become a meringue mixture.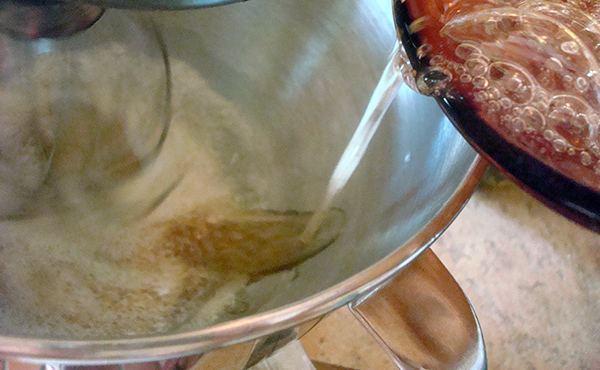 Step 6:
Pause the mixer, and add the vanilla and salt. Resume mixing on medium-high speed until the mixture reaches firm, stiff peaks (3 to 5 more minutes). Once it has attained stiff peaks, fold in any other flavorings you've chosen to use.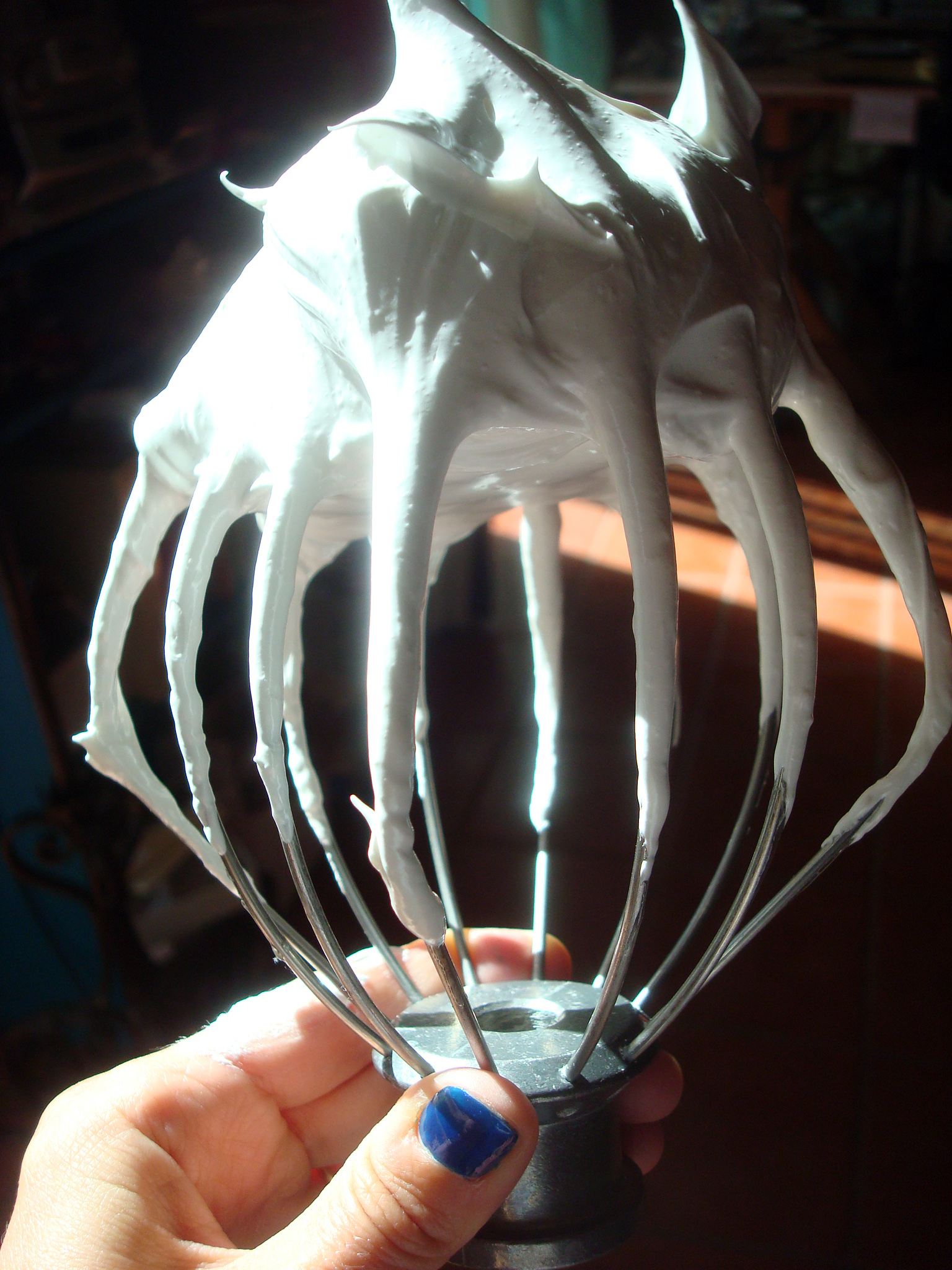 Step 7:
Transfer to a parchment-lined 8×8-inch tray until it has set to room temperature. It will never become hard, but it will firm up. The parchment lining will make it easier to remove from the pan. To hasten the process, you can put it in the refrigerator.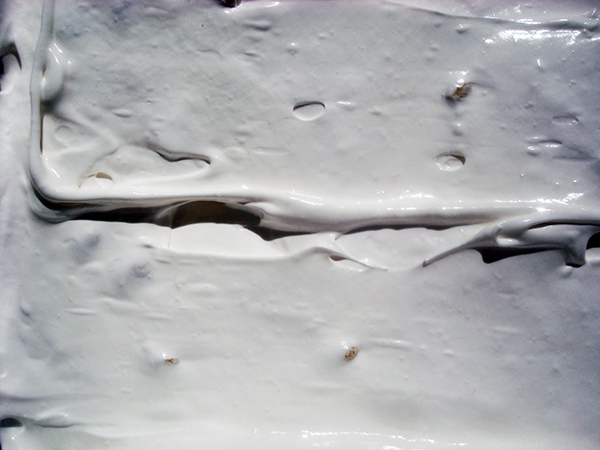 Now, you have a fantastic and naturally gluten-free confection with which you can make all sorts of tasty treats with.