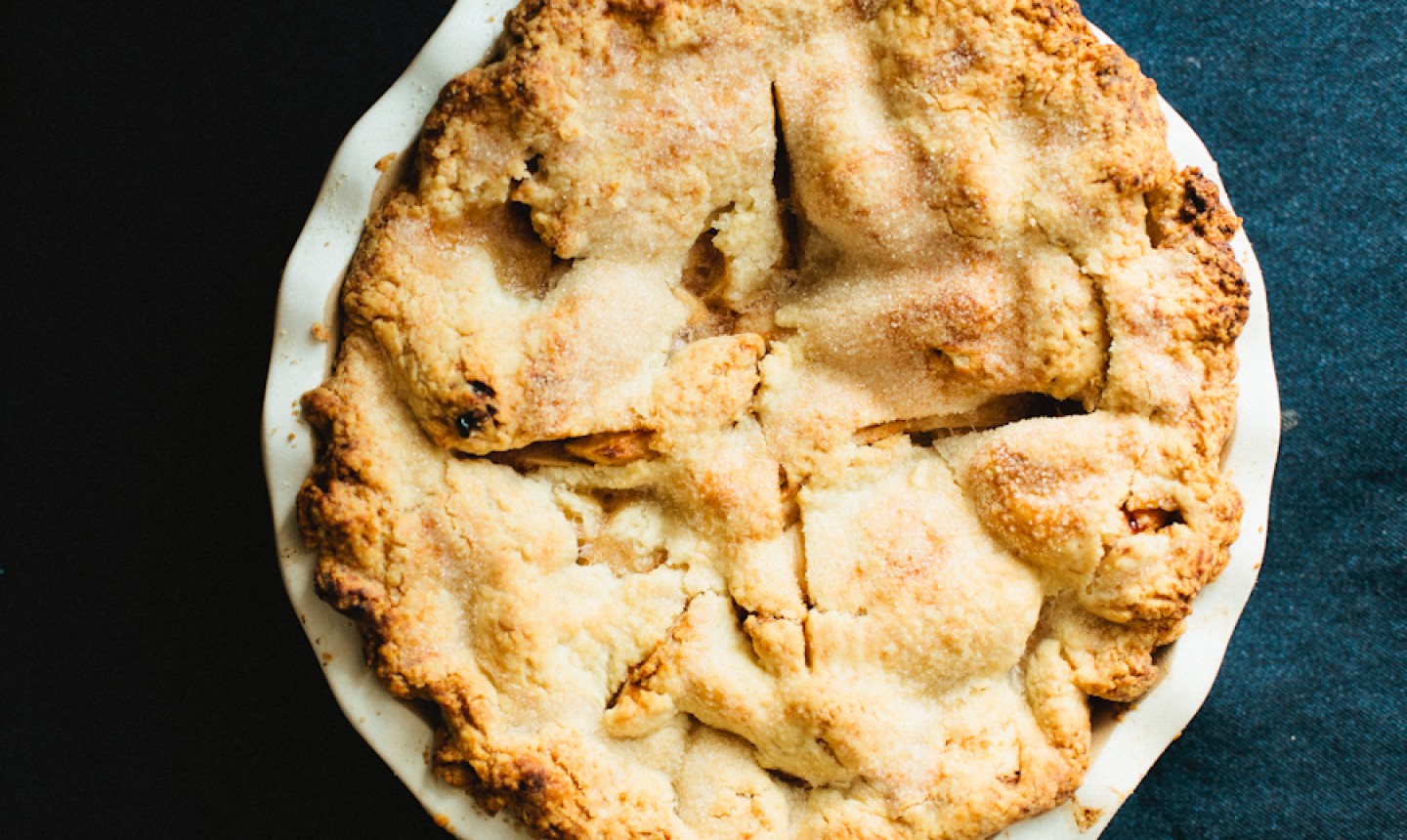 Apple pie is an American staple, and a go-to dessert for any holiday dinner. And though there are a ton of ways to bake pie crust and prep the filling, this recipe is no-fail.
Apple Pie
Yield: 1 pie
What You Need
For the Apple Filling
2 pounds peeled, sliced apples
½ cup sugar
3 tablespoons flour
1 tablespoon lemon juice
¼ – ½ teaspoon freshly grated nutmeg
½ teaspoon cinnamon
1 vanilla bean, seeds removed (optional)
1 tablespoon butter
For the Pie Dough
2⅓ cup all-purpose flour
1 teaspoon kosher salt
2 tablespoons sugar
2 sticks cold butter, cut in small cubes
2 tablespoon oil (I use a neutral, flavorless oil)
2 tablespoons heavy cream
1-3 tablespoons cold water
Pro Tip: You can use any of your favorite apples for this recipe, but we recommend Gravensteins. They're a firm, tart baking apple with a tender skin and a crisp flesh. Gravensteins hold their shape well in the pie and don't produce a lot of juice, which helps create a sturdy pie.
Instructions
1. Mix the Dough
In a large bowl, add the dry ingredients and whisk until light and no clumps remain. Add the cold butter and use your hands to break it up until flat pieces of pea-size butter remain.
Some butter will get incorporated into the flour, making it look a bit like cornmeal. You want a mix of this and large pieces of butter in the flour.
2. Add Wet Ingredients
Add the oil, cream and 1 tablespoon cold water. Again, use your hands to mix the ingredients.
Evenly distribute the parts that have more liquid until the whole mix feels evenly damp. Squeeze a bit of the dough in your hands: if it comes together and holds its shape, it's ready to go. If it still crumbles when squeezed, add a bit more water until the dough just holds.
3. Shape and Chill
Divide the dough into two round discs, about ½″ thick. One should have a bit more dough than the other — this will be the top crust; the smaller will be the bottom crust. Wrap both discs in plastic wrap and refrigerate for 1 hour so the liquid will absorb into the flour.
4. Prepare the Filling
As your dough chills, combine all ingredients (except the butter) for the fruit filling into a bowl. Mix well and set aside.
5. Roll Out the Dough
Preheat your oven to 400 degrees. Roll out the smaller of the two discs on a floured work surface until it's about ⅛" thick. Transfer the dough to your pie plate — you can make this easier by folding it into fourths before moving or draping it around your rolling pin.
6. Fill the Pie
Fill the pie with your prepared fruit and dot with 1 tablespoon butter.
Roll the second disc of dough until it's ¼" thick and place it on top of the pie. Tuck in the edges to create a thick crust.
7. Bake
Place the pie on a sheet tray to catch any juices that fall. Sprinkle the top crust with sugar and cut small slits into the dough to allow steam to escape. Bake for 1 hour–1 hour and 15 minutes, or until the edges are deep golden and the juices look syrupy.
Let the pie cool for several hours before serving.