It's likely you've seen this new kid in town at your local yarn store. Ribbon yarn has been popping up all over the place, making knitters wonder: what's so great about knitting with ribbon yarn? Is there a trick for how to knit with ribbon yarn? Nope, no tricks here!
There are no secrets for how to knit with ribbon yarn. Like any other novelty yarn, learning how to knit with ribbon yarn is easy. Next time you're tempted by the ribbon yarn in your local yarn store, use these tips and project ideas to get inspired — and to make your ribbon knitting stress-free.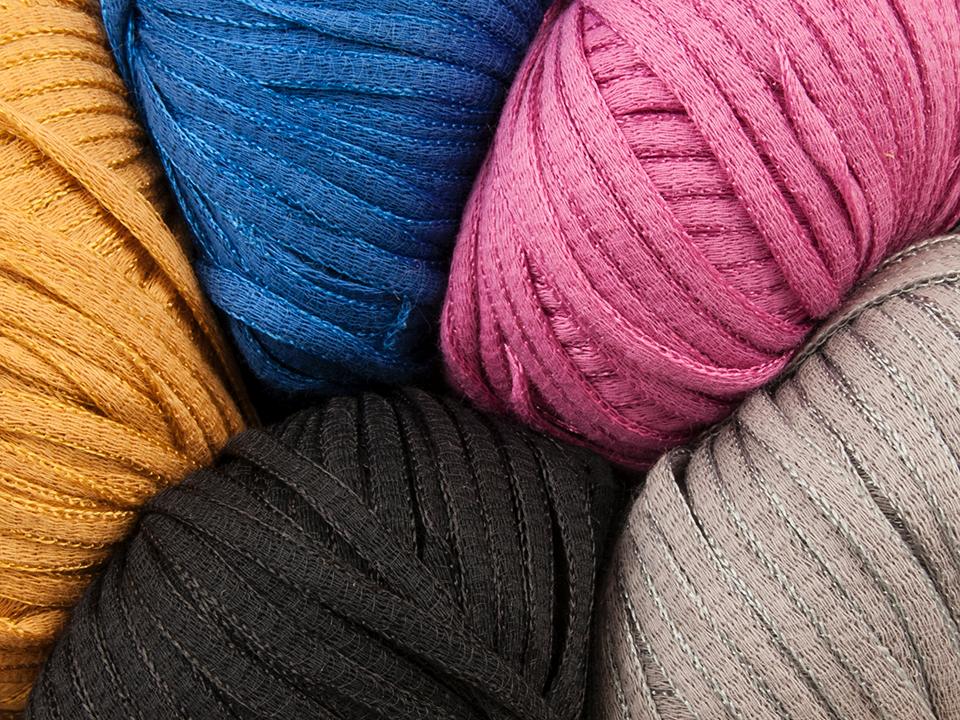 Craftsy's Yarn Buyer's Pick of the Week
The sumptuous jewel tones and smooth ribbon texture of this cotton/nylon blend from the S. Charles Collezione will make learning how to knit with ribbon yarn a pure delight. Get it today and enjoy a 60% discount off retail price!*
*While supplies last.
Top 5 tips for how to knit with ribbon yarn
1. Use bamboo needles
Because ribbon yarn usually has a good amount of nylon in it (the S. Charles Collezione Sade Yarn pictured above is 75% cotton and 25% nylon), you need to have a good grip on it. What better way to get a good grip than to use bamboo needles? If you've ever used bamboo needles before, you'll know that the needles have more grip on your yarn than, say, an aluminum needle that might cause the yarn to slip a bit more. That's fine and dandy if you're knitting with wool, but it might be a bit more challenging with slippery ribbon yarn.
2. Don't wind it
If you remember from our post on when to wind hanks into balls, yarn wound into balls can stretch out over time. That's especially true for ribbon yarn. The nylon in it makes the yarn very stretchy, meaning that if you wind it into a ball immediately, it's going to stretch out immediately! Skip the winder and when you're ready to use the ribbon yarn, simply remove the label and knit it right off the skein.

Photo via Craftsy member Lavish Craft
3. Go for a loose gauge
Ribbon yarn is meant to be seen. The tighter your gauge, the less of the ribbon yarn you'll be able to see. A looser gauge will do a much better job of showing off the ribbon yarn, so go for open stitches when choosing a pattern to go with your ribbon yarn. Check out what Craftsy member Lavish Craft did with this sparkle triangular ribbon shawl pictured above. Notice how those loose, open stitches let you see the entire width of the ribbon yarn in some places.
Something else to keep in mind: When showing off that ribbon, make sure you lay the ribbon yarn flat across your needle as you stitch so that it doesn't get all twisted up. Twisting the ribbon yarn could totally hide it and make it look like just any other yarn.
Another great way to show off the ribbon is to use dropped stitches. Normally we try to stay away from dropped stitches because they're big trouble, but in the case of ribbon yarn, we welcome them. Dropped stitches create a ladder effect that is perfect for showing off the ribbon yarn.

Photo via Craftsy member Lulu Creates
4. Pair ribbon yarn with other yarns
Ribbon yarn can work well alone or with others. Pair ribbon yarn with solid-color yarns for fun effects like Craftsy member Lulu Creates did with this wool hat and scarflette set. Here, a hand-dyed wool yarn was used as the main yarn, while ribbon yarn adds a fun trim. Try knitting the ribbon yarn solo for a few rows, or hold two strands of yarn together to create a combination of fibers.
5. Swatch it
Ribbon yarn can be a little unpredictable depending on its weight and fiber content, including the amount of nylon. As with any yarn, it's always best to knit a test swatch to see how the ribbon yarn behaves and to get used to how the ribbon yarn feels before jumping into a project.
Have you ever tried knitting with ribbon yarn? What did you knit?