Before I even started knitting as a kid, my mom would push our shopping cart down the craft aisle so I could admire all the yarn craft tools. To me, knitting needles were a sight to behold, all colorful and beautiful hanging there in the yarn section.
Years later, I have a similar appreciation for that aisle. We have a lot more choices today when it comes to types of knitting needles, though. Knitting needles are made from many different materials, and there are even interchangeable needles that let you switch out the needle size and length of your cord with a couple of twists.
But these choices can be confusing for newbie knitters. It took me many years, mistakes and projects to figure out which needles are best for what projects.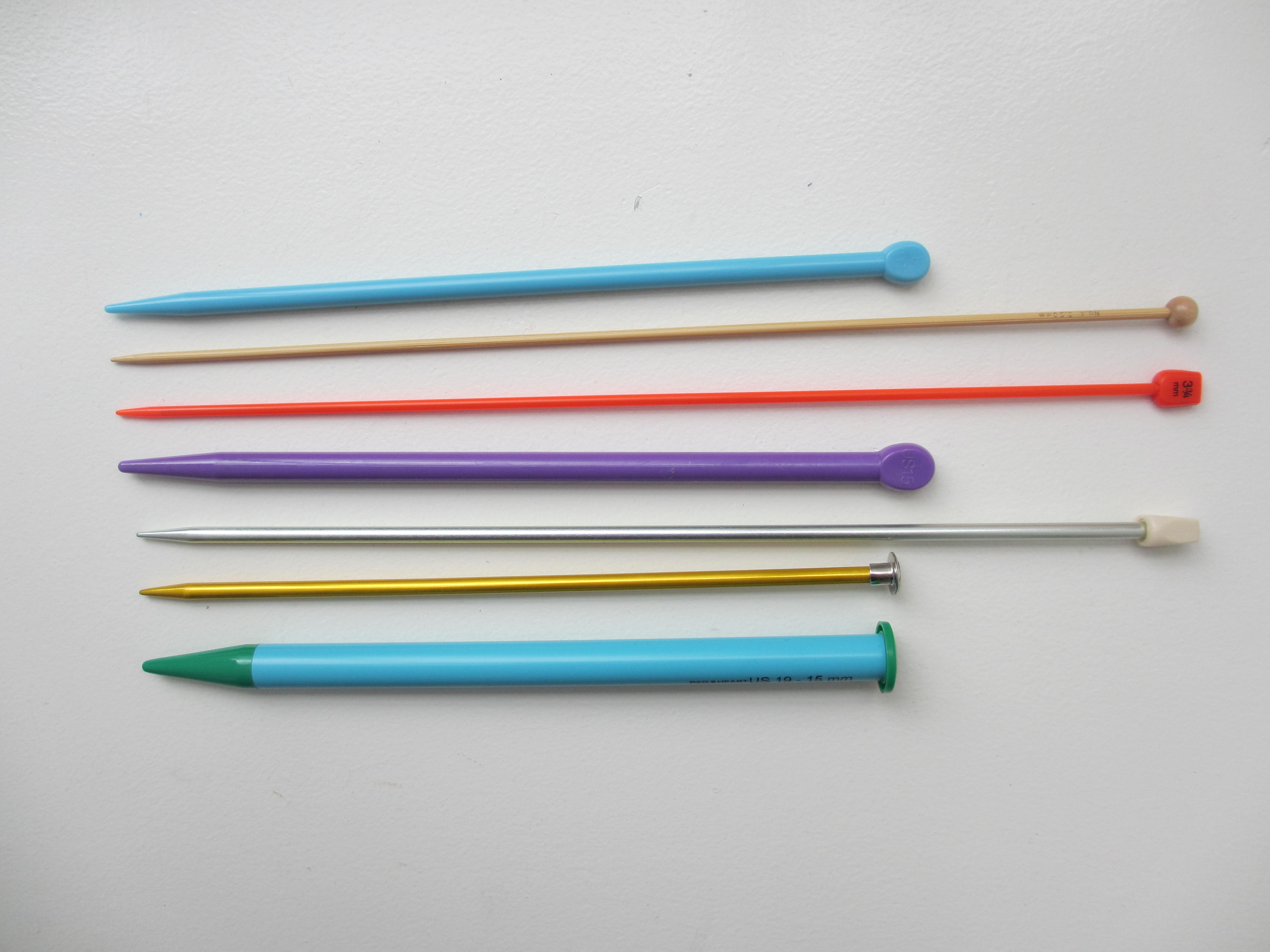 To save you some of the angst I experienced, here's a little guide to what you'll need to know before you go crazy in the knitting needle section.
Materials
What are knitting needles made of? The traditional ones you're familiar with are probably aluminum, but there are many other knitting needle types to consider.
Wood
These needles are smoother than a baby's butt. I lean toward the bamboo needles. I love using them to knit in the round because the yarn glides so smoothly over the bamboo as I work my way around the circle. I don't even have to pause to push the yarn along.
Aluminum
Aluminum needles are probably the most traditional. They're the needles your grandmother knitted with, the colorful ones you might remember from the craft aisle like I do.
Plastic
Plastic knitting needles are great for a beginner because they're inexpensive. That way if you decide knitting just isn't for you, you haven't spent your life savings on supplies.
Styles
Circular
Circular needles are for knitting things that are round, like hats and sometimes even sweaters. Feeling confused about the different lengths of circular knitting needles? Read this guide to find out what kinds of projects to use with each length.
Straight
Straight needles can be used for anything that's knit flat, but be warned: you don't want to use them on heavy projects because holding up the needles and heavy knitting can do a number on your wrists. Opt for long circulars instead.
Double Pointed
Double-pointed needles, or DPNs, are for knitting tiny circles and tubes. You'll most often use them for knitting the crowns of hats, but they're also necessary for knitting an I-cord.
Interchangeable
Interchangeable needles saved my life — and my craft space. I swear by the Addi Click needles because you can keep all your needles in one small case. If I want to start a new project at midnight, I have all the needle sizes I need.
The important thing to remember about the different types of knitting needles is that, like yarn, everyone has their own preference.
If you're a beginner knitter (yay!), be sure to check out Stefanie Japel's Knit Lab class. There's an entire lesson dedicated to materials, including knitting needles, tools, and yarn.
What types of knitting needles do you use most?