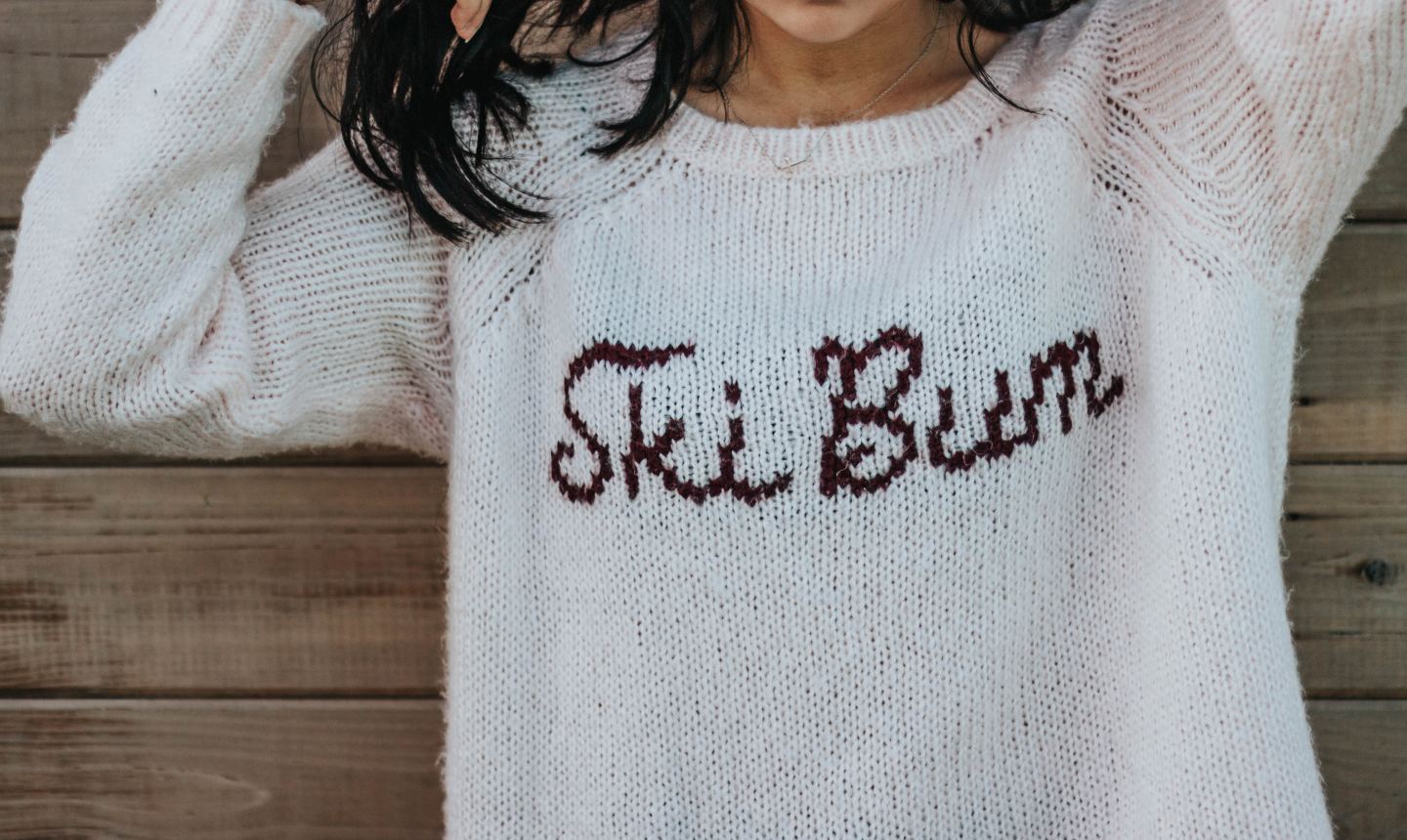 If you really want to make a bold statement, you've gotta knit it. Knitting a message, words or single letters onto a sweater or other handmade piece is a super fun skill to learn, plus it's easier than it looks. Knitters tend to think of lettering as more of an embroidery or cross-stitch thing, but it's time to change all that.
You can get the word out (ha) in all kinds of ways. Say you want to knit a special something for your BFF's new baby. How about a monogrammed blanket, with the baby's initial right in the center? Sweet! Or, think about creating a set of baby blocks with the letters of the alphabet.
Maybe your home could use a refresh. Knit a throw pillow starring your favorite new hashtag, or make a set of fabulously classic monogrammed washcloths for your bathroom.
Gift idea? Knit a sweater for your Aunt Suzy and add her name in big letters across the front. Hello, best niece ever!
How to Knit Letters
Here are a few methods and tips for adding letters onto all kinds of hand-knit items:
Use Two Different Colors
Choose one color for the body of your work and one for the letters. This method is the easiest, and knitting with two colors lets the letters really stand out. To incorporate letters into your multi-colored knitting, it's best to stick with solid colored instead of variegated yarns. The cleaner the overall look, the more your letters will pop.
Vary the Texture
This option makes subtler-looking letters. Let's say you're working on a garter stitch background; you could switch to stockinette for the letter. Or on a stockinette background, you could switch to reverse stockinette for the letter. This creates an extra-subtle effect, and only really works with the right style of letter. A cursive-looking letter won't show up as well. You're better off with boxier and more block-style letters.
Your letter options are practically endless. Think about how many different fonts you can use when you're writing. Knitted letters have nearly as many variations. Check out online sources for letter knitting patterns you can choose from.
Read Your Chart the Right Way
Because knitted letters function just like any other colored pattern, they're most often represented in charts. As always, then, read your chart starting in the bottom right-hand corner. For flat knitting, read the even rows in the chart starting from the left side and the odd rows from the right. For knitting in the round, read every row from right to left.
Find the Best Yarn and Font Combination
That's the real trick with knitting letters. The two photos above are knitted with the same letter "A" from this letter chart.
In the sample on the left, you can see that this letter font wasn't the best choice. The method of using texture to separate out the letter in a one-color swatch just doesn't work well here. The letter is way too subtle.
In the sample on the right, the letter stands out much more. Still, for the two yarns used here, it would probably look better to switch to a different letter pattern. These yarns seem to cry out for a thicker letter, because of the color contrast and the texture of the yarn.
It's always a good idea to plan for a bit of trial and error when you're finding the right letter font and yarn for your project. But the more you do it, the more go-to options you'll have up your sleeve — your beautifully hand-lettered sleeve!