We don't tend to think of incorporating words on our knitting projects. That's more of an embroidery or cross stitch thing, right? But it doesn't have to be this way!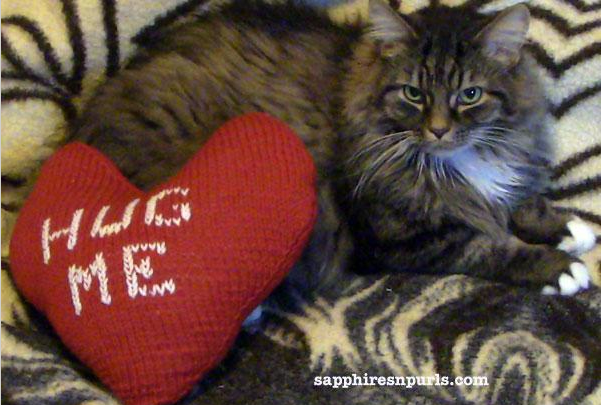 Here are some great tips on how to knit letters
There are lots of ways to incorporate words, or just letters, into knitting for a personalized touch. Perhaps you want to make a monogrammed baby blanket, where the center of the blanket is the baby's initial, or baby blocks with the alphabet. You could also make a throw pillow (like the valentine's day pillow, above) with a cute saying or phrase on it. Better yet, add joy to your home with a monogrammed washcloth or two. Or maybe, make a sweater for your Aunt Laverne and label it as such.
The easiest way to knit letters is to use two colors: one for the body of your work and one for the letters
Knitting with two colors allows the letters will really stand out. For multi-colored knitting incorporating letters, I would recommend sticking with solid colored yarns, rather than variegated. The cleaner your yarns are, the more your letters will pop.
Another option for a more subtle letter is to create your letters by varying the texture
For example, you could be working on a garter stitch background, and switch to stockinette for the latter. Or on a stockinette background, switch to reverse stockinette for the letter. This will create a very subtle effect and will only really work with just the right style of letter. Something that is very cursive-looking won't show up as well. The boxier and more block style letters are the better options. This chart of letters shows letters that work very well in this single-color technique.
Wait, you're wondering. Just how many styles of letters are there? Well, you know how many fonts exist in your word processing program? The variations in knitted letters is something like that. There are a wide variety of letter knitting patterns available across the Web.
Because knitted letters function just like any other colored pattern, they are most often represented in charts
As always, then, read your chart starting in the bottom right-hand corner. For flat knitting, read the even rows in the chart starting from the left side and the odd rows from the right. For knitting in the round, read every row from right to left.
The real trick with knitting letters is to find the right yarn and font combination for your project
The two photos below are knitted with the same letter A from this letter chart.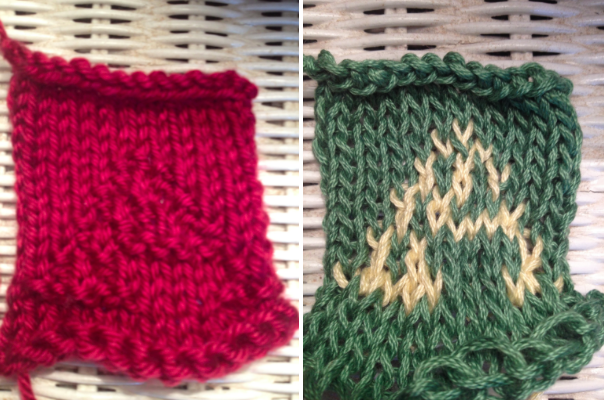 On the maroon sample, you can see that this letter font was not the best for using texture to separate the letter in a one-color swatch. The letter is too subtle. On the green and yellow sample, the letter is much easier to make out. And, yet, if I were to knit a project with these two yarns, I think I would switch to a different letter pattern. Somehow, I feel like these yarns need a thicker letter, both because of the contrast between the two colors and because of the texture of the yarn. So there may be some trial and error in finding the right letter font and yarn for your project.
Have you ever made a project with knitted letters? Do you have a favorite font you use in your knitting?