If you're thinking about knitting a sweater, the only thing you need to know is this: Every sweater is different. There are so many different constructions and stitches and techniques out there, including many that are designed for beginners. Every time you knit a sweater, you'll learn something new!
So you've decided you want to knit a sweater. (You can do this!) It's time to go through your closet — and your knitting skill set — to make sure you know exactly what you're going to make, plus the steps to successfully make it.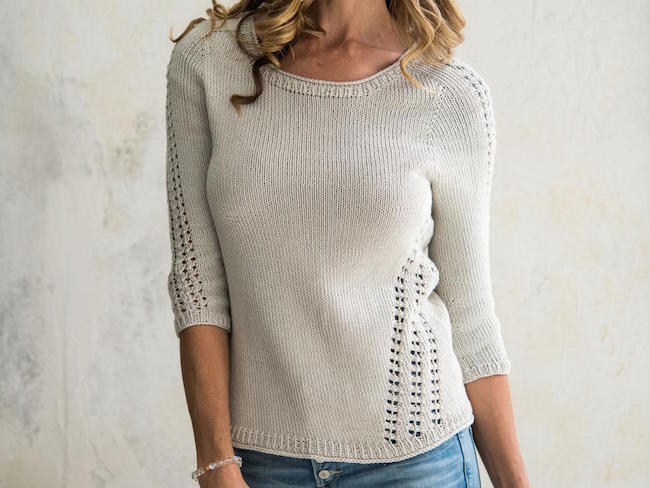 Sweater knitting skills
Before you dive in and start stitching your sweater, make sure you're familiar with these basic skills:
Bind off
Knit and purl
Increasing (like M1R, M1L, KFB and yarn over) and/or decreasing (such as slip slip knit and k2tog)
Knitting in the round and/or seaming
Reading a pattern
You'll notice a few "and/or" skills in there, and that's because those skills are totally dependent on the pattern. For your most basic sweater, though, those are the only skills you need!
Choosing a sweater design you'll love
Take a look in your closet. What are some of your favorite sweaters? Why do you like them?
Likewise, what are some of the sweaters you never wear? Why don't you wear them? It's important to know what features make you feel super cozy and what features make you pass up the sweater every time you consider wearing it. I, for example, detest turtlenecks because they make me sweaty and feel trapped in my clothes. So I never knit sweaters that have turtlenecks.
Construction is something else to keep in mind. Ask yourself some of these questions as you're thinking about what types of sweaters you like:
Fit: Do you like sweaters that fit a bit tighter, or do you like them to be loose and have some positive ease? (Read more about positive ease and negative ease, plus see examples.)
Length: Do you like cropped sweaters? Longer sweaters?
Sleeves: Do you like short sleeves, long sleeves, three-quarter sleeves or no sleeves at all?
Fiber: What are some of your favorite sweaters made from? Wool is a great classic sweater fiber, but if you live in a warmer climate you might be more likely to wear cotton instead.
Yarn weight: Do you like sweaters that are bulky and cozy? Or do you prefer sweaters that have a bit more drape?
The good news is that many of these features — like length and sleeves — can be customized pretty easily. The idea here is that you're trying to find a knit sweater pattern that you'll actually wear. Why do all that hard work when the sweater is just going to sit in the closet?
Finding a sweater pattern that suits your skill level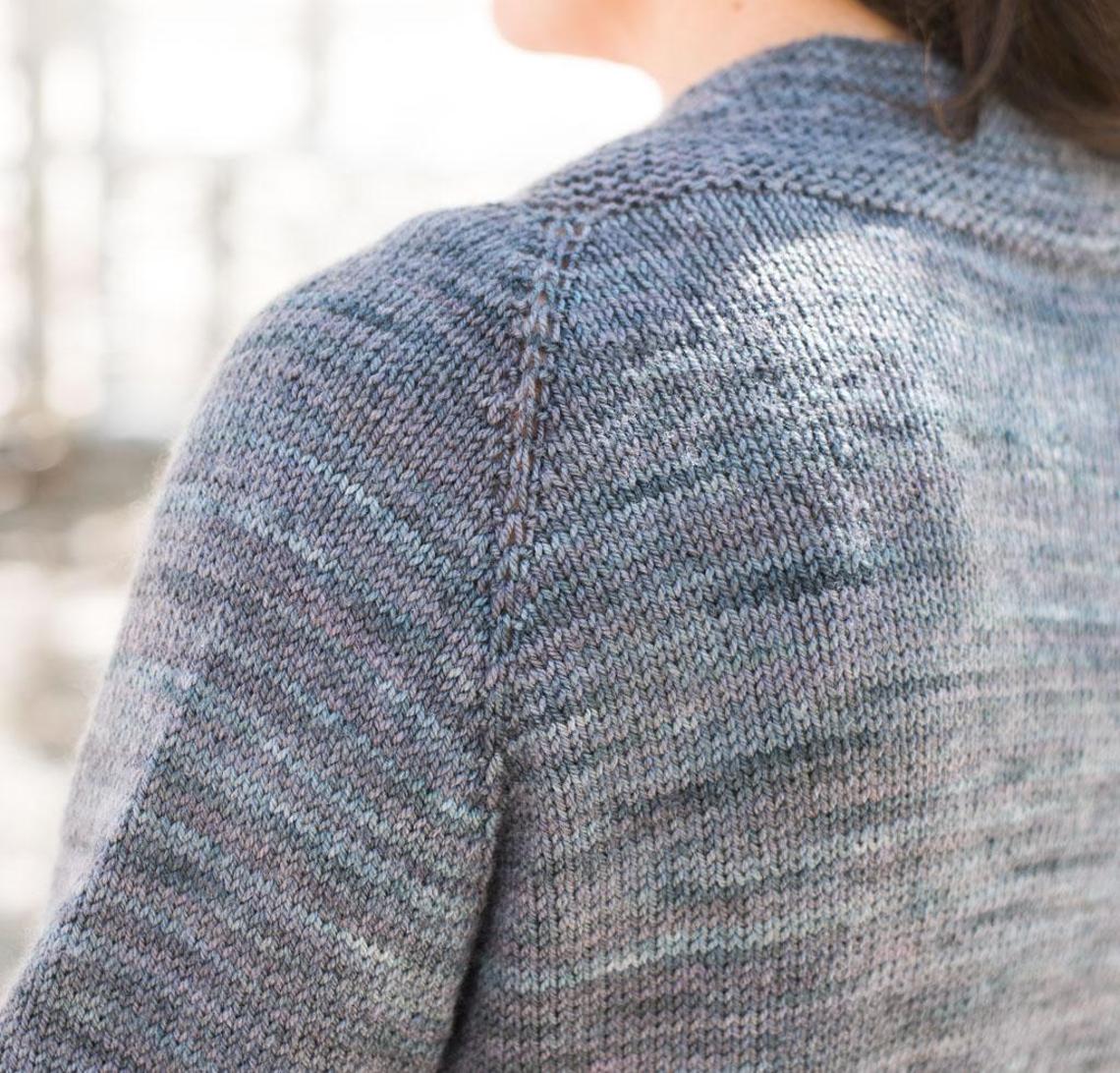 The sweater pattern you try first depends on your skill set, but even if you've been knitting for years, it's best to keep everything as basic as you can for your first one.
I wouldn't recommend going for a sweater that features colorwork, charts or any other kind of advanced stitch for your first project. Techniques like those can be overwhelming when they're paired with unfamiliar constructions and patterns. We want you to focus all that energy on following the pattern!
Instead, look for a repeating stitch pattern that you can memorize, like garter stitch, stockinette stitch, or seed stitch. That way you can focus on the shaping and the pattern itself.
Getting gauge
While gauge isn't super important for projects like scarves, it is very important for sweaters. Getting the right sweater fit is one of the most important skills for making a sweater, and most of that skill lies in simply getting the same gauge as your sweater pattern.
Stitch gauge
If a sweater pattern's gauge is 10 stitches per inch, but you're knitting at 8 stitches per inch, then your gauge is spreading those stitches out more, therefore making the sweater larger. So a sweater that's supposed to have a 38″ bust, for example, could turn out to have a 44″ bust — and that sweater might look more like a big garbage bag on you than a garment.
Row gauge
In many sweater patterns, row gauge doesn't have to be spot-on because a lot of designers write their patterns in length ("knit 3 inches") instead of row count ("knit 10 rows"). That means you're guaranteed to have the right size even if your row gauge is off. So if your row gauge doesn't perfectly match the designer's and the sweater gives measurements to follow in the pattern, don't worry too much!
Choosing a size for your sweater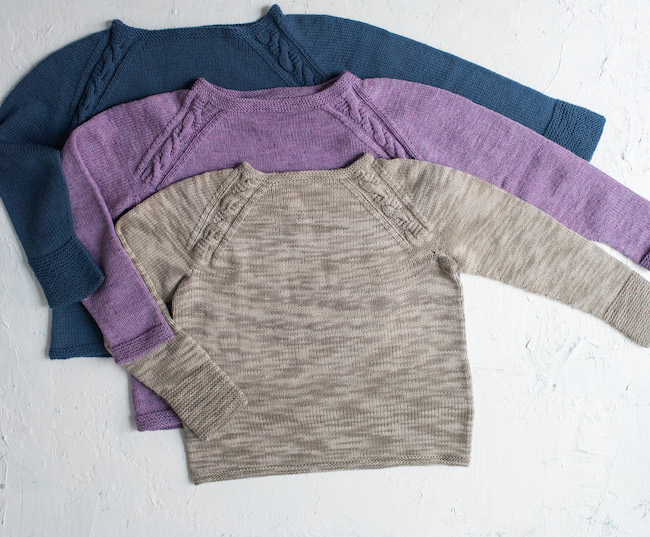 Choosing a size might be the most difficult step in sweater knitting, and there's no one easy tip that applies to everyone.
Here's a good starting place: Grab your favorite sweater and measure the bust of it. (If you're measuring just the front and it's laying flat, you need to double that number.) Use that number as your guide and try to match it to your pattern size.
There are a few exceptions, of course. If you have narrow or wide shoulders, you might want to follow this tip from designer Amy Herzog: measure your upper torso instead of your bust, and match the upper torso number to the pattern instead. Shoulders are much more difficult to adjust than bust, so the idea here is that you get a good fit in the shoulders and make adjustments to the bust if needed.
As you knit more sweaters, you'll get a better idea of the fit you like. For now, measure your favorite sweater and model the sizing from that.
Sweater guidance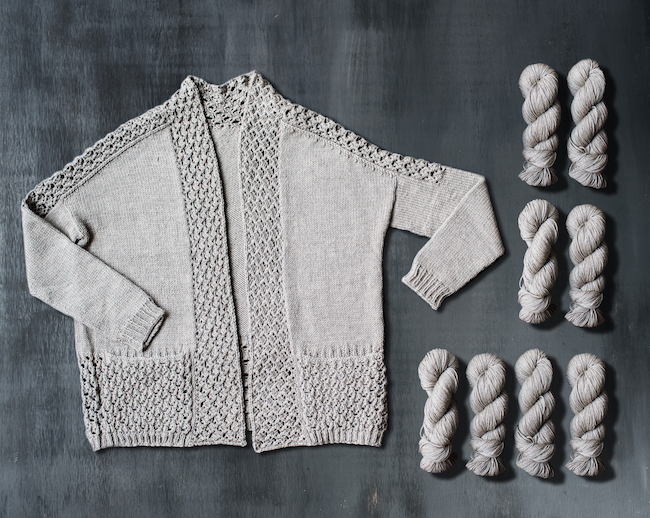 You're not alone with your sweater pattern troubles! If you're still feeling nervous about your first sweater, get help from of these resources:
Join a knit-along
Knit-alongs — often hosted by bloggers, YouTube channels, or online classes — can lead you section by section through the sweater. As you go, you can get help working through some of the more challenging sections.
Check out our Tealeaf Sweater Knit-Along (shown above) with Bristol Ivy for a fun knit-along where Bristol walks you through tough sections like short rows, pockets, and finishing. (We know many knitters who've made this as their first sweater!)
Recruit your stitching friends
Grab a friend who's a sweater knitting fanatic and ask for help with your pattern. It's always helpful to have someone walk you through the solution and encourage you as you fix it.
Try taking a class
Classes in your local yarn store or online are great ways to be introduced to sweater knitting skills. My First Sweater with Amy Ross is a good option right here on Craftsy.
Consider starting with a knitting kit
A knitting kit comes with a sweater pattern plus a yarn that's paired perfectly for that pattern. That means you'll have an easier time getting gauge, and you'll know that your yarn will work well with the pattern. It saves a lot of frustration.
Sweater knitting is so exciting! If you're knitting a sweater for the first time, we hope you can use these tips to make a wonderful first sweater that you'll never stop wearing!
If you're thinking about knitting a sweater for the first time, do you have reservations about trying it? For our more experienced sweater knitters, what advice to you have for first timers? Let us know in the comments!