When you're knitting a cuff-down sock for the first time, things go pretty smoothly — until you try to figure out how to knit a sock heel. Then the pattern can get crazy.
I tried to figure out how to knit a sock within the first year of learning to knit, and that resulted in lots of ripping and frustration. I gave up on it, only to return to it years later after I had a lot more knitting experience under my belt.
Don't get frustrated the first time you learn how to knit a sock heel. We'll show you how to set up your double-pointed needles in order to knit a sock heel that's both simple and sturdy.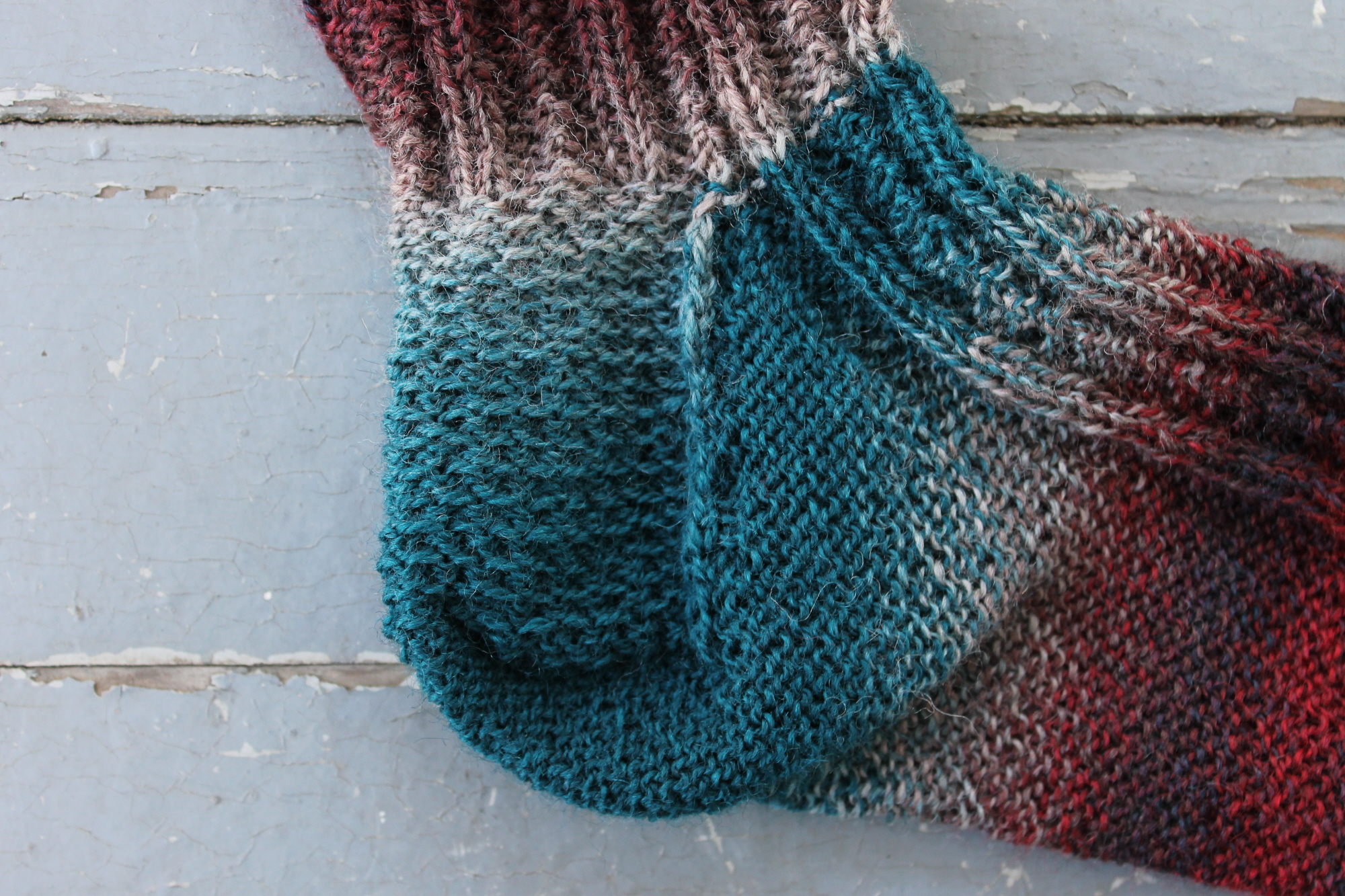 A pair of Simple Skyp Socks that I knit, with the sock turned inside-out for a better look at the heel
Setting up your needles
Some patterns are awesome about giving you instructions for setting up for the heel, while others just assume you know.
It's fine to work the cuff and leg in the round with the stitches evenly divided between three or even four double-pointed needles, but once you reach the heel, you'll need to do some rearranging.
For this demo, I'm knitting the Very Vanilla Socks designed by Bluprint member KBJ Designs. (The pattern is free to download!) This sock pattern is very basic, so it's great for a first-time sock knitter or a knitter who just wants a quick knit without too much fuss.
This particular pattern gives us these instructions after we finish the leg and begin the heel:
"The heel flap is worked back and forth on half of the sts. The remaining 30 sts will be worked later for the instep."
I like to put all my heel stitches on one double-pointed needle, then divide the instep stitches on the other two needles. When I rearrange them, they look like this: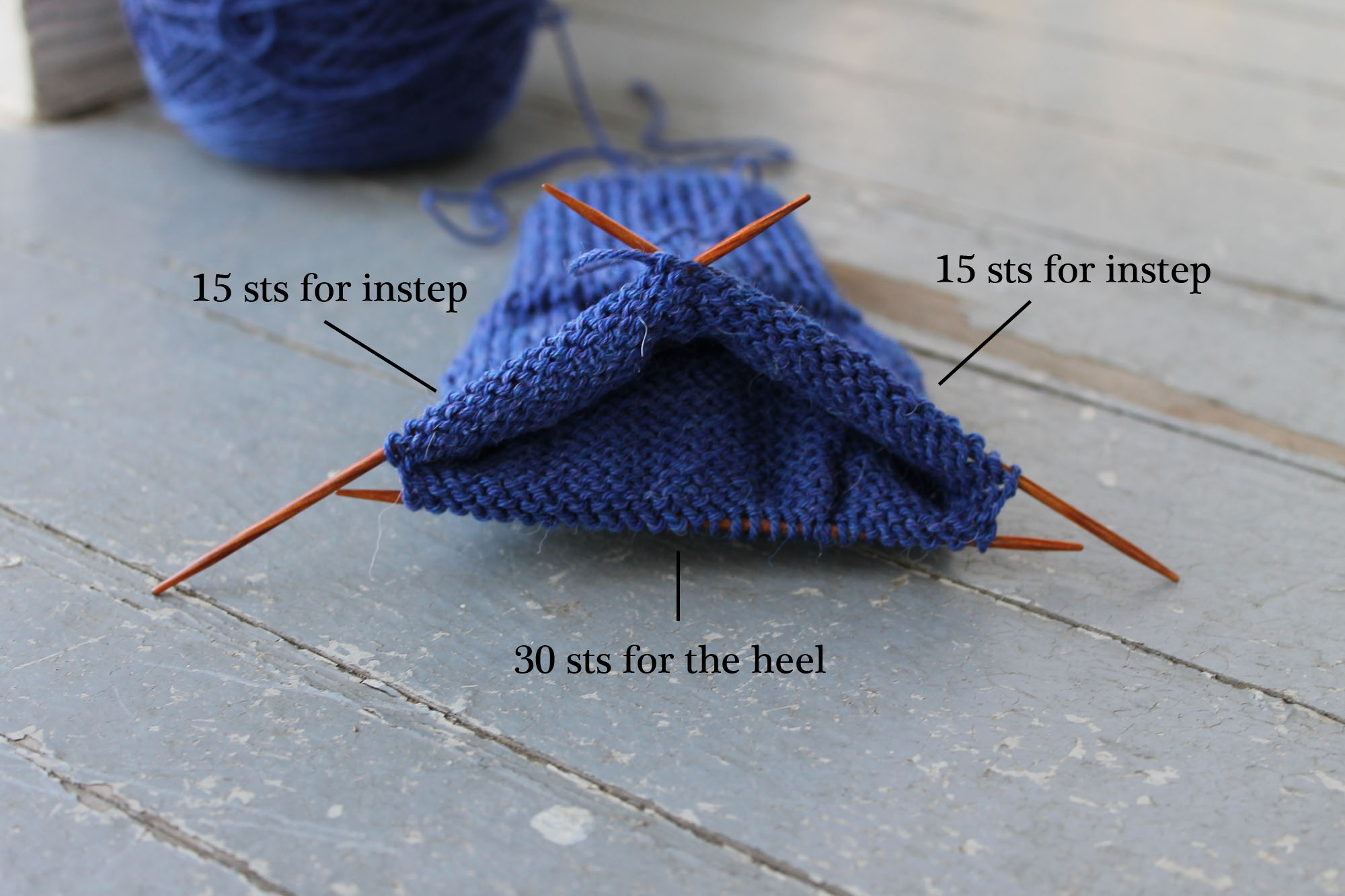 Knitting a sturdy heel
Now we're ready to actually begin knitting the heel. Woohoo!
You know how the heel is usually the first thing to wear out in your store-bought socks? You can make your handmade sock heels way sturdier than that by slipping stitches. The Very Vanilla Socks has such a heel, and here's how it's done:
Row 1 (RS): *Sl1, k1; rep from * to end, turn.
Row 2 (WS): Sl1, p to end, turn.
So notice two things here: 1) We're now going to be turning and working in rows instead of rounds. We will only be working from the needle that holds the 30 heel stitches. 2) We're going to be slipping every other stitch of that first row to create a strong, thick heel.
You'll repeat these two rows to form the entire heel. Once you knit the heel, your needles will look a little odd. The heel will extend past the instep stitches. You'll find that your in-the-round work looks a lot different: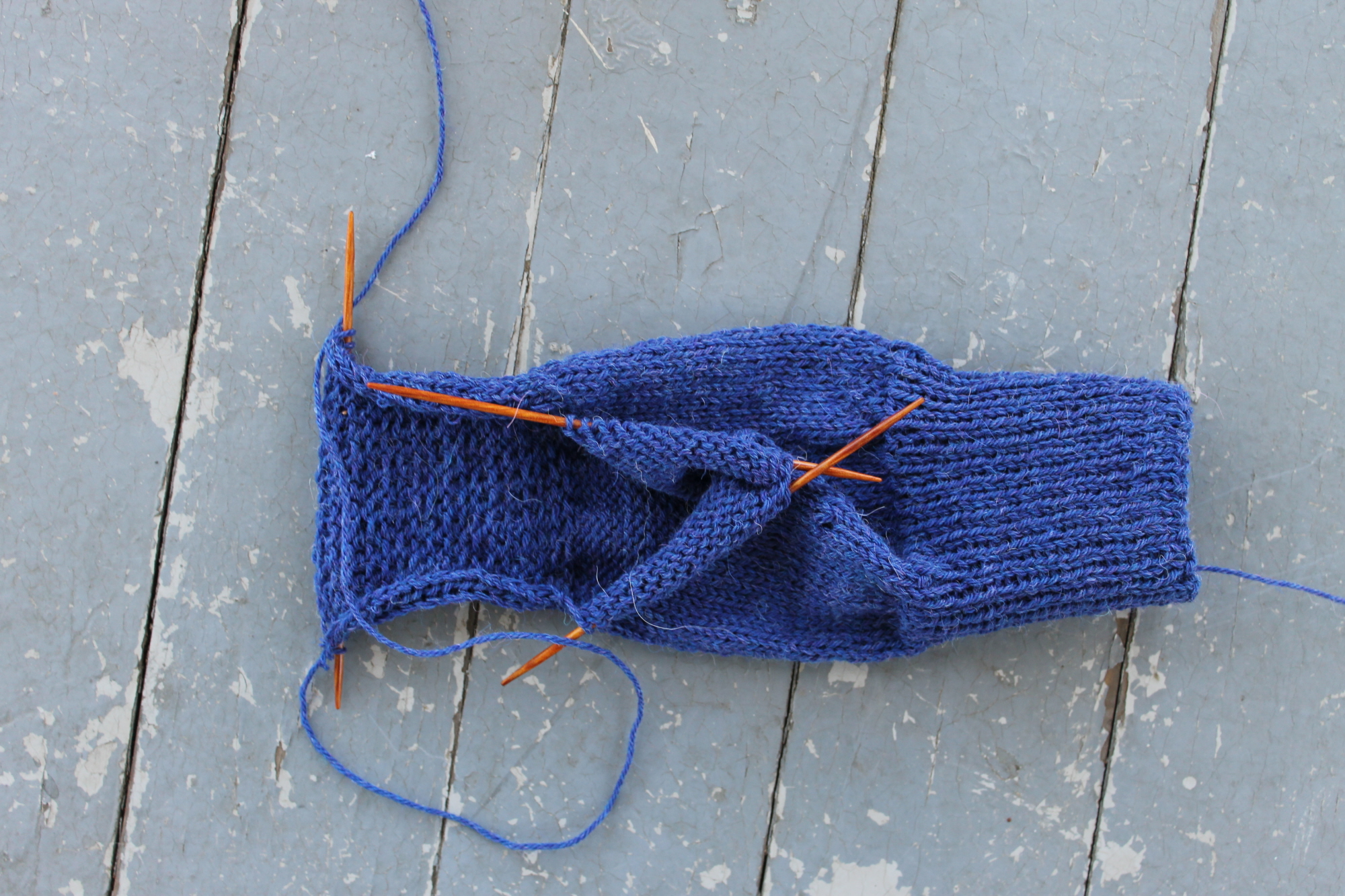 So that's our heel! If you keep following your pattern, you'll probably turn the heel, then pick up stitches to shape the gusset before moving on to the foot. You're not far from finishing now!
FREE Guide: Need-to-Knows for Knitting Socks
Knit cozy treats for any feet with a pair of custom socks! This guide covers the essential tips and techniques that will help you get started.Get my free guide »