What creature other than a horse can hold the attention of all sorts of people, from little girls to big, strong cowboys? They're powerful, beautiful and majestic. But more importantly, their likeness translates wonderfully to cake and makes for a fun cake decorating project.
Here's a collection of horse cakes for all sorts of occasions!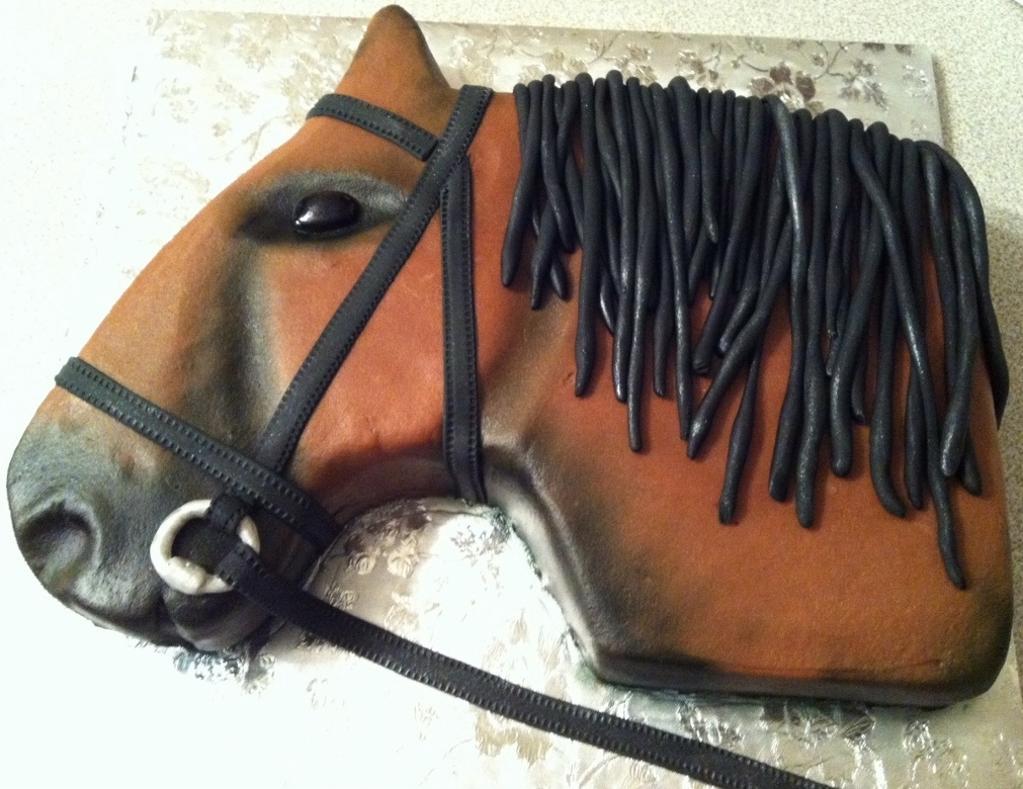 Photo via Bluprint member lisascakes
Realistic horse cake:
After taking the Modern Buttercream mini-class, this adventurous baker felt it was the perfect time to both put her new buttercream knowledge to work and test out her new airbrush. The cake was made by carving a ¼ sheet cake into the desired shape. It was then iced in chocolate buttercream, accented with black fondant for the mane, bridle, and facial details, and gum paste for the silver ring. Finally, airbrushing was used to give it accents and depth. The resulting cake is prizeworthy for sure.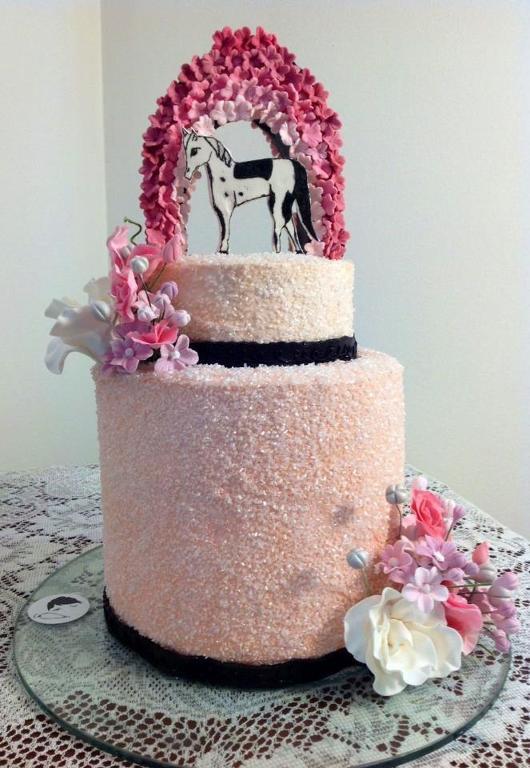 Photo via Bluprint member Alex Narramore
Elegant horse cake topper:
For the most elegant 4th-birthday cake you've ever seen, you need not look much further than this stunning two-tiered confection. Iced in a pretty pink and coated with a glittery application of translucent sprinkles, its crowning glory is the topper, which consists of a hand-painted black-and-white horse standing before a lovely arch made of flowers.

Photo via Bluprint member suzanne.01332488
Painted horse cake:
You can ride your painted pony — or you can eat this gorgeously painted cake. This trendy confection was created after the baker took The Hand-Painted Cake Bluprint class. It features an ambient ombré background invoking a spectacular sky, on top of which hand-painted horse silhouettes make for a classy effect.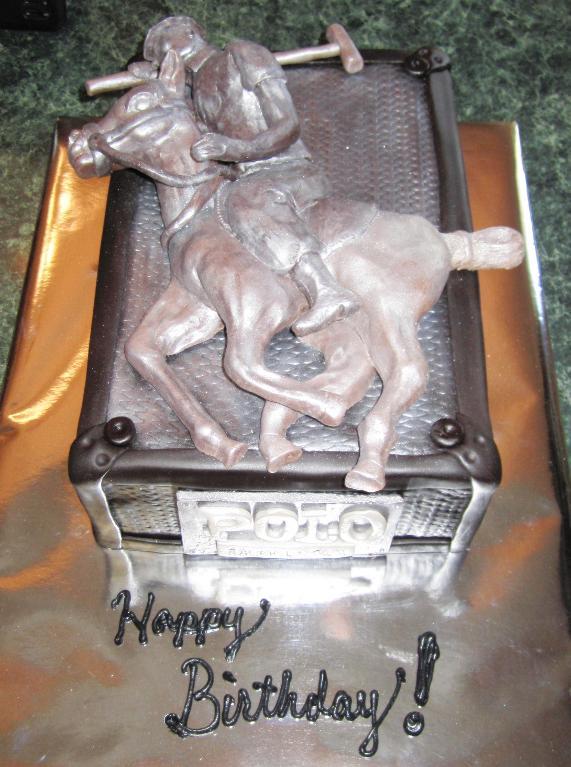 Photo via Bluprint member Just Get Baked
To make a cake like this, informs the baker, you'll need "cake, icing, fondant, modeling chocolate, pearl silver dust, pattern press, a lot of time." It sure pays off, though, with this painstakingly formed horse and polo player, all covered in a lustrous silver atop a patterned background. The horse may be preppy, but the overall effect is sweet.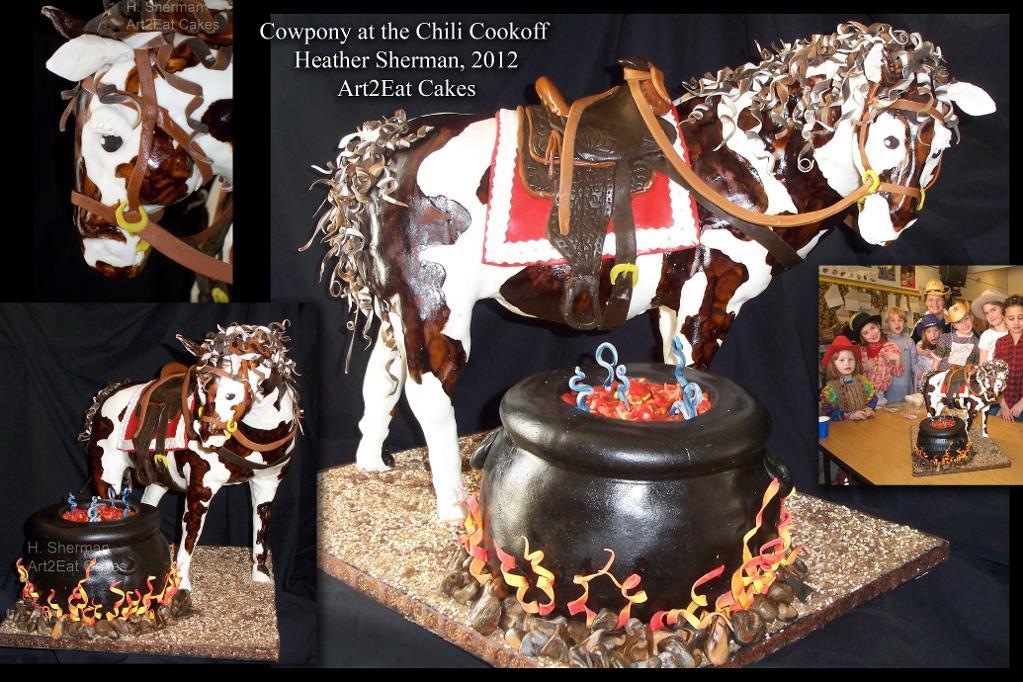 Photo via Bluprint member art2eatcakes
Your eyes do not deceive you — that is, indeed, a cake. The saddle is created piece-by-piece out of rolled fondant and detailed individually. The entire horse is a food-safe frame holding up a cake body and a Rice Krispies Treat head, covered in fondant and painted. It certainly gave kids a big thrill at the chili cook-off at which it was presented as dessert!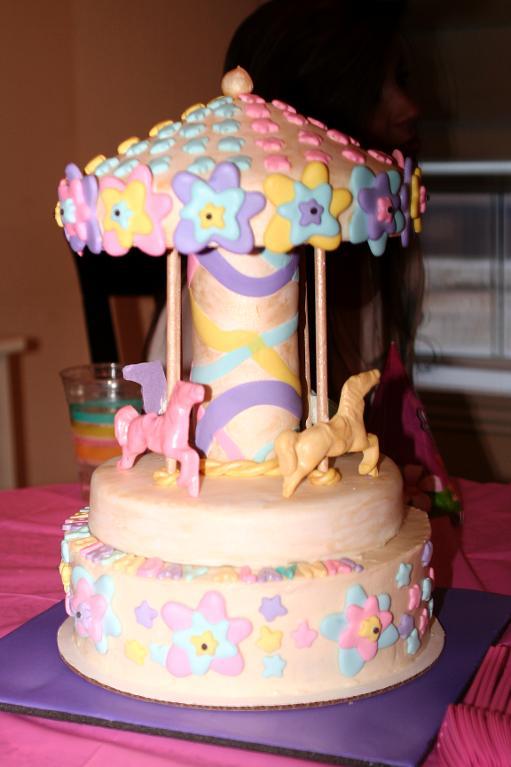 Photo via Bluprint member Momma Dil
A cake featuring a carousel makes for a gravity-defying and very impressive dessert to serve. This one was made after the baker took the Bluprint class Piece of Cake! with Colette Peters, which teaches all manner of cake magic. The carousel is made out of rice treats, then covered with fondant and painted with gold luster dust. The flowers are made of 50/50 gum paste and fondant, and the molded horses were made with chocolate, then brushed with gold dust for a little extra luster. As the baker says, "This would have turned out much less interesting without my having watched the class with Collette Peters first!"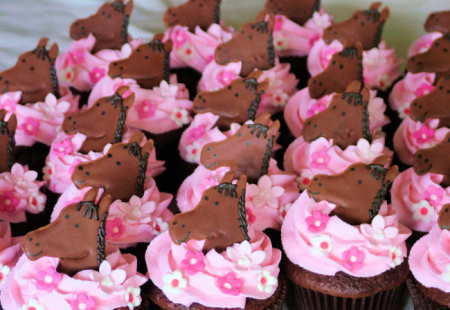 Photo via A Sweet Cake
Horse cupcakes:
These kid-friendly cupcakes feature horse faces, which appear to poke through a puff of pink buttercream. The faces are made using royal icing, and allowed to set until hard. At that point, they were easy to adhere into piped pink buttercream atop a sea of cupcakes and prettily complemented with sweet flower garnish.

Photo via Carisa's Cakes
Horse pull-apart cake:
If a realistic cake isn't within your current skill level or time frame, consider something a bit simpler to put together but still highly adorable. A pull-apart cake assembled from cupcakes arranged to make the shape of a horse is easy to make and fun to eat!
If you loved this collection of amazing horse cakes, you might also enjoy roundups of bear cakes and beautiful hand-painted cakes. And come back to the Bluprint blog on Wednesday. We'll share a spectrum of colorful rainbow cakes!
You're probably feeling hungry as a horse for some tasty cake at this point! Which equestrian confection suits your sweet fancy?