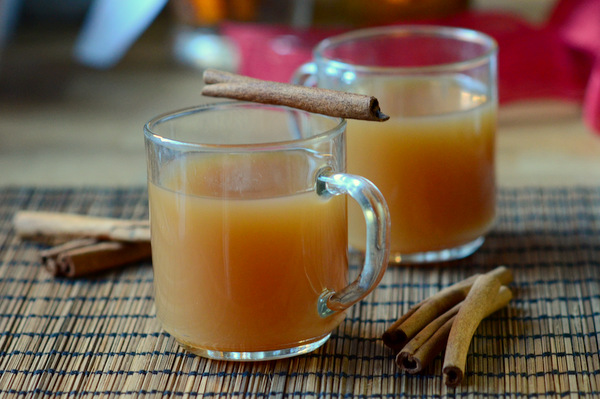 Hot chocolate is always a good choice once cooler temps roll around, but nothing warms the soul quite like a mug full of hot, spiced apple cider — especially if that cider is homemade. After all, choosing the exact spices that go into it means you get to create the perfect blend of sugar, spice and everything nice.
Fortunately, it's easy to make a big batch of spiced apple cider at home. And when paired with a pumpkin pie croissant or mini apple tart, it's the perfect treat. Hello, cozy fall nights!
Homemade Spiced Cider
Yield: 1 gallon
Ingredients
1 gallon unfiltered apple juice
3- 3″ cinnamon sticks
1 tablespoon whole cloves
1 tablespoon whole allspice berries
½ cup brown sugar
Instructions
1. Combine Your Ingredients
Pour apple juice into a large pot. Break cinnamon sticks into 1- to 1½" pieces. Add cinnamon, cloves, allspice berries and brown sugar to the apple juice and bring the mixture to a simmer. Stir occasionally to dissolve the sugar.
2. Cook and Steep
Once juice reaches a simmer, cover the pot and turn the heat down to a very low flame. Cook for 10 to 15 minutes, then turn off the heat. Allow cider to steep for 1 hour.
3. Strain Out the Spices
Pour cider through a sieve and into a large pitcher, straining out the spices. Serve hot, or refrigerate and reheat when ready to serve.
Pro Tip: Homemade cider will keep for about a week in your refrigerator when stored in an airtight container.