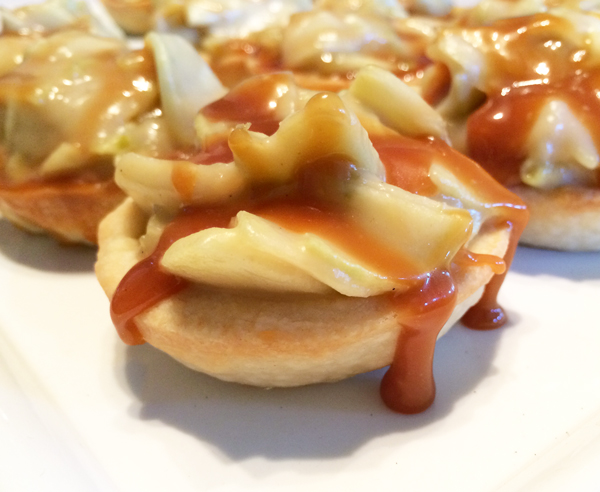 This year, skip the full-blown apple pie and whip up a bite-sized treat for easy serving instead. These mini tarts have the same classic flavor, with some modern flair that makes 'em prime for entertaining your Thanksgiving or Christmas guests.
Mini Caramel Apple Pie Tarts
Yield: 18 tarts
Ingredients
For the Shells
¾ cup (1½ sticks) butter softened
3 oz cream cheese
3 tablespoons sugar
1 ¾ cups flour
For the Apple Filling
6 large Granny Smith apples
1 tablespoon lemon juice
½ cup sugar
½ cup packed brown sugar
¼ cup flour
¼ teaspoon salt
½ teaspoon cinnamon
¼ cup heavy cream
1 teaspoon vanilla
¼ cup (half stick) of butter
For the Caramel Sauce
½ cup sugar
3 tablespoons butter
¼ cup heavy cream
Instructions
1. Preheat oven to 325 F.
2. In the bowl of an electric mixer, cream the butter, cream cheese and sugar. Add flour and mix until it forms a dough.
3. Flatten the dough into a disc and cover with plastic wrap. Refrigerate for about an hour.
4. Turn out the dough onto a floured surface and, using a rolling pin, flatten it to about ⅛" thick. Use a 3½" round cutter to cut the dough and place each cut-out into a muffin tin. Press the dough against the bottom edges and up the sides of the tin. Pierce the dough with a fork to help the air escape.
Pro Tip: If you don't have a round cutter, simply divide the dough into 18 equal pieces and place each into the muffin tin.
5. Refrigerate the dough-lined tins for 15 minutes to firm. Bake for 18-20 minutes, until the edges are golden. Remove the shells from the muffin tin and let cool completely on a wire rack.
Good to Know: These shells can be made a day or two ahead of time. Just make sure you store them in an airtight container at room temperature.
6. Peel and core the apples and divide into 8 pieces. Thinly cut crosswise, then place them into a bowl and toss with lemon juice.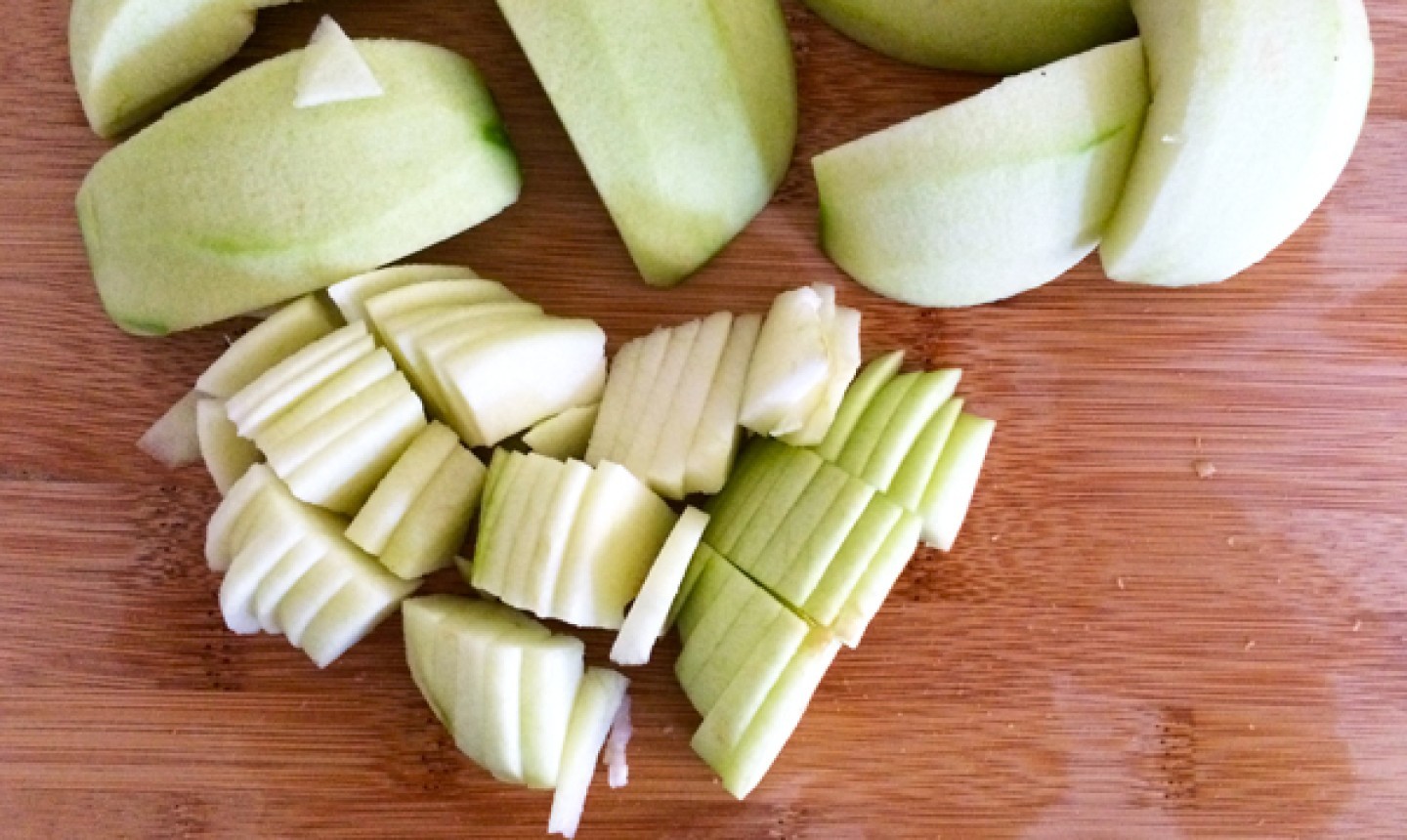 7. Add all the dry ingredients to the apples and toss.
8. Heat butter in a large saucepan over medium heat. When completely melted, add apple mixture, heavy cream and vanilla. Cook for about 20 minutes over medium-low heat, stirring occasionally, until the apples have completely softened and the sauce is thick.
9. As the apples cook, make the caramel sauce. Place sugar in a medium saucepan over medium-high heat and whisk as the sugar melts until it's dark amber.
10. Add the butter and whisk until combined.
11. Remove from heat and add the heavy cream. Whisk until smooth. The caramel will thicken as it cools.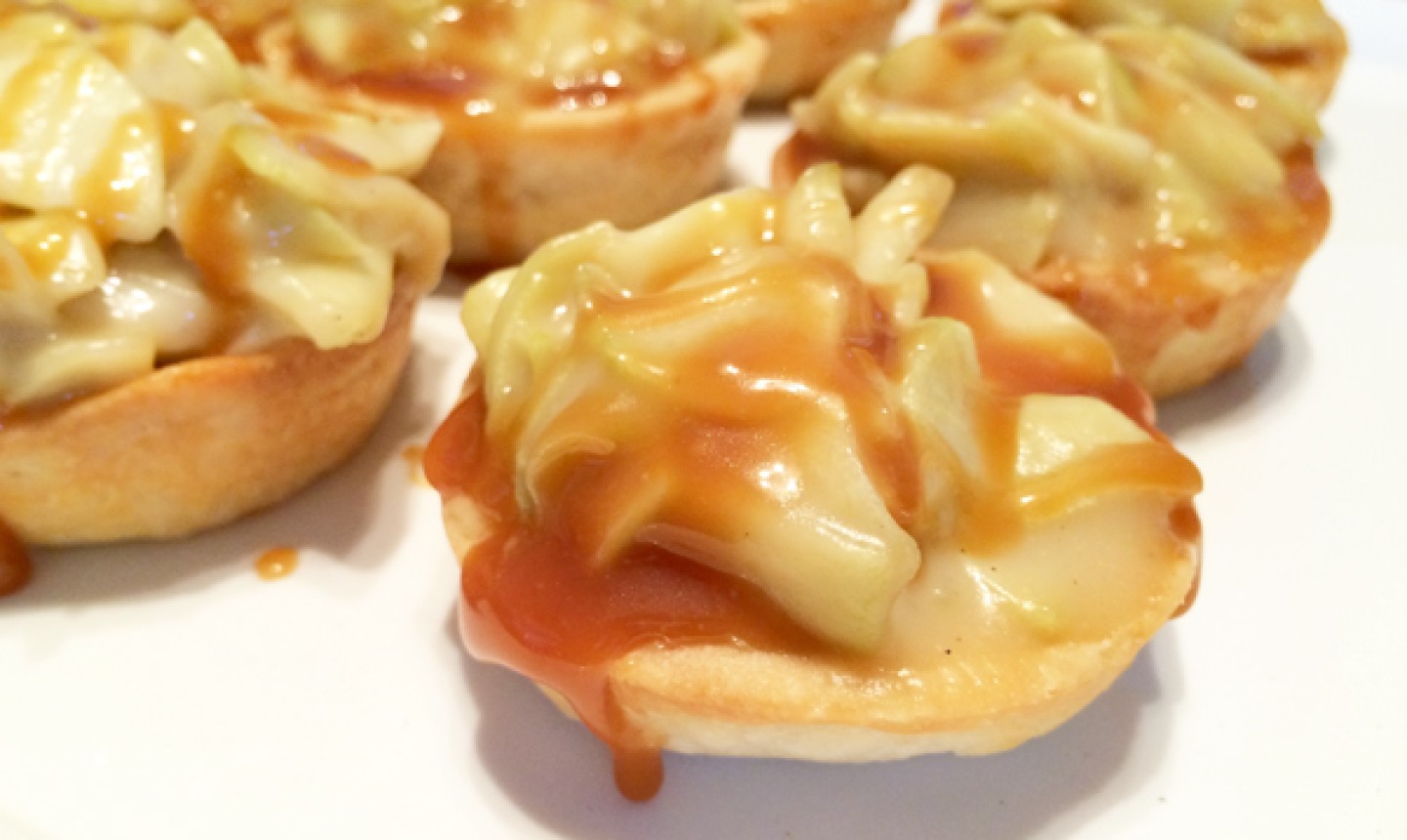 12. When the apples are finished, remove them from heat and spoon into the shells. Drizzle the caramel sauce generously over the top and serve immediately. If you have leftovers, these tarts can be refrigerated in airtight containers for up to 4 days.