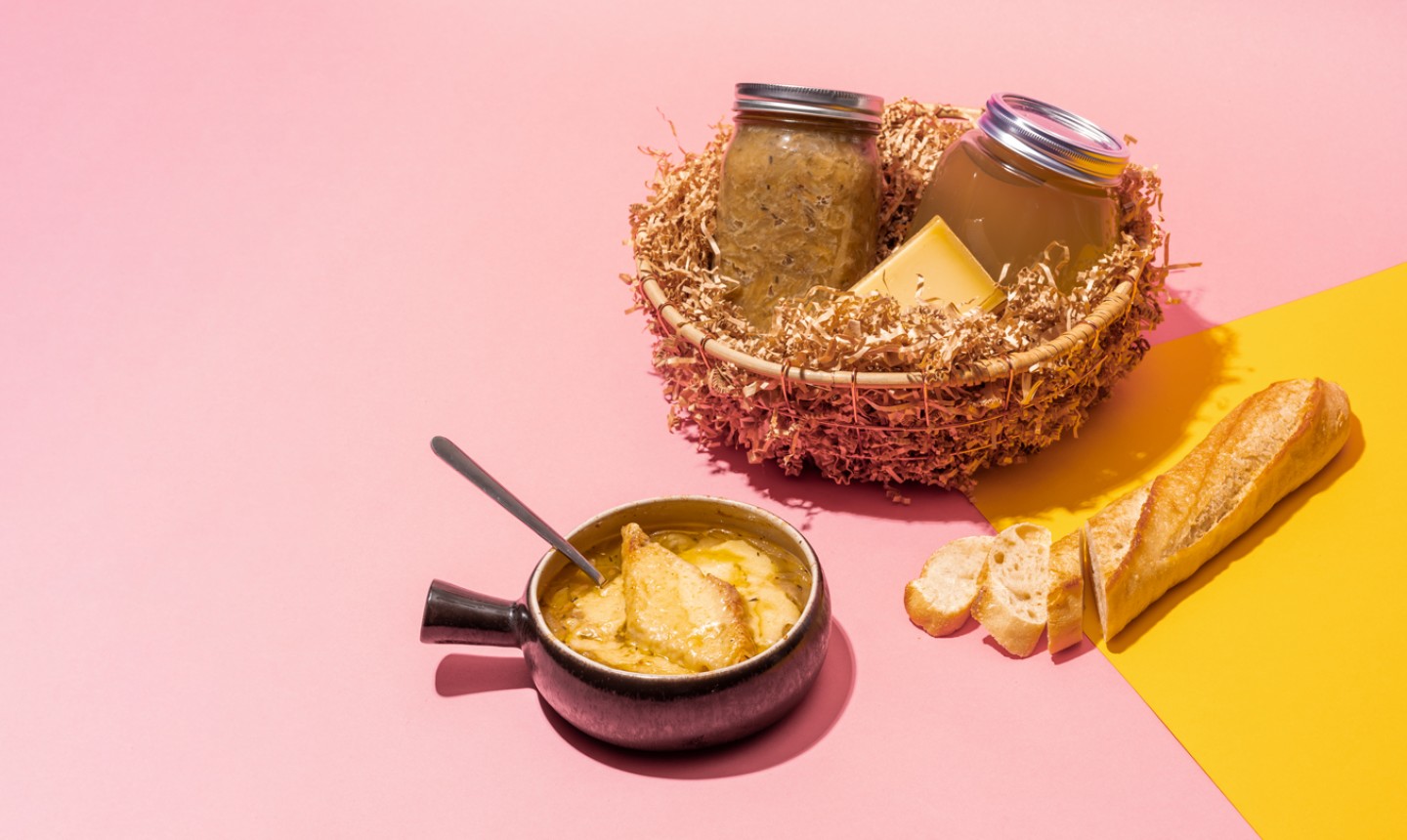 Braised onions may not leap to mind when you think of holiday gifts, but when you pair this recipe from our class Sweet & Savory Food Gifts, with all the all the makings of French onion soup, it's a game-changer. Just spoon the onions into a jar, seal it tight and include the recipe for French onion soup on the tag. Add a loaf of crusty French bread, some flavorful Gruyere cheese and — bam! — you've got yourself the best food gift ever.
Homemade Braised Onions
Yield: 2 jars
Ingredients
10 large sweet onions, about 8½ pounds
½ cup unsalted butter, thinly sliced
2 tablespoons minced fresh thyme
Instructions
1. Prep the Onions
Trim the ends from the onions, then cut each onion in half lengthwise. Cut each half into ¼"-thick moon-shaped slices.
2. Cook 'Em Low and Slow
Place the butter in the bottom of an electric slow cooker. Add the onions and scatter with the thyme. Place the lid on the cooker, set the cooking mode to high, then let sit for two hours.
After two hours, use a spatula to stir the onion mixture. Set the timer for another six hours and continue to cook the onions on high, without stirring.
3. Cool and Store
Turn the power off, remove the cover and give the onions a stir. Let the onions cool in the ceramic insert for one hour.
Ladle the onions into jars through a wide-mouth funnel. Let cool completely, then cover and refrigerate. The onions will keep for about five days in the fridge.
---
Winter Weekend French Onion Soup
With the onions fixed in advance, this heavenly soup comes together in literally minutes.
Ingredients
1½ tablespoons unsalted butter
1½ tablespoons all purpose flour
1 tablespoon sugar
1 jar braised onions (recipe above)
4 cups chicken stock
French bread
Gruyere cheese
Instructions
1. Make the Soup
Melt the butter in a large saucepan over medium heat. Add the flour and whisk until the flour is absorbed and begins to turn golden. Add the sugar and whisk to dissolve. Add the onions and stock and bring to a simmer. Season to taste.
2. Assemble and Serve
Have six thick slices of toasted French bread and six thick slices of Gruyère cheese ready. Divide the soup among six heatproof bowls. Top each with a bread and cheese slice. Place on a rimmed baking sheet. Broil until the cheese is melted and bubbling. Serve immediately.