For the first time in three months, the house is quiet in the morning. Just a few hours ago, we sent our oldest to first grade, our second to kindergarten and our third is eagerly waiting for preschool to start next week. I packed their snack bags and lunches this morning and realized that this is my new reality. Suddenly I was overwhelmed with the thought of 180 mornings of snack packing. What do I put in there? Will they ever tire of peanut-butter sandwiches? What can I give them that is healthy and able to linger in their bags for a few hours?We've got ideas for healthy snacks for kids.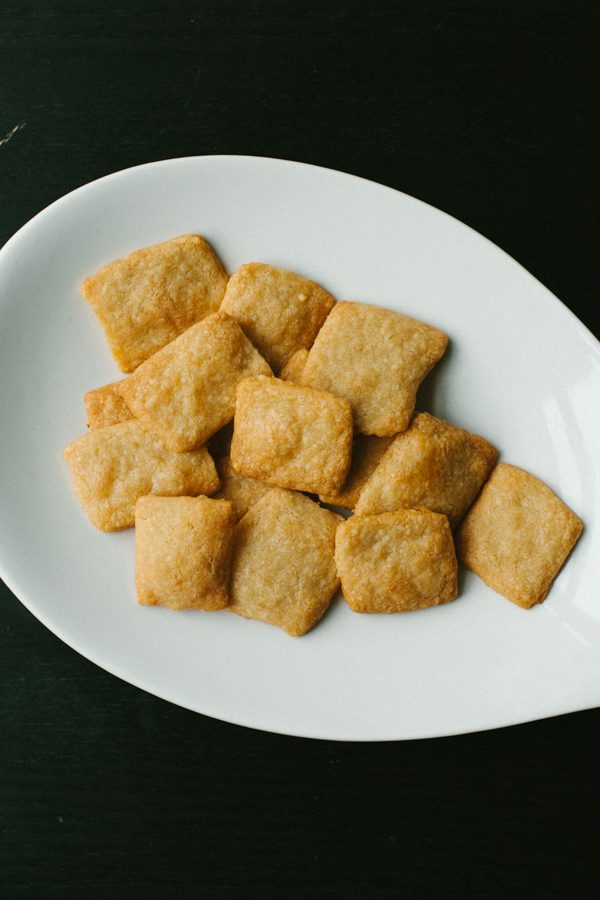 I'm sure there will be many days of store-bought granola bars, last minute peanut-butter-and-jelly sandwiches, and a few chips thrown into the bag in the mornings when I should have woken up 20 minutes before I actually did. But for the times when I have planned ahead, there are these recipes that are quick to make and store well in the fridge, freezer or counter for quite a while, so that I can plan snacks for a couple weeks well in advance.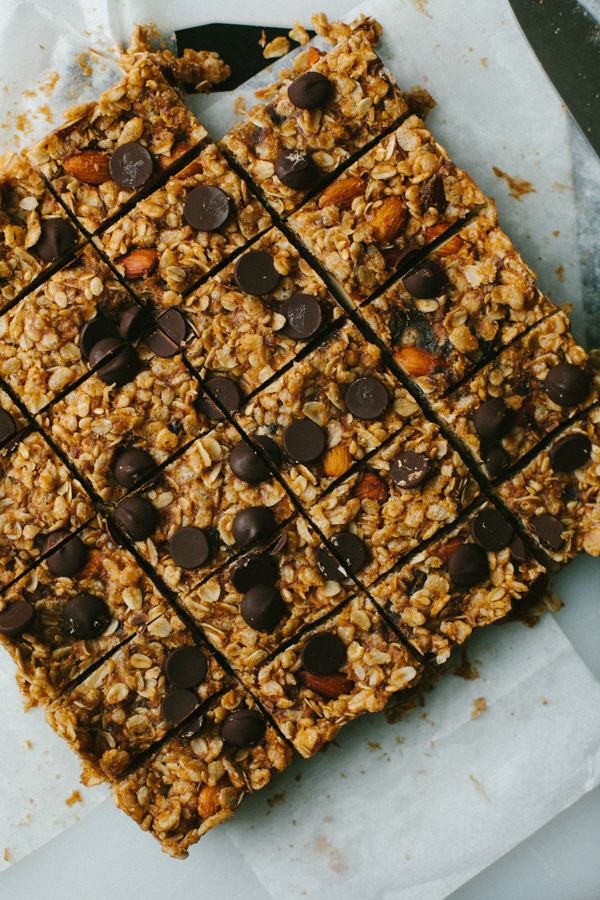 No-bake granola bars
Makes 2 dozen 1″ x 1 1/2″ bars
This recipe is a slight adaptation from one posted by my friend Sara of Sprouted Kitchen. I love that there is no oil and that toasted oats and cereal are held together with almond butter, dates and maple syrup. The original recipe uses peanut butter, but I wanted to make a recipe that is safe for those with a peanut allergy.
I pack these in little baggies, then stick them in the freezer. I'll pull a bag out in the morning, then throw it in the kids' backpacks for a nutritious and hearty afternoon snack. They are the perfect thing to grab while running out to recess.
Ingredients:
1 1/2 cups oats
1/2 cup almonds
2 cups crispy rice cereal
2 tablespoons flax seeds
1 cup almond butter
1/3 cup maple syrup
2 cups (14) large Medjool dates, pitted
1/2 teaspoon cinnamon
1/4 teaspoon kosher salt
4 ounces chocolate chips

Directions:
Step 1:
Grease and line an 8″ square pan with parchment so that a few inches hang over the edge.
Step 2:
Preheat the oven to 350 degrees F.
Step 4:
Toast the oats and almonds on a baking sheet, baking for 15 minutes. Set aside to cool completely.
Step 5:
In a large mixing bowl, combine the crisp rice, seeds, cooled almonds and oats, then stir to mix.
Step 6:
Chop up the dates well to make a chunky paste.
Step 7:
In a small saucepan, combine the dates, almond butter, maple syrup and cinnamon. Set the pan on medium-low heat and add 2 tablespoons of water. Stir the mixture until everything is mixed well and warmed through.
Step 8:
Add the date mixture to the dry ingredients then stir everything until well combined.
Step 9:
Dump the mixture into the prepared pan, then use the back of a spatula to compress the mixture into a tight and even layer.
Step 10:
Top with the chocolate chips and press them into the bars just a bit.
Step 11:
Place the pan in the fridge to set for an hour before cutting into 24 1″ x 1 1/2″ bars.
The bars will keep for about 5 days in the fridge or 2 months in the freezer.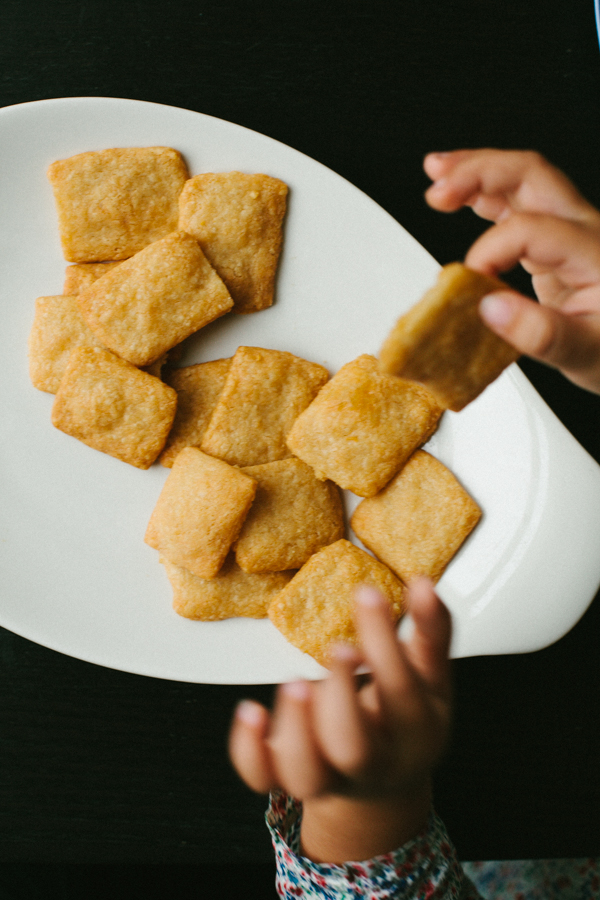 Whole wheat cheese crackers
Makes 3 dozen 1″ x 1″ crackers
What kid doesn't love the cheesy crunch of those fluorescent fish-shaped crackers? If you have a few moments to spare, it's incredibly satisfying to make a homemade batch of those crackers. My version uses flavorful cheeses — sharp cheddar and Gruyère, whole wheat flour for a bit of nutrition, and a touch of nutmeg and garlic powder for some depth.
The kids love to get in on the process, too. The dough comes together quickly, then the fun part of rolling and cutting into any shape comes in.
They store well, making them a perfect snack to make a big batch of and then freeze for weeks of instant snacks.
Ingredients:
2 cups grated cheese (I use sharp cheddar and Gruyère, but you can use whatever you like)
6 tablespoons (3 ounces) butter, cold and cut in 1/2″ pieces
3/4 cup whole wheat flour
3/4 teaspoon kosher salt
Pinch of nutmeg
1/4 teaspoon garlic powder
Directions:
Step 1:
Preheat your oven to 400 degrees F.
Step 2:
Combine the cheese, butter, flour, salt, nutmeg and garlic powder in the bowl of a food processor. Process until the dough comes together to form a ball.
Step 3:
On a well floured surface, roll out the dough to 1/4″ thick. Keep the dough moving and floured to prevent sticking.
Step 4:
Cut the dough into desired shapes and bake for 15 minutes in the middle of the oven or until the edges are golden and the crackers crisp.
Store in a well-sealed container for 1 week or in the freezer for two months.
What are your favorite go-to snacks for kids?