Have you ever wondered how to make homemade peanut butter? Did you know it was even a possibility? The homemade version is so much healthier and tastier than anything you could buy from the store!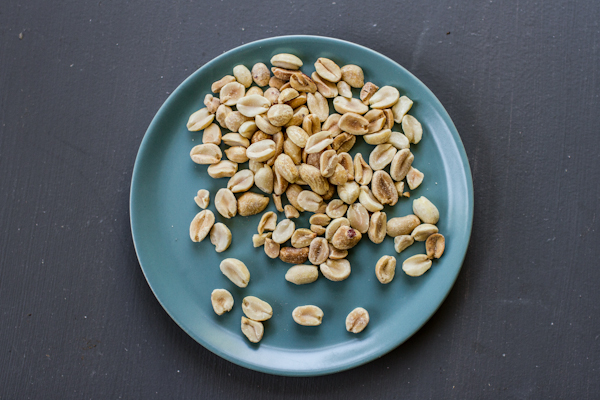 Photos via Edible Perspective
Make and mix your own homemade peanut butter for your own unique & healthy spread!
Well, not only can you make peanut butter in your own kitchen, but you can whip it up in no time at all! It's seriously way too easy to make, and I'm pretty sure you're never going to buy store-bought peanut butter again. Once you learn how to make it you can start to create your own flavor variations! The possibilities are endless.
Here are some mix-in ideas to get you started:
Pure vanilla extract or vanilla beans
Instant espresso powder
Cocoa powder
Cacao nibs
Chopped peanuts for a crunchy version
Cinnamon
Honey
All you really need are dry roasted peanuts and a heavy-duty food processor. Seriously, that's it! I do like to add a few pinches of salt and just a hint of sweetness to my peanut butter as well.
If you've been intimidated to make nut butter at home, peanut butter is the perfect place to start. It breaks down extremely fast and only requires one or two scrapes of the bowl. Unlike almond butter which takes a bit more time and attention to make.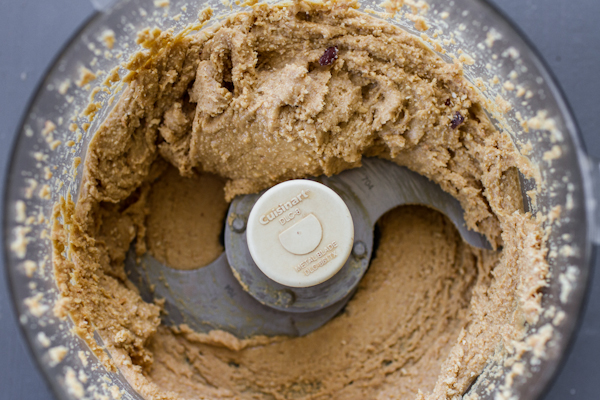 With my food processor I go from peanuts to fully drippy peanut butter in about 5 minutes flat.
So not only will you have your pantry stocked with peanut butter, but this is also a great gift idea for friends! Who wouldn't love a jar of homemade peanut butter as a hostess gift? All you have to do is pour it into a 4oz or 8oz mason jar, attach a ribbon and a gift tag and you're all set. For other fun foodie gift ideas and cute ways to decorate them be sure to check out the Sweet & Savory Food Gifts class. So many fantastic ideas! Food gifts are just the best.
Looking for recipes to use your peanut butter in? Smoothies (peanut butter banana) are always a great option but you can use peanut butter in savory dishes as well, like in this Easy Veggie Noodle Bowl.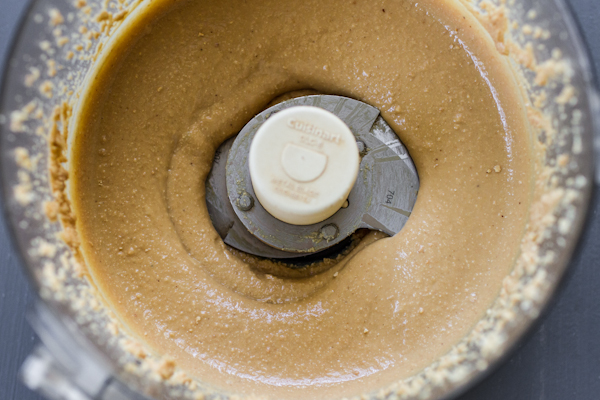 Homemade Peanut Butter Recipe
Yields approximately 1 1/2 cups : 12oz
Ingredients
2 1/2 cups dry roasted unsalted peanuts
1-2 tablespoons coconut sugar, optional
1/4 – 1/2 teaspoon fine grain sea salt
Step 1:
Place peanuts, 1 tablespoon sugar (if using) and 1/4 teaspoon salt in a large food processor and turn on. Let spin for about 5-10 minutes, scraping the sides of the bowl as needed. Process until peanut butter is drippy.
Taste and add more salt and/or sugar if desired then process again until combined. The peanuts will first turn into a meal, then a large dough ball, then it will become creamy, and finally it will become drippy.
Step 2:
To store the peanut butter pour it into a clean glass jar and secure the lid. Keep stored in a cook, dark pantry at room temperature for 3-4 weeks or in your refrigerator for 2-3 months. Be aware that if stored in the fridge the peanut butter will thicken but will still be very spreadable.
Recipe tips
Feel free to substitute muscovado sugar, sucanat, or pure cane sugar instead of coconut sugar if desired. You can also omit the sugar entirely.
Maple syrup and honey will work but do not add them until the peanut butter is drippy. Once added you'll need to process for another few minutes, as the peanut butter will seize up a bit at first.
If you cannot find unsalted, dry roasted peanuts use raw peanuts and roast them at 300 F for 10-20 minutes until light golden brown. The flavor will vary slightly based on how long they are roasted.
An 11-cup capacity works well for 2 1/2 cups of peanuts. If you're working with a 7 or 9 cup you may want to reduce by 3/4 cup. If using a 14-cup food processor you may want to increase to 3 1/2 cups.
Do not use a mini food processor when making nut butters. The motor and blade cannot handle the job.
I've heard that some high-powered blenders also work for peanut butter (i.e., Vita-Mix®, Ninja®, Blendtec®) but I would reduce the amount of nuts to 1 1/2 cups, and see how well it handles that amount.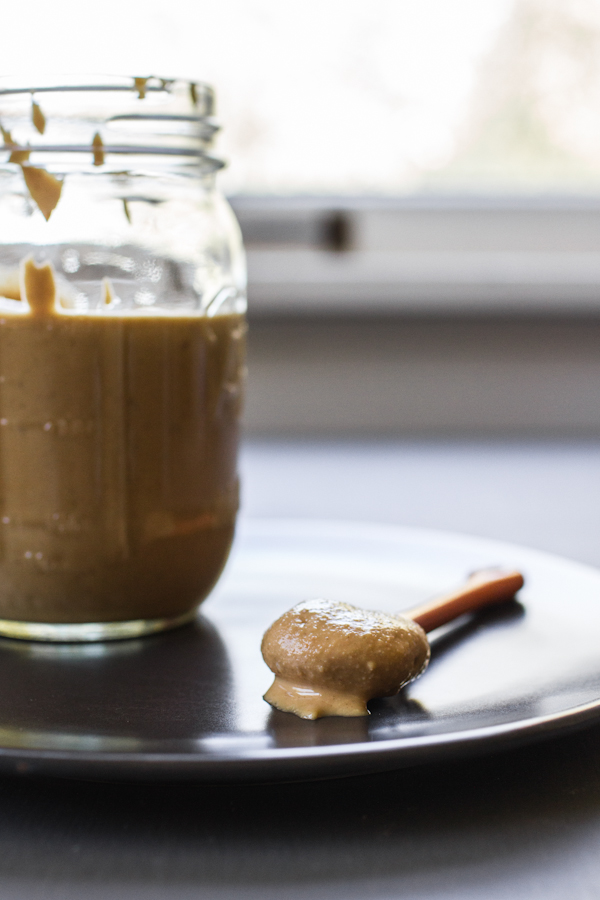 Are you a peanut butter lover like me? What mix-ins would you like in your homemade peanut butter?