This is a day of double deliciousness, where both donuts and ice cream are celebrated! So let's get this party started with a look at the hottest donuts and coolest ice cream goodies!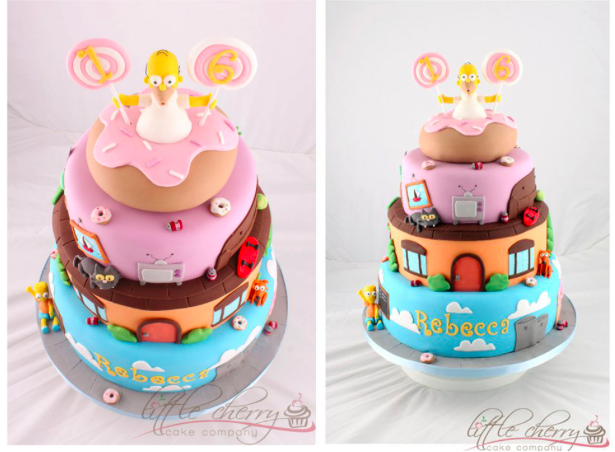 Photo via Little Cherry Cake Company
The Simpsons Donut Cake: No donut celebration would be complete without Homer Simpson, the ultimate donut-lover! Three perfect tiers of fondant-covered cake featuring hand-cut scenes from the Simpson home and the town of Springfield. The cake is topped with Homer himself inside a giant donut with pink icing and sprinkles! Check out Anne Heap's Cake Topper Techniques Craftsy class to learn how to put together a figure like Homer.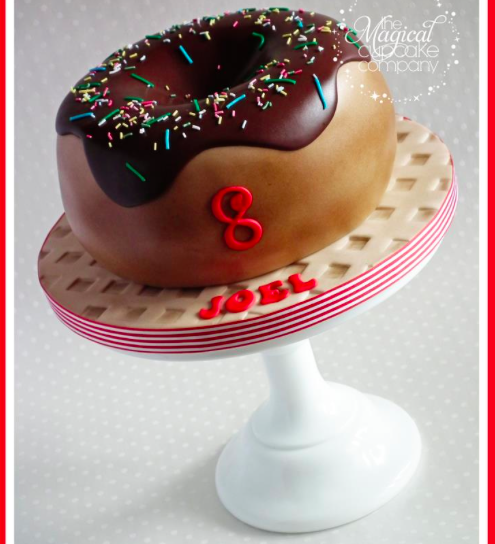 Photo via The Magical Cupcake Company
Giant Chocolate Donut Cake: This cake has been carved from a standard layer cake, covered in white fondant and then airbrushed to add perfect variations in color. The chocolate icing is a second layer of brown fondant, smoothed at the edges so that it really looks poured-on. The decorated board finishes the presentation off beautifully. Catherine Ruehle's Cake-osaurus Rex Craftsy class gives the perfect introduction to carving cakes.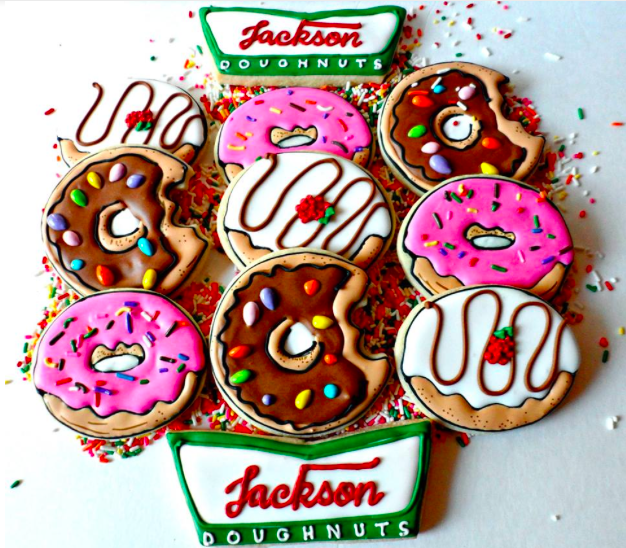 Photo via Sweet Tweets
Iced Donut Cookies: These delicious-looking cookies are perfect for a donut celebration picnic, or for packing into the school lunch bag. The outline of each color is piped using royal icing, and then 'flooded' with the icing in a thinner consistency. Each color and outline must dry before the next is added, so cookie making is a time-consuming process! The chocolate donut cookies have been topped with candy sunflower seed sprinkles!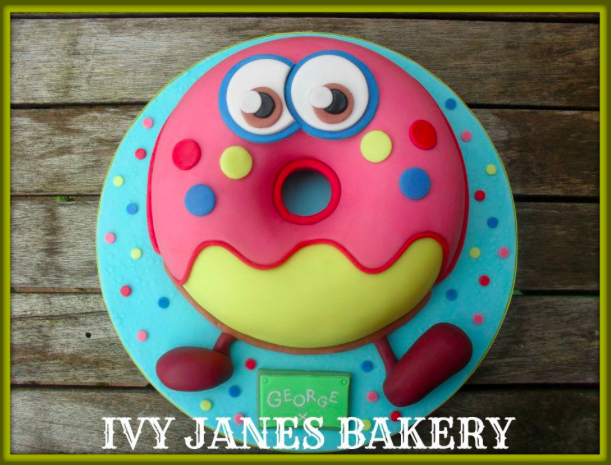 Photo via Ivy Jane's Bakery
Oddie, the Monster Donut: No donut compendium would be complete without a visit from Oddie, one of the Moshi Monsters. If you have young children, you will probably know every monster in the Moshi line-up and all of their individual characteristics! Here, the donut shape has been created by coring out the center of the cake and rounding off the inner and outer edges. Layers of colorful fondant and tiny hand-cut sprinkles complete the cake.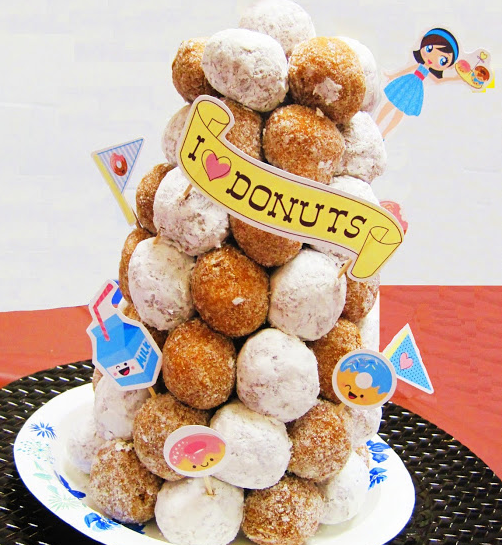 Photo via On The Minds of Moms
Donut Donut Cake: This cake is actually made of donuts! It's reminiscent of the popular French wedding delicacy croque en bouche, with swirls of sugary donuts rising high off the plate. The addition of milk and donut printables by Paper and Glitter complete this original idea.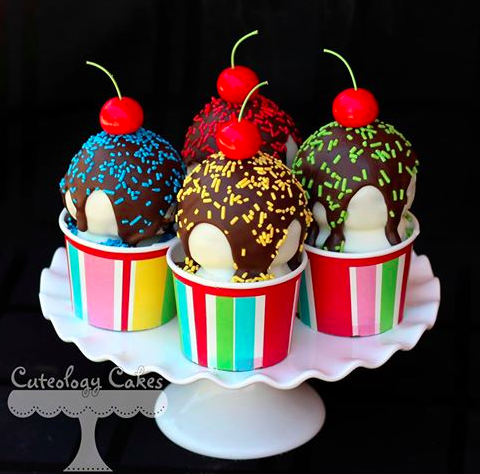 Photo via Cuteology Cakes
Ice Cream Sundae Cake Balls: What a perfect little treat to celebrate the day! These quick and easy cake balls are created by mixing cake crumbs with buttercream, shaping into balls and then dipping into melted chocolate. These little sundaes have been drizzled with more chocolate then topped with sprinkles and a fondant cherry to match the adorable little stripey cups.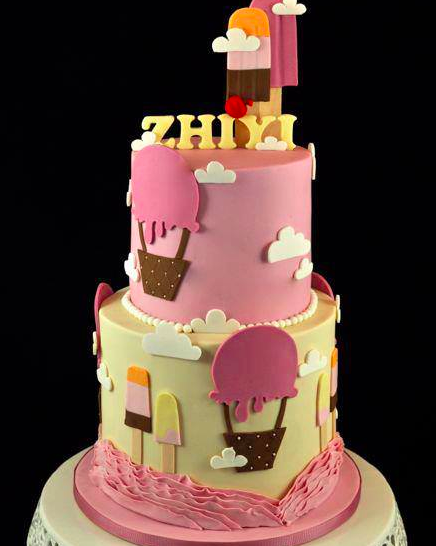 Photo via Cakes and Sweets by Ee Peng
Ice Cream Dreams: This two-tier birthday cake features a popsicle landscape and scoops of drippy ice cream hot air balloons. This whimsical creation has a delicious palette of ice cream colors and looks like it might actually be cold to the touch. The delicate pink ruffles at the base of the bottom tier are the perfect foil to the flat 2D fondant cut outs that draw the eye upwards to the top of the cake.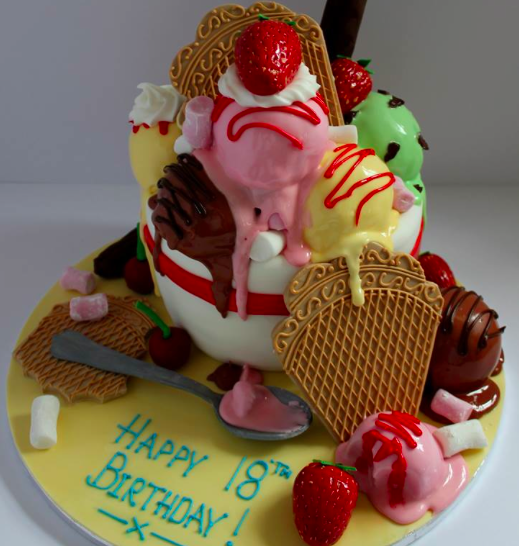 Photo via Paul's Creative Cakes
Ultimate Ice Cream Sundae: A cake to really make your mouth water! Everything here is sugary goodness including the bowl and the spoon! The wafers are fondant piped with an intricate royal icing design and even the strawberries have been individually hand-sculpted and dotted with 'seeds.' The half-eaten wafter on the board makes the cake even more realistic and humorous.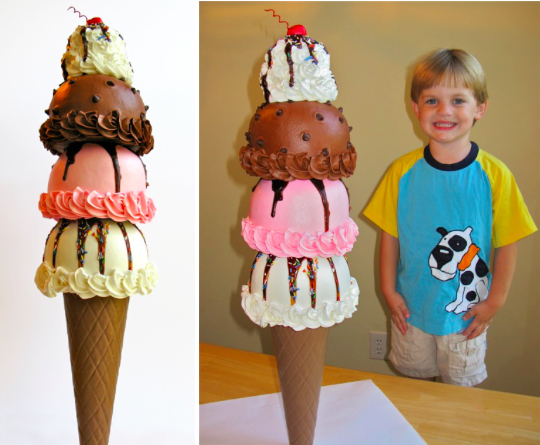 Photo via Cakes by Kerrin
Triple Scoop with Whipped Cream: At first glance, you'd be forgiven for thinking that this was another little cake ball treat. But one look at photo on the right, and you'll see that this cake is a monster, eclipsed in size only by the smile on the birthday boy's face! Each scoop of ice cream began as a 6" tier that was then iced with perfectly smooth buttercream. Even the whipped cream on top has a jumbo cupcake underneath and the cake stood at a whopping three feet tall!
Every day is a good day for donuts and ice cream, but today there is no excuse not to indulge! Will your celebrations take the form of an ice cream cake, or just a trip to the nearest Krispy Kreme?
You might also enjoy these ice cream cakes.