Start a new tradition of making Hanukkah cake pops each year!
In this tutorial we'll teach you how to make candle cake pop pieces, which, when put together, create an edible candle-lit menorah display!
Hanukkah cake pops tutorial
(Want to save this post? Click here to download the PDF version, plus enjoy bonus tutorials for other festive holiday cake pops, including New Year's Eve, Cinco de Mayo, Halloween and more  — absolutely FREE!)
Materials:
Cake pop dough ready for shaping

Yellow candy wafers

Navy blue candy wafers

Paramount crystals

2.5-inch square cookie cutter

6-inch lollipop sticks

Toothpicks

Wax paper

Cake pop stand
Shaping the dough
These cake pops are very unique. We will use nine sticks, each stick will have double-sided cake pop ends. First we will create the flames, next create the base pieces (menorah pieces) and then we will construct the cake pops.
Please refer to our tutorial to learn about making and shaping cake pop dough.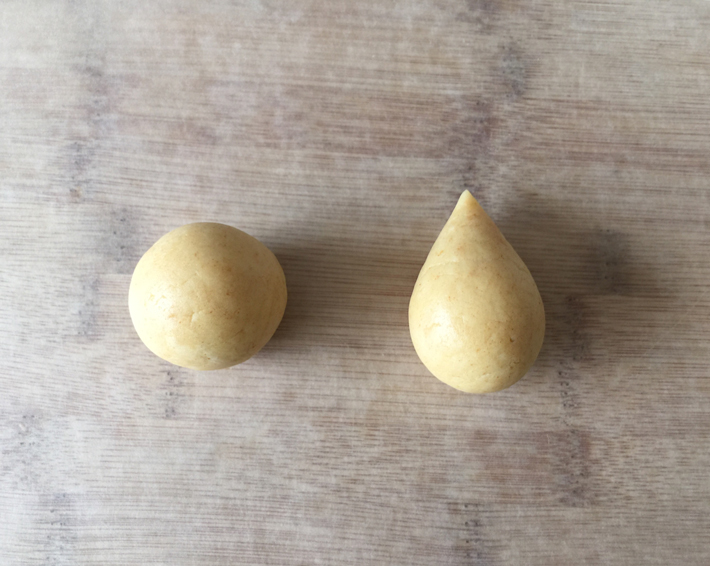 Step 1: Making the flames
Use a cookie scoop to portion each piece uniformly. First roll into a ball then into a droplet shape.
Make nine of them. Refrigerate.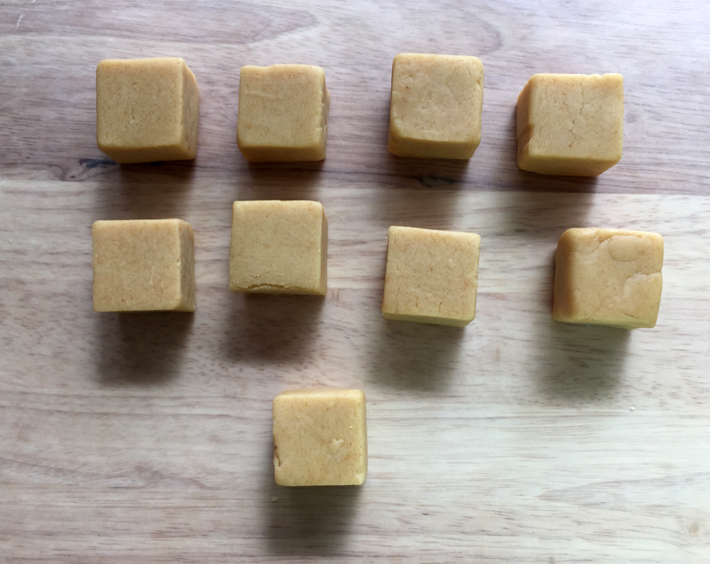 Step 2: Making the menorah bases
I used a 2.5" square cookie cutter to help create the base pieces.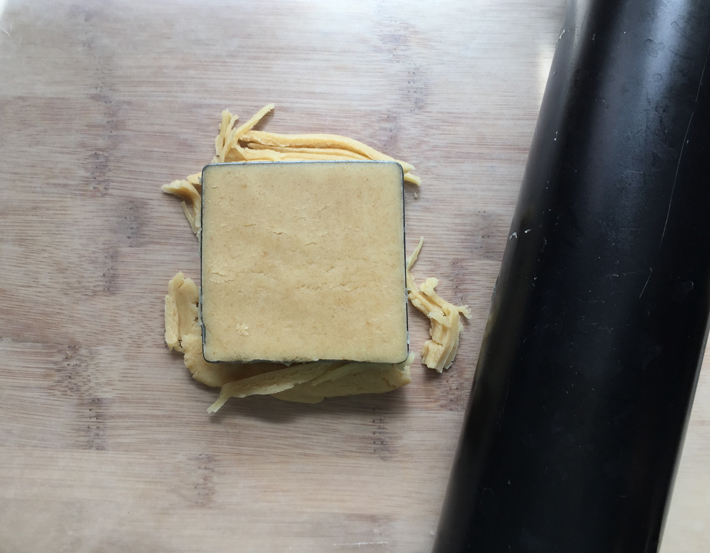 Place cake pop dough into the cookie cutter and use a rolling pin to flatten and remove extra dough from the top.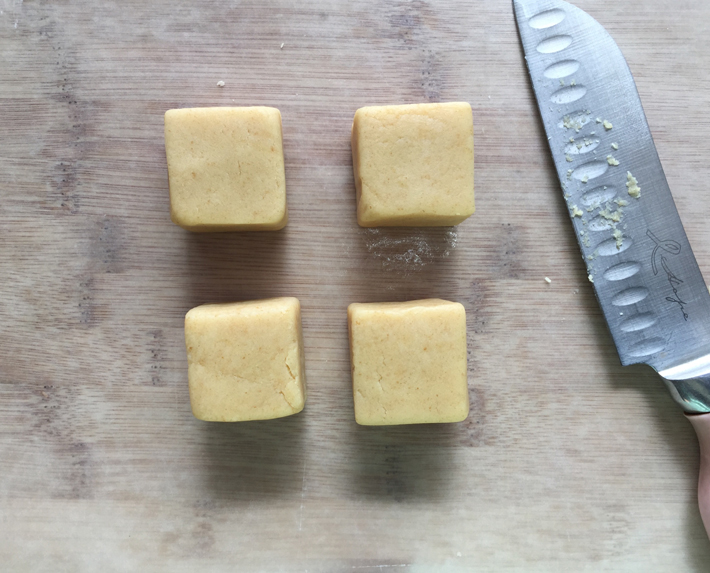 Gently push dough out of the cutter and using a sharp knife, cut into quarters. Make nine of them and refrigerate.
Decorating
This is the fun part! We'll be dipping the cake pop pieces in a specific order after preparing some materials. If you're not familiar with handling candy coating, please read through our melting and dipping cake pops tutorial.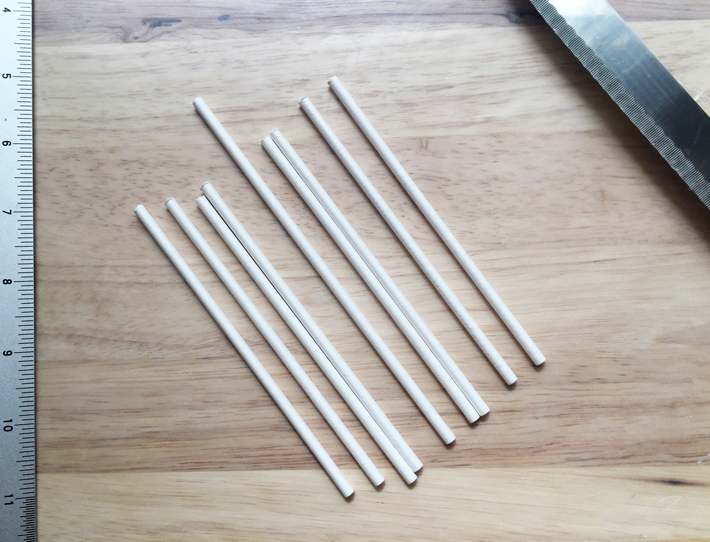 Step 1: Trimming sticks
You'll need nine 6-inch lollipop sticks. You will need to trim eight sticks by 1-inch; do this safely using a large serrated knife. Total, you will then have one 6-inch stick and eight 5-inch sticks.
Step 2: Melting the candy
In separate microwave-safe bowls, melt the yellow and navy blue candy wafers. Use paramount crystals to thin out the coating until it's fluid and smooth.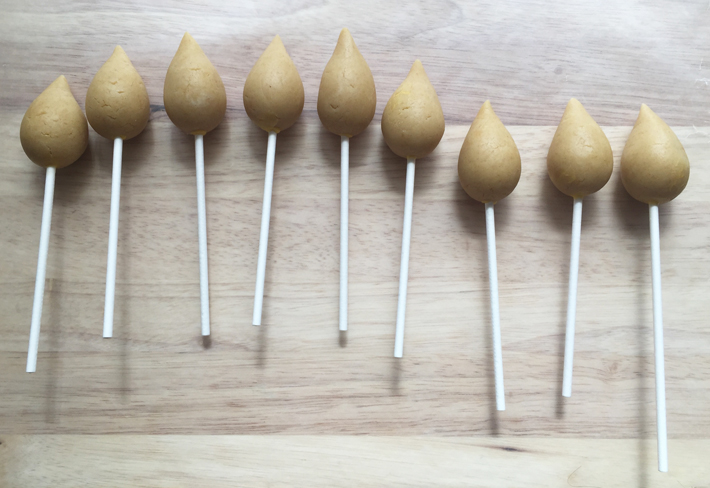 Step 3: Adding sticks
Remove all cake pop pieces from the refrigerator. You'll only work with the flame pieces at this step. Dip a lollipop stick, about ⅓" into the melted coating, then carefully push it in until it's about halfway into the bottom of each flame.
Step 4: Dipping the flame
Make sure your cake pop stand (or a styrofoam block) and toothpicks are nearby. Dip the flames in yellow candy coating and gently shake off excess coating. Use a toothpick to pierce any air bubbles. Place on the stand and let dry completely.
Step 5: Dipping the base
This part may look tricky but it's pretty simple. When the flames are dried and set, we will attach the bases one at a time to the bottom end of each flame stick.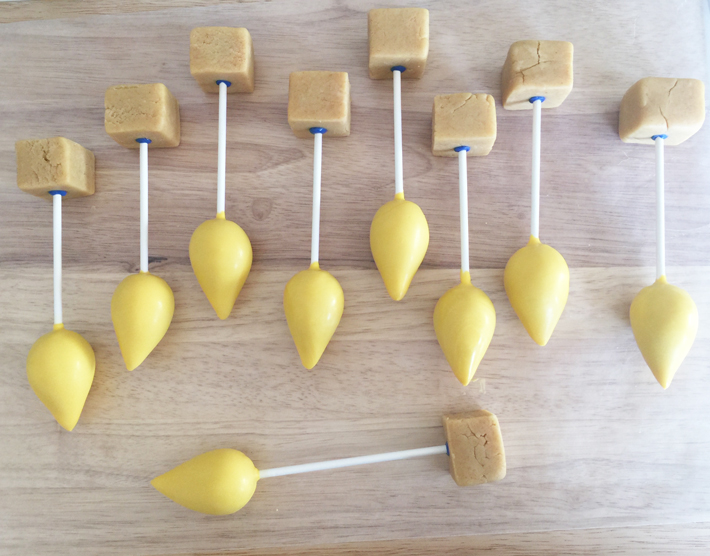 Line your work surface with wax paper. Dip ⅓" of the bottom end of a stick into the blue candy coating and insert it into a base. Hold it there for a few seconds. Make sure the stick is completely straight, upright and not leaning. Lay them down to let the candy coating on the stick harden completely.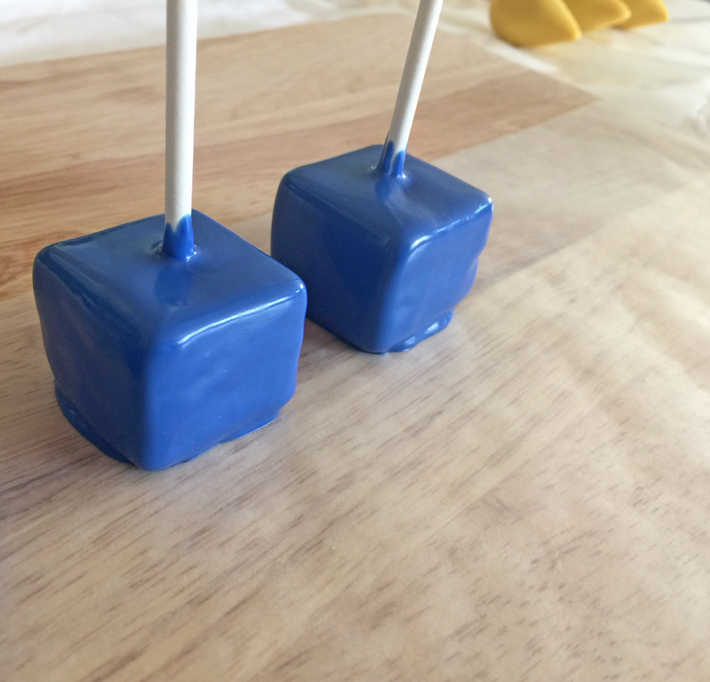 Once the candy coating on the stick has dried and set, you're ready to dip. Dip the base in the navy blue coating. Gently shake off excess. Hold in the air for about 30 seconds before placing it on the wax paper to let dry completely. This will allow the bottom to harden just a bit before setting it down so the candy coating does not pool excessively.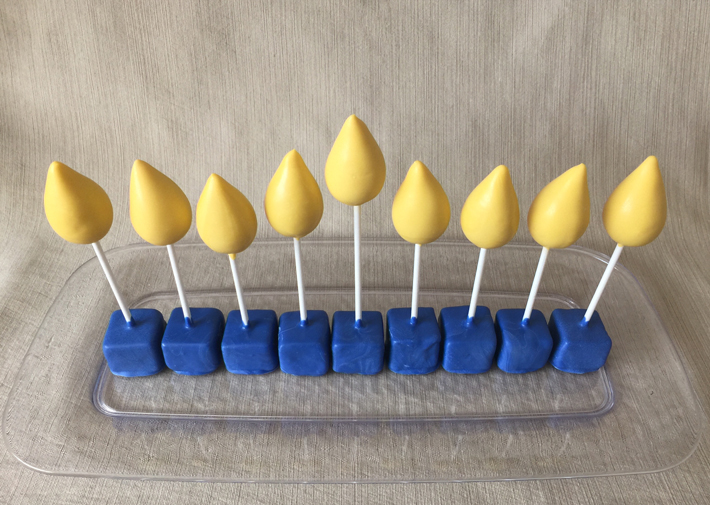 Step 6: Displaying your menorah
Once all pieces have dried and set, arrange your menorah on a long platter! Enjoy!