A beautiful trend in cake decorating and design currently is hand-painting cakes. From intricate tiny detail work to lush painterly brush strokes, painting by hand can be traditional, modern or completely conceptual. It does seem painful to cut into these works of art though right? Ah, such are the trials and tribulations of the modern day cake eater. Check out some truly frame-worthy works of cake art; although I wouldn't recommend framing them – except between your teeth!
Want to give cake painting a go? Time to break out the paintbrushes, food coloring, vodka and lustre dust. To dive in and learn more, enroll in Craftsy's FREE mini-class The Hand-painted Cake with Erin Schaefgen! You'll be a cake Picasso in no time.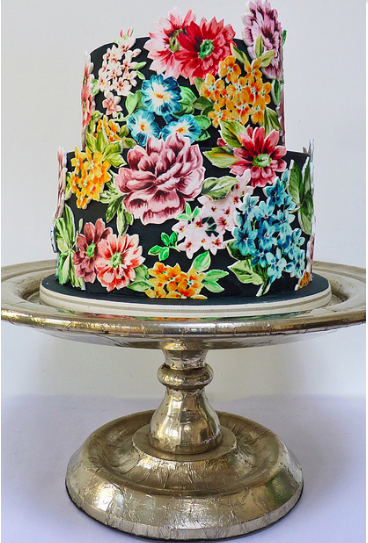 Photo via Nevpie Cakes
Hand-painted Floral 1960s Inspired Cake: Enjoy a truly amazing floral 1960s inspired cake hand-painted by Nevpie Cakes. It looks like a pattern from a slinky floral skintight dress straight off of Mad Men, and the black fondant cake layers make the colors of the gum paste flowers pop! Nevpie was one of the first cake artists I saw doing hand-painted cakes. Check out more of her work here!

Photo via Anna Elizabeth Cakes
Vintage Glam Audrey Hepburn Hand-painted Cake: The iconic and impossibly chic movie star Audrey Hepburn is hand-painted on white fondant, with vintage silver lustrous details, created by the wonderfully talented Anna Elizabeth Cakes. I like how Audrey herself is painting on her lips; a woman painting a woman who is painting!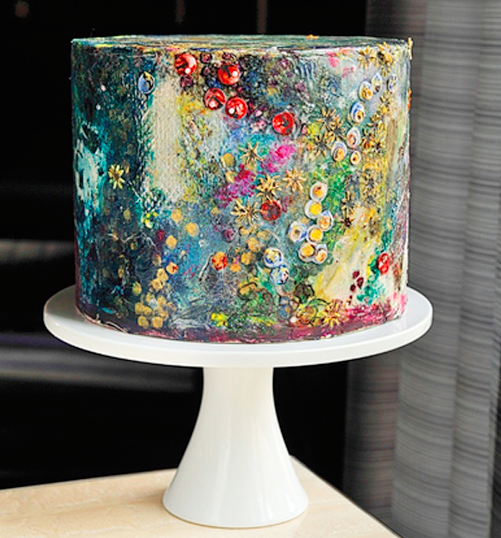 Photo via Pinterest
Textured, Layered Modern Art Inspired Hand-painted Cake: This gorgeous single-tiered cake by Craftsy instructor Maggie Austin was inspired by contemporary glass artist Josh Simpson. The cake looks like someone snuck into the nearest MoMA and cut out a piece of a Monet painting, proceeding to wrap it around a cylinder. It's texture, depth, and color is otherworldly. It also shows that a solely single-tiered cake can dazzle, too.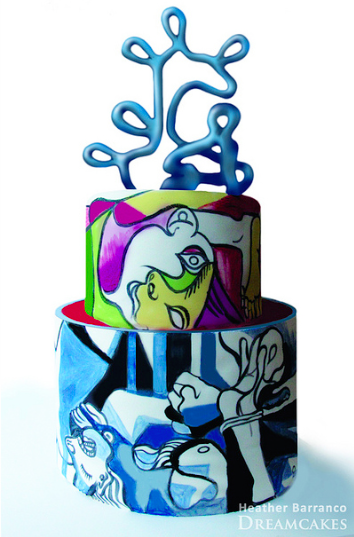 Photo via Heather Barranco
Hand-painted Picasso-Inspired Wedding Cake: Speaking of modern art, how intriguing is this two-tiered work of genius by cake artist Heather Barranco? It's a head-turner, both literally and figuratively. Do you think Picasso would have been excited to find that his art has inspired us to make cake?

Photo via Charm City Cakes
Charming Cherry Hand-painted Cake: The masters of cake magic, Charm City Cakes, prove not only that they can create an outrageously awesome real-person-sized Meat Cat cake for Tina Fey and 30 Rock, but they can also do light, demure little numbers. For example, this charmingly country-sweet orchard fruit hand-painted delight. I love the soft white and pink fondant, and the sparse use of imagery, which reminds me of fine china. The teensy bloom poking out of the top of the cake is an extra sweet touch.
Delving into cake painting and need some advice? Maggie Austin offers some great tips for fixing cake painting mistakes in this video tutorial.
You might also be interested in our post on colorful piñata cakes.