Celebrate Cinco de Mayo with the perfect cake; one that's just dying to be baked… and smashed. Yes, I'm talking about our friend: the piñata cake. There are so many great styles of piñata cakes out there: from simple 2D buttercream piped cakes to full-on rainbow layered, fondant ruffle adorned sculpted cakes! This Cinco de Mayo might just be the best one ever, thanks to these waiting-to-be-smashed piñata themed cakes.

Photo via Cake Alliance Bakery
Colorful Fringed Bull piñata Cake Topper: This piñata cake has a little bit of everything – real hard candies stuck on the cake, a grumpy bull cake topper made of fringed colored fondant, quick swirls of icing confetti and a ruffled icing piped border reminiscent of a Mexican dress hem.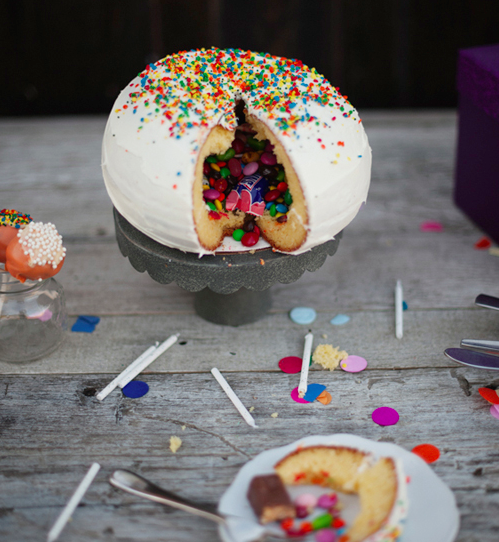 Photo via A Subtle Revelry
Simple Candy Filled Piñata Cake: A simple and fun piñata cake idea – filling a baked cake with crunchy candies and treats for a surprise candy burst upon cutting in. Iced in white buttercream and happily covered with a whole truckload of festive rainbow sprinkles, this piñata is just lovely. A full tutorial with awesome photographs can be found here at A Subtle Revelry.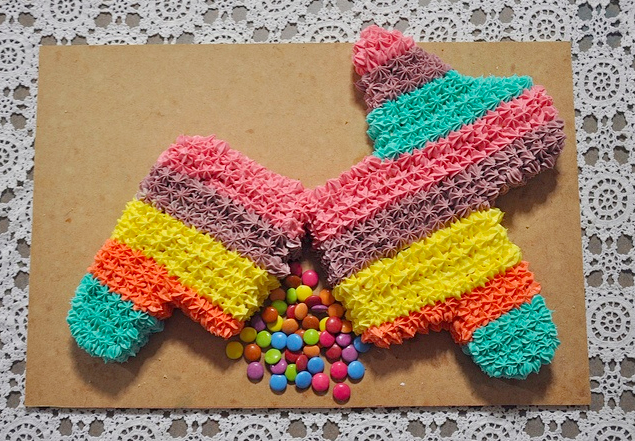 Photo via Petticoats and Peplums
2D Relief Style Buttercream Piped Piñata Cake: This great design is an effective and simple way to get the piñata idea across. It's a carved sheet cake shaped into a 2D donkey and iced with buttercream drop stars in festive colors. I would use a 1M tip for this: the classic open star piping tip. Add some candy of your choice to the "smashed" part and you're all set.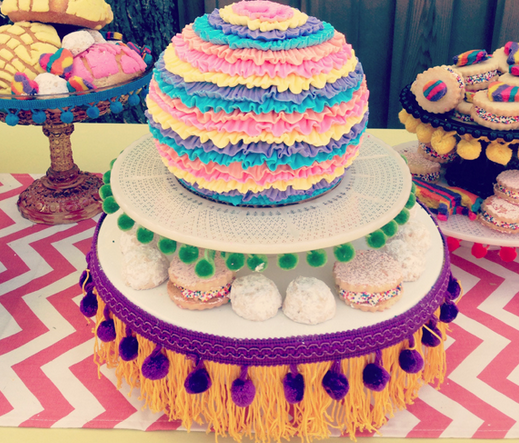 Photo via Cake Walk
Big Old Ball Ruffly Piñata Cake: This planetary piñata buttercream-ruffled sphere is awesome. It would make a great centerpiece for a Cinco de Mayo dessert spread or wouldn't it be the ball of the bash at a pinata themed birthday party? The dingle ball accents on the cake stands are such a nice touch.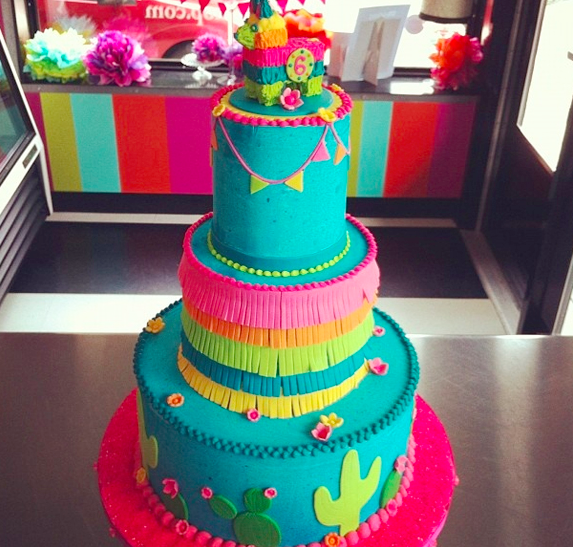 Photo via Pinterest
Triple Tiered Vibrantly Colored Piñata Theme Cake: This sixth birthday cake is simply smashing. I love the teal buttercream layers, featuring cactus cut outs and mini flowers on the bottom layer. The matching colored fondant fringe on the second layer and the triangle flag party bunting on the top layer really bring it together. Of course we can't forget the adorable iced cake topper in the shape of… yes, a piñata! If you tell me that there are mini candies to be smashed on the inside of that cake topper, well, I just might get a little too excited!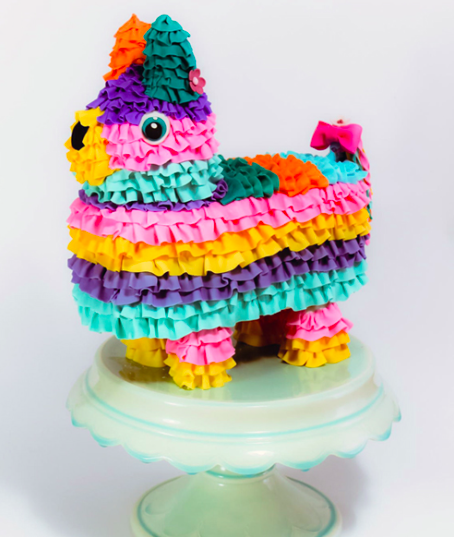 Photo via Bubble and Sweet
Rainbow Layered Ultimate Piñata "Smash" Cake: Linda from Bubble and Sweet calls this the ultimate smash cake – and I simply have to agree! Her cake really takes it, with her awesome ruffling multi-colored fringe, pastel rainbow cake layers, rice krispie treat head, and secret candy insides! Check out the full tutorial here.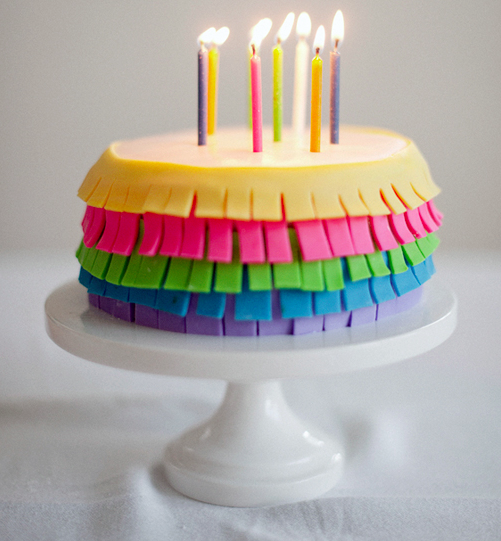 Photo via A Subtle Revelry
Perfectly Simple Fringe Cake: This effortless little beauty is a cinch to make and gets the idea across in a sweet inconspicuous manner. All you need is a single tiered fondant covered cake, strips of colored fondant, and a knife, to create the fringe. Perfect for a modern Cinco de Mayo gathering without too much fuss! Get the full tutorial here.
Ready to dust off that broomstick handle for some cake smashing? Didn't think so! A knife will be most appropriate as you tuck into your piñata themed candy-filled creation. For plenty of whimsy and decorative tips, tricks and applications, check out Colette Peters' online Bluprint class Piece of Cake!. Or, to learn the basics of leveling and icing cakes, check out the FREE mini-class Modern Buttercream with Joshua John Russell.
In case you missed it, learn how to make a burger cake here, and come back to the Bluprint blog tomorrow for a roundup of beautiful hand-painted cakes.