Have you ever worked with gouache? In the world of water-based paint, gouache is probably the least known of the "big three" types of pigments. Many people learn to use watercolor and acrylic, with gouache falling by the wayside. If you've ever been curious about working with this media, one way to learn is by painting your favorite landscape.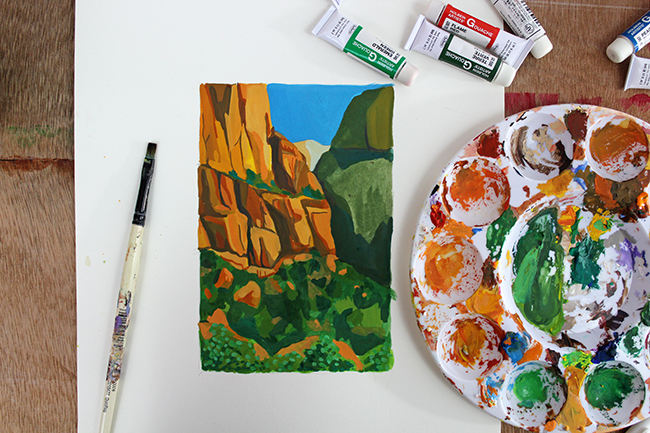 Why use gouache paint?
Gouache paint is also known as "opaque watercolor," and once you use it, you'll see why. It's best described as a sort of an in-between of watercolor and acrylic. Although it's neither, its properties are more similar to watercolor, but there's a chalkiness to its pigment you won't find in the other types of paint. And speaking of color, the hues are more concentrated. You'll get brighter, crisper washes lines with gouache. 
Familiarize yourself with gouache through a DIY landscape painting.  
Painting a landscape is a great way to practice painting with gouache firsthand. During the exercise, you'll experiment with depth and texture (among other things), which forces you to test the limits of what the paint can do. It will take a little practice, but once you learn gouache, you'll find that its opaque qualities make your watercolor-style painting easier. 
Step 1: Gather your materials and sketch your landscape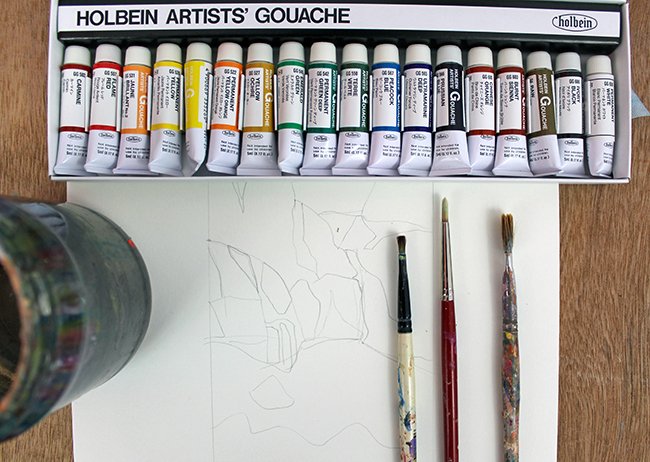 Approach this tutorial with the same tools you'd use for other types of painting. I grabbed a few of my favorite brushes, a starter gouache palette, a jar of water, as well as Legion Stonehenge paper meant for water-based media. For my reference, I used a photo I took while on vacation. 
After you've got your supplies ready, use a pencil to create a drawing of your composition. Block out the big shapes. Ask yourself: What's going on in the foreground? The background? Pressing lightly on with your pencil, determine the areas where there's the most color change and texture. 
Don't be afraid to redraw your composition. This is the planning phase, so it's important that you get the key elements of the image correct. It'll save you a lot of headache once you start painting. 
Step 2: Paint the big shapes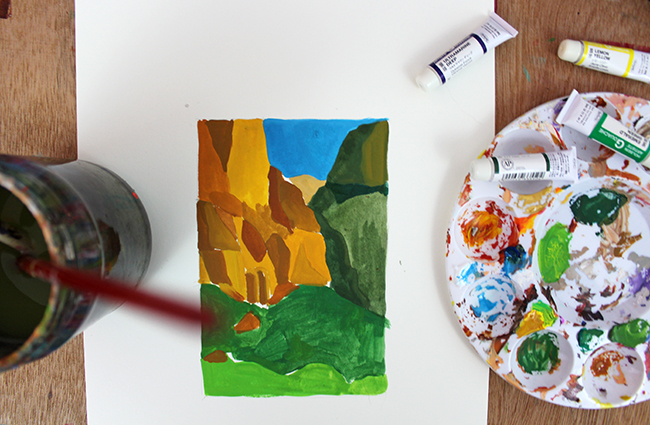 So when you were drawing, you focused on on the big, overarching shapes that make up the composition. Now, using gouache paint, fill in those areas with basic colors. Don't worry about details at this point. Instead, imagine the medium tone of each color. For grass, paint a color that's neither dark or light — it's in between. Once you have all your hues filled in, you'll have a rough outline of your final piece. 
Step 3: Refine, refine, refine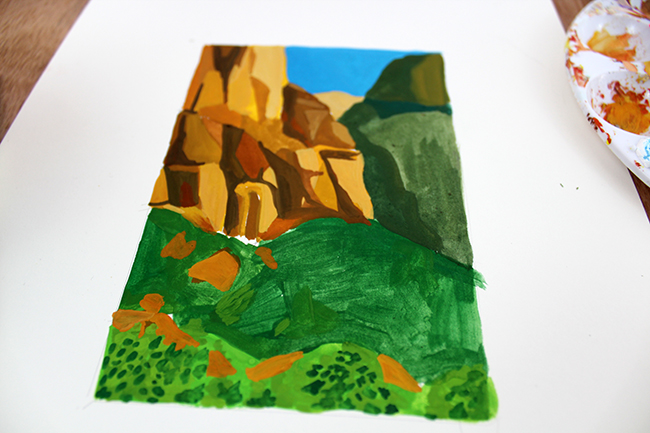 Once all your basic colors are painted (and dried), it's time to refine your painting. You do this in a couple of ways. First, add hues by painting shadows and highlights. Second, add fine details; this includes leaves and other characteristics you'd paint with a fine brush. 
This part can be overwhelming, but it's also the most fun. After all, it's here that your painting comes alive and looks like a place in the world.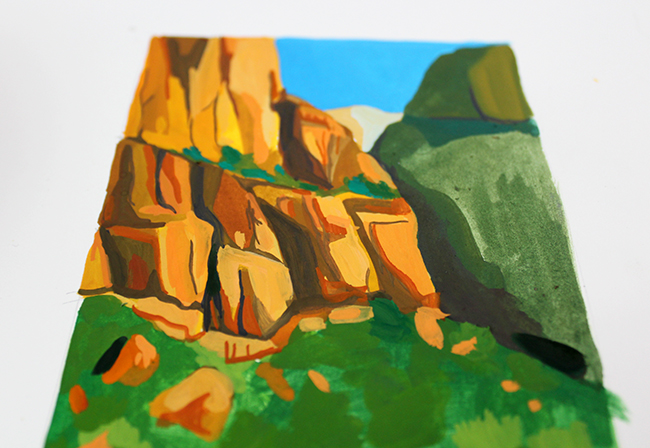 Often, this is the most tedious part of the entire gouache painting. My suggestion is to start from the background and work your way toward the foreground. That way, you won't be totally overwhelmed with the amount of detail to render. You can work on it systematically.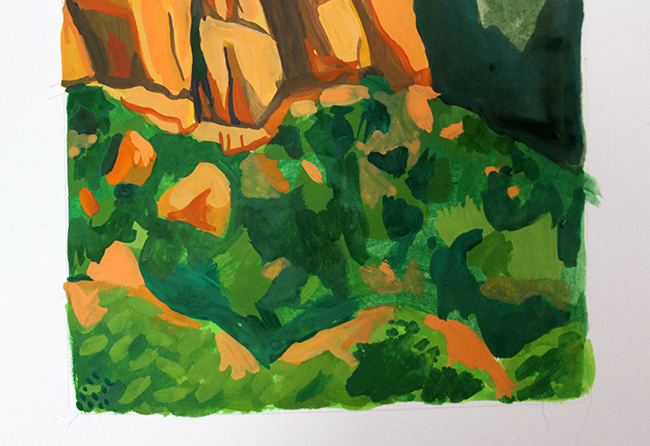 Start by refining the colors you use. Add in shadows and then highlights to give a place a three-dimensionality and form. Then, move onto the foreground of the painting. Once you've got more of these areas carved out, you can use a liner brush to make fine lines or tiny leaves. For my painting, I used a thin brush to carve rock formations and the leaves of a bush nearby. Save these details for last. 
What about mistakes?
If you make a mistake, don't be afraid to paint over it. The wonderful thing about gouache paint is its opaqueness. You can mask something like you would acrylic and transform it into something completely different.