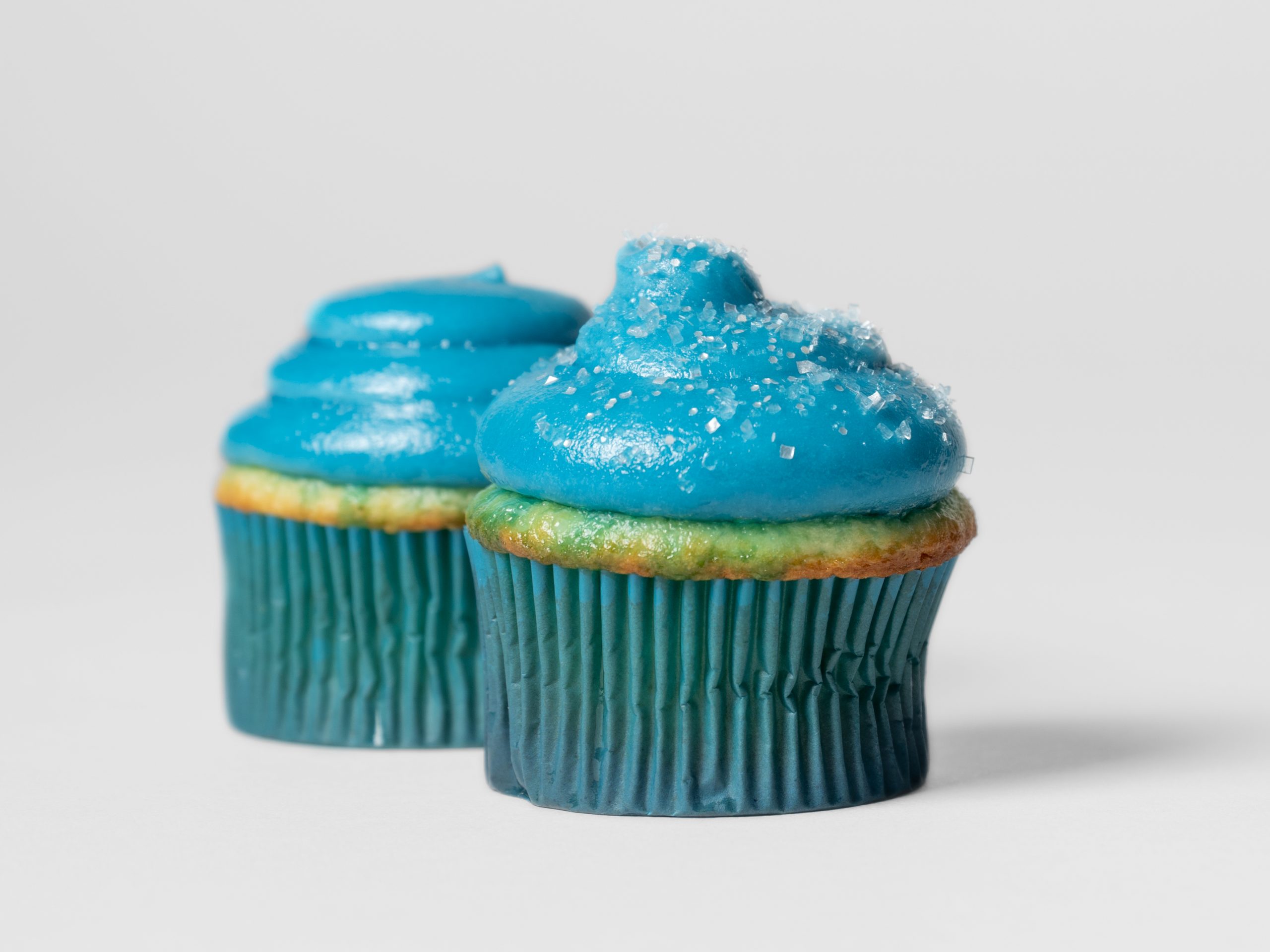 In broad daylight, this cupcake may look a bit boring. But once you have it under black lights, you'll get a jaw-dropping dessert that positively glows!
Alas, there's no magic here — the trick lies in quinine, which is found in tonic water. Incorporate it into your buttercream and a glaze to go on top, and soon enough your confection will shine.
Glow-in-the-Dark Buttercream
Yield: enough to frost 24 cupcakes, a two-layer 9″ cake, or 24 cookies

Adapted from Recipe Snobs

<!–
FREE Guide: Make Creative Buttercream Cakes
Get insider tricks for your most creative buttercream creations, including glow-in-the-dark cakes, buttercream that sets firm and more in this FREE PDF guide.Get My FREE Guide »

–>
Ingredients
1 cup butter, softened (or 1 cup shortening)
1 teaspoon clear vanilla extract
5 tablespoons tonic water, room temperature
1 cup tonic water, chilled
6 to 8 cups confectioners' sugar
Food coloring (optional)
3 ounce package Jell-O (in the color and flavor desired)
1 cup boiling water
Pro Tip: You can use any food color you like for this dessert, but green gives the most glowing results.
Instructions
1. Prepare the Buttercream
In the bowl of a stand mixer fitted with the paddle attachment, cream the butter on medium speed for 3-5 minutes, until light and very fluffy.
Stir in the vanilla extract, tonic water and 4 cups of the confectioners' sugar. Mix on low speed until combined, scraping down the sides of the bowl if necessary with a rubber spatula.
Add the remaining confectioners' sugar, one cup at a time, until a spreading or piping consistency is reached. If using food coloring, stir in until combined.
2. Frost and Chill
Frost your cake, cupcake or cookies with buttercream and place your dessert in the freezer for at least an hour. You want the buttercream to be very firm before you continue.
3. Make the Glowing Glaze
Once the buttercream is firm, prepare the glaze. Place the Jell-O powder in a bowl with enough room to dip your cupcakes or cookies. If you're decorating a cake, you can use a pastry brush to apply the glaze.
Boil one cup of water and add it to the Jell-O mix. Whisk for about 1 minute or until thoroughly combined. Add the chilled tonic water and continue whisking.
Pro Tip: To help the Jell-O mixture cool, you can place it in an ice bath. Or, simply wait until it's cool to the touch, but still liquid. You don't want the Jell-O to start setting.
4. Dip the Desserts
Dip or brush your buttercream-topped treats into the Jell-O mixture so the buttercream is completely covered. Try to avoid getting the Jell-O mixture on the actual pastry, and let the excess Jell-O drip off.
Place your dessert back in the freezer until dry. Repeat this step at least six times for the best results. After you're done with the Jell-O mixture, let the pastries freeze for 15 minutes so the glaze can set.
Serve under black lights and watch your treats glow!
Looking to learn cake decorating? Check out our Startup Library: Cake Decorating now!