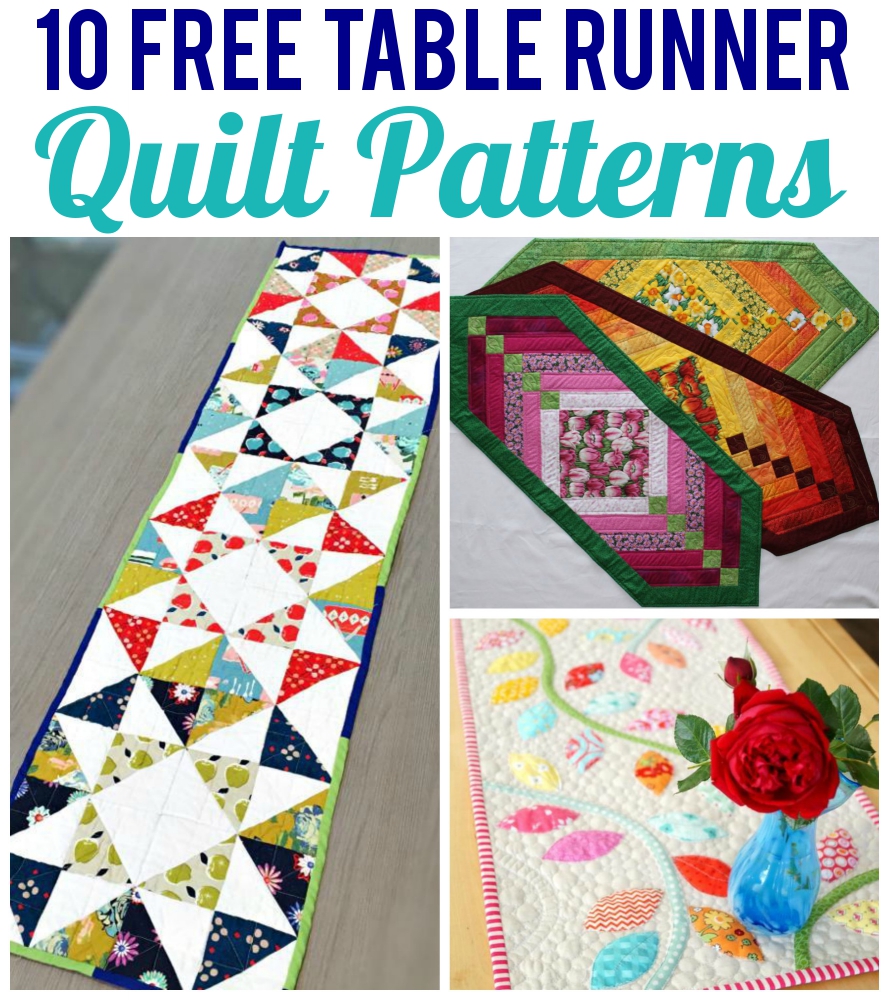 Table toppers offers a great way to use fabrics from your stash without committing to a huge quilt. In fact, you may be able to start and finish your table runner in the same weekend! Check out these free table runner quilt patterns to dress up your dining room!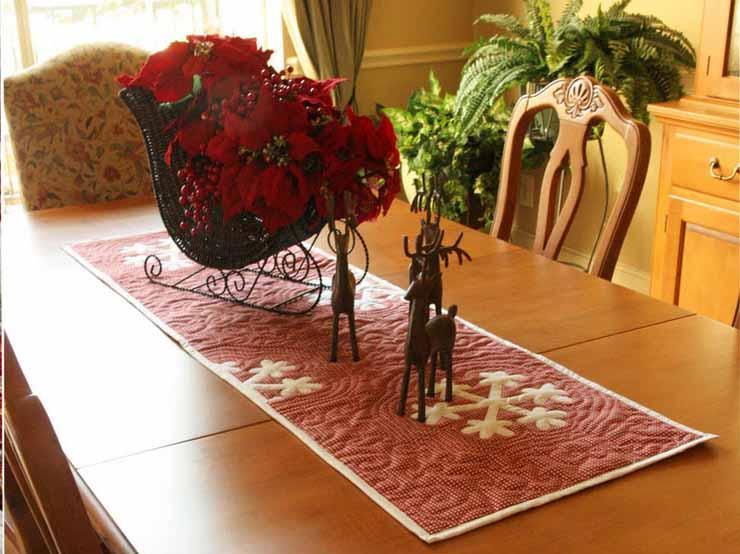 Photo via Buttons and Butterflies
1. Snowfall Table Runner
Sew a beginner-friendly, 54″ x 18″ table topper that's perfect for the holiday season or any of the winter months! With snowflake appliqué and full instructions, this runner is ready for your personal touch.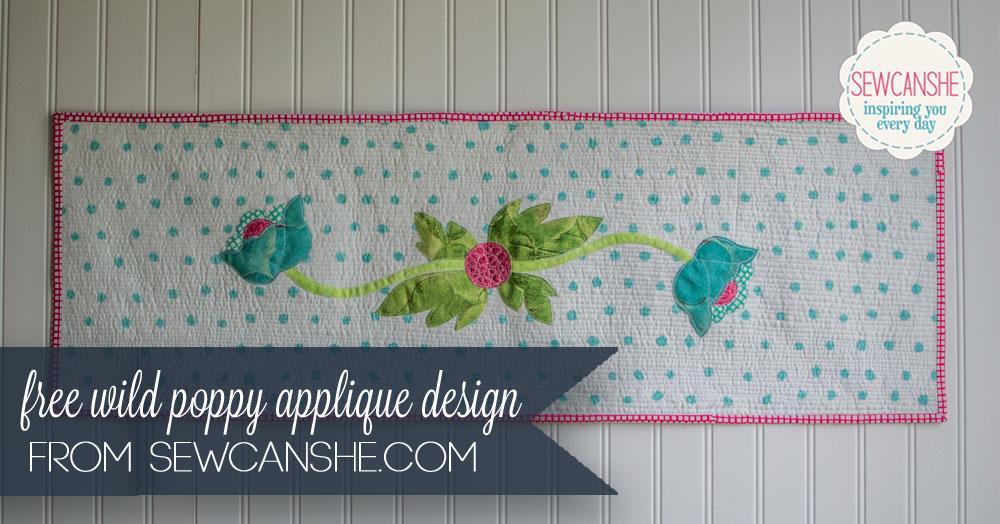 Photo via SewCanShe
2. Wild Poppy Appliqué Runner
A sweet floral appliqué pattern that's perfect for any time of year, this wild poppy flower runner makes an ideal table runner, wall hanging or quilt block. Try it yourself on a 12" x 35" table runner quilt pattern.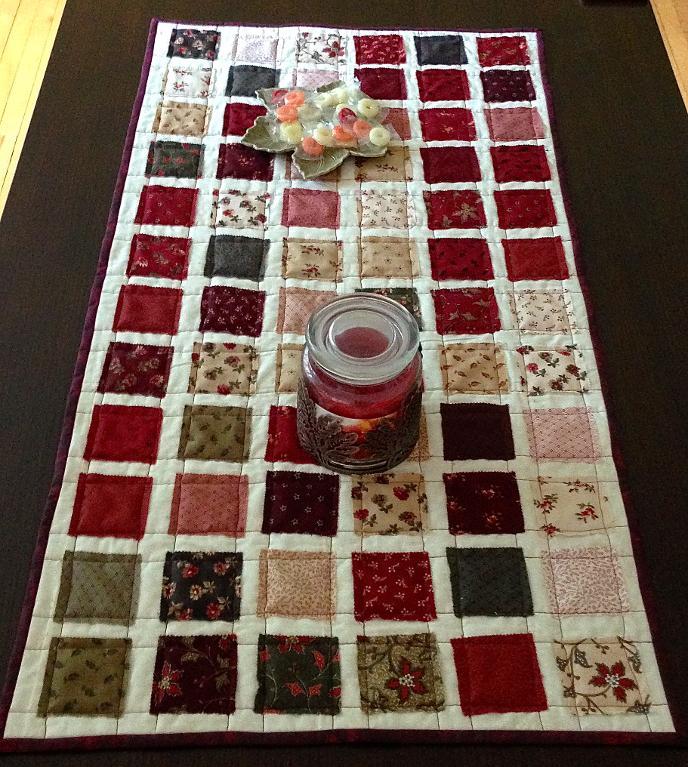 Photo via www.quiltingintheloft.com
3. Mini Charmer Table Runner
Mini charms (2 1/2″ precut squares) are cute by themselves, but they are even more adorable when sewn up into a useful table runner. Measuring 21″ x 41″, this quilted table topper makes a thoughtful quilted housewarming gift.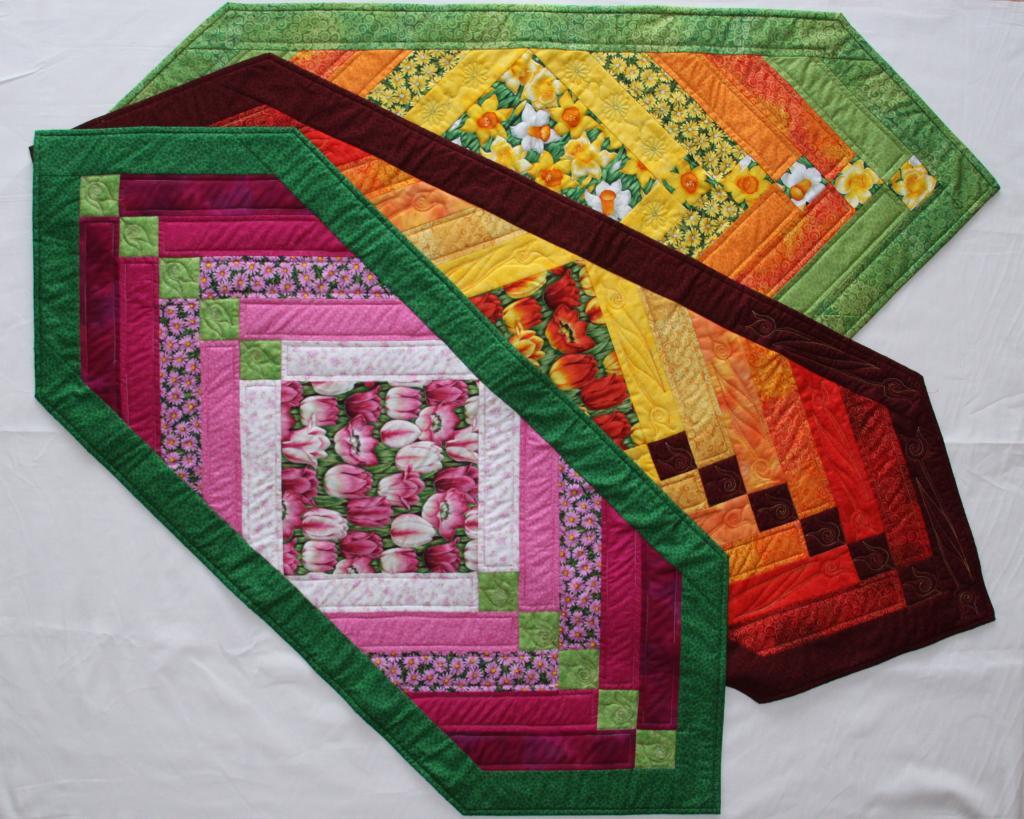 Photo via OliVen

4. Chevron Table Runner
Can't get enough of the chevron quilting craze? Easy to make with strong design potential, this table runner pattern comes with many variations depending on your color and fabric choice. Sew it up for a 46″ x 17 1/2″ finished table quilt.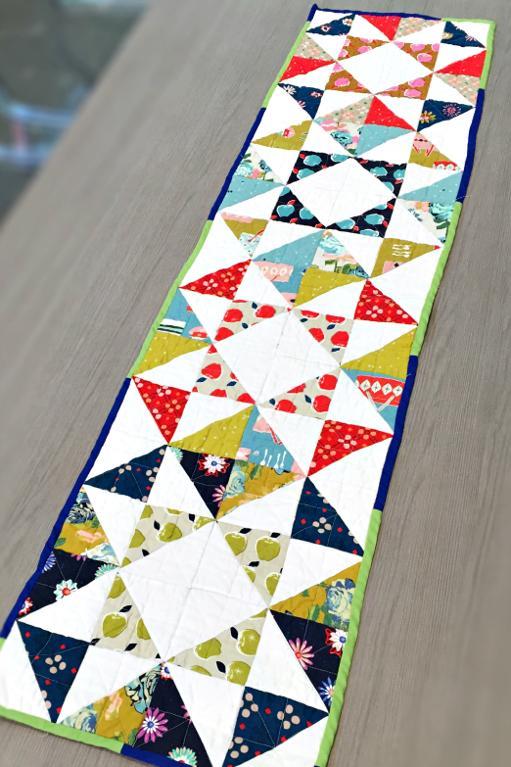 Photo via thestitchingscientist

5. Contemporary Table Runner
Use a printed charm pack along with white fabric for the background to sew a 64″ x 16″ modern table runner from a traditional block. This pattern is easy for beginners, but also great for advanced quilters looking for a quick project!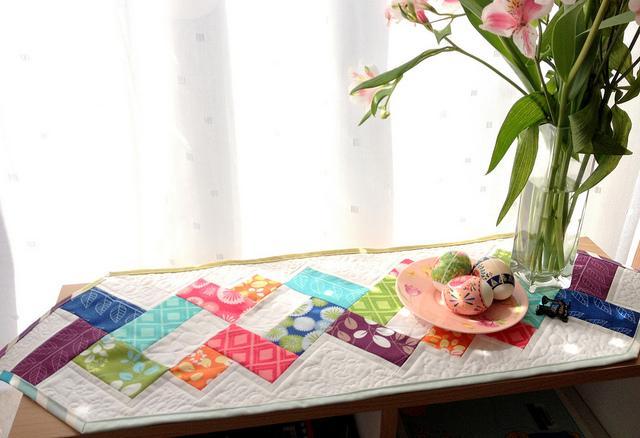 Photo via Blossom Heart Quilts
6. Simply Helixed Charm Pack Table Runner
This 33″ x 11″ modern table runner pattern is inspired by a DNA helix, but you don't have to be a scientist to appreciate it's pretty patchwork. Sew it up from a charm pack and a bit of background fabric to decorate your kitchen table.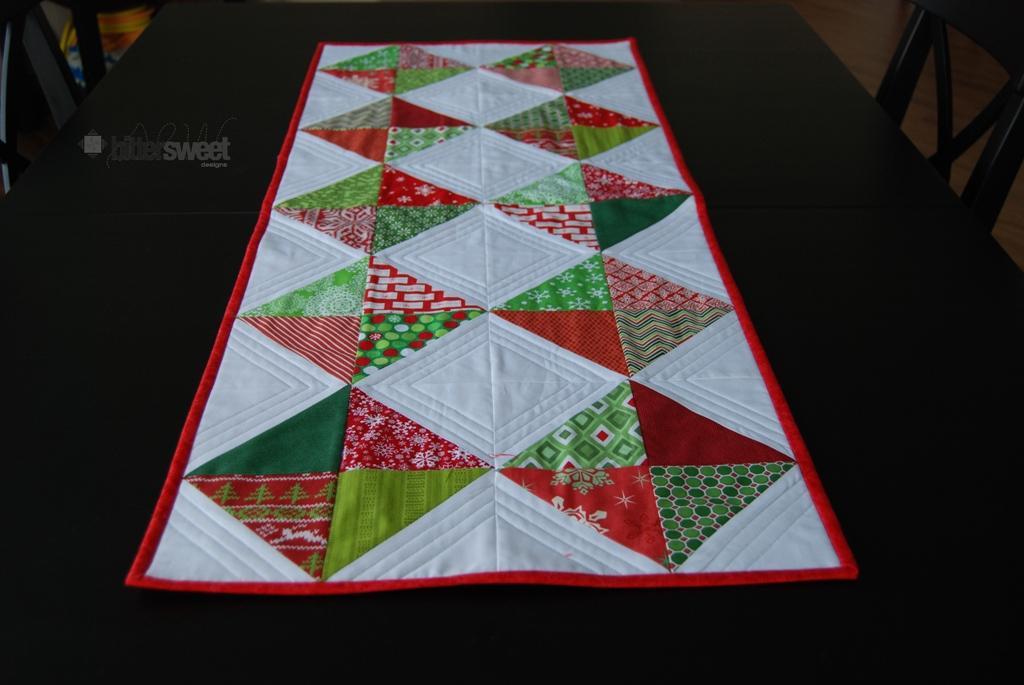 Photo via Sew BitterSweet Designs
7. Classic Diamond Table Runner
Sew up a bunch of half-square triangles and have fun arranging them into a 16″ x 40″ table topper. Stick with holiday colors, or customize with your favorite combo.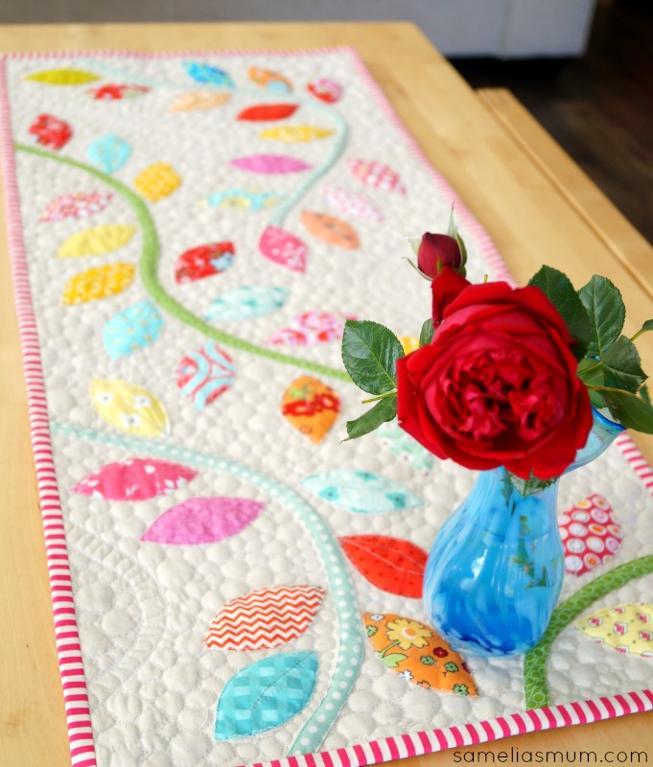 Photo via Samelias Mum
8. Bursting Buds Table Runner
Have some extra scraps? That's the perfect occasion to sew this gorgeous colored leaves table topper! Quilt this pattern in an afternoon, and gift the 14″ x 32″ to a friend who loves to garden.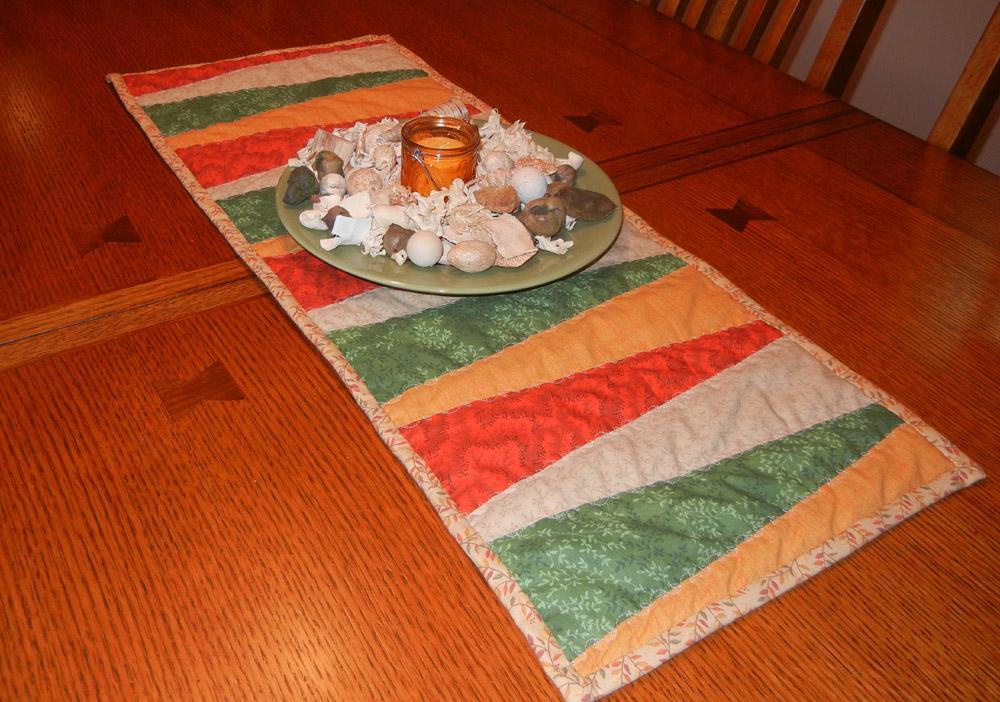 Photo via Sher's Creative Space
9. Angled Stripes Table Runner
With the feeling of improv, but the ease of a quick project, this angled patchwork table runner goes from holiday to any day with a simple change of fabrics. Use fabrics from your stash to sew a 12 1/2″ x 31″ runner today.
Photo via Freemotion by the River
10. Skinny Runner
Not all table toppers are meant for huge dining room tables. This 10″ by 24″ long, thin table runner is well suited to coffee tables, small kitchen tables and other small surfaces.