The best way to learn how to crochet a sweater is to practice, practice, practice. It takes some hands-on experience to understand the draping and shaping of crochet sweaters. Luckily, there are a lot of great, free crochet sweater patterns for beginners out there to help you learn.
Here are five great FREE crochet sweater patterns to help you learn how to crochet a sweater.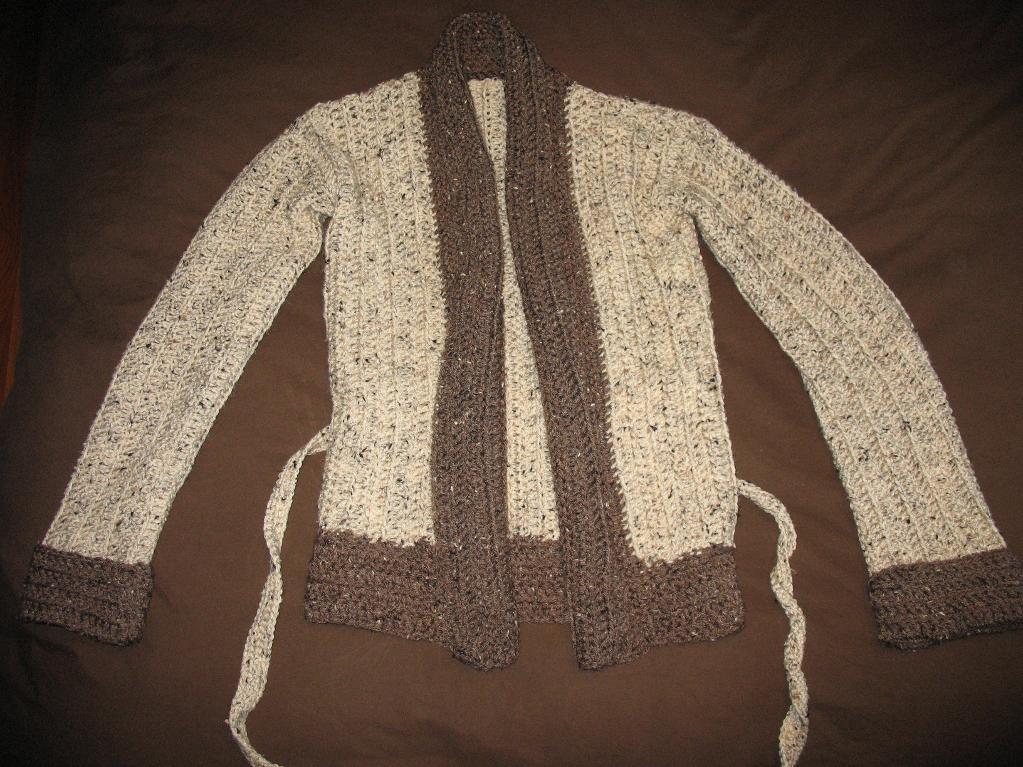 Photo via Bluprint member Chantal Antonakis
1. One Stitch Wrap Sweater
This is a really simple crochet sweater pattern, but it still has chic style. All of the stitches are double crochets, which means that you don't need advanced crochet experience to work this sweater. The shaping comes from the use of two different sized hooks — one slightly smaller than the other — to get stitches of different sizes. Additionally, the instructions include information on how to crochet the belt and belt loops to cinch the sweater for additional shaping. While the pattern is designed for a two-tone sweater, you could also make it all in one color. All in all, this is a solid choice if you're looking for a free pattern to learn how to crochet a sweater.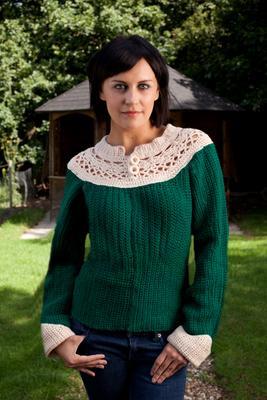 Photo via Bluprint member Christine Guest
2. Attleboro Sweater
This beautiful crochet sweater features long vertical lines of solid crochet that maintain a stylish silhouette on a very warm sweater. It also includes a lacy yoke, which is a terrific detail that makes the piece more interesting to the eye and also to the hook. The cute design was inspired by the idea of a princess fighting alongside Robin Hood. It utilizes a number of interesting crochet stitches, including the shell stitch, X stitch and working in the front loop only to create ribbing. It is worked in a combination of both rows and rounds.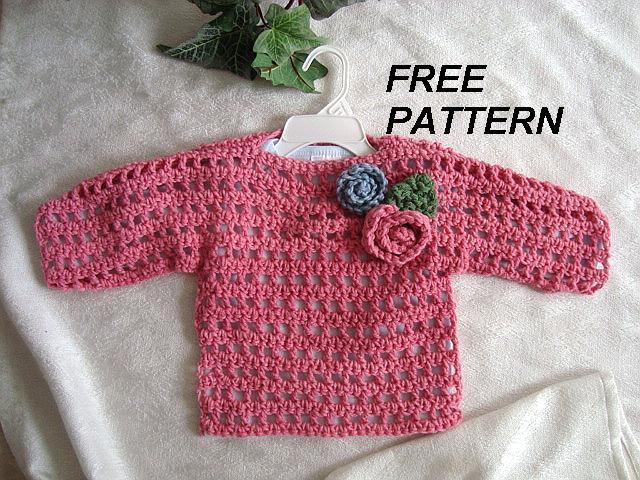 Photo via Bluprint member Hectanooga
3. Mesh Pullover Sweater
This free crochet sweater pattern is a simple, unisex design that can be scaled to fit anyone in the family from baby to dad. Worked in rows from the top down, this sweater is created in two identical pieces that are later stitched together. It is based on a very simple crochet pattern repeat that uses chain, single crochet and double crochet stitches only. Crocheted with a J hook, it's a sweater that works up quickly. It can be embellished with flowers or appliqués or kept plain for a more contemporary, grown-up wearer. The pattern instructions explain how to measure for correct sizing.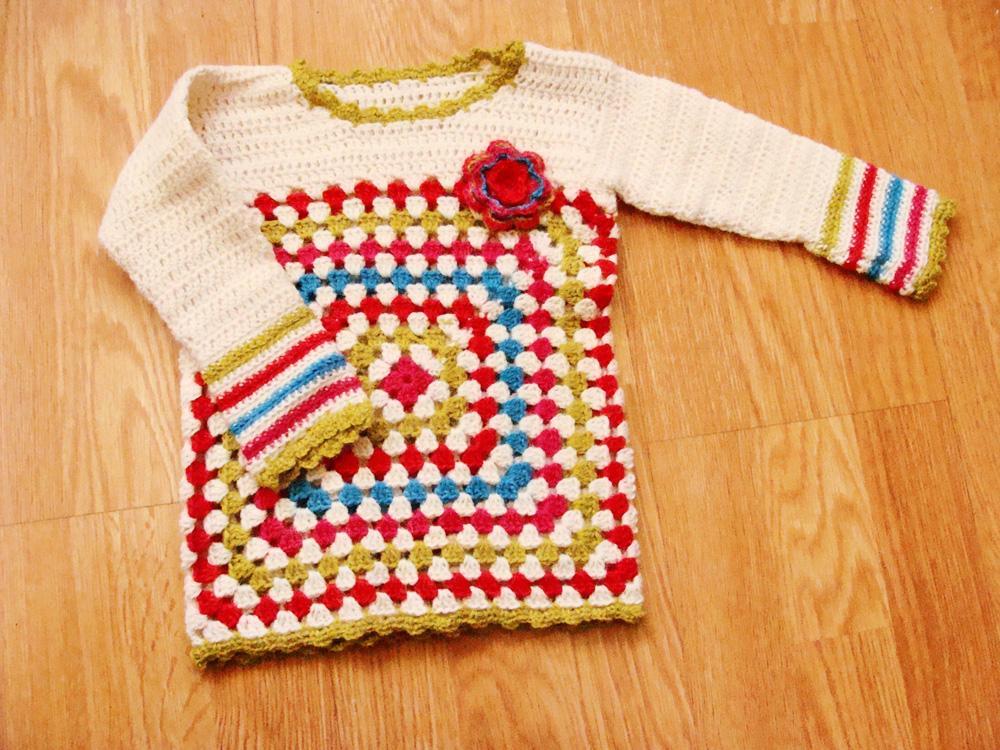 Photo via Bluprint member terratai
4. Bella Baby Pullover
If you can learn how to crochet a classic granny square, then you can learn how to crochet a sweater like this. The body is a large granny square in the front with a back made in double crochet. The sleeves use striping that matches the colors in the granny square for a powerful visual impact. The free crochet pattern is written for babies (four sizes, from one month to 30 months), but if you play around with the pattern for awhile, you'll get the hang of it and likely be able to adapt it to larger sizes as well.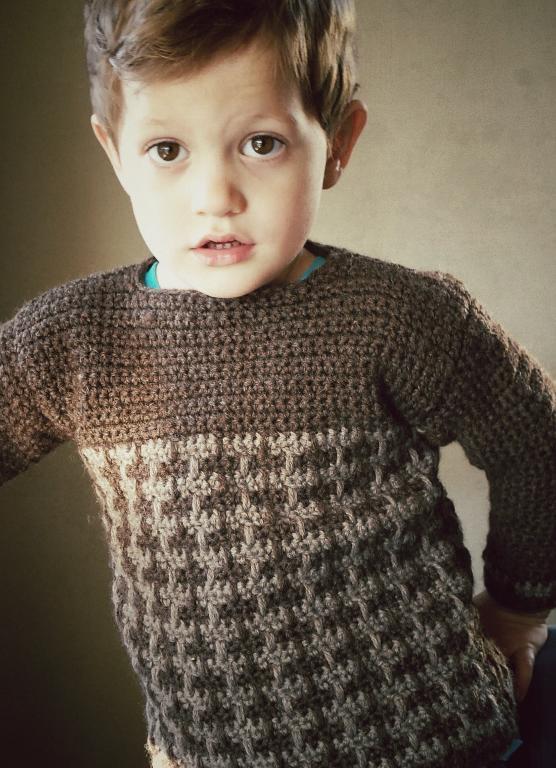 Photo via Bluprint member Caroline Hegwer
5. Building Blocks
Starting with kids' sweaters lets you practice shaping and seaming without committing to a huge project. Use this free pattern make a kids' crochet sweater with a ton of style (it has a cute button closure in the back, too!). It's a unisex sweater; just choose the two colors that your child loves best. The dropped neck is perfect for kids who don't like material scratching at their throats. The pattern is written for four sizes, from newborn to 3 years old.
Crochet Sweater Kits You'll Love!
Save yourself the trouble of figuring out which yarn to pair with your sweater pattern. These kits include expertly matched patterns and fibers.Shop Sweater Kits Now »