If food is the way to a man's heart, these Father's Day cake pops will absolutely tug on Dad's heart strings. In six easy steps, you'll be able to make a personalized gift that's memorable and he's sure to appreciate.
What Dad could resist a gift that can be devoured?
The answer: none. Let's get started with making these Father's Day cake pops!
You'll need:
Cake pop dough ready for shaping (see note in Step 1 below)
Yellow and blue (or colors of your choice) candy coating wafers
Rip Rolls candy in Strawberry or Blue Raspberry (red or blue)
Paramount crystals, EZ Thin or virgin coconut oil (solid)
6″ paper lollipop sticks
Toothpicks
Waxed paper
Ziptop bag
Step 1:
You'll notice that my cake pop dough is blue. This is a fun little way to add some pizzazz to this (or any) cake pop! I tinted my vanilla cake batter with some blue gel coloring before baking. This gives a fun surprise while biting into these cake pops.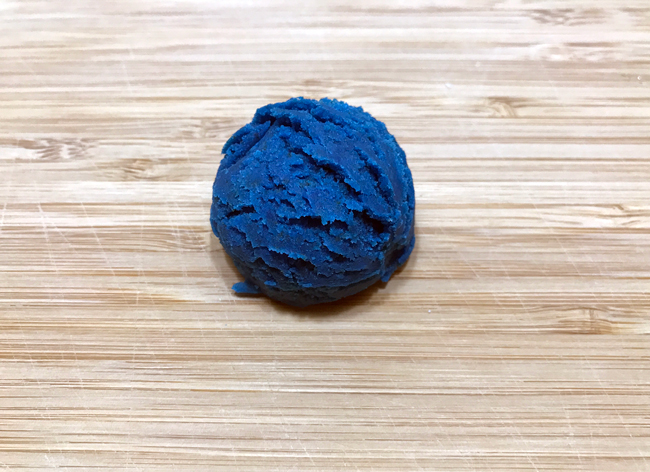 Line your work surface with waxed paper. Use a cookie scoop to portion your cake pop dough so all pieces are uniform. For tips on creating perfect cake pop dough, please refer to a shaping tutorial.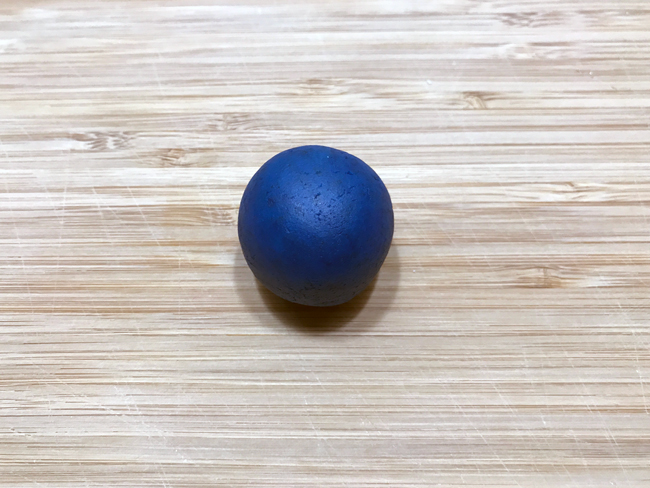 Roll the dough into a ball.
Then, flatten each side by tapping it onto your work surface. The goal is for the shape to resemble a coin or medallion.
Place all pieces on a waxed paper–lined cookie sheet or pan and refrigerate for at least 15 minutes.
Step 2:
Let's prep our candy. These will mimic the ribbons hanging from the bottom of the medallion. Unroll the Rip Rolls candy.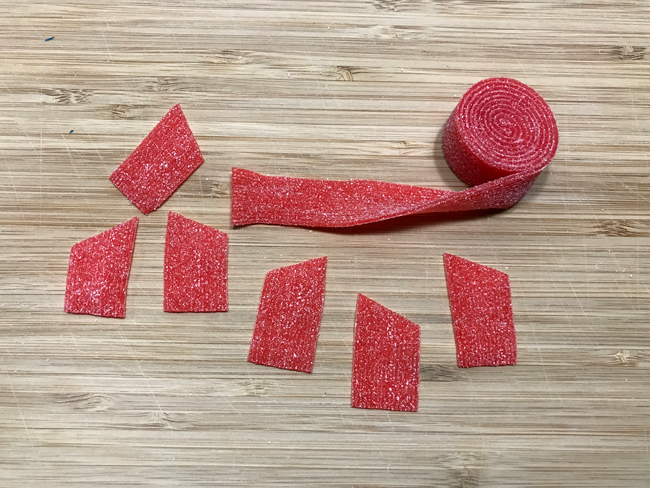 Cut into 1″ to 1½" pieces, with one end straight and the other end cut at a slight diagonal. You'll need two pieces per cake pop; each candy roll will give you about 30-40 pieces.
Step 3:
Melt the yellow candy coating. Place wafers in a microwave-safe plastic bowl or cup and heat for 1 minute at 50 percent power. Then, microwave for 30 seconds at 50 percent power and stir. Continue to microwave in 30-second intervals at 50 percent power until the coating is melted and smooth. Give it a quick stir after each heating interval.
Thin the coating using paramount crystals, EZ-Thin or virgin coconut oil (solid) until the consistency is smooth and fluid like a fresh can of paint. Set aside for a few minutes so the heat can dissipate.
Step 4:
Remove cake medallion forms from the fridge. Let stand at room temperature for a few minutes. Grab the lollipop sticks and yellow coating.
Dip ⅓" of the stick into the coating and insert into the forms, about halfway through. They'll look like cake lollipops! Repeat with each piece.
Step 5:
Dip each cake pop into the coating. Shake excess off and use a toothpick to pierce any air bubbles you notice.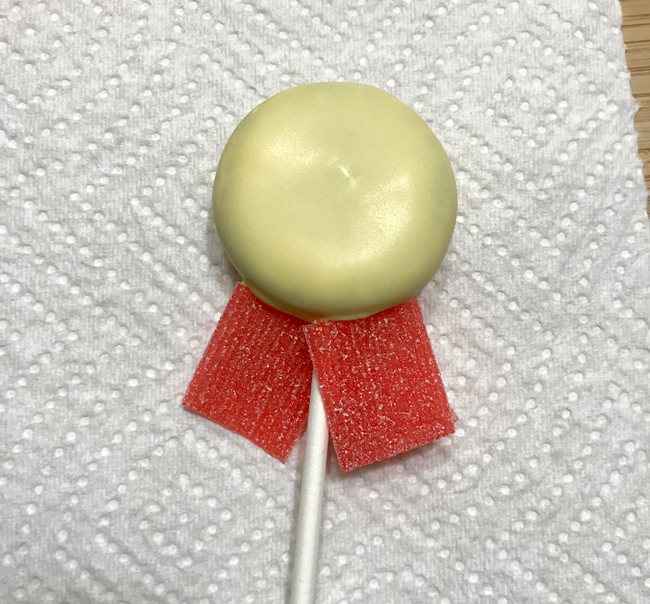 While the coating is still wet, place the diagonal end of the candy at the bottom of the cake pop. Make sure the candy is placed so the "ribbons" overlap slightly and flare outward. Place on a cake pop stand to let dry completely.
Step 6: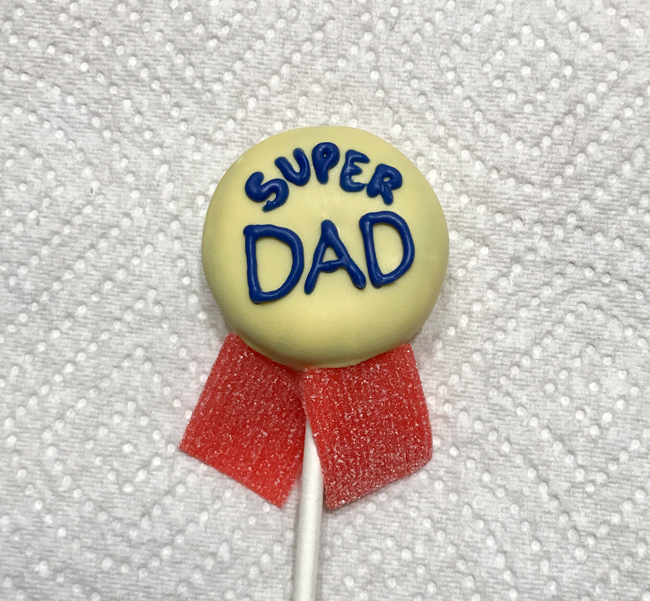 Melt a small about of coating — about 10 or so wafers — following the same method as Step 3. Place coating in a ziptop bag and snip the tip to use it for piping (or use a small writing piping tip, if you prefer.) Pipe any message you wish to celebrate Dad!