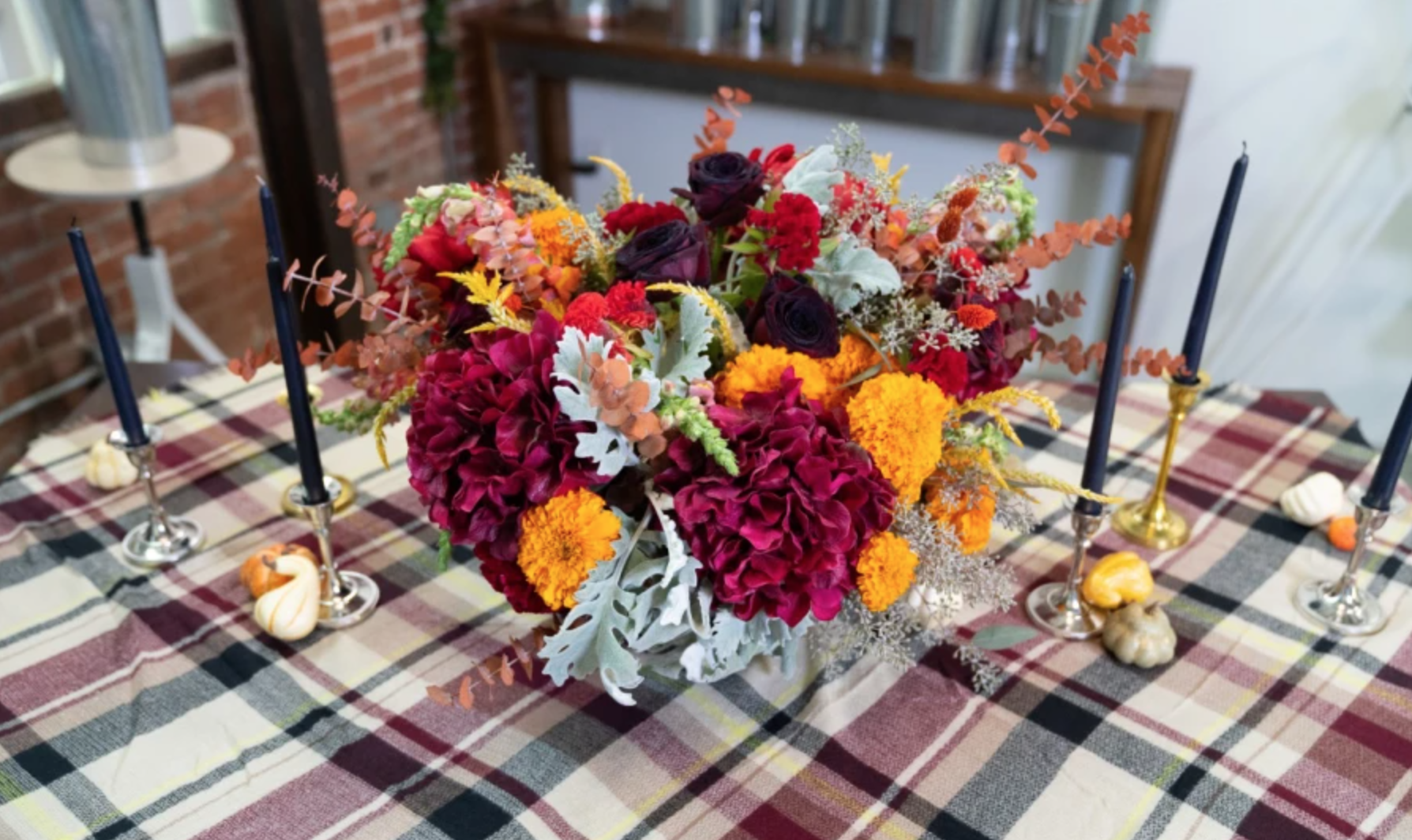 Pro floral arrangements might look like complex, intricately crafted works of art, but if you know the right techniques they're much easier than you'd think. Carly Cylinder from The Flower Kitchen is here to give us some pointers just in time for party season.
Fall Floral Centerpiece
Level: Easy
What You Need
3 red hydrangeas
2 red peonies
15-20 stems marigolds
8-10 dark red roses
10-15 stems red coxcomb
5-10 stems yellow celosia
5 stems orange snapdragons
1 bunch dusty miller
1 bunch seeded eucalyptus
1 bunch dried eucalyptus
1 bunch variety of dried flowers like clover
One 6″-8″ vase for a large centerpiece
Spray paint (optional)
Instructions
1. Form a Plan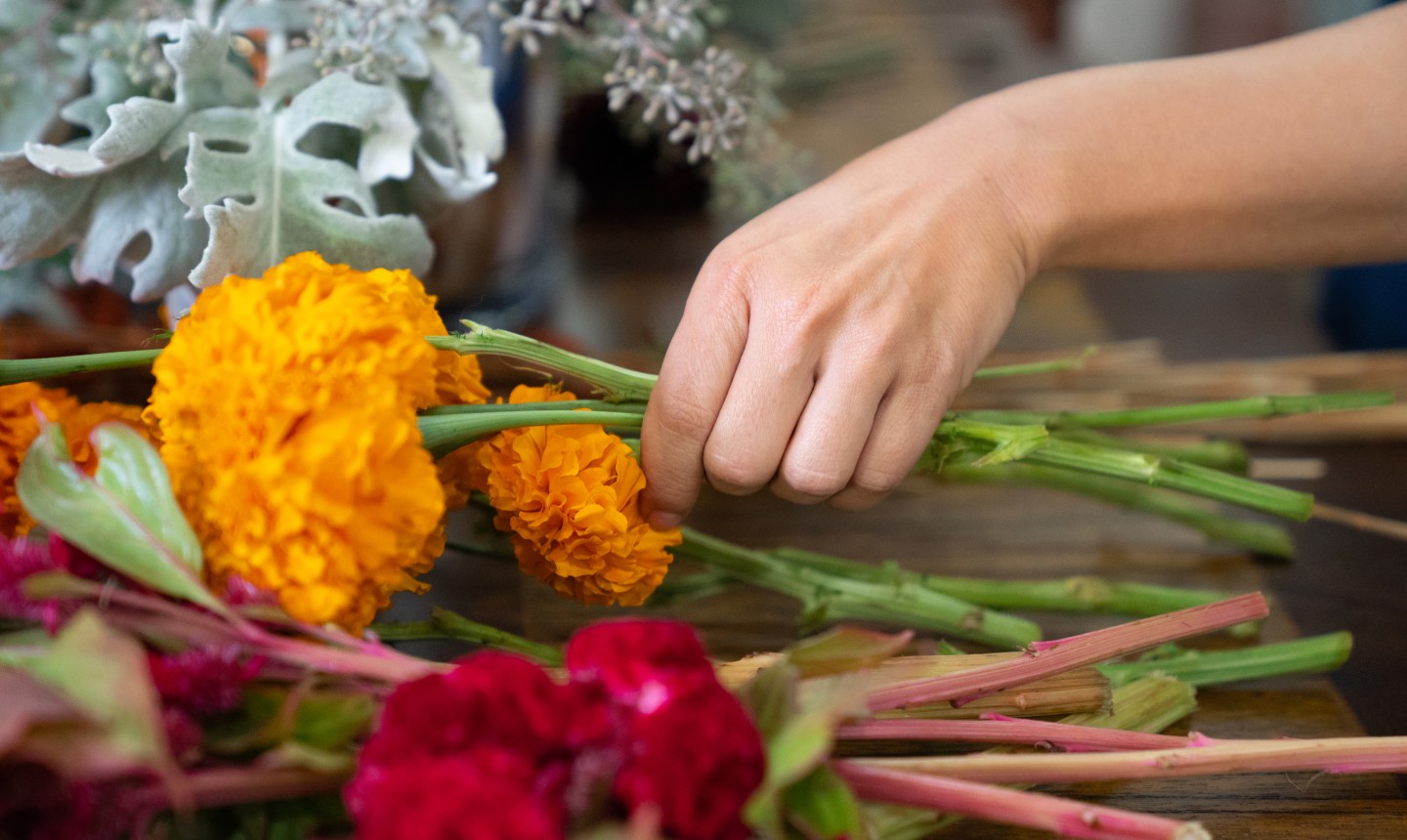 To create a cohesive floral arrangement, you gotta go in with a plan. First, determine your color scheme to make sure your centerpiece matches your other elements. This tablescape uses a plaid scarf as a table drape, and the color palette for our flowers is pulled directly from the scarf. This arrangement uses a combination of fresh, fake and dried flowers. (Yes, that's totally allowed.)
2. Choose Your Vase and Build Your Base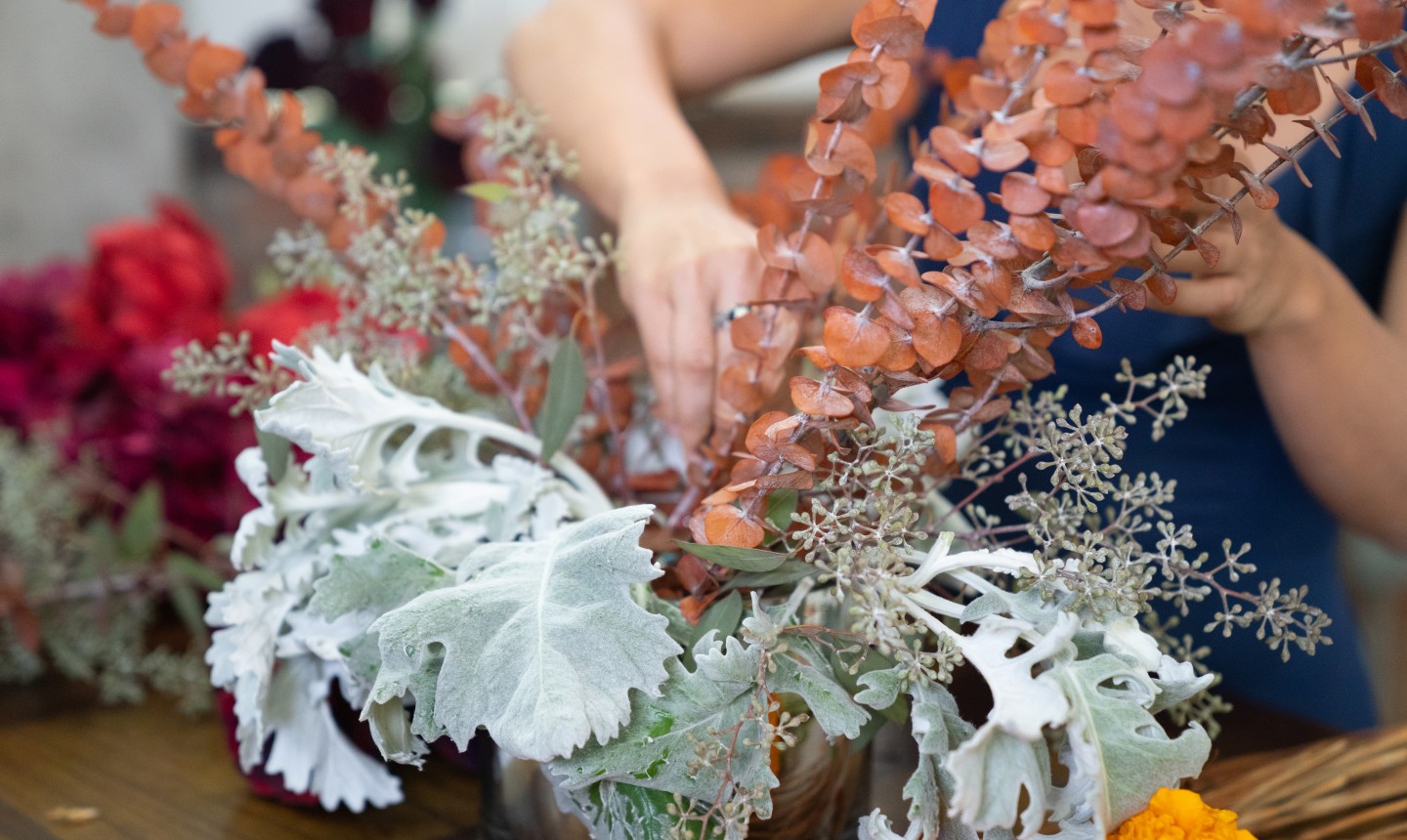 Once you have your flowers gathered, select a vase. Be careful not to go too big — as you'll learn, the arrangement often extends far beyond the vase, so even with a smaller vase you can create a big, colorful centerpiece. When you have your vase picked out, fill it about three-fourths with water for the fresh flowers. We're using a 7″ vase here.
Time to start arranging! Form a base with greenery using dusty miller and seeded eucalyptus. As you add, make sure to cross the stems. This criss-crossing will secure the stems of your other flowers as you add them.
3. Add Your Flowers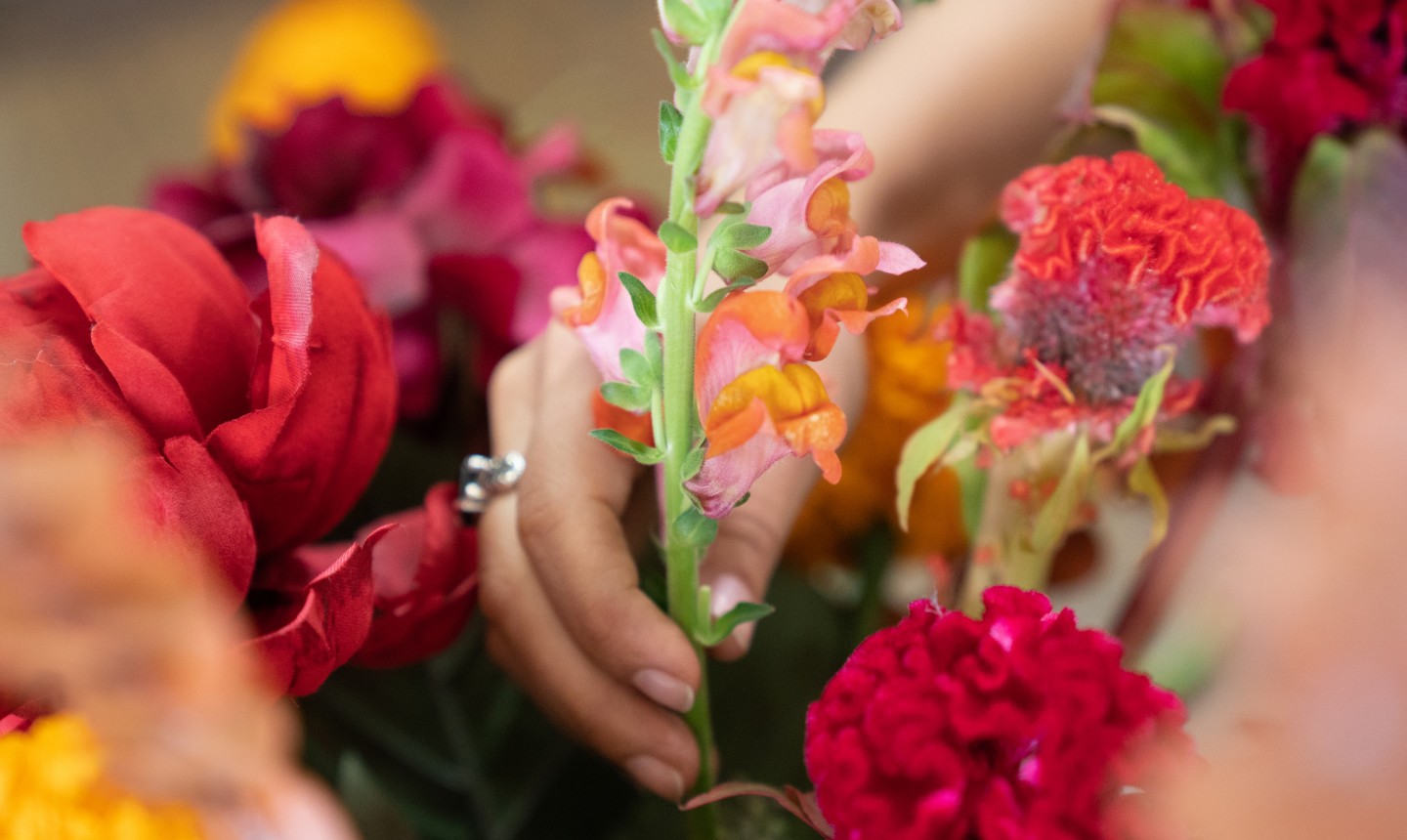 Now for the fun part: flowers. Begin with your biggest flowers and work your way down in size. Here, we started with hydrangeas and peonies. You may need to make adjustments to your flower placement as you go. Remember to take a step back from time to time and assess your growing masterpiece from all angles.
If things are feeling a bit unbalanced, don't sweat it. You can always tweak as you go, and it's actually super trendy right now for arrangements to be asymmetrical.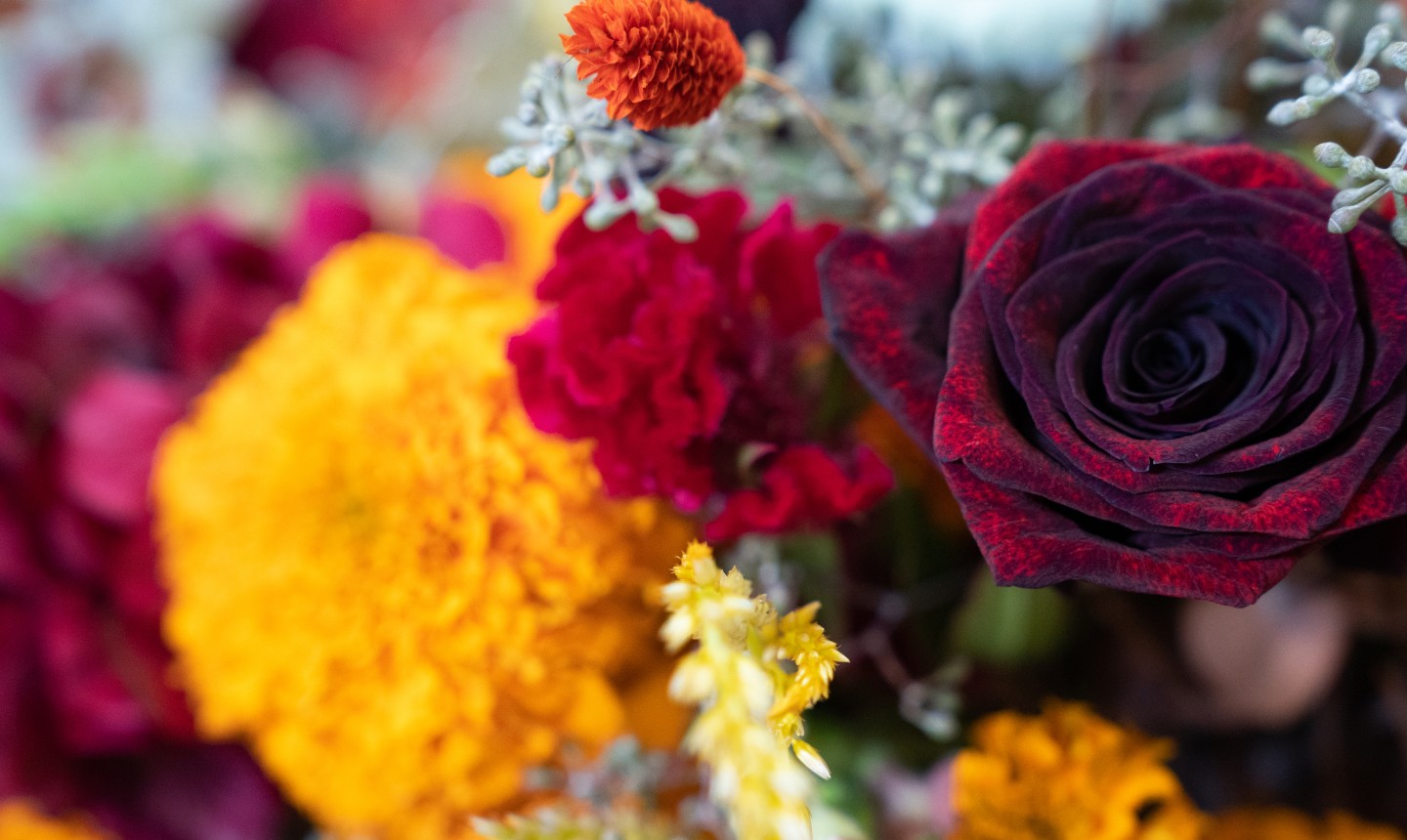 Another thing to keep in mind when building your arrangement: contrast is your friend! Add some dark flowers next to bright yellow ones for a dramatic pop. If you want, you can even give your arrangement a metallic accent by spray painting your eucalyptus a bronze, silver or gold.
4. Make Final Adjustments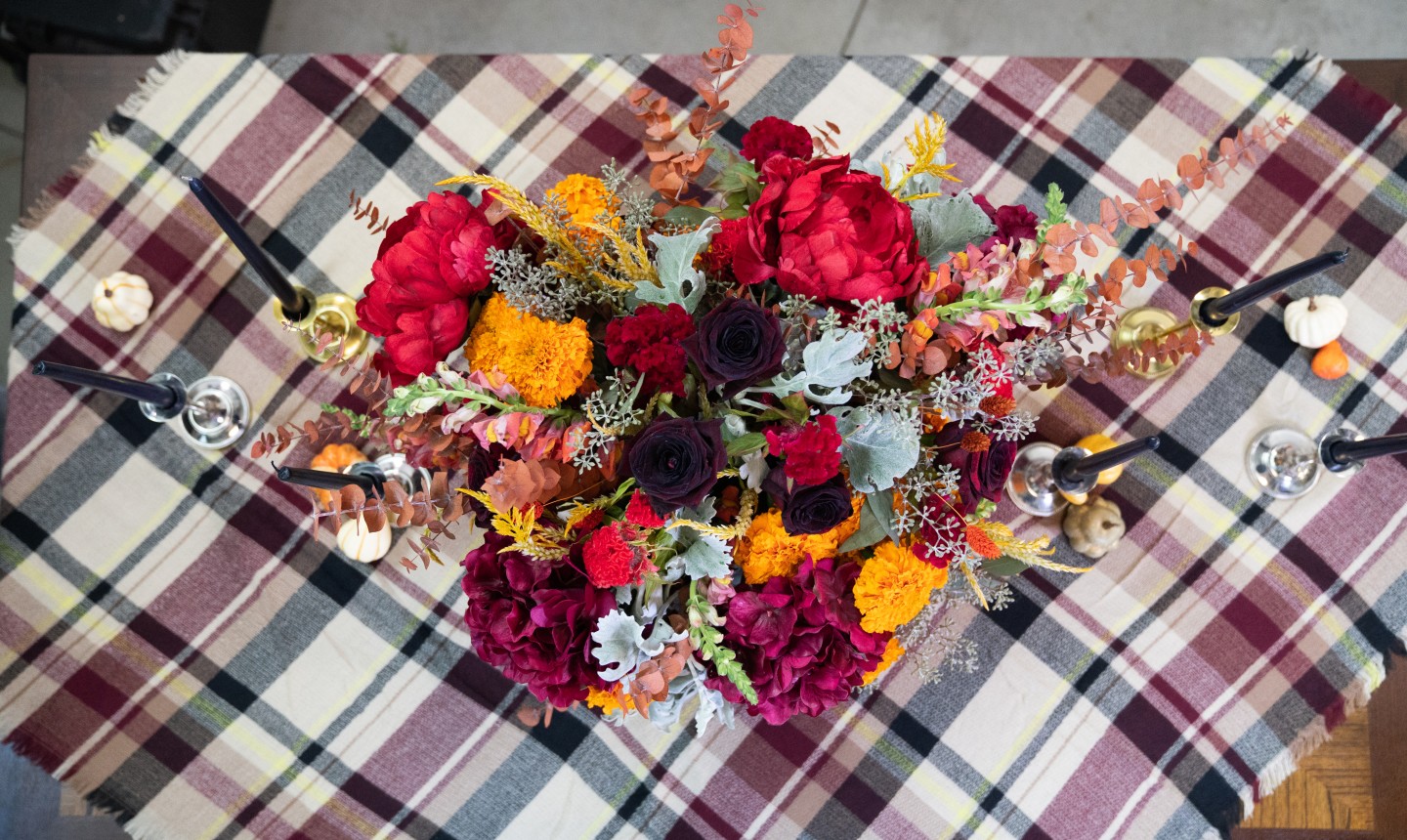 Once all your flowers are arranged, go back through and pull out any blooms that may have sunken in and gotten lost in the foliage. Fluff your arrangement until it's just how you like it.
5. Finish Your Tablescape
Place your cloth or runner on the table, add your centerpiece, and accessorize with candles and other fall delights like little gourds and pumpkins. Now all you need is the meal!