Though Halloween is over, pumpkins are still abundant and plentiful in desserts reflecting the season, along with complementary flavors as you prep for Thanksgiving!
You'll be falling for these fall cupcakes and confections to adorn your seasonal tables that are sure to have everyone giving thanks!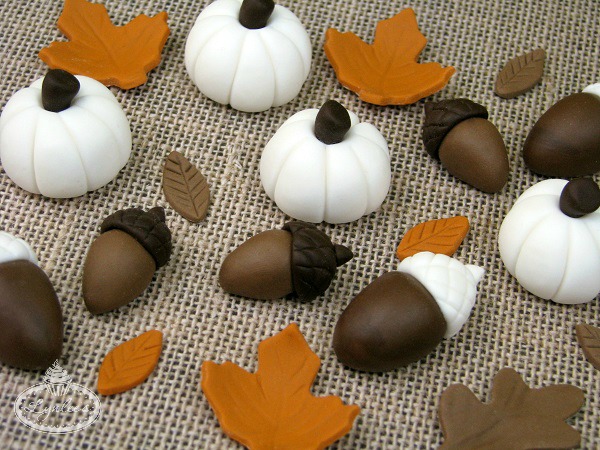 Photo via Lynlee's Petite Cakes
Rustic fall toppers
While pumpkins are traditionally orange, they are found in a variety of hues. These white fondant pumpkins add a more chic and rustic feel to this set of harvest toppers, including coordinating acorns and leaves.
New to fondant? Learn how to work with it with guidance from award-winning cake artist Elisa Strauss in Bluprint's FREE mini class Basic Fondant Techniques. You might also enjoy this delicious recipe for homemade marshmallow fondant.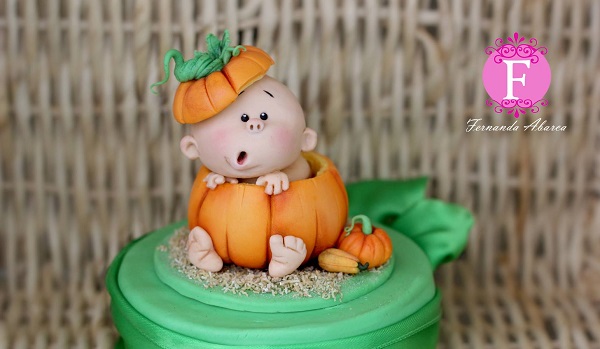 Photo via Fernanda Abarca Cakes
Pumpkin baby topper
Nothing adorns a precious baby better than a pumpkin! Whether throwing a baby shower in the fall or welcoming the arrival of an autumn newborn, this pumpkin baby topper by Fernanda Abarca Cakes is the sweetest addition to any seasonal celebration. The tutorial demonstrates the wonderful and precise fondant modeling, as well as the use of shade to provide an additional dimension to the piece.
To practice and hone your fondant modeling skills, check out Cake Topper Techniques: Figure Modeling with Anne Heap.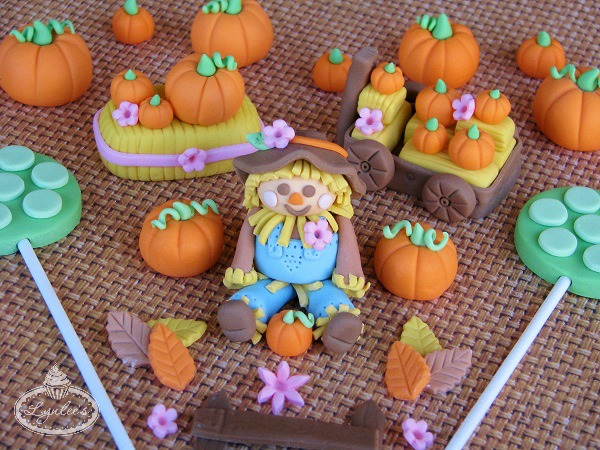 Photo via Lynlee's Petite Cakes
Pumpkin patch toppers
Nothing says fall more than a pumpkin patch and a scarecrow and that's exactly what these fondant toppers depict! The three-dimensional pieces were created to embellish a simple cake, utilizing lighter colors, such as pink, light blue and green, to soften the overall look for a more feminine touch.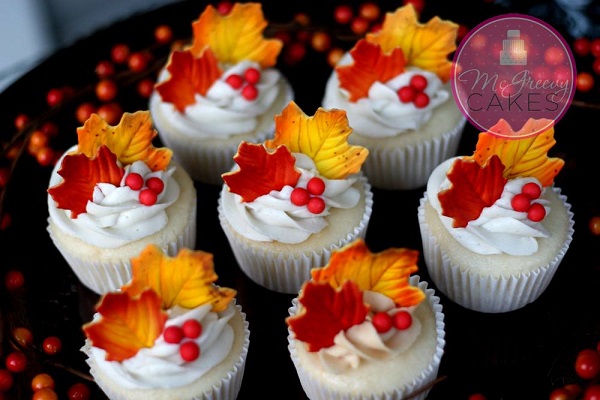 Photo via McGreevy Cakes
Autumn leaf cupcakes
These exquisite autumn leaf cupcakes by McGreevy Cakes are simple, yet elegant. The vibrantly hand-painted leaves draw the eye to the detailed vein impressions and the beautiful gradient coloring, while accented by sweet little berries.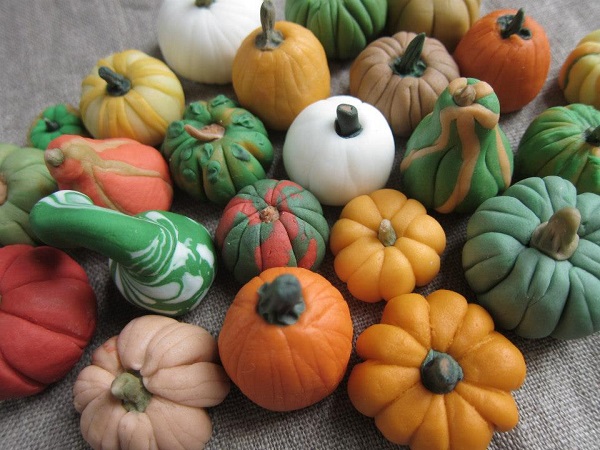 Photo via Mimicafe Union 
Colorful fall garden
While the previous fondant pumpkins provide a more muted color scheme, this gorgeous and colorful collection of pumpkins and gourds by Mimicafe Union tell a rich and vivid story. Much like snowflakes, no piece is alike with the variety of colors blended together and the brilliant use of texture.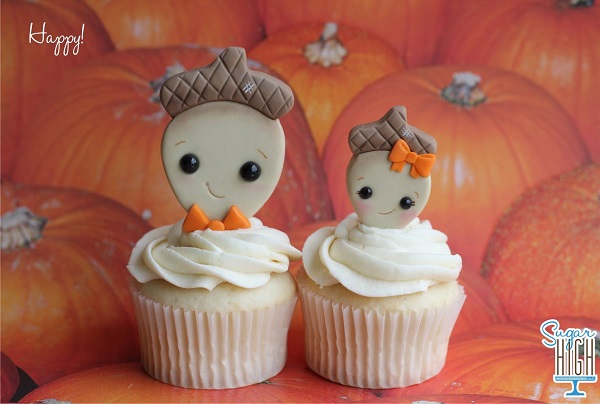 Photo via Sugar High, Inc.
Sweet acorn cupcake toppers
Acorns are also bountiful in the fall season, and this fondant topper couple by Sugar High, Inc. is absolutely precious! The facial expressions and hand-painted details are just adorable. With the addition of shading, the technique provides an extra dimension to an otherwise flat topper, along with positioning them upright on the iced cupcake.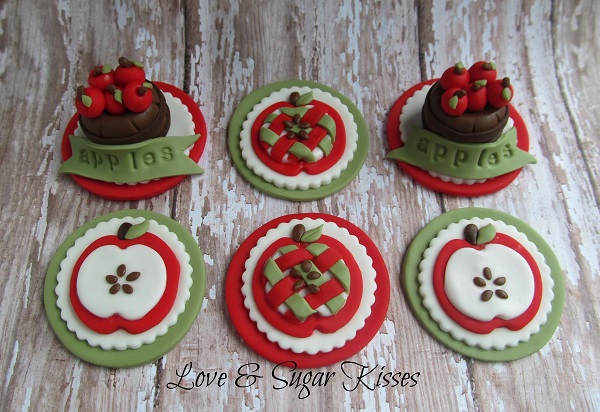 Photo via Love & Sugar Kisses
Apple picking cupcake toppers
Another fruit identified with fall is the apple, as the season also brings about apple-picking time! These sweet and charming fondant toppers by Love & Sugar Kisses depict both three-dimensional apple bushels, as well as flat designs, including the use of woven fondant. The consistent use of the four colors throughout the designs ties the entire collection together perfectly.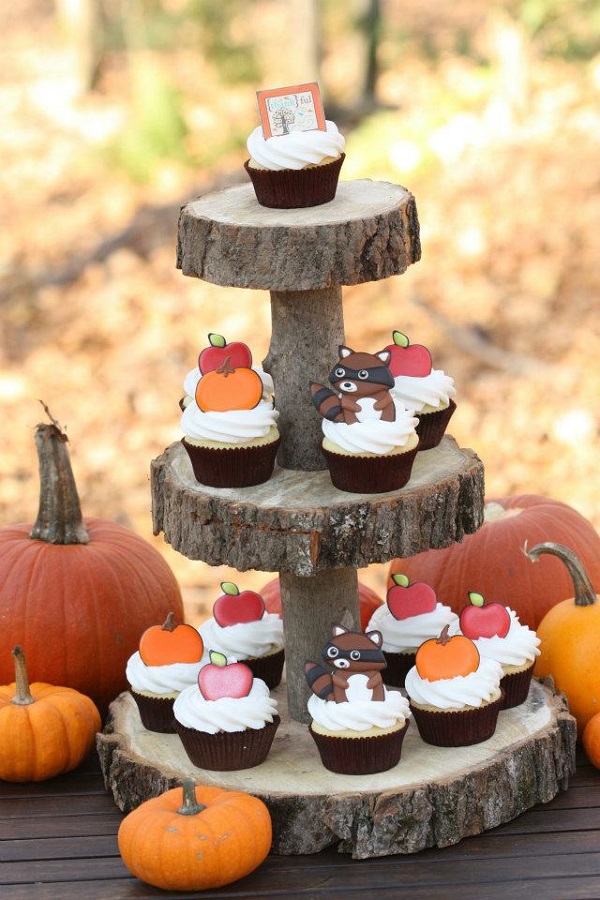 Photo via Sweetopia
Fall cookie toppers
Sweetopia created these incredibly adorable cupcake toppers out of cookies decorated with royal icing in designs reminiscent of fall. She so generously provides tips for adding a shiny finish to your royal icing to re-create the look. The entire rustic feel is complete with the gorgeous wood cupcake tower and pumpkin adornments.
See a wonderful royal icing recipe here.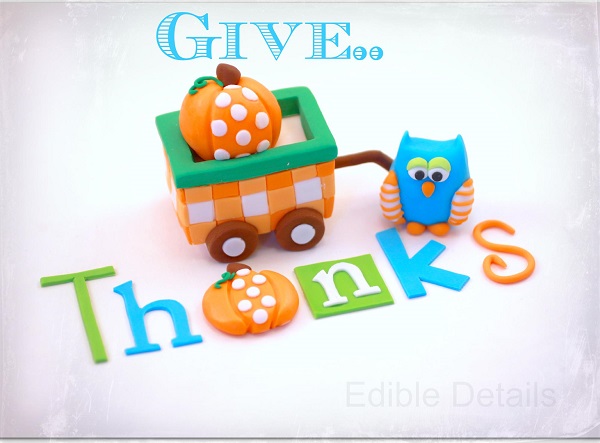 Photo via Edible Details
Give Thanks fondant toppers
In honor of Thanksgiving in the U.S., many take the opportunity to show their gratitude for the blessings in their lives. Inspired by the modern and colorful graphics by Lauren McKinsey, Edible Details brought the designs to life with these fondant toppers. The addition of blue to the traditional fall colors providea a clean, contemporary feel, along with the multi-sized fondant letters.
Learn how to use letter cutters like these in our Tappit letter cutter tutorial.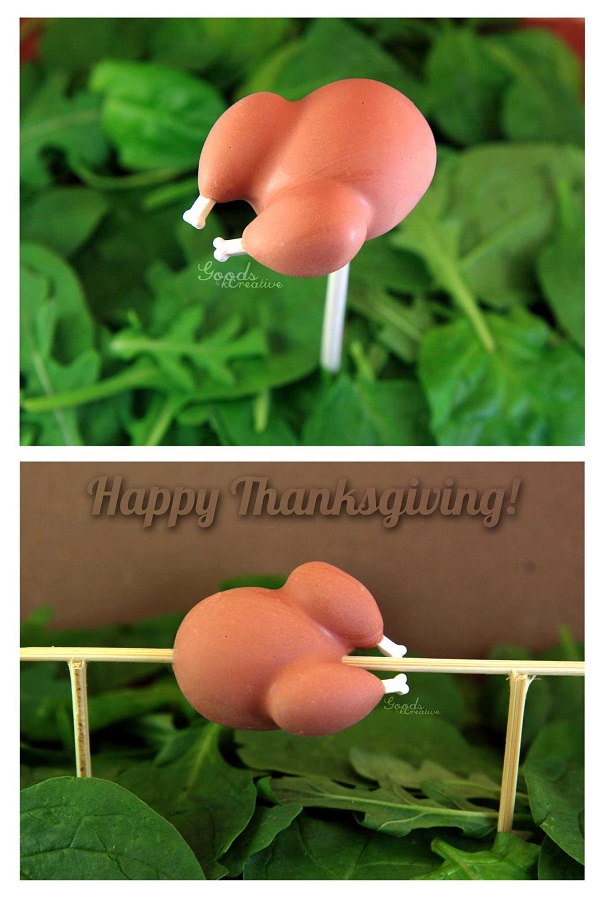 Photo via Goods by KCreative
Turkey cake pops
To celebrate Thanksgiving, KCreative replaced the traditionally served dish with this amazing turkey cake pop! The tutorial to re-create this sweet cake on a stick is included in her recently released book Pop Art: Decorating & Shaping Custom Cake Pops. 
We shared how to make pumpkin cake pops in our Halloween cake pop tutorial. They would also be perfect for Thanksgiving!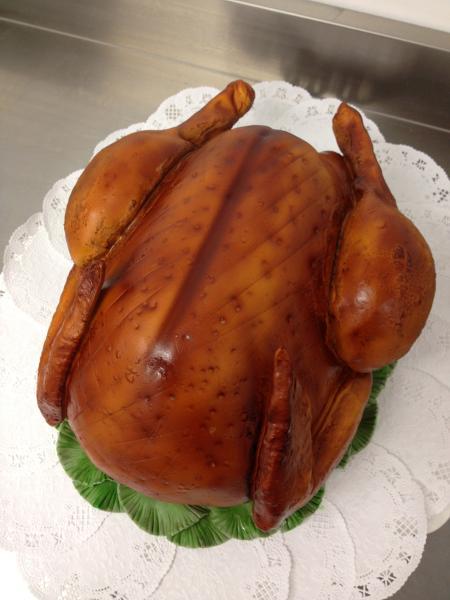 Photo via Bluprint member TheSweetDivine
Turkey cake
Bluprint member and cake artist The Sweet Divine created this incredibly realistic roasted turkey cake! Once carved, the cake was covered with a combination of fondant and gum paste. Then, the turkey was finished off with airbrushing for the finishing touches.
Learn more about cake sculpting in the class Cake-osaurus Rex with Catherine Ruehle and practice your airbrushing techniques in The Art of Airbrushing with Lisa Berczel.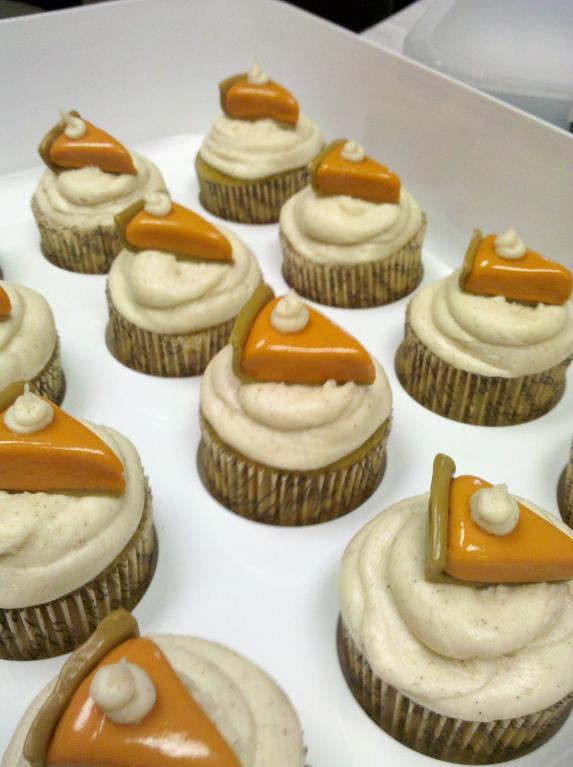 Photo via Bluprint member TINILWMFG
Pumpkin pie cupcake toppers
Bluprint member and cake decorator TINILWMFG welcomed the autumn season with these spiced cupcakes, iced with cinnamon cream and topped with these charming miniature fondant pumpkin pie slices! The pies were topped off with some piped icing to resemble whipped cream — the perfect end to any fall meal!
Yesterday, Erin Gardner, instructor of the Bluprint class Simply Stunning: Hand-Stamped Cakes, shared a tutorial for making autumn leaves and mums cupcake toppers right here on the Bluprint blog! You might also enjoy our roundup of fall themed cakes.
Come back to the Bluprint blog tomorrow to learn all about the best types of flour to use for baking!
How do you decorate your cupcakes and other sweet treats for fall?