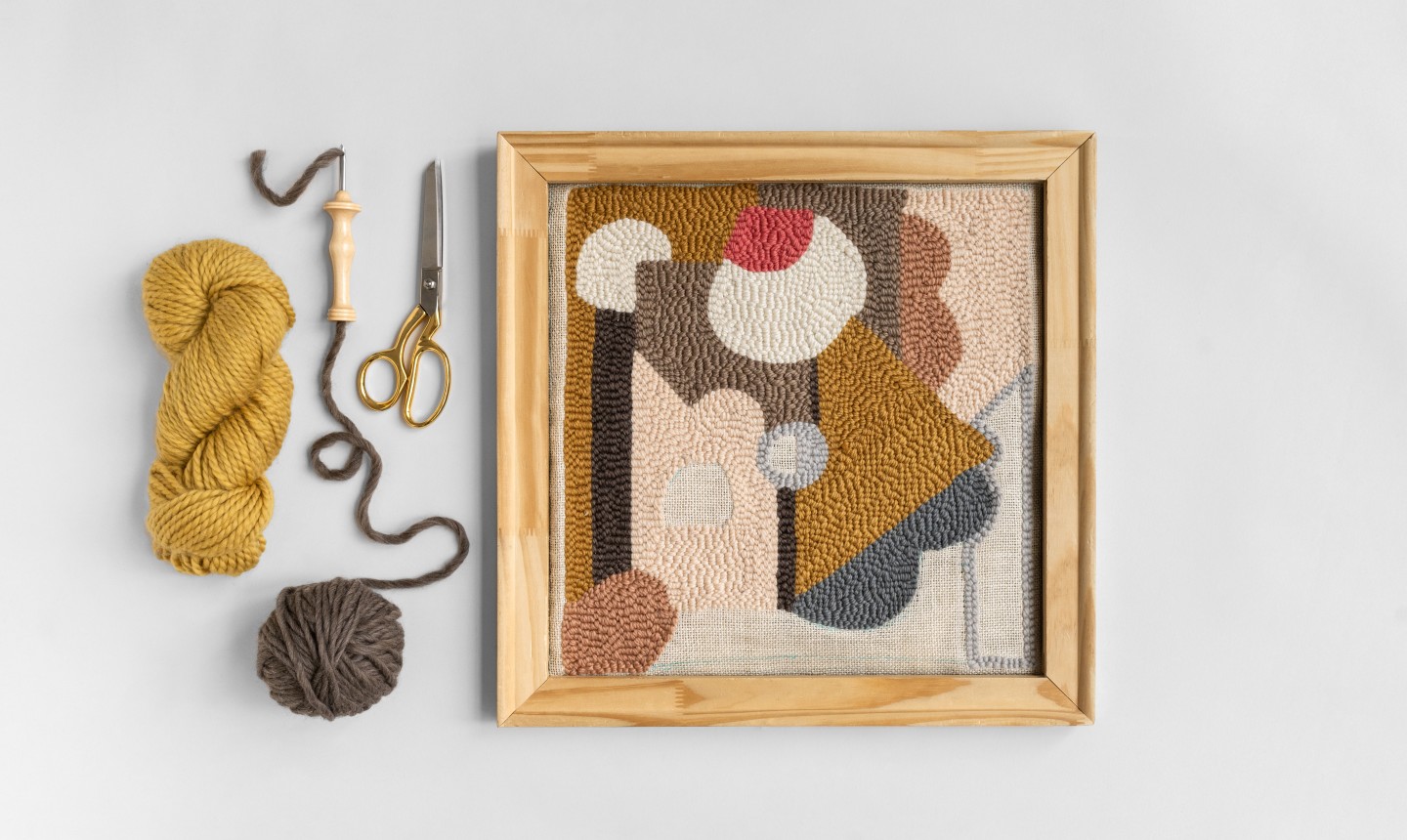 Traditional embroidery is great, but lately everyone's fiber radars seem to be focused on the beautiful textures created with punch needle (also called needle punching). The craft looks eerily similar to embroidery when you just see the tools, as you need embroidery floss or yarn, a hoop, fabric and scissors to start. But that extra tool — the punch needle itself — makes a big difference. This post has all everything you need to know about the punch needle trend.
Picture a pen with a needle attached to the end. To use it, you thread the needle with your yarn or thread, then punch the needle end through your hooped fabric and pull up a loop of the fiber. It goes much faster than traditional embroidery, and you can mix and match different fibers, weights and stitch heights to create to-die-for textures and designs.
Fiber fiends may be thinking this sounds a lot like rug hooking, and while it's definitely similar, it's not quite the same. Punch needle punches the loops down into the work, whereas rug hooking uses a different tool to pull the loops up through the work. The two techniques actually form the same type of stitch, but the action is a bit different.
Tips for Needle Punching Success
Now that you've got the background intel, these tips will set you up for a successful first project.
1. Keep Stitches Small
When you're first getting started, it's easy to pull your needle too far from the fabric. This gives the yarn too much slack, and your next stitch will be a loop in the front (instead of the back) of your frame. Meanwhile, the loops on the back can get pulled out, making them smaller and less structurally sound.
To avoid this, move your needle in very small increments, leaving no more than about ⅛" between punches. Press all the way through your fabric until the needle's handle touches the surface of your project, then pull the needle back out so the tip barely resurfaces before it's punched back down.
2. Ditch the Work Surface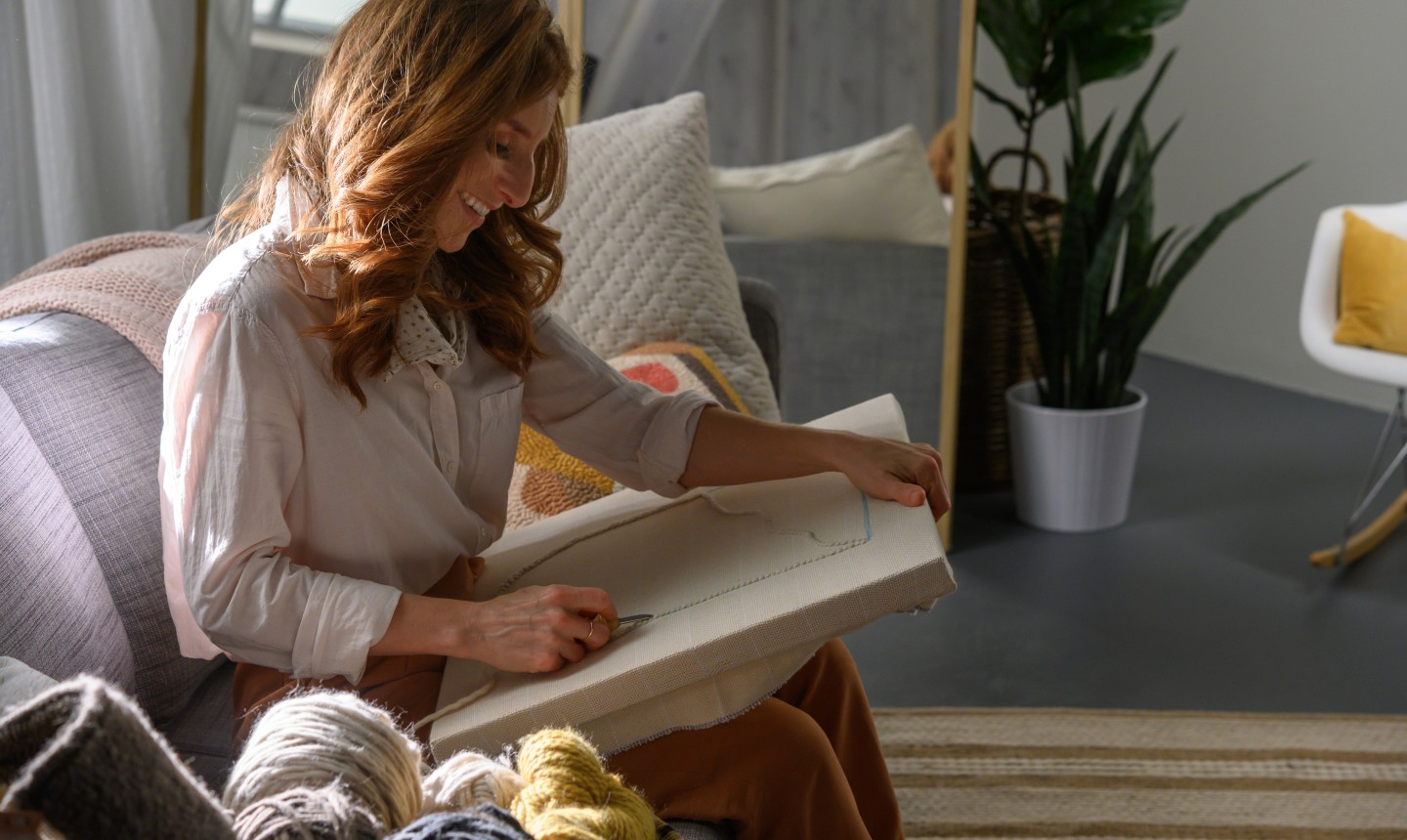 Because the punch needle moves all the way through the fabric, if you're working on a table you can stab your work surface and risk damaging it — or worse, your design. Your project shouldn't be resting on any surface — hold your hoop or frame so it's at a diagonal with nothing stabbable (including your lap!) underneath.
3. Mind the Gaps
A common punch needle problem is holidays, and no, we're not talking about beachside resorts. Holidays happen when you punch two rows too far apart, leaving a gap of fabric showing through. To fix this, simply rethread your needle and fill in the hole. The great thing about punch needle is no one can tell what you had to go back and fix!
Punch Your First Project
One big reason to love punch needle: it's so versatile! There are a wide variety of projects to make, from canvas wall hangings and pillows to functional projects like bags and pet beds. Here are some to get you started.
1. Your New Go-To Accessory
No matter the occasion, this bag will look great on your arm. Use our template or create your own design and you'll have a new favorite bag in just a few hours.
MAKE IT
2. The Cutest Thing You Ever Did Sea
The best stuffed animal is a homemade one, especially when it's this cute and cuddly. You can make this walrus as big or small as you want; once you punch out the pattern, all you have to do is sew and stuff to bring it to life.
MAKE IT
3. A Punched-Up Hairdo
Real talk: with this punch needle barrette, you'll love having bad hair days. And because it's such a small project, you can make it in one sitting.
MAKE IT