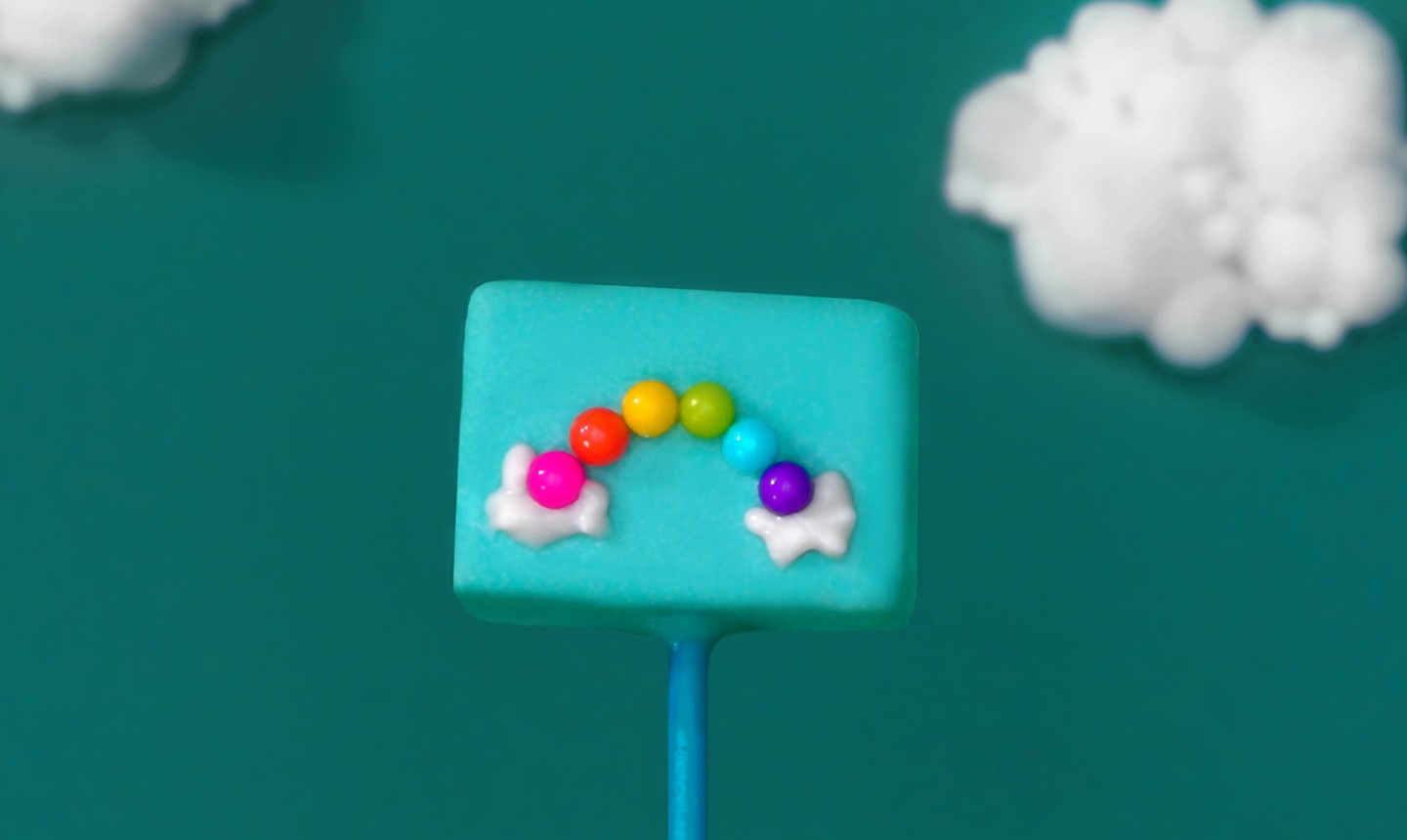 Every get-together needs a burst of color to liven things up, and that's exactly what these color-packed cake pops are for! They couldn't be easier to make, either: there's no sculpting or shaping required, and you can create the rainbow effect with just a handful of candies.
Rainbow Cake Pops
Level: Easy
What You Need
Cake, baked and cooled (use your favorite recipe)
Buttercream (Swiss Meringue and American buttercream work well)
Stand mixer
Plastic wrap
Blue and yellow candy melts
Large nonpariels in red, orange, yellow, green, blue and purple
Rolling pin
Small knife
Lollipop sticks
Piping bag or plastic snack bag
Scissors
Cake pop stand or styrofoam block
Instructions
1. Make the Cake Pop Dough
Mash up your baked cake and combine it with buttercream.
Pro Tip: For every 2 cups of cake, use 1 tablespoon buttercream. Adjust this ratio until you have a doughy consistency you can roll into a ball.
2. Chill
Wrap the cake pop dough in plastic wrap and chill in the refrigerator for one hour.
3. Shape
Roll the cake pop dough. You want it to stay a bit thick, so use two containers or books of the same size as guide rings. Once rolled, use a small knife to cut the dough into rectangles.
4. Prep the Candy Coating
Melt your blue and yellow candy melts separately, then mix a small amount of the yellow with the blue to create a teal color. Keep adding yellow as needed until you're satisfied with the color.
5. Dip
Insert the tip of a lollipop stick into the melted candy melts, then push it into the bottom center of a rectangle cake pop. Once secured, dip the cake pop into the candy melts. Let the excess drip off.
6. Decorate
While the cake pop's coating is still wet, arrange the nonpariels into a rainbow on the front. Place it in a cake pop stand or styrofoam block to dry.
Repeat steps 5 and 6 for all cake pops.
7. Pipe the Clouds
Spoon some excess buttercream into a piping bag or a plastic snack bag. Use scissors to cut a tiny hole in the tip and pipe small fluffy clouds on either end of the sprinkle rainbow.
Let the clouds dry, then you're done!