Flaming desserts are pure fun…until they burn the house down. If you love the idea of a boozy banana dessert but don't particularly want to singe your eyebrows, try this easy Bananas Foster recipe that doesn't require flambéing and therefore remains fire-free.
Photos via CakeSpy
The key is heating the alcohol with the butter at the beginning of the recipe.
This allows the alcohol to impart its caramel flavor to the finished dessert with no flames necessary. While this version of Bananas Foster might not make for as flashy a finishing presentation, there's nothing lacking in the flavor department.
Crispy-edged banana coins are infused with the three B's — brown sugar, bourbon and butter — for a flavor that's nothing short of sensational. A pinch of salt and a touch of cinnamon elevates this dessert to utterly crave-worthy territory. Your ice cream should consider itself lucky to be topped with this delectable concoction.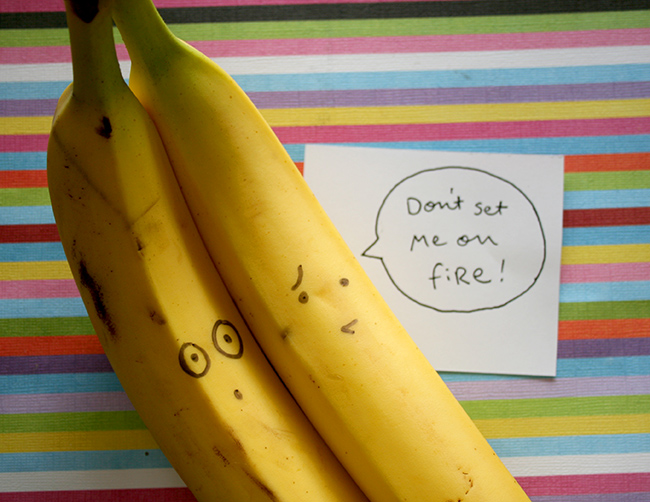 Good question: Where does Bananas Foster come from? 
Everything tastes better with a little backstory, so let's take a moment to discuss the sweet story behind Bananas Foster. 
Bananas Foster is a New Orleans creation. According to this site, it came about in the 1950s, when NOLA served as the premier port of entry for bananas to make their way to the U.S. from South America. With all of these bananas around, the owner of Brennan's restaurant challenged his chef to come up with a clever use for them. The response was Bananas Foster (named, apparently, for a local civic figure, Richard Foster). This dessert follows the flaming tradition of other famous recipes like crêpes suzette or cherries jubilee.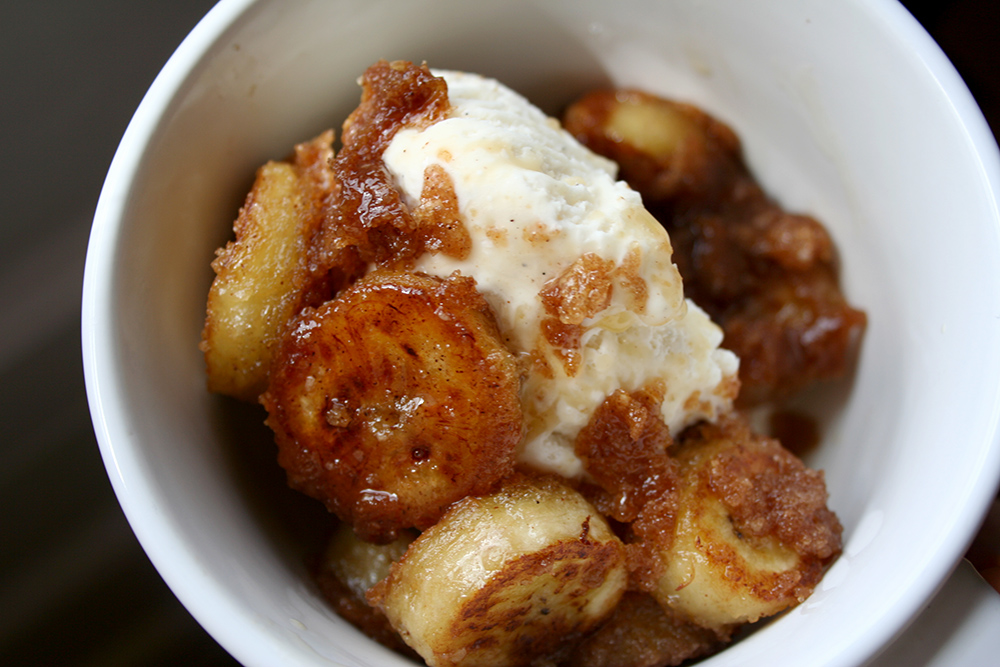 Easy Bananas Foster Recipe
Makes 4 servings (about half a banana per person) 
Ingredients:
1-2 tablespoons bourbon (more or less to taste)
1 teaspoon vanilla extract
2 tablespoons unsalted butter
2 medium ripe bananas, sliced into coins
¾ cup light brown sugar, packed
½ teaspoon cinnamon
A pinch of salt
Ice cream, for serving 
Step 1:
Set up your mise en place. Have your ingredients prepped and ready to go. Perhaps most importantly, have your ice cream in bowls and stored in the freezer so it's ready to bring out right when your bananas are ready.
Step 2: 
In a medium bowl, mix together the brown sugar, cinnamon and salt. Set aside.
Step 3:
In a medium, heavy bottomed skillet, heat the bourbon, vanilla and butter over medium heat until the butter melts and begins to bubble slightly. Add the bananas. Toast the bananas lightly on both sides (about 1 minute on each side). This will help form a little "crust" so that the bananas don't get mushy in the next step.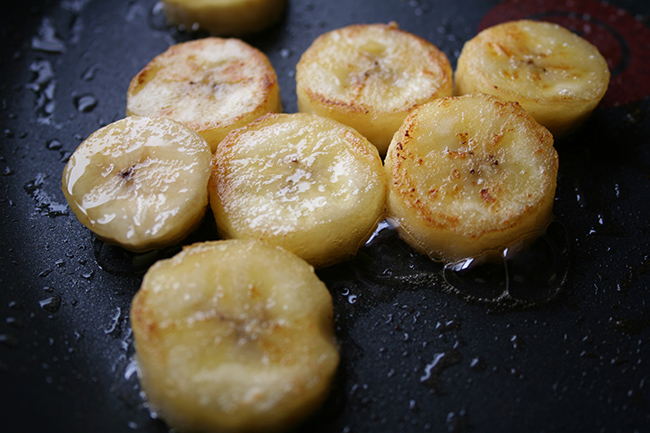 Step 4:
Scatter the brown sugar mixture on top of the bananas, and continue to cook on medium-low heat, stirring constantly, until the mixture is thickened and caramel-like. There may be some toasty-crunchy bits in the mixture; personally, I love these. Remove from heat, and spoon over your ice cream. Enjoy immediately.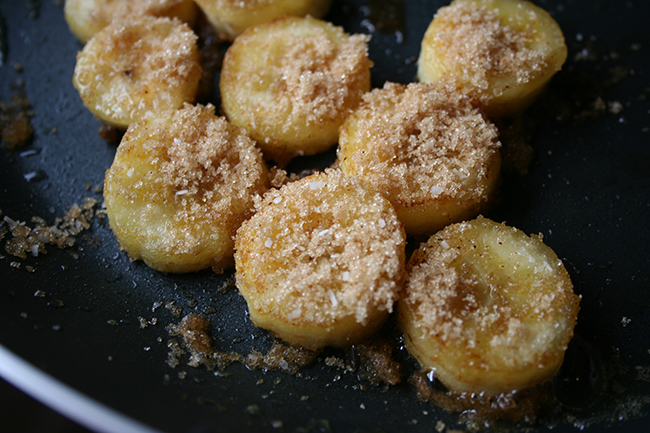 Recipe notes
Why stop at ice cream? 
While Bananas Foster is most famously employed as an ice cream topping, it's equally delicious as a topping for any number of other foods. Spoon this mixture on top of pancakes or French toast for a decadent brunch option, or use it to top slices of pound cake for a sweet treat. 
Booze-free version
You don't need to add alcohol to this recipe. You can substitute water or simply omit the liquid in the first step. Your "sauce" will just be a little bit thicker.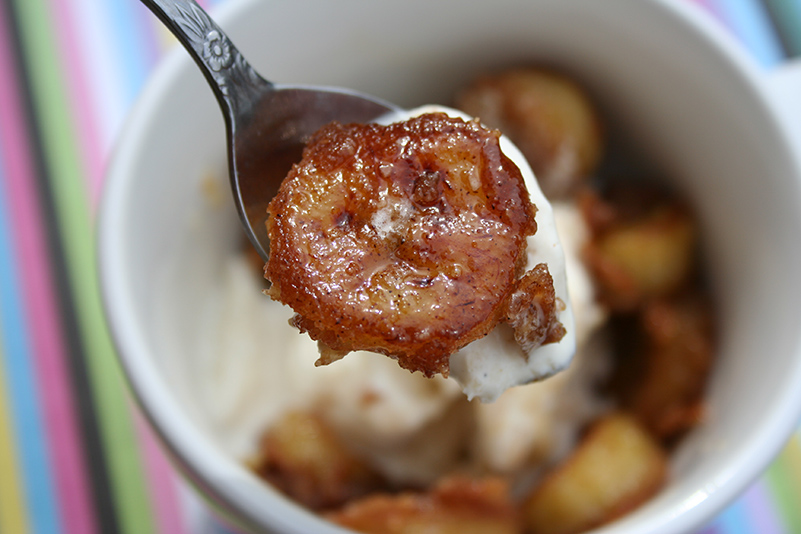 If you loved this easy dessert hack, you'll probably enjoy our recipe for torch-free crème brûlée! 
More Boozy Desserts
Create a buzz around your desserts! Easily incorporate alcohol into your cakes to build mouthwatering flavor combinations.Enroll Today