Home décor projects are a great way to become familiar with your sewing machine. A fabric shower curtain is a simple project that can make a big difference in the look of your bath. No need to install grommets or special hardware, this shower curtain is constructed entirely on your sewing machine.
Get out your buttonhole attachment and follow these steps to making your own fabric shower curtain.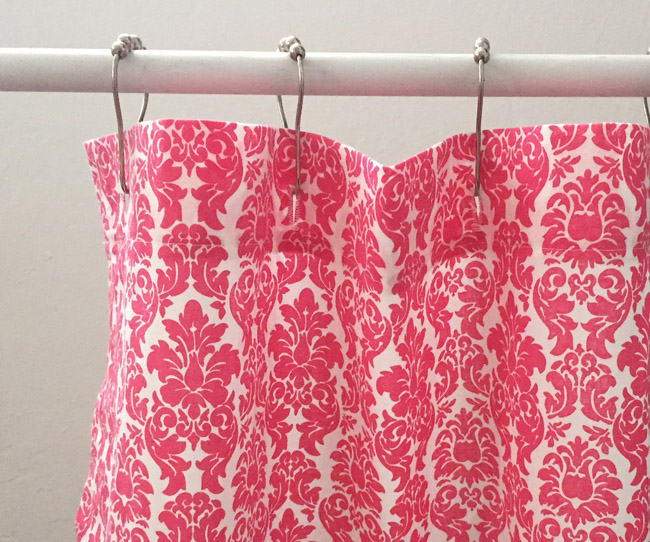 Sew custom curtains and draperies that elevate your decor!
Learn the techniques you need to create elegant shirred, pleated and grommeted styles.Enroll Here Now »
Getting started:
To use a fabric shower curtain start with a plastic shower curtain liner which comes in a standard size of 72 inches by 72 inches square. A standard liner will have a row of 12 holes across the top for the hooks, which conveniently also are packaged by the dozen.
Once you have your liner and hooks it's time to decide on your fabric. This is one project where you can use almost any fabric. Note that your shower curtain will be a finished width of about 74 inches and most fabrics are between 45 and 60 inches wide so you will have to seam together two lengths to obtain the needed width. To determine fabric requirements, note how long you want your curtain and buy twice that length plus about 12 inches more for the top and bottom hems.
Standard length is about 74-80 inches but if you are mounting the shower rod near the ceiling you will need to calculate based on the specific length. Some quilting cottons are available that are as wide as 108 inches. I have also found that cotton tablecloths are also perfect for turning into shower curtains since they have the desired width. So as a general idea, cut your curtain at a width of 74 inches and length of your curtain height plus hem plus 3 inches for the top fold.
Loving this tutorial? Download this easy, printable PDF, and enjoy it anytime, anywhere, forever!
Get Your PDF Here! »
Finish the edges: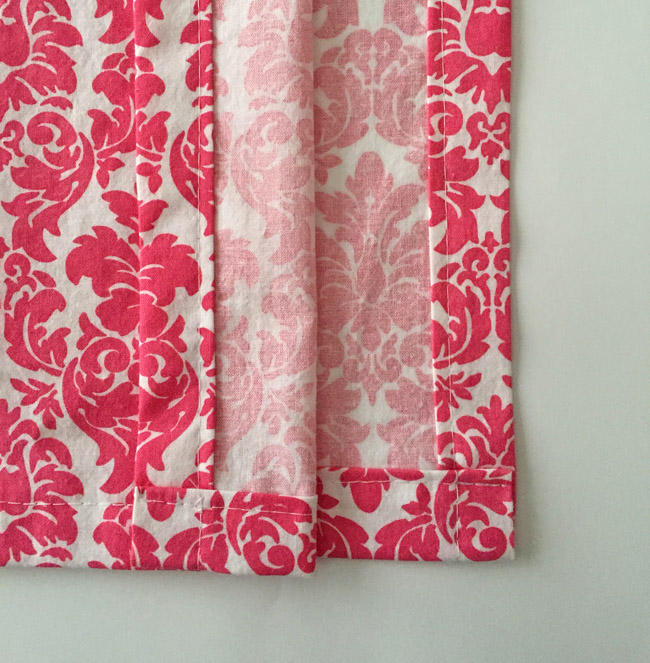 Create a clean finish on both sides. Per the example above, the side edges are turned first 1/4 inch, pressed and then turned 3/4 inches and pressed, then stitched. Next hem the bottom of your curtain in a similar manner. The hem is also an opportunity to use an accent fabric or trim.
Mark the buttonholes: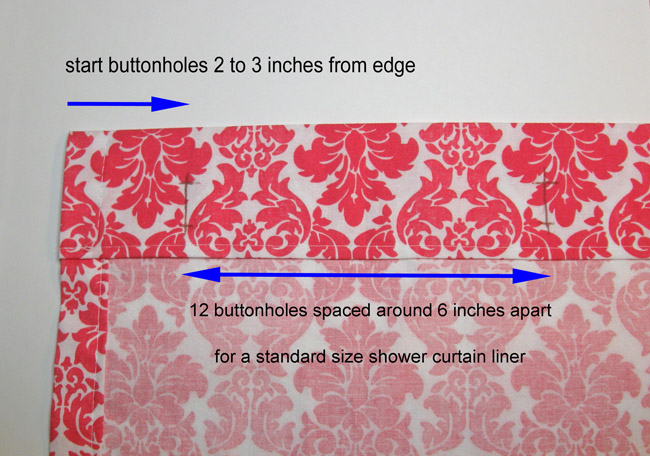 Finish the top edge of your shower curtain in the same way as the side seams, but be sure to create a 2 inch fold at the top. Next step is to mark the buttonholes. You can also use the plastic liner as a template to mark the buttonholes but be sure to space the ones at the ends in about 2 inches from the edge, so that your plastic liner does not peek out.
Stitch the buttonholes: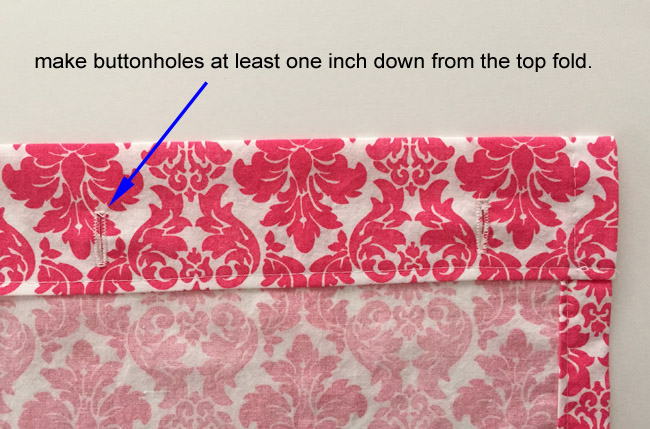 Stitch the buttonholes in a vertical direction, starting at least one inch down from the top fold of your shower curtain. Cut the buttonholes open, give your curtain a final press and you are ready to give your bathroom a new look!
Sew custom curtains and draperies that elevate your decor!
Learn the techniques you need to create elegant shirred, pleated and grommeted styles.Enroll Here Now »