Father's Day is fast approaching, skip the store-bought card this year and design your own instead! In this step-by-step tutorial, we'll show you how to make a quick, easy and fun Father's Day card using patterned papers, dies and stamps.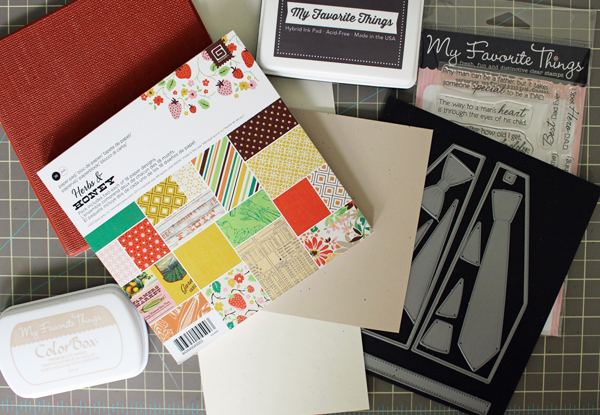 DIY Father's Day card tutorial
Materials you'll need:
Patterned paper
Suit and Tie Die-namics from My Favorite Things
Card stock
Stamps with Father's Day sentiments
Ink
Foam tape (optional)
Note: I have this great 6″ x 6″ patterned paper pack from Basic Grey and this fun set of Suit and Tie Die-namics from My Favorite Things that I want to create some fun patterned die cuts with. If you don't have this die set, you can use an electronic die cutting machine if you have one, or cut by hand. I prefer the convenience and ease of use with metal dies so that's what I've used here. All the card stock, inks and stamps are also from My Favorite Things.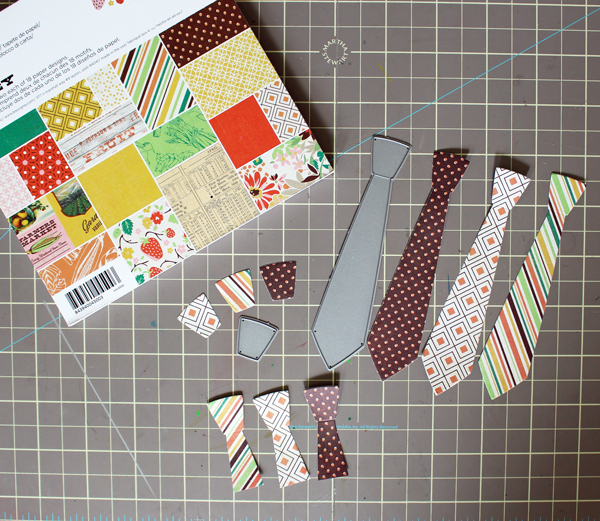 Step 1:
For the first set I ran three pieces of patterned paper through my manual die cut machine using the large tie and knot dies. With thinner papers like this I was able to stack all three papers together and run them through the machine at the same time, getting six die cuts (three ties and three knots) in one pass. I did this a second time to get three more "partial" ties that you see here — set those aside for later.
Step 2:
I next trimmed a piece of Natural card stock to slightly smaller than my card and stamped it with the Linen background stamp and Natural dye ink.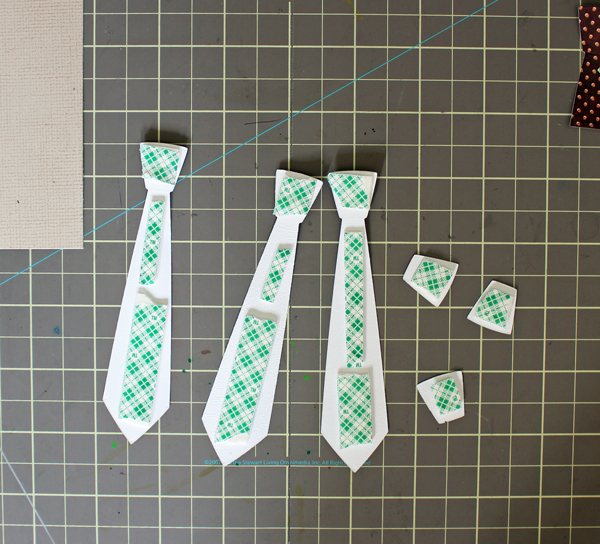 Step 3:
I added foam tape to the backs of the ties and knots. You can skip this step if you want your card flat for mailing, but I like the extra dimension the foam tape gives.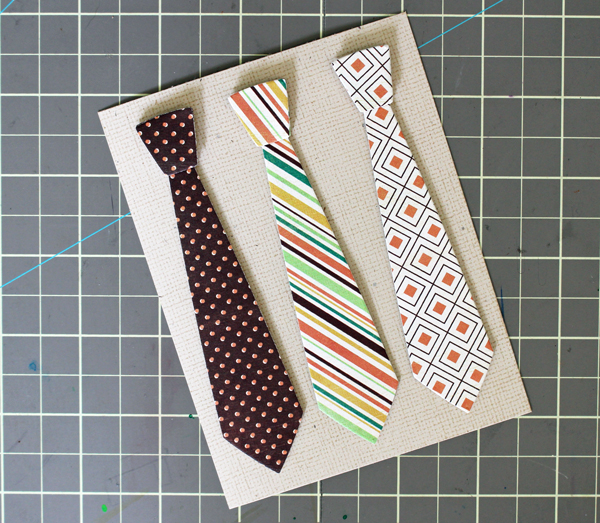 Step 4:
When adhering the ties to the stamped card stock, I find it easiest to adhere the middle item, then line up the ones on either side. Once they were in place, I added the knots.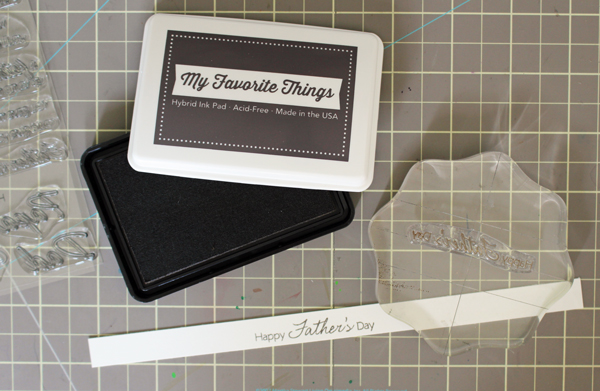 Step 5:
I stamped my "Happy Father's Day" sentiment (from MFT's Clearly Sentimental About Father's stamp set) onto a narrow strip of Whip Cream card stock with Hot Fudge (a deep brown) ink. I positioned my sentiment closer to the middle of the card stock strip.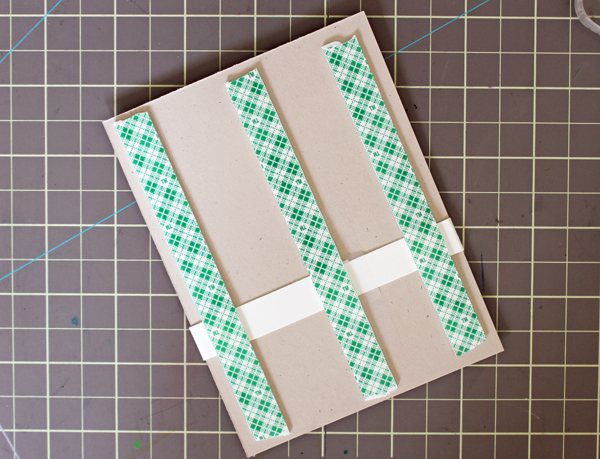 Step 6:
I then wrapped the sentiment strip around the card front and secured it with tape. Again you could skip adding the foam tape, but I have a bit of an obsession with it!
Step 7:
I then adhered my finished panel to the card base that's A2 size. You could be done here, but I like to finish the insides of my card as well.
Step 8:
I stamped another sentiment with the CS About Father's stamp set onto a strip of Whip Cream card stock with Hot Fudge ink, then adhered the three partial die cut ties that I cut earlier.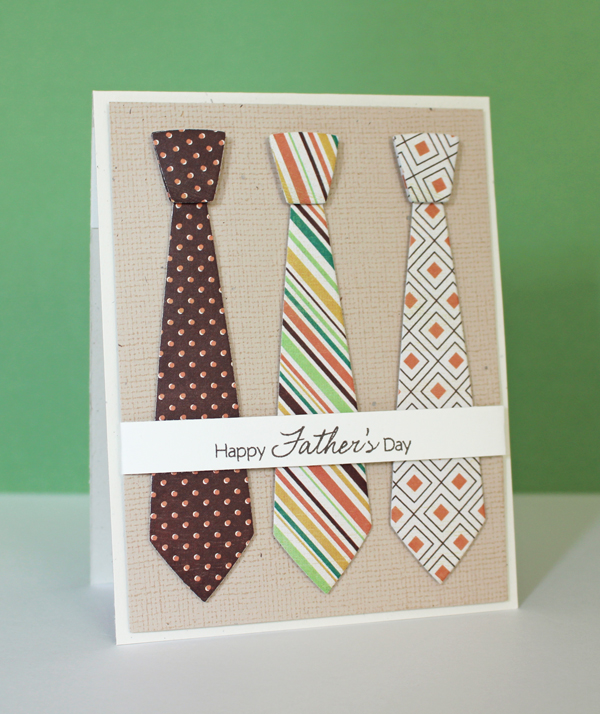 All finished! You could get creative and die cut the ties from plain card stock and stamp different images on them, or use really bright patterned papers to make crazy ties. And by simply switching out the sentiments, this card could also be great as a "thinking of you" card, a thank you card or even a birthday card for that special guy in your life.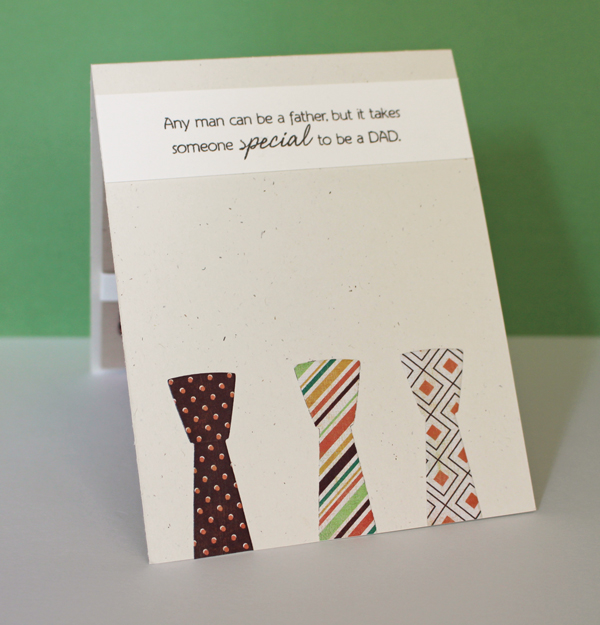 If you don't already add something to the inside of your cards I really hope you'll try it out. It's a habit to immediately open a card to see what's on the inside, so to me a card never feels finished until I've added something — whether it be a sentiment, a stamped image, a die cut or a combination of the three.
Brand new card making classes are coming to Craftsy soon! If you're not yet a member of the Craftsy community, join today to stay up-to-date on new classes and sales!
Do you always finish the inside of your cards?