Beautiful details both inside and out can make a simple garment shine. When a Hong Kong seam finishes the inside of the skirt and piping accents the seamlines, an A-line skirt becomes something very special. Silk charmeuse in a contrast color or print used to bind the neck and armholes of a sleeveless tank creates a style statement.
Start challenging yourself to add a new detail or finish when you're sewing garments. Have fun learning new techniques while you expand your sewing toolkit, and at the same time learn to create beautiful, one-of-a-kind garments for your wardrobe. Here are a few ideas to get you jump started!

French seam
A French seam is often used on sheer or delicate fabrics, and looks like a narrow, tucked seam on the inside of a garment. Stitch once with the wrong sides of your garment together, and trim your seam allowance to 1/8″. Press and fold so the right sides of the garment are together, and stitch a second time completely enclosing the raw edges from the first stitching.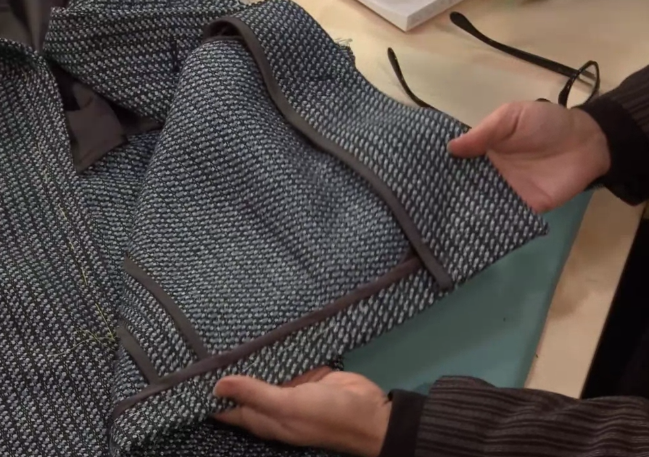 Craftsy instructor Kenneth D. King showing the inside of a jacket made with Hong Kong seam finish
Hong Kong seam
Another name for a bound seam, a Hong Kong seam finish adds an instant measure of luxe to your garment. This beautiful technique is most often applied to the inside of a garment, but for a fresh new twist try exposing your seams on the outside of your garment with a contrast fabric used for the binding.
Start by stitching a regular seam using at least 1/2″ wide seam allowances. Next, using a 1 1/2″ wide bias strip of silk charmeuse or lining fabric, stitch the silk strip to the raw edge of the seam allowance. Press the silk strip around toward the raw edge, and fold the silk under the seam allowance, totally enclosing the raw edge. Stitch in the ditch to catch the underside of the silk, and trim any excess fabric from the back side of the seam allowance.

Anorak jacket assembled with flat felled seams to reduce raveling
Flat fell seam
Flat fell seams are not just for jeans! This seaming technique also produces a clean appearance to the inside your garment, making it a "finishing" contender for an unlined jacket or for any fabric that is ravelly or difficult to control.
Start by stitching your seam wrong sides together, and then press the seam to one side. Trim the under side of the seam allowance to 1/4″, and fold the top seam allowance over the trimmed seam. Press, and topstitch the folded edge.

Craftsy member Sue Kristiansen uses silk dupioni to make a beautiful neckline binding
Binding
Binding is a beautiful detail that provides a pop of color, a luxurious texture, or just a lovely clean finish when added to a hem, sleeve, or neckline design of a garment. You can use purchased binding, or make your own from bias strips of any relatively lightweight fabric. Be sure to trim the seam allowance off your garment if you replace the hem turnback or facing with a bound edge.

Craftsy member uglybeat's funnel neck dress accented with black piping
Piping
Piping is added to the outside of a garment seamline to add color, texture or shine. Piping can be purchased or easily made by wrapping a filler cord with bias strips of fabric.
Simply lay the piping on the right side of a garment seamline just barely beyond the stitching line, and baste the piping in place using a zipper foot. Then place the corresponding garment section over the piped fabric, matching raw edges. Stitch slightly closer to the piping using a regular stitch length.

Craftsy member Laurenyoung's beautiful hemstitched napkin
Hemstitch
Hemstitching is a lovely heirloom technique, and adds a beautiful finish to a deep hem on a pleated or gathered skirt. You will need to use a natural fiber, such as cotton or linen, and you will also need a special "wing" needle. Most modern sewing machines include one or more hemstitch patterns, but be sure to check the manual for your machine capabilities.
If you are looking for more ideas to expand your finishing skills consider enrolling in an online Craftsy class such as Sewing on the Edge: Finishing Techniques or Decorative Seams: Techniques and Finishes.
Do you have a favorite finishing technique to elevate your garments?