My mom used to say she wanted her garments to look as good on the inside as they did on the outside. One of my favorite ways to spiff up the inside of a garment is to use a Hong Kong, or bound seam finish. It produces a clean, polished look, is easy to sew, and depending on the fabric used, can even add a surprise splash of color or pattern to a tailored garment.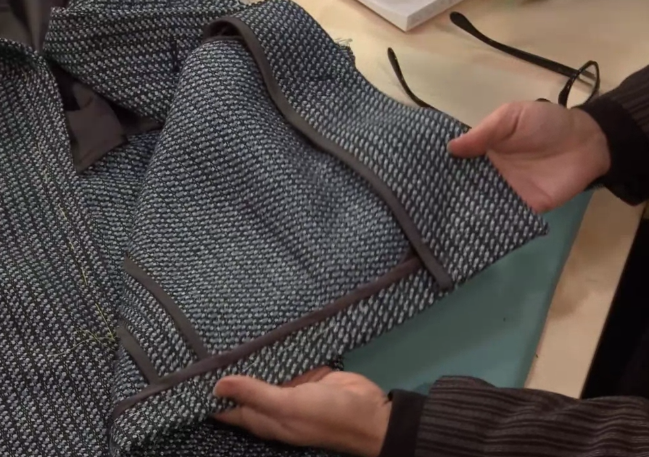 Crafty instructor Kenneth King displays the inside seams of a tailored coat
Best used on straight or mostly straight seams, the basic process is to encase the seam allowance with a narrow strip of bias fabric.
It looks terrific when used in an unlined coat or jacket, and is also often recommended when using a partial lining on a coat or jacket. You can make your own bias binding or purchase it, and you can apply the technique either to seams that have been pressed open or to one side (closed).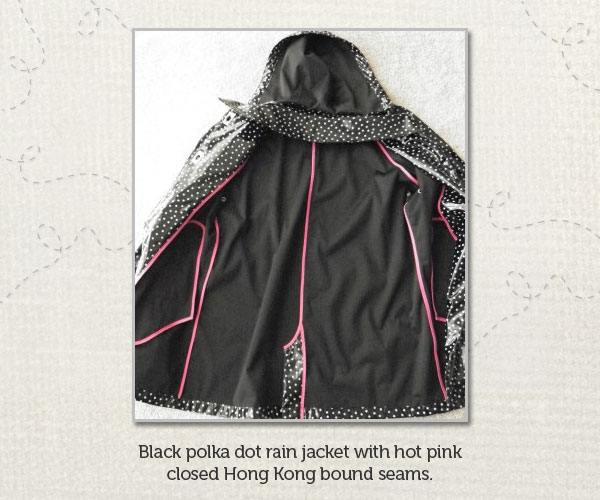 Probably the most common fabric choice for Hong Kong seams is silk charmeuse, but it is not the only option. Rayon lining, a soft cotton voile or lawn, silk organza or dupioni all could  work nicely on skirts, jackets, or other garments. The most important consideration is to use a lightweight fabric that does not add bulk to the finished seams.
In his class The Care-Free Fly Front Coat, couture designer Kenneth D. King presents excellent methods for finishing seams (including the Hong Kong seam finish) to create a garment that appears just as expertly tailored on the inside as on the outside.
Open Hong Kong seam finish
The directions below describe how to apply a Hong Kong seam finish to a seam that has been pressed open. The process is very similar for a closed seam allowance. Just press both seam allowances to one side and treat them as one, and then follow the same steps below.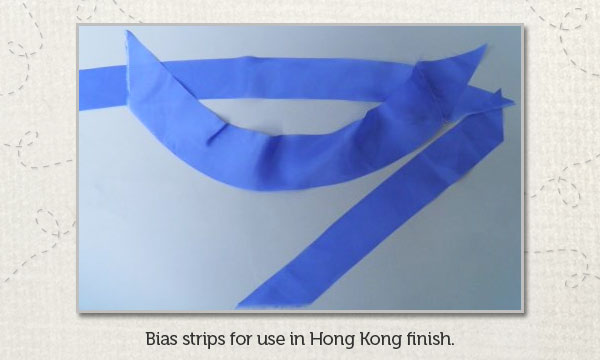 1. Start by cutting bias strips 1 1/4 – 1 1/2 inches wide.
2. Join if needed to create strips long enough for the full seam length.
3. Place the right side of a bias strip against the cut edge of a pressed seam allowance, and pin in place.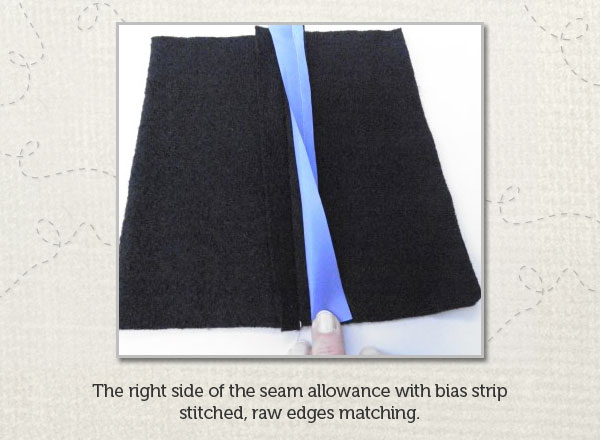 4. Stitch using a 1/4 " or smaller seam allowance. Be careful to not stretch the bias strip as you sew.
5. Turn  the bias strip over, and press the seamline. Wrap the binding completely around the seam allowance, and baste or pin in place.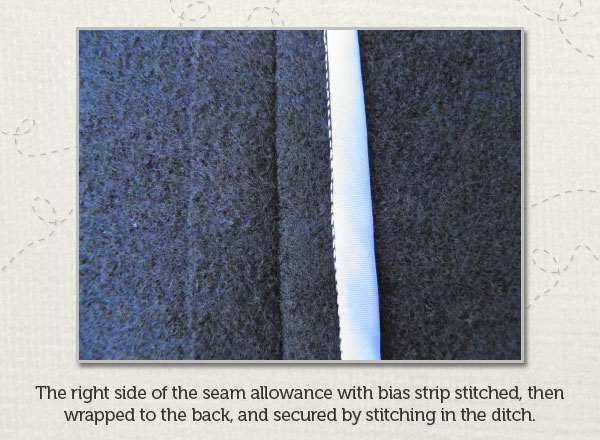 6. Stitch in the ditch, meaning stitch right next to the "seam well" of the bias binding. You can use an edgestitch or zipper foot if you have one to help control your stitching. This line of stitching should be almost invisible
7. Trim any excess from the bias strip on the back side.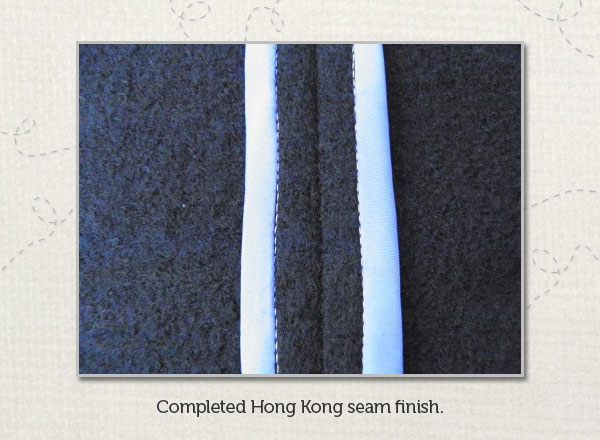 8. Repeat for all seam allowances.
Because this technique totally encloses the seam allowances in fabric, any garment raveling is completely eliminated.  Not only will the inside of your garment look terrific, it will also withstand a great deal of wear with this strong and secure finish.
Have a little fun with this technique! Try a contrasting color or even a print to add a little pizazz to the inside of your garments, even if no one else will see it. Make mom proud!
Have you ever used a Hong Kong seam finish? What did you like best about it? Would you use it again?