Does your ideal pancake have slightly crisp, buttery edges? We have the breakfast recipe for you: cornbread pancakes! Also known as cornmeal pancakes, these breakfast treats have a unique flavor and texture unlike any other breakfast food.
Read on for the easy recipe and my favorite ways to serve up cornbread pancakes.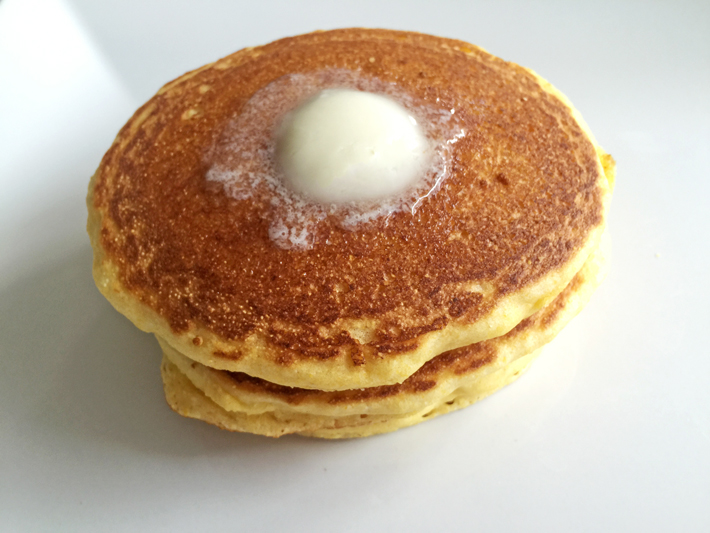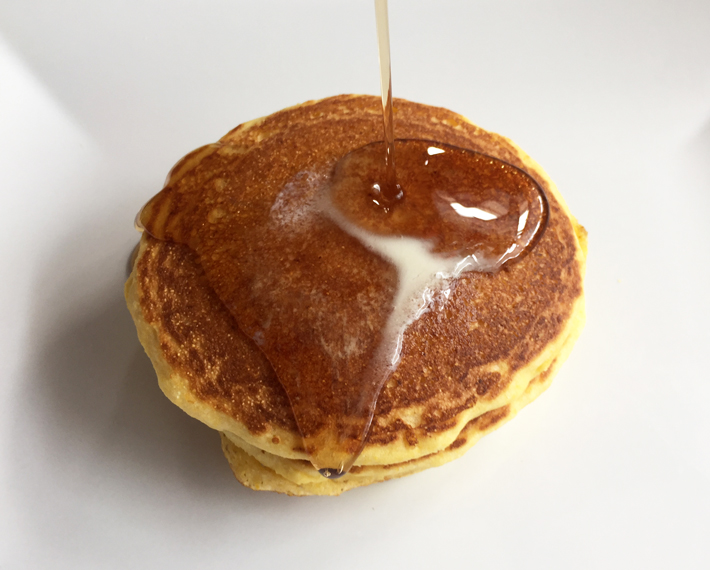 Cornbread pancakes, cornmeal pancakes — what's the diff?
I like to call these delicious skillet-made cakes cornbread pancakes, though some people call them cornmeal pancakes. Personally, the term "cornmeal" is a bit off-putting (though it is accurate) — it makes me think of "gritty" or "coarse" cakes. The term "cornbread," on the other hand, has the most wonderful adjectives associated with it — warm, comforting, delicious, buttery. Enough talk, let's to get pancake-ing!
Easy cornbread pancakes recipe
Makes 12 pancakes.
Ingredients:
1¼ cup cornmeal
1 cup flour
¼ cup sugar
½ teaspoon salt
2 tablespoons baking powder
1½ cups milk
1 egg
2 teaspoons vanilla
4 tablespoons melted butter, plus more butter to place over the tops
Step 1: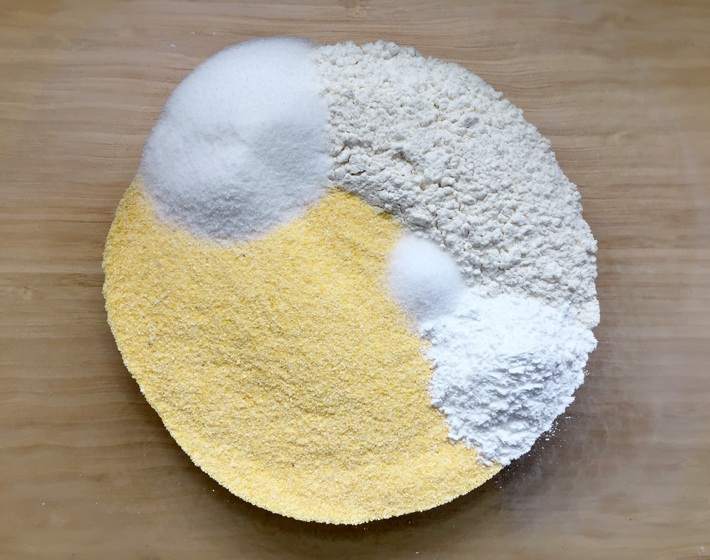 Place all dry ingredients in a large bowl and whisk them all together.
Step 2: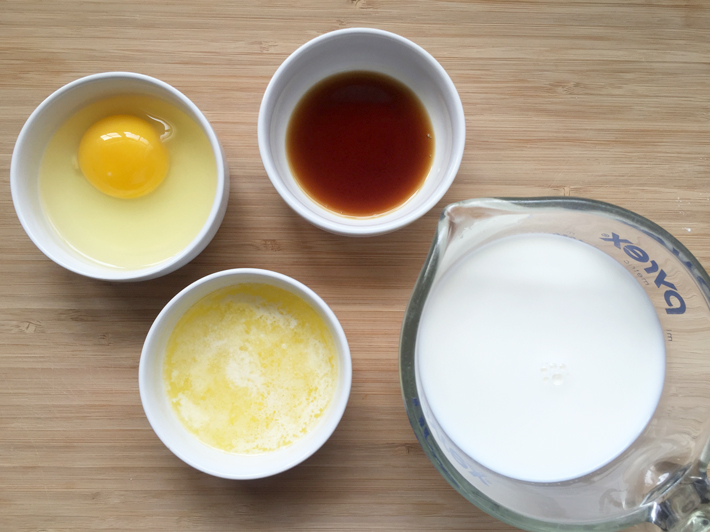 Measure out your wet ingredients and pour them all into the bowl, except the melted butter. Whisk all the ingredients together until combined and smooth. Add butter, using a spatula to stir it in. The batter should be somewhat loose, but it will thicken as it stands.
Step 3:
Heat a skillet over medium heat and add a pat of butter to grease the surface of the skillet. Note that you'll have to find your stove's sweet spot for making these; the perfect temperature is somewhere between medium and medium-low heat. You don't want them to brown too fast, because they do need to cook about 1.5 or 2 minutes on each side. I have an electric stove and my sweet spot is more toward medium heat, but not right at medium heat.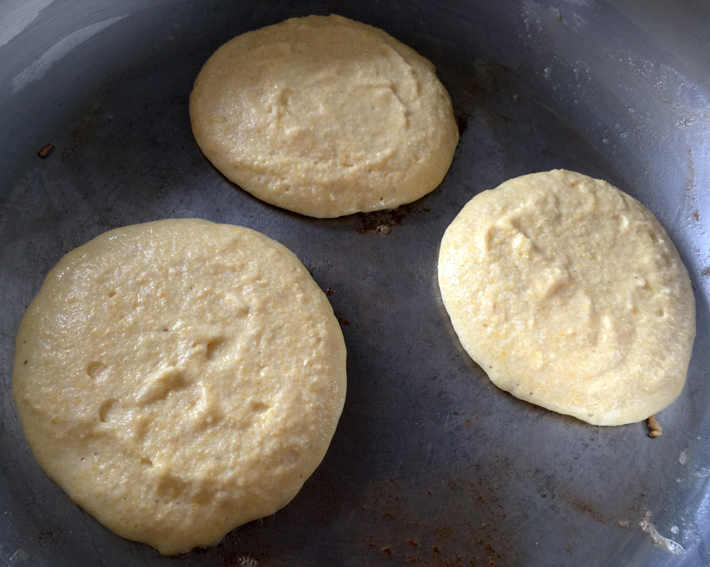 Use a ¼ cup measuring cup to portion the batter evenly. Pour individual portions into the pan. You may need to help spread the batter.
Remember that your batter will thicken. If you feel it's a bit too thick, add a tablespoon or two of milk to the batter to loosen it up.
Step 4: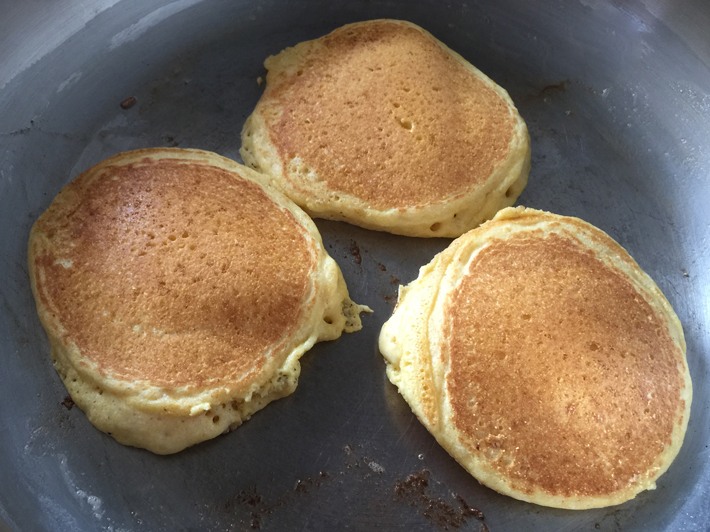 Check the bottoms to see if they're brown and golden. If they are, it's time to flip! The batter will splatter a bit, but just use your spatula to push that batter back into place.
Step 5: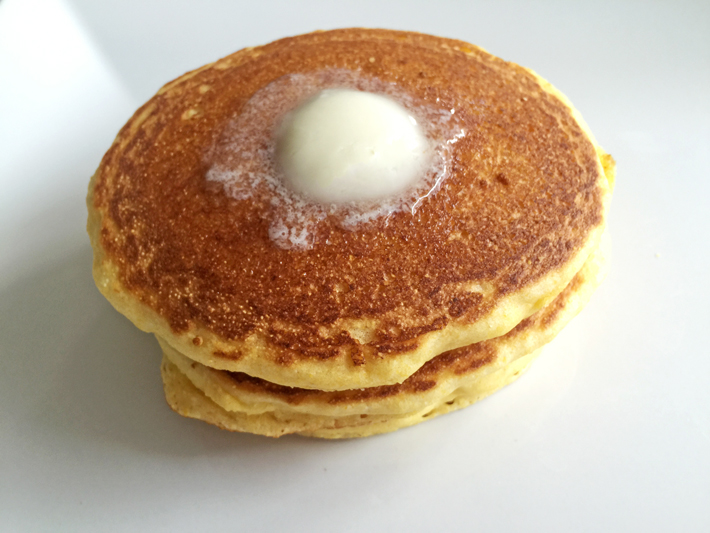 Time to eat! Don't forget to top each pancake with a pat of butter (and let it melt).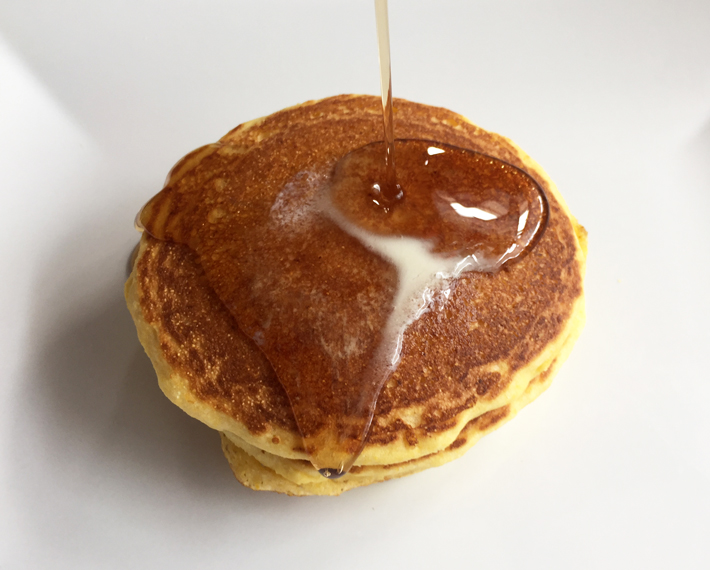 And dredge these hotcakes with maple syrup!
Cornbread pancake favorites
Here's the thing: I make these for lunch and dinner too! I urge you to try these savory concoctions any time of day. Here are two of my favorite ways to eat cornmeal pancakes:
Place a couple of slices of black forest ham and Swiss cheese between each pancake. Top the stack with raspberry or blackberry preserves (and syrup too, if you wish!). It's a knife-and-fork cornbread take on a classic Montecristo!
Place a slice of jack cheese between each slice and top the stack with a ladle-full of chili, a dollop of sour cream or Greek yogurt and chives.
Enjoy this delicious cornbread pancake recipe! I hope you try out one of my favorite savory ways to eat them.